Meet one of Singapore's last vintage fountain pen sellers and repairmen
Pek Kay Lee has been selling and repairing vintage fountain pens since 1959. With no heir in sight, the shop in Chinatown is set to close this year. CNA Lifestyle had a chat with its owner Bernard Chua.
Strictly speaking, I have no business being in a fountain pen shop. Not when my writing instrument of choice is a S$1.40 ballpoint. Here, S$1.40 can't even buy me a toy dinosaur, which is just one of the many retro paraphernalia at Pek Kay Lee, located at the block beside Chinatown's People's Park Food Centre.
"These things are from my home," said Bernard Chua. Now in his sixties, the second-generation owner has started selling relics from his childhood and past hobbies. Typewriters, birdcages, a Coca-Cola pedal toy car, what have you.
But how did a fountain pen institution that started in 1959 become something of a time capsule today?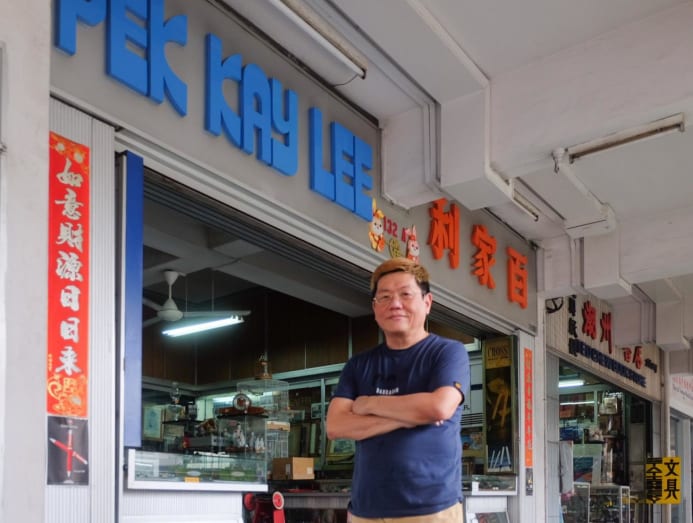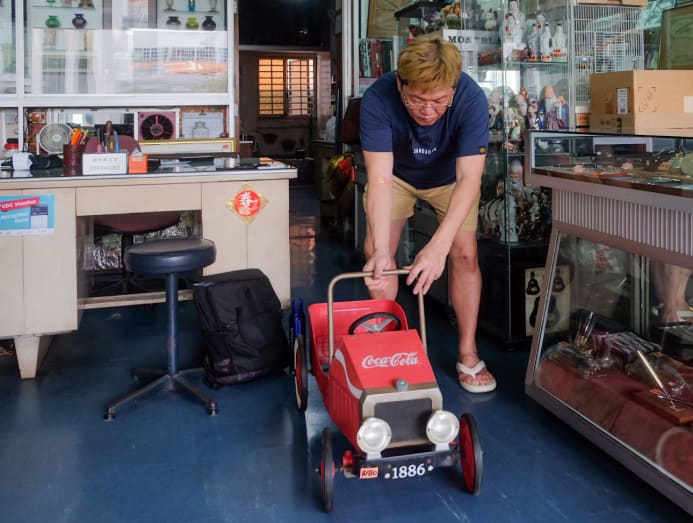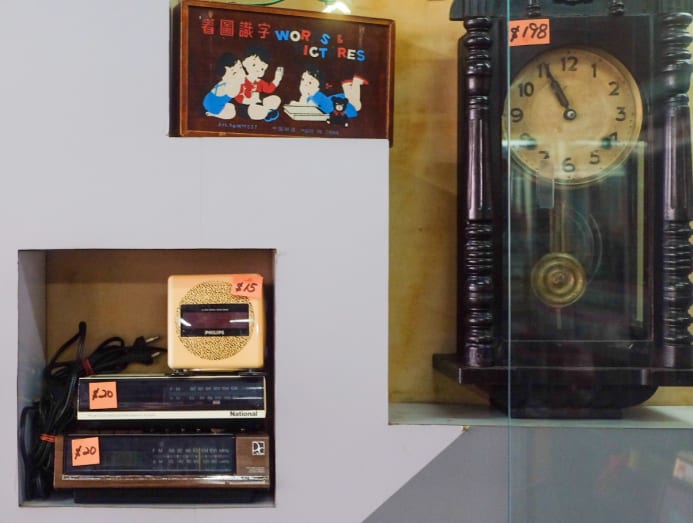 "IN A FLASH, 60 YEARS HAVE PASSED"
Like many of his contemporaries, Bernard's father, Chua Chye Soon, arrived in Singapore in 1937. Starting at the age of nine, he laboured as a coolie, a driver, and a fishmonger, but was invariably bullied as he was guileless and small in stature.
"His boss would pay him half of what he paid others, but my father thought it was better than nothing. He's not calculative that way," Bernard said.
His father's affinity with fountain pens only began in his twenties, at a humble stand within a defunct cinema. The elder Chua bought second-hand pens and refurbished them for sale, polishing their flaws away or replacing parts altogether in the process. A pen cost S$10 back then, which was easily a fifth of the average joe's salary each month.
"People in the past were all self-taught. They analyse the craft without any mentors. We didn't have YouTube or Google. If you wanted to make a living, you had to work hard," said Bernard.
Later, Mr Chua started Pek Kay Lee with a handful of friends. The father-son duo can't tell you how many times they had been called Mr Pek or Mr Lee by mistake. Contrary to popular belief, the namesake points to no one and translates to "gains for everyone" – a vision that fell flat on its face when Mr Chua's friends bailed and left him in the lurch.
But he didn't tap out. Instead, he held the fort long enough to be appointed by brands like Parker, Sheaffer and Cross. Being an agent meant he could purchase pens at wholesale prices and distribute them to stationery stores across Singapore. More than grit, Bernard credited his father's trustworthiness for this milestone.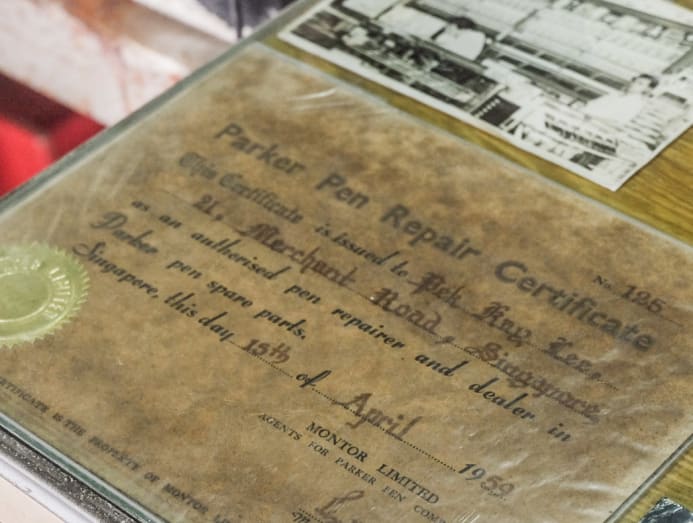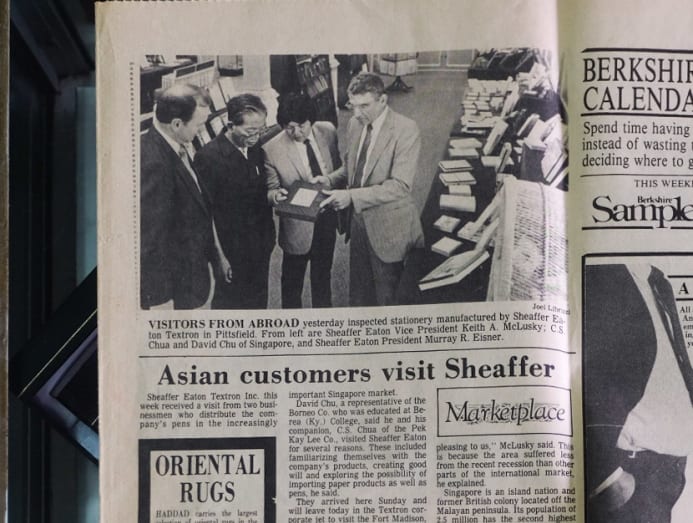 "My father considered this trade worthwhile. We only sold pens and, in a flash, 60 years have passed."
"NOBODY FOR US TO SUPPLY TO"
Before moving to Upper Cross Street in 1978, Pek Kay Lee was located along the former "cinema street" and, subsequently, Merchant Road. Bernard was 25 years old when he came onboard, but said the shop hasn't changed much since.
"That day, an uncle dropped by and said wow, I haven't been here for 20 years. We have looked like this since 1978. If we had renovated it, it would be void of character. Shops like ours are few and far between."
Asked if he had much to pick up under his father's tutelage, Bernard was quick to sell the trade short. He said there isn't much to learn, though some repairs required him to study the anatomy of a pen for hours. There was nothing a little patience couldn't fix.
But the 1980s were a problem for them. For the first time in history, a laptop computer was invented. Computers were no longer reserved for offices, and made their way into households. As people typed more and wrote less, even ballpoints were in jeopardy. What chance does a fountain pen stand?
That personal devices like phones and tablets did not infiltrate popular consciousness until the millennium bought them time. Pek Kay Lee stayed afloat by supplying to mom-and-pop stationery stores, and Bernard kept the business going even after his father passed on in 2011. But the pandemic struck not even a decade later.
"In the last three years, many stationery shops have closed. It's tough to survive when people are buying online. Too competitive. We were a wholesaler for over 100 shops, now we don't even have 20. Nobody for us to supply to."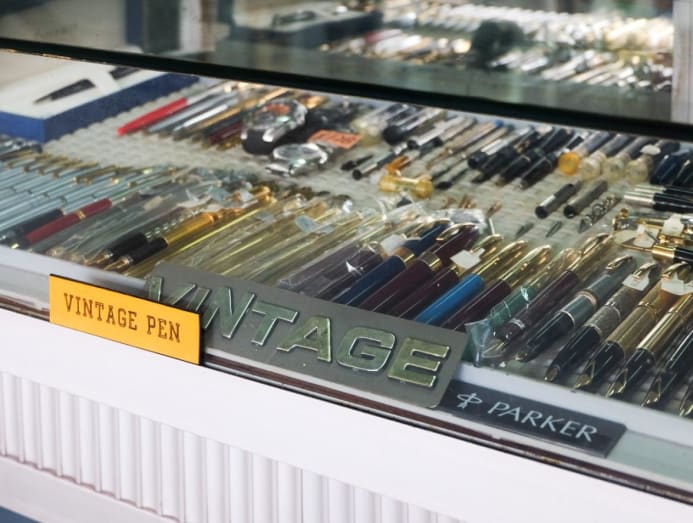 Compared to its heyday, the shop's business has fallen by nearly 50 per cent – a figure that, frankly, surprises me. I had expected worse, given the ubiquity of the QWERTY keyboards and upmarket styli. An Apple Pencil costs nearly as much as a Parker Vacuumatic from the 1930s, but the modern professional will arguably get more use out of the former.
It is unclear if the fountain pen's time is well and truly over, or if a resurgence – like what's happening with film photography and vinyl music – is underway. Who's buying them and what are their reasons?
AFICIONADOS THEN AND NOW
In Bernard's books, writing with a vintage fountain pen is a sensation unlike any other. Compared to their mass-produced counterparts, which "pay little mind to the craft", it glides on like butter and scarcely scratches the surface of paper.
"It writes beautifully and has a calligraphic quality. Doctors use them and when nurses say, 'Wow! Your penmanship is very nice', it makes them feel good."
In the past, a fountain pen was a luxury reserved for doctors, lawyers and architects. Not only because they could afford it more than others, but also because the art of writing has had a much longer run in these professions. Apparently, no lack of high-profile individuals have stepped foot into Pek Kay Lee.
"My father told me that Lee Kuan Yew's mother came to our shop once. We don't have a photograph because we didn't have a spare camera lying around. Now shops can snap a picture with any celebrity that walks in. No such thing in my father's era."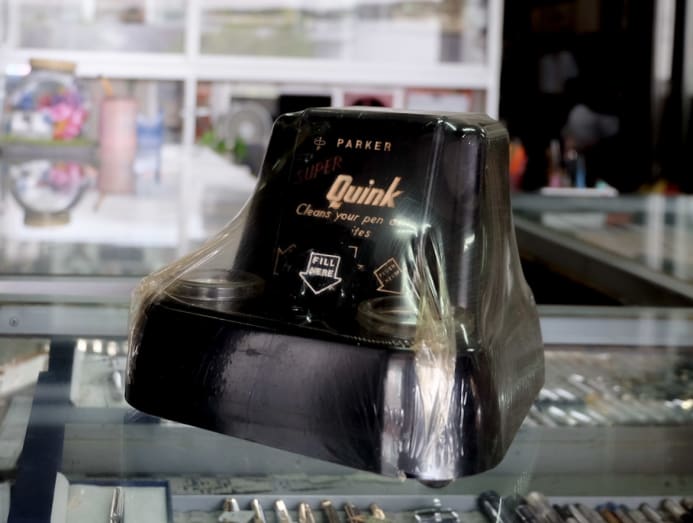 Long before the way to a teenager's heart was through shiny gadgets, Pek Kay Lee catered to parents, too.
"A mother brought his son here to reward him for doing well in school. She said: 'If I buy this S$400 pen for you, you have to promise me you will take care of it'."
It's hard to say if schoolchildren will appreciate the gesture today, but the practice of gifting fountain pens is far from lost. While I was at the shop, a lady came looking for a farewell gift for a colleague who collects fountain pens. She has a small stash herself, but doesn't identify as an enthusiast.
"I'm a collector, so I collect all sorts of junk. Maybe you don't understand the mentality of a collector. They will collect anything that can be collected. Stamps, coins, notes, buttons, stones. That's why our homes are very messy."
After analysing her colleague's collection, Bernard handpicked a Sheaffer from the 1960s. "It exceeds your budget by a wee bit, but he will definitely appreciate this model. The other one you're considering is too common," he said. She left a happy camper, informing me on her way out that Bernard is famous in his trade.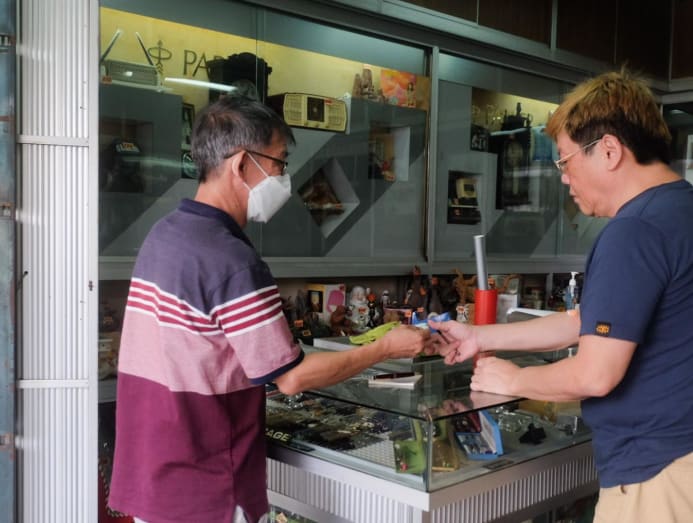 That same afternoon, another customer came knocking to repair his Mont Blanc pen. Later, I was told that the pen cost roughly S$200 years ago, but has tripled in worth since. It sounded like fountain pens can pass off as an investment, especially if they have gold parts.
"The gold used to make the nibs is genuine, because gold was cheap in the past – 14k gold meant 14k gold. If the nib is damaged and you sell the gold, you can make a quick buck. These days, the gold content is lower."
Vintage pens have their allure, but repairing them can be a pain. Parts from as early as 1928 are near impossible to find, and cost a bomb on the off chance that they're available. Replacement can cost customers hundreds of dollars, notwithstanding other ailments of ageing pens.
Some have cracked; some have tarnished; some can no longer absorb ink; some have their nibs bent after a fall. Some pens are so old, repairing them may mean defiling a family heirloom that had been passed down for generations.
"Recently, a customer came here with a pen his father left behind. He said: 'Money is not an issue. Just help me to fix it. I want to pass it down to my son'. My father taught me to prepare customers mentally, but it's still a bit stressful."
"THERE IS NO POINT IN CONTINUING"
When a customer spots a blemish, Bernard lets them pick another, even though vintage pens are often imperfect. When they complain that his packaging has seen better days, he takes out a piece of cloth and starts polishing it at once. He punctuates his sentences with "no problem", and is ever earnest. Having customers at all, it seems, is an anomaly.
"Everyone walks downstairs. You see, there is nobody here. If you've never heard of me, you would never have come by."
The shop is located above People's Park Food Centre, but enjoys little of its footfall. It's never run a single ad, and today operates on an appointment basis. E-commerce isn't an option as Bernard isn't the most digitally savvy, but he had dipped his toes in Carousell nevertheless.
"Carousell is very difficult because people anyhow name a price. You list something for S$50, they ask for S$10. Or they want you to throw in shipping et cetera. Such people exist."
With no third-generation heir in line, Pek Kay Lee's days are numbered. Bernard said there's no point in continuing, and hopes to retire this year. But for that to happen, he has to sell the remaining stock or, better yet, the family business. In a bid to reach prospective buyers and customers, he asked me to teach him to upload a photograph to Instagram.
"I hope that by posting this, people will be intrigued by how old my shop looks. They can drop by and experience the atmosphere. They don't have to buy my pens."