Kevin Hart, Serena Williams unveil Audemars Piguet's Black Panther watch
The Swiss watchmaker revealed the Royal Oak 'Black Panther' Flying Tourbillon at a virtual event on Apr 10, hosted by stand-up comedian Kevin Hart with celebrity athletes Serena Williams, LeBron James and Ian Poulter in attendance.
The cat is out of the bag. Quite literally. A couple of weeks since Audemars Piguet (AP) revealed an upcoming Marvel watch collaboration, the well-loved Black Panther has emerged as the star of the show.
The new Royal Oak 'Black Panther' Flying Tourbillon is the first of many superhero-themed timepieces to come. The timepiece was unveiled at a virtual live show on Apr 10, hosted by stand-up comedian Kevin Hart and featuring Audemars Piguet's CEO Francois-Henry Bennahmias, with celebrity athletes LeBron James, Serena Williams, Ian Poulter and more.
The timepiece sure is a sight to behold. Lunging over the flying tourbillon at six o'clock is the Black Panther himself, crafted in white gold, laser-carved and painted by hand. It is an imposing figure that takes up most of the dial, with every single detail, down to the figure's eyes, clearly visible.
Thirty hours of work in total were necessary for the engraving and painting of the Black Panther, AP said. It took a highly specialised team of four engravers and four painters to decorate the characters of the collection's 250 pieces. Of the 250 pieces, 150 are reportedly destined for Asian markets.
The watch boasts a 42 mm titanium case with an octagonal black ceramic bezel and crown, paired with a purple (the colour of vibranium) rubber strap. The watch utilises the hand-wound Calibre 2965.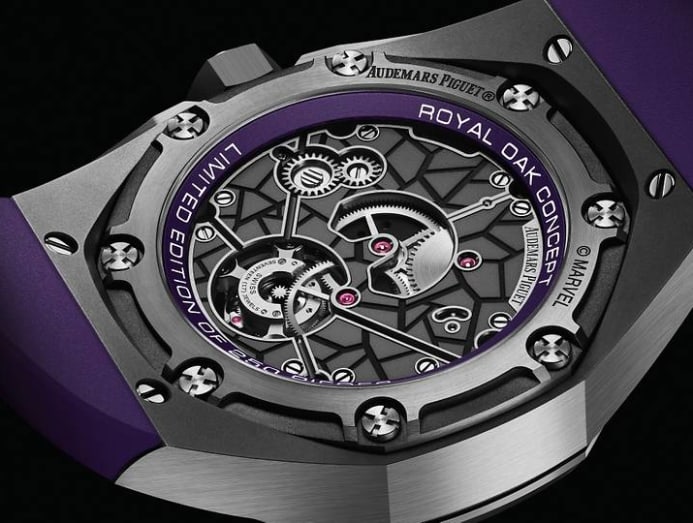 Online reception of the watch, however, hasn't been too enthusiastic. "Is this a joke?" read a comment on AP's Instagram post unveiling the timepiece. "I love AP and own one. But, this is not good," read another. 
Comments aside, a one-of-a kind version of the Royal Oak Concept 'Black Panther' Flying Tourbillon sold for a whopping US$5.2 million at a surprise auction held during the virtual event. 
The unique piece features an 18-carat white gold case and bezel entirely engraved by hand with a motif inspired by Marvel's Black Panther character. The dial showcases an even more detailed rendition of Black Panther, whose suit has been outlined with streaks of purple paint for a sharper contrast.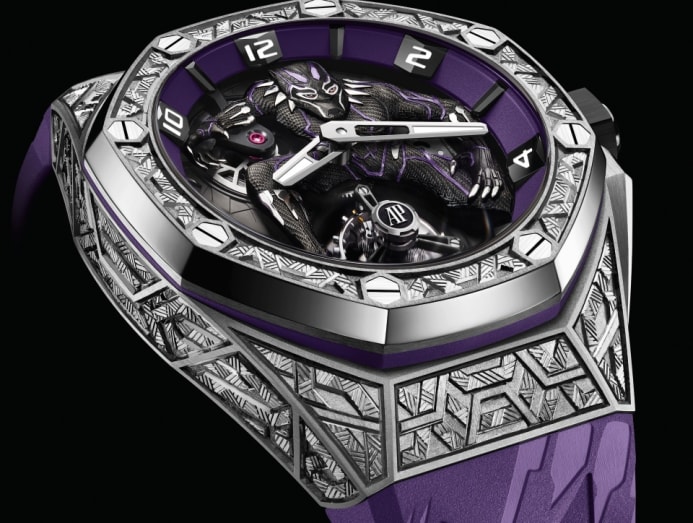 This is an all-time record for an AP watch sold at auction. Proceeds will go to charity, namely to an educational programme that AP has established with two US non-profit organisations, First Book and Ashoka.
Tennis star Serena Williams, pro golfer Ian Poulter and boxer Anthony Joshua also auctioned off dedicated lots to profit the educational programme during the event.

Despite all the online chatter, the auction proves that the watch does have its fans. 
The next AP-Marvel collaboration is expected in 2024, but for now, the brand is keeping mum about which superhero it will feature.