This refurbished space in Orchard Road is basically an office set in a garden
Citibank's new wealth management centre, which opened in January, has been wowing its private banking and affluent clients with a luxuriant indoor conservatory. Could other banks follow suit?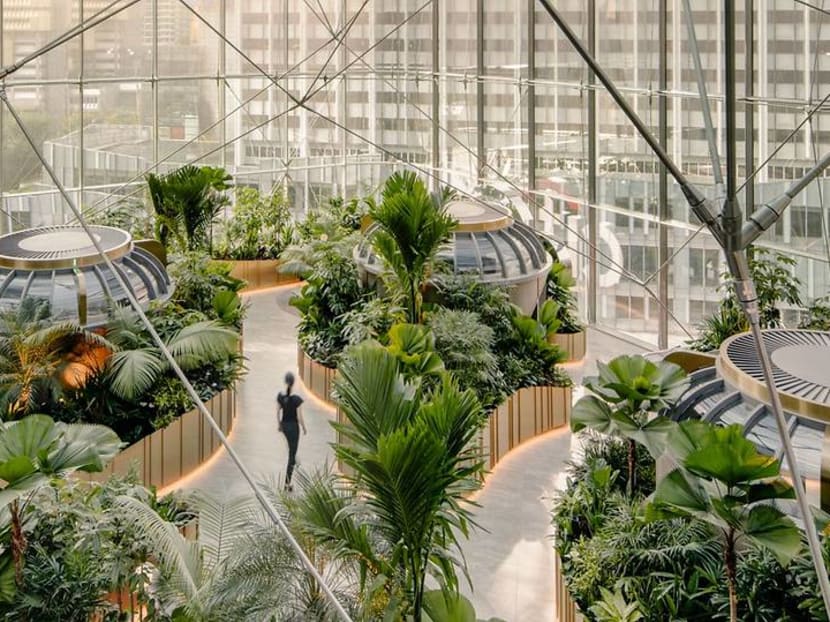 Due to the institutionalised nature of the industry, the banking sector has rarely been pioneers in progressive interior design. Neutral backdrops and streamlined shapes have been preferred to evoke the image of a serious, reliable trustee. 
Citi Wealth Hub at 268 Orchard Road, dedicated to Citigold and Citigold Private Clients, turns this convention on its head with a "Banking Conservatory". The model increases the greenery proportion (usually token potted plants) exponentially to create a lush greenhouse within architect Raymond Woo's glass building.
Ministry of Design (MOD) designed this urban utopia. It was the winning scheme of a blue-sky thinking competition that tasked participants to stretch the definition of a "world-class wealth management centre". 

The novel scheme occupies 30,000 sq ft across four storeys, and contains 30 client advisory rooms, function rooms, hot-desking offices and event spaces. It is a homecoming for the bank to the former Yen San Building where Citi Singapore had a branch from 1988 to 2005, though this time with an elevated banking experience.
The seventh storey, double-height Garden Lounge for Citigold clients is the highlight, with abundant planting set within weaving brass planters. Lounge seating, and four meticulously designed and high-tech pods offer a variety of discussion areas nestled within greenery by landscape design firm ICN Design International. It is definitely a conversation starter with clients.
"In as much as it is functional, this garden zone is also very much the image of the bank because it's something you see straight away, even for the Citibank private client from the tiered-back eighth storey. We thought the analogy of the growth of wealth and prosperity through lush gardens was symbolic," said Colin Seah, founder of MOD. 
The firm injects a lifestyle spin to workspace design here. The conventional pantry is replaced with a Giorgio Carnico marble, barista-helmed bar counter upfront that services daily clients, and events such as product launches, presentations and networking events. The Garden Lounge's meandering pathways are designed for this purpose as well.
The staff areas are equally inspiring, eschewing staid back-of-house office design. For instance, the sixth storey office for Citigold bankers is anchored with a verdant central planter as a "tropical island statement". Hot desks and seating booths curve around it.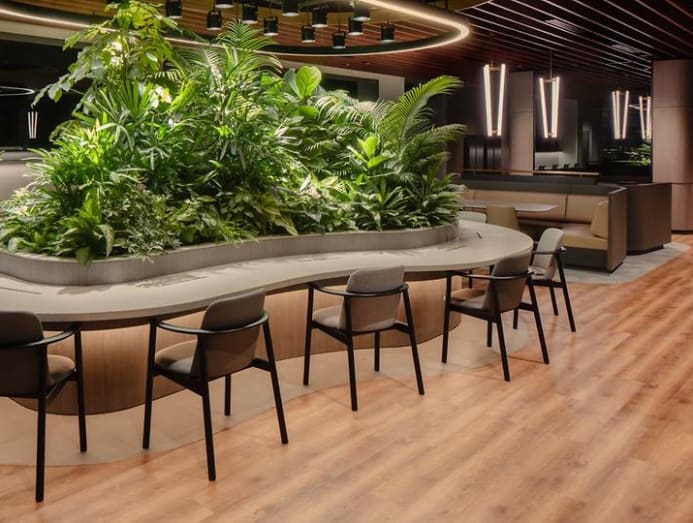 "As they directly support the clients who come here, I proposed that their offices are well designed as we wanted parity of experience for both staff and client," said Seah. This was not indicated in the brief but wholly embraced by the clients when proposed.
In line with sustainability and wellness principles, Seah employed a Lutron smart lighting system that responds to movement to activate or deactivate meeting room lights. A shifting colour temperature specified for all general lighting mirrors circadian rhythms, cooling or warming throughout the day to match the sun patterns.
Biophilia in workplace design is not new, but few push it to the extreme. Granted, the concept here is in part possible because of the architecture's ample, multi-faceted glass facades that flush the interiors with natural light, Seah commented.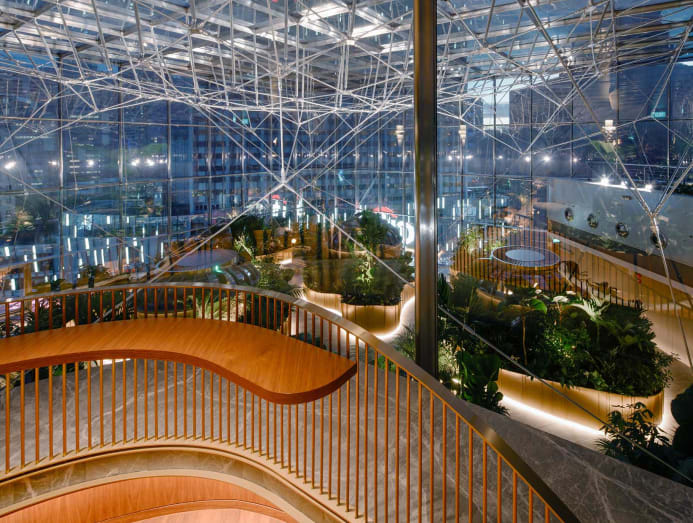 Overall, the ambitious project sets a new benchmark for what wealth management centres can, or should be. Said Seah, "What was interesting for me was reflecting wealth in a new dimension – not your typical marble-and-chandelier sort of old luxury. This is new luxury."
"What was interesting for me was reflecting wealth in a new dimension – not your typical marble-and-chandelier sort of old luxury. This is new luxury." – Colin Seah