This refrigerator lets you jot down grocery lists and doctor's appointments
Miele's Blackboard Edition fridge and freezers come with a blackboard made of glass that can be scribbled on with chalk.
Grocery lists, school schedules, visits to the doctor – there are lots of activities you need to keep track of, and you've found yourself sticking notes on your kitchen fridge.
German appliance manufacturer Miele now has a new solution that can get rid of the clutter – a fridge with a surface that can be scribbled on.
The Blackboard Edition fridge and freezer models come with a black surface made of glass that can be used to jot down notes or messages, just like a traditional chalkboard. They can be written on with school chalk or liquid chalk markers and are easy to clean.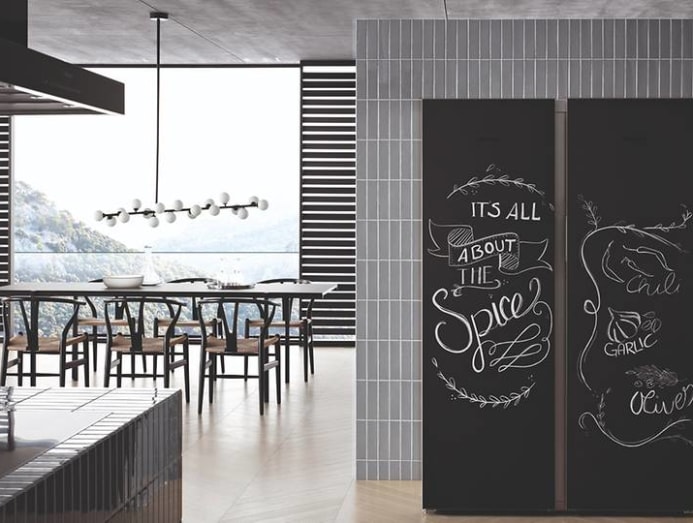 Designed for families, users can jot down things like shopping lists and dentist appointments. Kids can also unleash their inner Picasso by doodling on the fridge.
Miele's Blackboard Edition models come without visible handles for a sleek look. Instead, a recessed handle with assisted opening action (Click2open) guarantees ease of operation.
All models are energy efficient, and come with additional features such as PerfectFresh Pro that keeps fruits, vegetables, meat and fish fresh for longer. The FrostFree function, on the other hand, guarantees no icing up of food, meaning there's no need for defrosting.  
If you're hosting a dinner party, the IceMaker function automatically produces up to 100 fresh ice cubes a day – handy for whipping up cocktails and other refreshing beverages. 

The Miele Blackboard Edition is launching in Singapore on Apr 1. Customers can visit the Miele Experience Centre at 167 Penang Road to discover the new Blackboard Edition appliances.