A peek into the home of Luxasia's managing director Alwyn Chong
In the design of his 3,800 sq ft apartment, the scion of beauty products distributor Luxasia Group eschews grandiosity for purity, and novelty for originality.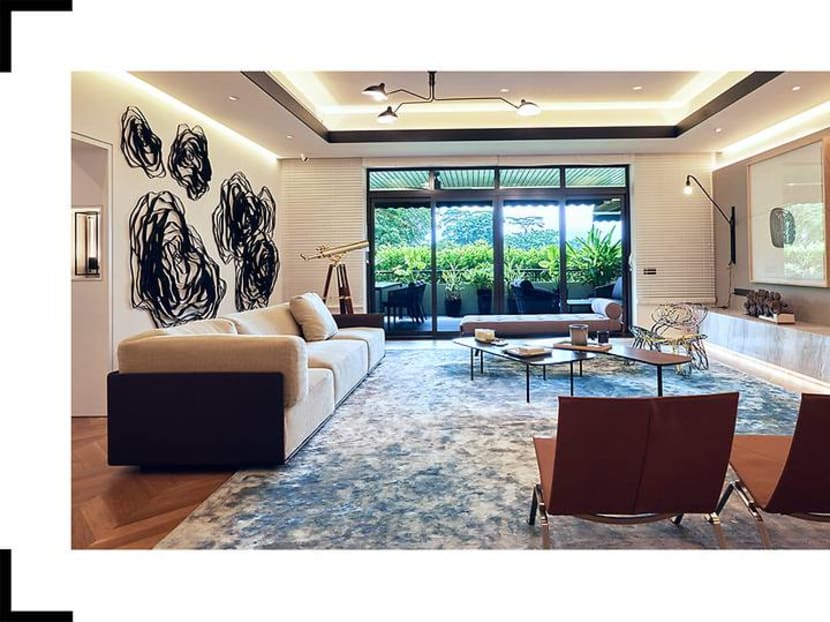 It is easier to take a longer time than necessary to reach Alwyn Chong's apartment. The bucolic landscaping of his 70s condominium slows one's pace in the sojourn from the carpark, with majestic, century-old trees, vine-laced walls, gurgling waterfalls and parapets shawled with draping foliage.
Such scenery is anomalous in today's dense, glass-and-steel property landscape. It is why the managing director of beauty products distributor Luxasia Group – founded by Chong's father in the mid-80s – purchased a commodious, 3,800 sq ft, four-bedroom unit here ten years ago, lured by the arcadian environs after having visited the homes of friends and relatives in the estate.
"I treasure the view from the balcony most, as it lets me feel that I am alone in the wilderness," said the 43-year-old. Birdsong and the paucity of traffic cacophony amplify the sense of seclusion.
After the purchase, Chong relocated to China and Thailand to expand the family business. Upon returning, he decided to renovate the home to be symbiotic with his lifestyle and passions. Also mandatory were pragmatic updates such as replacing aged pipes in the decades-old abode.
For the job, he called upon friend and founder of Super Fat Designs, Lin Weizhang. "I've always liked his aesthetic and eye for detail. He understood what I wanted and interpreted them in his own way with subtle touches that elevate a space that was already beautiful," said Chong, who found it special to work with a friend in creating his own home.
Lin had also designed Luxasia's Shanghai office, as well as the escentials boutiques – Luxasia's niche brand retail shops that introduced Singaporeans to cult beauty and fragrance brands like Le Labo, Verso, Byredo and & Terry.
Scented candles from the store are sighted around the house. But more importantly, so is Chong's sensibility for idiosyncratic, sensual and purposeful experiences, starting at the entrance. The all-white main door is minimal in appearance but theatrical in effect.
The oversized panel feels akin to turning a wall rather than a conventional door. It swings into a mirrored foyer, the neutrality continuing underfoot with white Volakas marble. Sharp blades of light from iGuzzini's Diagonal lighting system further articulate the portal.
"The mirrored walls and white marble floor allow for both a dramatic entrance and a graceful exit," said Lin on the inventive solution to the homeowner's request for a full-length mirror at the entrance to check his reflection before heading out.
The architecturally-trained designer also designed a low screen that buffers the line of sight of people sitting in the living room without masking the green vistas beyond the balcony.
It is particularly useful when Chong and his wife Ruth – a UX design consultant – want to leave the front door open to borrow views and breezes from the block's luxuriant central courtyard. The sizeable entrance door augments this effect.
Chong's affinity with nature manifested with annual trips to Botswana before the COVID-19 pandemic. It satiated a soul engulfed by an oversaturated city life. In the vast quietude, he marvelled at boundless salt pans, pursued dusky sunsets and glassy water bodies unobstructed by manmade edifices, and stalked animals in the wild – with his camera.
"A zebra stampede on the Okavango expedition was my closest and most dangerous animal encounter, and a stuck vehicle in the middle of the salt pans on one of the trips was a lesson in survival. But most memorable was when my wife, then fiance, joined me for the last five nights of the Makgadikgadi expedition," Chong shared wistfully.
Even now, marooned in Singapore, his cameras stand by on his study desk to immortalise fortuitous sightings of feathered wildlife outside the apartment's large windows. An interior palette of natural materials like timber and marble align with this luxuriant panorama.     
Chong's almost spiritual appreciation for these trips culminates in a mural by Singaporean artistic studio Ripple Root in the guest bathroom, based on his expedition photographs. Blurring art and architecture, it is nature in abstract. A picturesque tale featuring oxen, flamingo and other animals, camouflaged among painterly strokes of colour such as coral, ochre and sage, enliven the alabaster walls.
"Artist Liquan Liew – one-half of Ripple Root – used to work in Foreign Policy Design; he designed a photo book of one my trips," explained Chong, who champions the daring of local and young artists. The rest of the home is also a canvas for the polymath's art collection.
The savvy businessman enriches himself with the perennial pursuit of #allthingsbeautiful – an oft-employed hashtag that explains Chong's zeal for art, photography and design. His roles as former shareholder of branding and design agency Foreign Policy Design and the now-defunct Gallery & Co., – the National Gallery of Singapore's award-winning museum store – concretises those interests.
Rather than scream for attention, the artwork in his home segues gracefully into the domestic backdrop. Chong leans toward Asian and African artists, although he is also a fan of iconoclasts such as Mark Rothko, Richard Serra and Ai Wei Wei.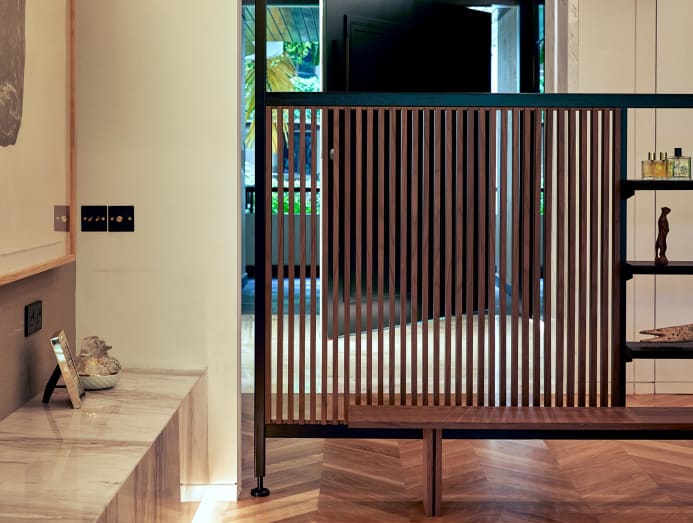 A marble totem with poetic etchings from local artist Dawn Ng's Monument Momento series defines a corner, and a housewarming gift of a black, scribbly composition by friend and artist Jinggoy Buensuces dances across a wall. It is tempered by South American artist Gala Porras-Kim's greyscale triptych across the living room, where art rather than a television is a catalyst for conversation during gatherings.
The comfortable and tasteful melange of furniture here invites lounging, and a bespoke Volakas marble console dialogues with Dawn Ng's marble blocks. The open-plan, common areas are ideal for entertaining, which was a regular affair, pre-pandemic.
"The integrated space allows pockets of quiet conversation even during large parties," said Lin. For instance, the bar-cum-library in a cul-de-sac, containing an icemaker for drinks and food during gatherings, is also naturally suited for intimate discourse.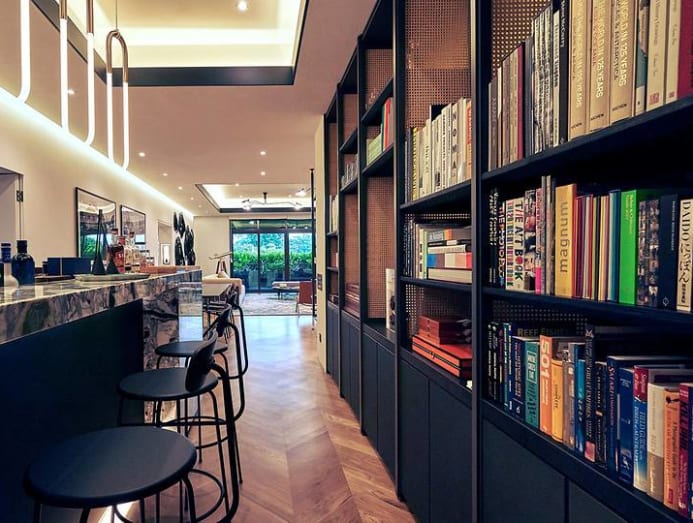 Art and living entwine at the bar with the choice of Verde Giada marble cladding the counter. Chong requested for this particular stone, with its bold network of white veins upon an emerald foil, after seeing Dawn Ng's use of it in her art.
The library's shelves, constructed from rattan, spray-painted timber and brass, yoke rustic with luxe. It displays timber boxes for cigars, rows of whisky bottles and tomes on topics running the gamut from art and literature to philosophy.
Stacks of portable Little Black Classics Penguin books featuring authors like Geoffrey Chaucer, Walt Whitman, Fyodor Dostoyevsky and Albert Camus reflect Chong's inexhaustible penchant for learning. "I don't have time to read so this series is great. When I go on business trips, I just take one and finish it at a go," said Chong.    
Before I leave, the affable host gifts me with two of his photo books. The images and records of barren sceneries and expedition hardships is a far cry from the comfortable and artistic tableaus in his home. But both are similar in that they reveal Chong's yearning for meaning and authenticity in all his endeavours.   
The process – be it a physical quest or filling one's house – is as pivotal as the end point, epitomised by a quote in one of the books, Finding the Other Side: Horizons Upon Makgadikgadi – "We'll follow our own route, wherever it leads us. It's not a race, nor is it a checkbox."