'I've crossed over to the Dark Side': David Thompson on his new Bangkok venture
At Aksorn, David Thompson's first venture in Bangkok following his departure from Nahm, the celebrated chef mines Thai cookbooks from the 1950s to the 1970s, and finds a surprising amount of foreign influences in the country's postwar culinary landscape.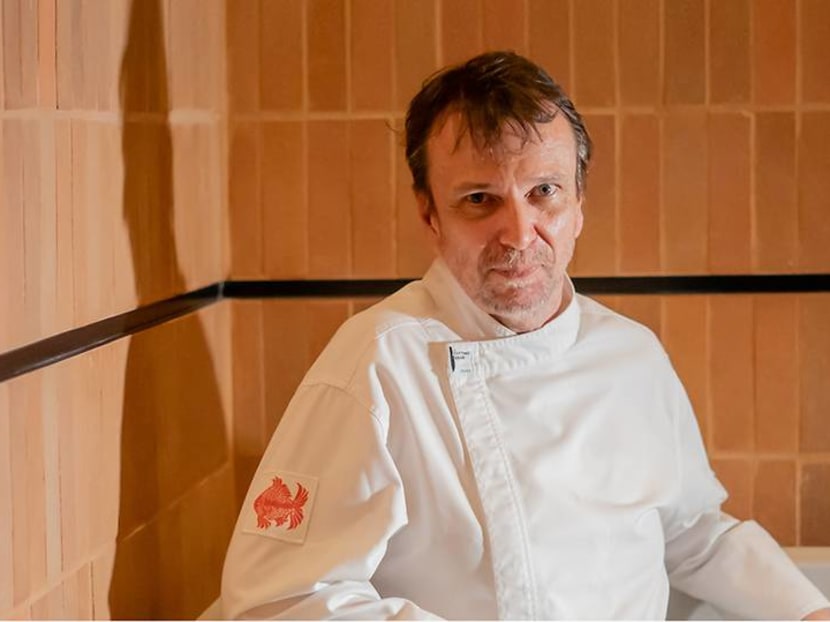 David Thompson appeared tableside to serve us a suspiciously Gallic-tinged duck dish. "I've become a traitor to myself," he deadpanned.
We are at Aksorn, the renowned Australian chef's first venture in Bangkok following his departure from Nahm, where he was widely credited for redefining the parameters of Thai fine dining.
At first glance, Thompson's latest baby bears many hallmarks guests have come to expect from his restaurants.
Cooks pound piquant pastes in mortar and pestles and prep plates replete with no-compromise Thai flavours to be served – family-style for the most part – to diners.
The dishes are drawn from vintage Thai cookbooks, reflecting the literary-minded Thompson's well-known penchant for mining arcane native source material for inspiration.
Completing the Thompson-esque feel of the place is the presence of the chef himself as he patrols the open kitchen to ensure things are running smoothly.
Yet these familiarities disguise a radical shift for a chef who freely admits to puritanism worthy of the most devout Thai food fundamentalist.
Aksorn, you see, is inspired not by a barely remembered past of venerated cooking traditions and mysterious recipes passed down through the generations. Instead, it brings Thailand's culinary story more up to date, with Thompson homing in on cookbooks published between the 1950s and the 1970s.
"It's allowed me to open up some pages on Thai cuisine that I've never done before and I've encountered some delicious surprises," he said.
The concept of the restaurant is informed by its role as a headline draw at Central: The Original Store, which is a recently unveiled celebration of the Central Group retail empire, one of Thailand's biggest entrepreneurial success stories.
FOREIGN FLAVOURS
Located on the site of the company's first retail store, which opened in 1950, the store is a homage to the post-WWII era: A period where Thailand was increasingly soaking in influences from the rest of the world.
Just as foreign architecture, fashion and cultural imports such as jazz and rock 'n' roll made their mark in Thailand, so too did Western food. Affluent Thai households would showcase the sophistication of their table by serving foreign dishes: Often just as a canape. Cookbooks from this era reflect this appetite for cross-pollination to an extent that even Thompson was surprised by.
"There was more foreign influence than I expected," he said, referring to the duck dish he brought us earlier as a prime example. "It's from a book written by a lady called Thanphuying Kleeb Mahidhorn. She was the wife of a high-ranking courtier and raised in the inner court of the royal palace.
"French was one of the main languages of diplomacy when she was there, so you'd have all these French cooks coming in to make food for these grand diplomatic banquets. In the book, she has all her family's favourite recipes including this one for the duck. She calls it ped nung (steamed duck), but in reality, it is a galantine. It's as French as a baguette.
"I'd always censored these foreign incursions into Thai cooking with the rigour of somebody who can't accept it. For me (this outward-looking philosophy) is heresy as I've always been a purist. Previously I disdained such things with the keenness of a convert. I've been orthodox. But although I'm finding travesty in some of these recipes, it's a travesty that I can swallow. And there's nothing as delicious as a bit of sin."
If Thompson has tempered his culinary fundamentalism at Aksorn, it seems indicative of an overall mellowing. It's a state of mind helped, not hindered, by the current extraordinary global situation.
Like restaurateurs everywhere, he is keenly aware of the impact the pandemic has had on the F&B industry. His empire – one that currently spans Hong Kong, Sydney, Melbourne, and Perth, along with two additional venues in Koh Samui and Krabi in Thailand – has felt the heat from temporary closures, restrictions, and social distancing measures.
Professional setbacks aside, Thompson has managed to glean positives from the ongoing global health crisis. He led a jet-setting – "discombobulating" – existence pre-pandemic, shuttling between his Bangkok base to nurture his various interests. With international travel all but closed for the moment, the chef is savouring the opportunity to stand still.
"COVID-19 has contained me, and I'm delighted by that," he said. "I was so disenchanted with travel. I was travelling three weeks out of five, looking after all the restaurants abroad and developing other restaurants. I was exhausted: And enervated too. I was delighted to stop travelling. And I still am. It's the longest I've stayed in one country for 30 years – if not longer. It's more fruitful to be in Thailand than anywhere else. While I can't travel, I have no wish to travel. I like it here. I don't feel confined here."
BANGKOK LOVE STORY
It helps that Thailand remains a place after Thompson's heart.
The chef began his first extended stint in Bangkok in 1988 and has since become inexorably linked with the international image of Thai cuisine. Thompson is quick to wax lyrical about Bangkok's incredible food scene.
"It inspires me daily," he said. He's also effusive about the local heroes – both storied and unsung – who have helped make the city a culinary behemoth. Nevertheless, his role in helping to evolve Thai dining culture cannot be understated.
The first iteration of Nahm at the Halkin Hotel in London became, in 2001, the first Thai restaurant to gain a Michelin star. A second branch, in Bangkok, opened in 2010. It became, under Thompson, a yardstick for Thai fine dining in the country's capital. He left Nahm in 2018 to focus on his other projects as well as food group Aylmer Aaharn, which he co-founded to protect the history and legacy of Thai food.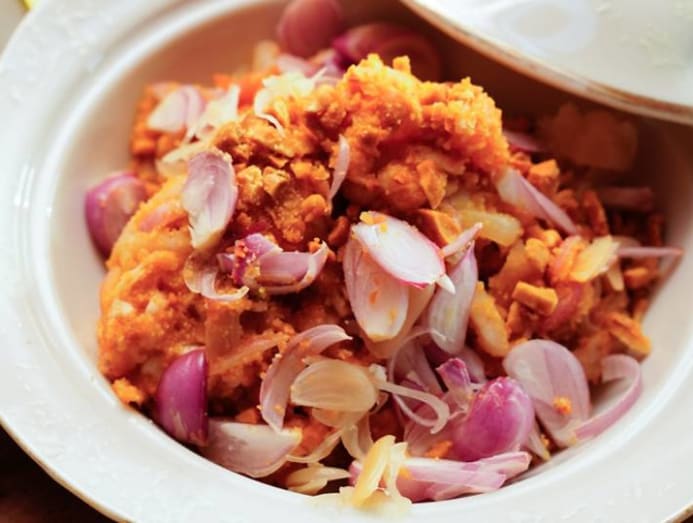 Nahm's gilded reputation precedes Thompson, but anyone expecting a straight-up rebooting of former glories at Aksorn will be wrong-footed.
Dishes like a steamed curry of pork with peanuts and Thai basil and smoked fish soup with shredded chicken, bamboo and Thai herbs are intensely flavoured and exquisitely layered texturally: A testament to Thompson's skill. The chef, though, is happy to give the long-forgotten cookbook authors of post-war Thailand kudos for providing his source material.
"I'm trying to be a culinary chameleon here," he said. "It's not about me, it's about presenting what is in the book. In some ways, it is against everything I've ever done before. The galantine is not the only bastardised dish in these books. I've done a pork terrine, there's glace pineapple with young coconut meat. It's a lot of fun. Constricting and freeing at the same time."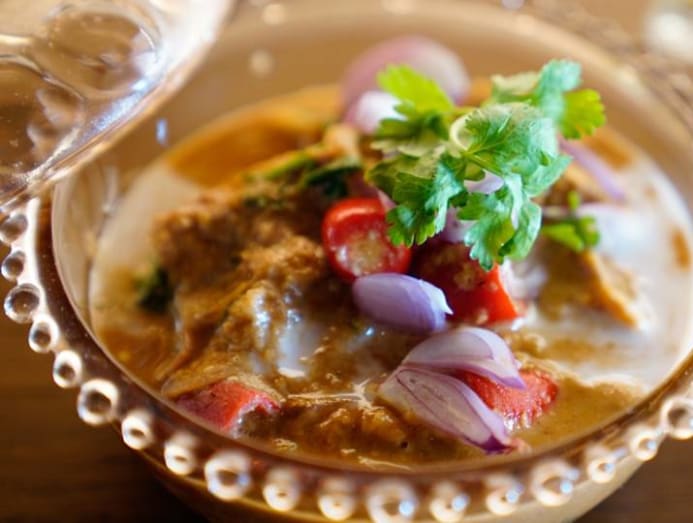 Before he bids us farewell on the ground floor of Central: The Original Store, Thompson has a browse through some of the vintage magazines on display. Editions of Life, Vogue and Harpers Bazaar exude a technicolour glow, their glossy depictions of Americana as seductive today as they must have been to Thai readers in the 1950s.
It's little wonder that even a food culture as robust as Thailand's couldn't help but be permeated by the West. But even the new, loosened-up Thompson has his limits.
"I don't think I can bring myself to put a hot dog on," he joked. "But if it was in one of the cookbooks, I might do one as a kind of 'screw-you canape'. Why not? I've already crossed over to the dark side."