Malaysia's celebrity newlyweds celebrate Hari Raya amid a third lockdown
In light of Malaysia's third nationwide lockdown, local celebrity newlyweds kept their first Hari Raya Aidilfitri simple and down-to-earth.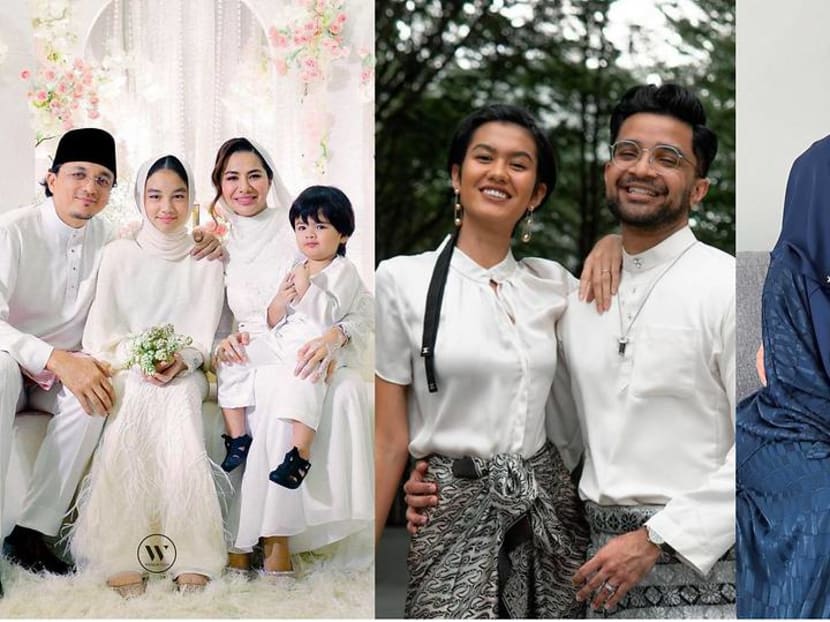 This year's Hari Raya celebrations across Malaysia were a muted affair for the second year running. Unsurprisingly so, as just a few days ahead of the big day, Prime Minister Tan Sri Muhyiddin Yassin announced a shock Movement Control order (MCO) nationwide that would take effect from May 12 to June 7.
Apart from banning interstate travel – which makes "balik kampung" (returning home) impossible for many Malaysians – additional Standard Operating Practices (SOPs) including disallowing traditional Raya activities like visiting the cemetery or open houses put a pall on celebrations.
ALICIA AMIN & FARZAN IQBAL
For top model Alicia Amin, who married doctor Farzan Iqbal on Valentine's Day this year, their first Raya as man and wife was practically a non-event. The couple, who had met on a dating app during the first MCO, only met face-to-face when restrictions eased, and they decided to take the plunge soon after.
Their simple akad nikah (Islamic marriage contract) at the mosque and solemnisation at home was an intimate affair but no less chic as the glamorous bride donned a modest Alia Bastaman gown and Naz Living A Style hijab for the nikah and a lace gown by the same designer for the solemnisation.
Alicia was quoted as saying that even up to the last minute, the running joke was that Farzan might not be able to make the nikah due to his horsemanship duties.

While the groom made the wedding, he did have to work on the first day of Raya, much to Alicia's chagrin. This was tempered with understanding as she grew up with a cardiothoracic surgeon father. Despite a less than ideal first Raya, the couple managed to tuck into traditional ketupat, lemang and rendang for breakfast while Alicia dressed up with recycled clothes from Raya's past.
JOE FLIZZOW & MARINI RAMLAN
Rapper Joe Flizzow and artist Marini Ramlan also had a pandemic wedding in July last year although their wedding happened when the first MCO eased up, allowing Joe's father to cross state lines to attend the wedding.
Unlike Alicia and Farzan, the couple had known each other for 15 years, been dating for three and were engaged in 2019. Marini (known fondly as Nini) had been planning a big wedding in the traditional Malay style but when the pandemic hit, she had to scale down the nuptials drastically to a ceremony comprising just 20 of their nearest and dearest.
Despite this, the couple-about-town looked radiant and serene with the Hublot ambassador/rapper swapping his streetwear and kicks for an off-white baju Melayu with a sampin matching Nini's demure Teluk Belanga-style baju kurung silk sarong.
The couple's first Raya together was accompanied by flickering fairy lights and pelita bamboo torches which Joe sweetly put up in the lush garden of their marital home. The rapper donned a peach baju Melayu with a blue checked sampin for his Raya wish post on his Instagram account, the same baju Raya which he wore for his first family Raya portrait with Nini and her family. 
The extravagant pictures featuring three generations of Nini's family looked like they were shot in Monte Carlo and on the Savannah, when in actual fact the set and editing was the work of Didi Ramlan, Nini's younger, equally artistic sister who runs her own entertainment events management company.
NEELOFA & PU RIZ
Last year was a big year for Noor Neelofa Mohd Noor (Neelofa). On top of navigating the lockdown, the mega-influencer and entrepreneur made the decision to up her modest appearance by donning the face veil (also known as the niqab or the purdah) in October.
Shortly after, the famously private celebrity shared on her Instagram page that she was getting engaged to celebrity preacher, Haris Ismail (known familiarly as PU Riz). The couple were married in a lavish all-white ceremony in March this year when lockdown restrictions had eased somewhat in the Malaysian capital.
The bride wore a dress sparkling with 5,000 Swarovski crystals and the pelamin (bridal divan) featured four tonnes of fresh ivory blooms.
In sharp contrast, the newlyweds celebrated their first Raya together with little fanfare. In an Instagram post, they are seen holding hands on the couch in matching navy outfits. Neelofa's accompanying heartfelt post expressed her joy that Syawal was starting while humbly asking for forgiveness for all her past wrongdoings.
NOOR NABILA & ENGKU EMRAN
Neelofa's sister, entrepreneur Noor Nabila (Bella)'s, marriage to Negeri Sembilan nobility and CEO, Engku Emran Engku Zainal Abidin, just a month before Neelofa's, was a much quieter affair than her sister's but no less meaningful. The couple looked blissfully happy and this symbolised the beginning of their lives as a blended family.
Bella, who had been married to actor Sharnaaz Ahmad Basir Ahmad, has a four-year-old son, Jebat Jayden Ahmad, while Engku Emran, who was married to actress Erra Fazira, has a teenage daughter, Engku Aleesya, and was previously married to Indonesian celebrity, Laudya Cynthia Bella.
The couple chose to be low key on their first Raya together although they shared an abundant Raya spread at Bella's family, home-cooked by matriarch Datin Noor Kartini, a celebrity chef.
Bella shared an adorable post of her son Jebat in a pink baju Melayu wishing everyone Selamat Hari Raya while cheekily asking for a slice of kueh.