Singapore street artist Yip Yew Chong's first series of nostalgic paintings sells out in a flash
You've probably taken an #ootd with one of his iconic public murals. Now, you have the chance to enjoy the artist's signature nostalgic style translated to canvas at his first solo exhibition.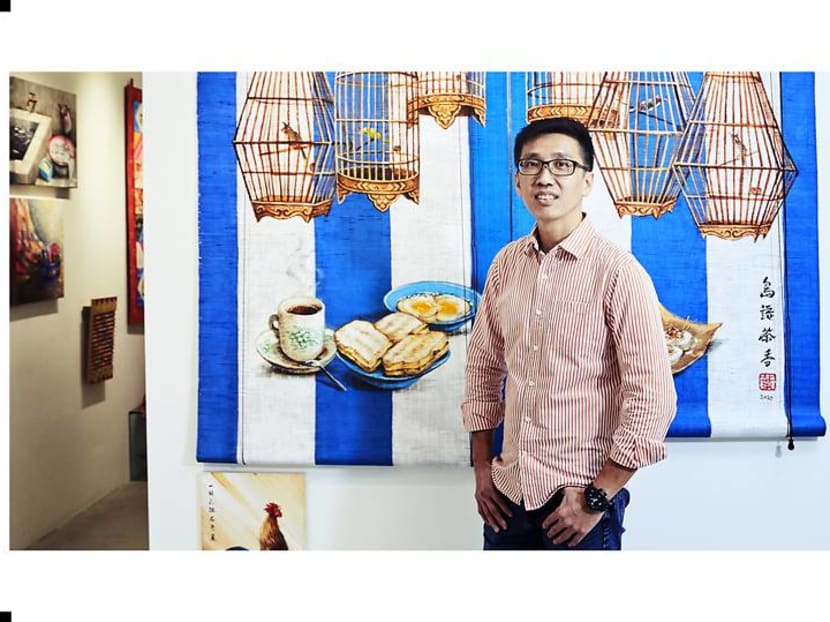 Cats may be the Internet's favourite animal, but that is not why artist Yip Yew Chong paints them into his hugely popular murals that depict his nostalgic memories of Singapore.
The 52-year-old, whose oft-photographed life-sized murals can be found on the walls of buildings all around Singapore, including Chinatown, Tiong Bahru and even Woodlands, says he began painting moggies for historical accuracy.
"In the old days, cats roamed the streets and were everywhere. My family even kept cats – not as pets but for catching rats," said the youthful-looking Yip, who also depicts other commonly found domestic animals of early Singapore, such as dogs, chickens and ducks in his murals.
"But after a while, I noticed that the people who enjoyed the murals specifically looked out for cats, so sometimes I even hide them in my paintings," the self-taught artist added with a laugh.
This popular demand is one of the reasons why these cute felines can be spotted in five paintings in Yip's first solo gallery show Something Somewhere Somewhen at Art Porters Gallery.
The ongoing exhibition, which opened on Jan 12 and runs till Mar 14, features vignettes inspired by his street art such as a sleeping cat painted directly onto a vintage wooden chair, a "flatlay" of a Chinese reunion dinner on a laminated table top as well as canvas paintings of traditional masks and lanterns.
All of these images – spanning 27 canvases and 15 sets of old-school objects like enamel plates and wooden washing boards – will certainly strike a chord among those who are familiar with Yip's work. The paintings, which ranged in price from S$600 to S$11,000, have since sold out as collectors snapped up the opportunity to own a slice of nostalgia.

"Yew Chong is a popular artist whose work has touched almost everyone, even in a city as diverse as Singapore, from locals and expats to the tourists who visit. You can enjoy the murals for free but they may disappear from the buildings some day and may eventually become very rare," said Guillaume Levy-Lambert, co-founder of Art Porters Gallery.

"Yew Chong is a popular artist whose work has touched almost everyone… You can enjoy the murals for free but they may disappear from the buildings some day and may eventually become very rare." – Guillaume Levy-Lambert
The duo struck up a friendship after Yip began painting in the Spottiswoode and Everton Park neighbourhoods, where the gallery is also located. During Singapore's circuit breaker period last year, Levy-Lambert approached Yip with the idea to hold a solo show – something that the latter had always dreamt of doing.
"Because of the absence of tourists, we decided to focus on a theme that would resonate with locals. Plus, I wanted my first solo exhibition to be associated with how I became an artist – which is through my murals," said Yip, who took about four months to paint the series.
A former accountant, Yip began painting murals in 2015 as a hobby before leaving his job in 2018 to become a full-time artist. With his time freed up as he could not go out to paint murals during the circuit breaker, he jumped at the chance to take his work from the great outdoors to the comforts of a studio, he added with a laugh.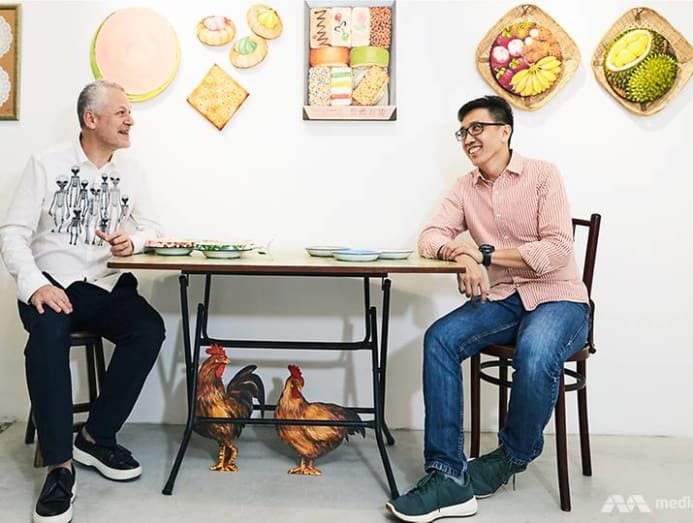 Interestingly, while his works have a sense of familiarity about them – Yip says he often meets people who tell him that he has captured scenes straight out of their childhoods – they are all a product of his memories and imagination.
"Most of the time, I draw inspiration from my memories, childhood and travels. To prepare for a painting, I sometimes look at Google for images to get the details of a specific item. But what I remember clearly and try to convey are the ambiance and mood of the scenes that I paint, such as evoking the sound of dripping water or the smell of the fabric that my grandmother used to sew," he said.
This elusive "nostalgic spirit" is precisely why Levy-Lambert believes Yip's work is worth investing in.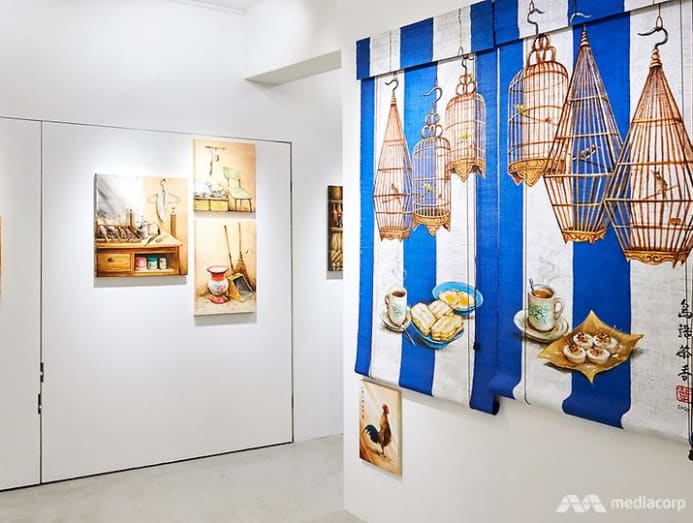 "What I find exceptional about his work is that it is popular. I immensely respect the fact that everybody likes his art. Some may think it is simple but simplicity is a quality – it talks about the everyday in an authentic way and this exhibition also showcases the depth of his practice," he said.
The title of the exhibition draws attention to this sense of capturing a moment in time. Yip added, "I would like people to come and view the paintings and ponder how and why they look familiar. Have you seen them somewhere and somehow from your grandmother's stories? With Singapore developing so rapidly, I wanted to bring back that kind of poignant feeling that people have when thinking about the past."
There is more up this painter's sleeve. "Yew Chong wanted to offer a slice of what people know about him, but this is not the end point, it is his starting point and there is much more to look forward to," said Levy-Lambert.
Yip is slated to launch another exhibition in February which will feature larger panoramic scenes of people.
"I am an explorer and I like to travel, detour and go off course. It is the same with my art," he said. Already a sought after mural artist – in pre-pandemic times, he travelled to countries like Malaysia, Cambodia and India to paint – he hopes to take part in more art exhibitions overseas in the future.
"I would like to devote more time to painting canvases and installations and I may consider making videos. But the aim of my art is to relate to people and to explore local life. So I won't become more abstract anytime soon but I'll never say never!"
"I would like people to come and view the paintings and ponder how and why they look familiar. Have you seen them somewhere and somehow from your grandmother's stories?" – Yip Yew Chong