In Japan, a floating ryokan that lets guests enjoy stunning views and island-hop
Guntu, a five-star floating hotel that's a cross between a traditional ryokan and a luxury yacht, offers guests the chance to unwind amid the ever-changing landscape of the Seto Inland Sea.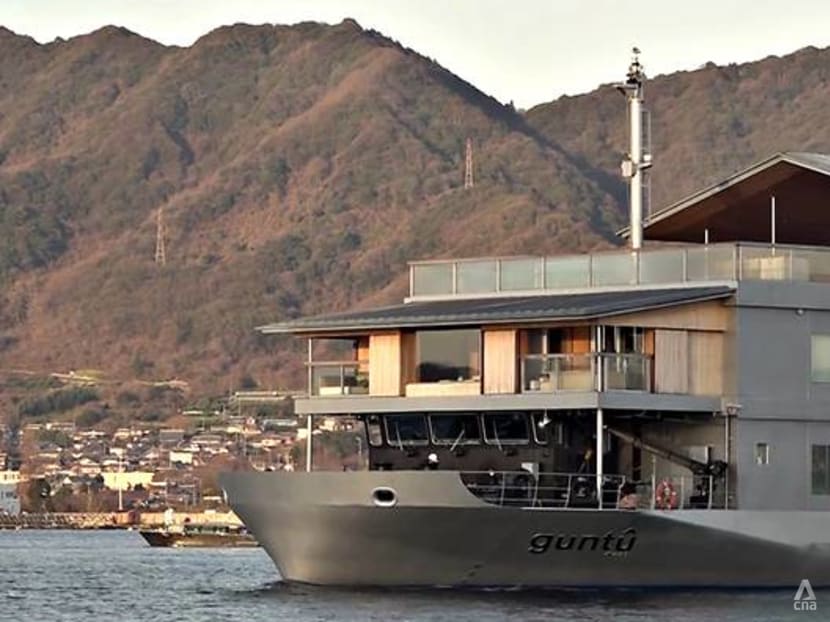 From world-class art to breathtaking landscapes, the allure of Japan's Setouchi Region became more interesting with the arrival of this three-storied floating hotel that leisurely cruises around the Seto Inland Sea.
Guntu, pronounced Gan-tsu, is no ordinary cruise ship. In fact, there's nothing ship-like about its physical structure, which looks more like an exquisitely crafted boat house with a gabled roof and reflective grey-silver exterior to blend seamlessly with the surrounding scenery.
With only room for a maximum of 38 guests, a stay on this 82m luxury craft is as exclusive as it gets, giving any upscale boutique hotel a run for its money. It's no surprise that this mobile ryokan was named one of the World's Greatest Places in 2019 by Time Magazine.
Comprised of 19 ocean-view cabins with Japanese inn-style accommodations, featuring smooth wood panelling and clutter-free interiors, this architectural wonder conveys a sense of serenity and detachment from urban life.
Guntu is a cross between a traditional ryokan and luxury yacht, offering guests the chance to unwind amid the ever-changing landscape of the Seto Inland Sea, as this video (filmed before the pandemic) shows.
"A lot of people say that it's like a house, not a ship," shared director of sales, marketing & PR, Taoko Shimizu.
The man behind Guntu is award-winning architect, Yasushi Horibe, a professor of architecture at the Graduate School of the Kyoto University of Art and Design, and a recipient of the 2016 Architectural Institute of Japan Prize (Architectural Design Division) for his design of Charnel House in Chikurin-ji.
Known for his use of natural materials and clean lines, Horibe incorporated a variety of wood in a number of places on the ship, as he believes the colour brings about a certain warmth to people's skin tone, and gives them a sense of calm and relaxation.
He shared that using wood for a passenger vessel was a very difficult task. "You will see a lot of wood everywhere which is very unusual and very difficult to maintain. It was quite a miracle that this was done."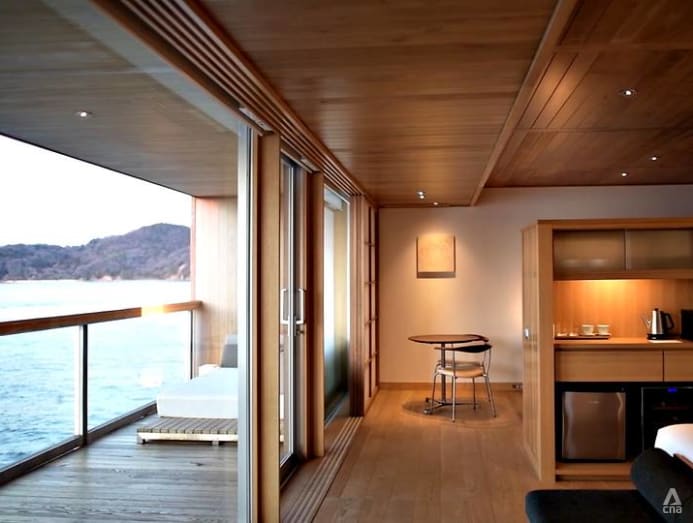 Each cabin has a private balcony for you to enjoy the forever-changing views outside, while majestic floor-to-ceiling windows flood the rooms with natural light. The luxury factor comes in smaller details like crisp cotton kimonos neatly folded in the closet and cold ginger juice in the mini fridge.
There are four types of suites, some offering open-air baths, of which the Guntu Suite is the largest. Situated above the bow, this 90sqm abode is the only room that offers both forward-facing and side-views of the sea. Staying in the most premium suite will set you back US$9,000 (S$11,980) for two nights per person, reported Shimizu. All the other rooms start from US$3,000 per night for two guests.
Departing from Onomichi city, east of Hiroshima, Guntu offers two- to three-night voyages that transport passengers along different routes of the Seto Inland Sea, home to thousands of tiny islands, including some well-known destinations like Naoshima art island.
Depending on the weather condition, guests can disembark and take on-shore excursions to selected islands and partake in activities like soy sauce sampling at a local brewery, guided hikes, cycling trips, or visits to ancient temple ruins or a fishing village.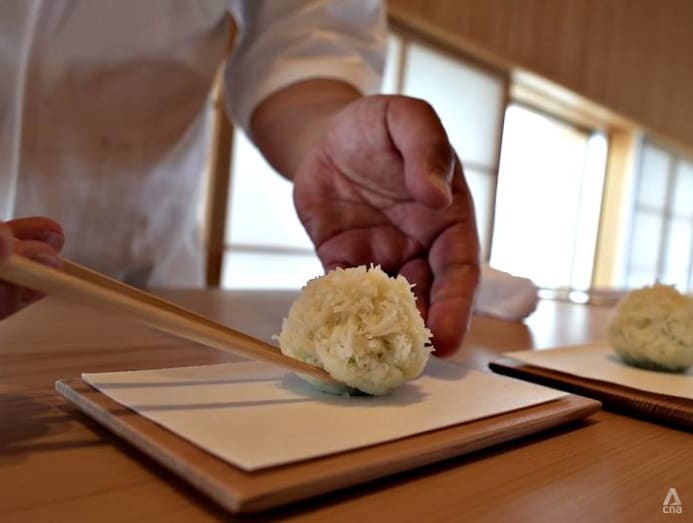 "We really want guests to enjoy and embrace the culture of the Setouchi region. Some of these islands are so beautiful, but many people have never heard of them. Guntu is the only boat that can take you there," said Shimizu.
As the ship anchors for the evening, guests can revel in Guntu's range of onboard facilities such as the spa, sauna, gym, tea room and indoor lounge serving freshly-made Japanese confectionery.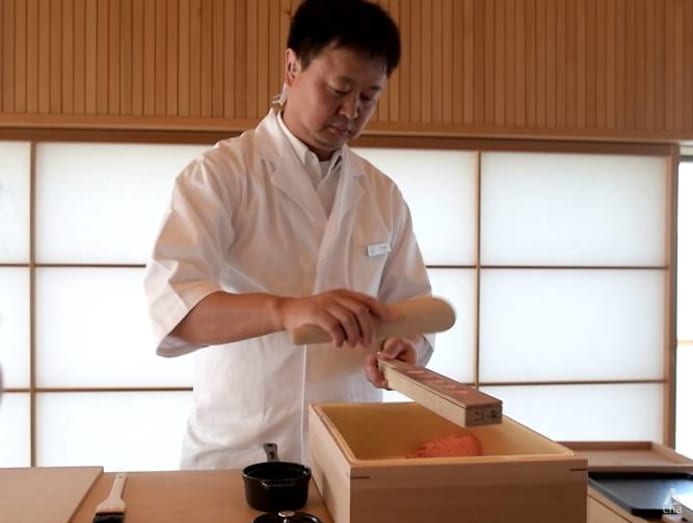 The heart and soul of the hotel is the main dining room where both Western and Japanese culinary creations are crafted using freshly-caught seafood. Master chefs Kenzo Sato from Shigeyoshi, and Nobuo Sakamoto of Nobu, lend their expertise to the well-curated wagashi (traditional Japanese sweets) and sushi menus.
To fully immerse yourself in this zen-filled home-away-from-home, and feel like one with the elements, head to the engawa terrace (Japanese-style verandah) or rooftop observation deck, where you'll see nothing but azure skies reflecting off cerulean waters.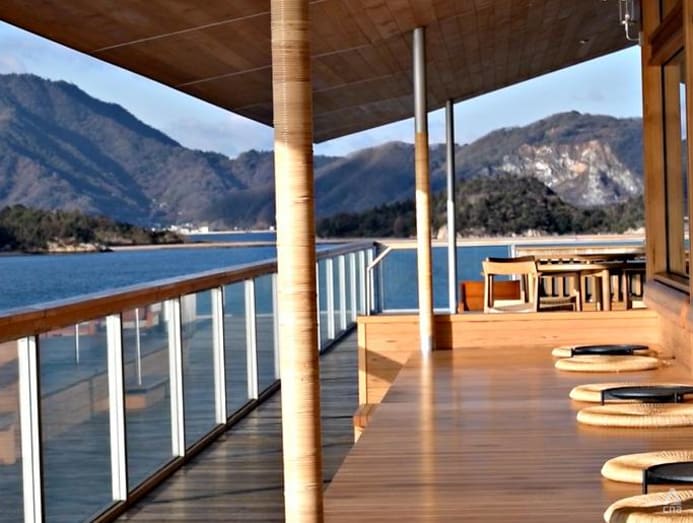 "If you sit at the engawa, I believe you can experience the feeling as if a picture scroll is slowly moving," enthused Yasushi.
"Usually our guests frequent many well-known places such as Tokyo, Osaka and Kyoto. But here it is very, very quiet. You will not see a lot of people. We want people to be relaxed and remember their time here when they did nothing," concluded Shimizu.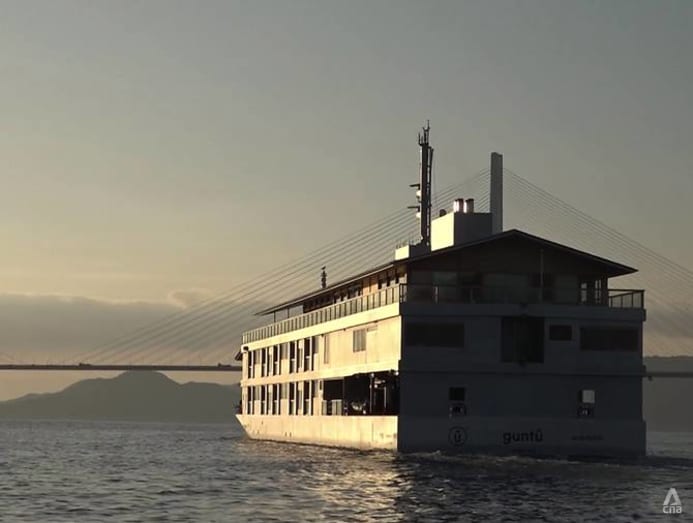 Adapted from the series Remarkable Living (Season 3). Watch full episodes on CNA, every Sunday at 8.30pm.
Disclaimer: This video was filmed before the COVID-19 pandemic.