At 37, this entrepreneur left his business development job to be a baker
Kenneth Seah started Kki Sweets with his wife Delphine Liau with a simple aim: To create a happy place for people to enjoy delicious, Japanese-inspired cakes.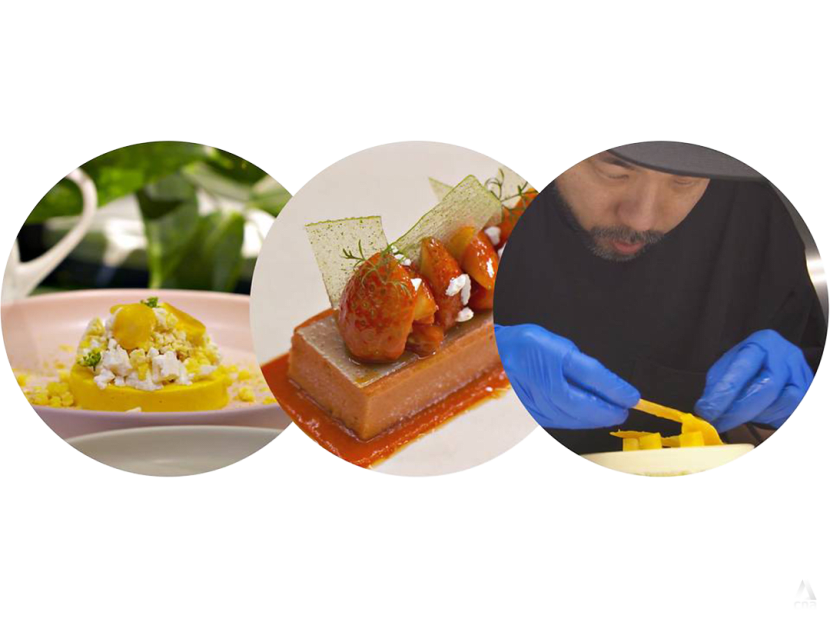 When Kenneth Seah was growing up, he always looked forward to birthdays. His mother often baked at home so there were always cakes in the house, especially during special occasions.
"I grew up loving sweets, loving cakes. I guess that's somehow processed in me and subconsciously, I enjoyed that," said Seah with a smile as he reminisced about those fond memories.
In 2007, Seah's first trip to Tokyo opened his eyes to the world of exquisite Japanese cakes. He recalled, "It was mind-blowing because the texture, the flavours, everything was very well-balanced. I never knew that cakes could be like that."
Upon his return he tried to find something similar but there wasn't anything that came close. So he and his wife Delphine Liau started their own patisserie Kki Sweets in 2009, serving Japanese-inspired mousse cakes and entremets together with tea and specialty coffee. Recently, they moved into a brand new space along Seah Street.
"Kki basically means cake in Japanese. It is very straightforward and it's what we want to do. No fancy French name, just cakes in the simplest form," Seah explained. "It's very Japanese-inspired, in terms of the balance and texture."
Sparked by Japanese pastry legends Hidemi Sugino and Sadaharu Aoki, Seah was 37 when he left his job in business development and taught himself how to bake.
In 2009, Kenneth Seah started Kki Sweets with his wife Delphine Liau with a simple aim: To create a happy place for people to enjoy delicious, Japanese-inspired cakes. In this video, find out what persuaded them to venture into the world of sweet treats. 
He shared, "My background is in engineering. I never really baked until we opened Kki and it was really a leap of faith because we didn't know whether it would work out, whether it would taste good."
While the lack of formal training meant a steeper learning curve, Seah felt that it had also given him a certain boldness. "Sometimes I'm glad that I didn't have that background. Then I have no boundaries, I can go crazy, and I think that's a plus point for me," he said.
He is also a stickler for using quality ingredients. "It has to be at the highest quality when you serve it out, because the person has taken time to come here to eat that and you should honour that. My mum never stints on ingredients and that has stuck with me always."
His techniques and sensibilities are informed by art, fashion and architecture, all distilled into exquisite edible structures. He even plays with different fruit combinations that people never think would work.
Case in point: the whimsical "J" is an ingeniously shaped "potted plant" made of black sesame mousse, yuzu cremeux and matcha. Another too-pretty-to-eat dessert combines Japanese tomato, strawberry and red pepper.
Kki's interior is designed with Japanese minimalist aesthetics. There are no cake stands nor fancy display cases. A long communal table interspersed by bamboo plants forms the centrepiece so diners have some privacy even though they're seated near each other. Dessert images are deliberately omitted from the menu and diners are invited to let their imagination guide their taste preferences.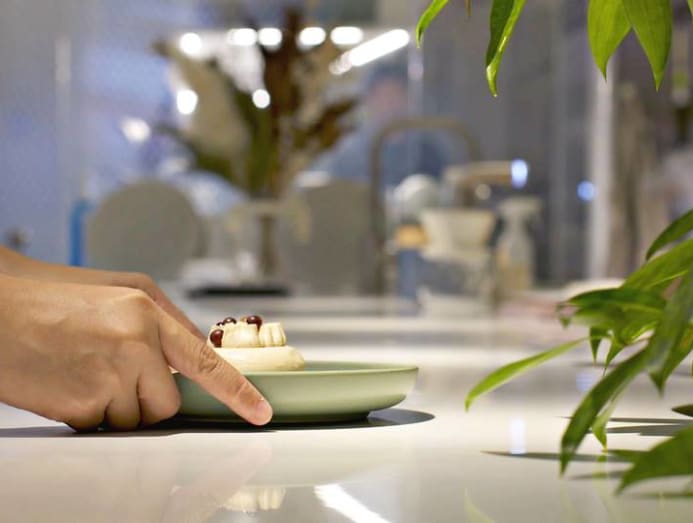 "It's more like a dessert studio – when you order it, we plate it out," said Seah. "It gives us more room to play with creativity here. We can put in different textures and flavours, it's something you won't be able to do if you had a cake display."
The communal table extends right into the kitchen where Seah leads the preparations while Liau manages the front of house. He explained, "We didn't want the kitchen to be separated from the diners. So it's very much like your home, everyone sees what's going on. There's more interaction rather than a separation."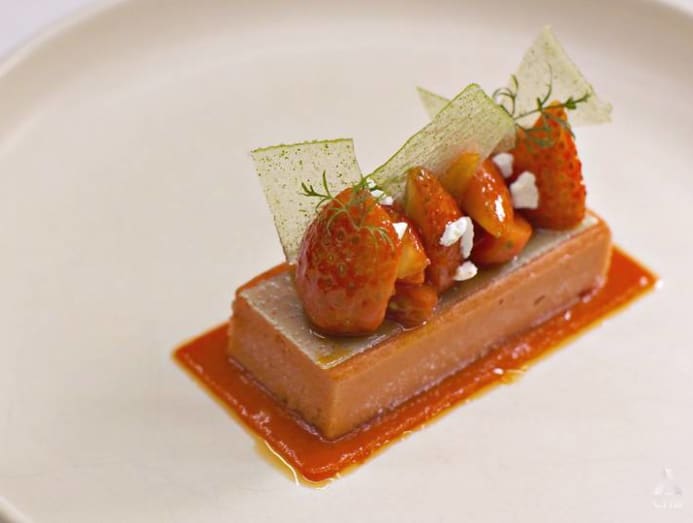 Besides satisfying the palate of discerning cake connoisseurs, Seah also has another mission: To nurture the next generation of pastry chefs. "There are a lot of wonderful young pastry chefs and it will be a pity for them to end up overseas, working somewhere else. We hope that this place can also inspire them. They can come here and say that it is possible to do something like that," he enthused.
The couple are gratified to have a loyal clientele that includes those who bring their children to enjoy the desserts they had loved while they were dating.
Seah said, "A lot of our customers come in, hoping to chat with us. It's like a relationship, it's like coming to your friend's house.
"If you are having a bad day and if that cake makes you feel a lot better, and if it inspires you, if this space gives you something to take away that is not tangible, that's good enough for us."
Adapted from the series Remarkable Living (Season 3). Watch full episodes on CNA, every Sunday at 8.30pm.