A pair of private bankers and their Paris-inspired home in Singapore
It's nothing less than designer furnishings for private bankers Terence Siew and Chermaine Pang, who have filled their love nest with French-style decor and quirky collectibles.
Managing financial portfolios for high-net-worth individuals can be extremely stressful for private bankers Terence Siew and Chermaine Pang, so returning to a luxurious home is something they look forward to daily.
"We live very hectic work lives so it's very important for us to have this private sanctuary at home to de-stress and unwind," said Siew.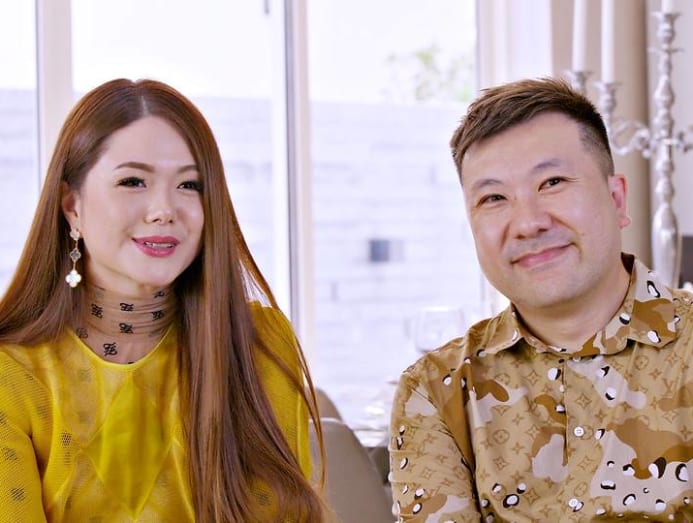 "Home is where the heart is. And it's a place where we feel tranquillity, warmth and love," added Pang. All the more if it's filled with treasured memories of their travels to Paris – their favourite holiday destination.
"We travel a lot and we love Paris the most. We are intrigued by their art, architecture and fashion. I really love French artisanal work and fine craftsmanship," she said. Incidentally, the top of the Eiffel Tower was where Siew proposed. Paris is also where they went for their honeymoon.
The couple share their 4,000 sq ft home with their twin toddlers, Lucas and Leia, and three dogs – two poodles and a Spitz. "Our love for animals has also inspired the decor and the art," shared Pang.
Quirky art pieces and sculptures lend a lot of imagination and intrigue to the house, but the piece de resistance is Pang's walk-in wardrobe, which channels the look and feel of French fashion boutiques. "I feel that dressing up is one of the most personal rituals and I want to make this daily routine a delightful experience," she enthused.

It's nothing less than designer furnishings for private bankers Terence Siew and Chermaine Pang, who have filled their love nest with French-style decor and quirky collectibles. Watch this video to see how the couple transformed their 4,000 sq ft residence into an ode to Paris. 
She shares one of her favourite fashion accessories – an Hermes scarf. "I love the vivid colours of this scarf, and what is special about it is that the designer uses Singapore's garden city as the design inspiration," she explained.
The clotheshorse with a penchant for bags and accessories hopes to pass her treasured collection on to her daughter in future. "It's the love and appreciation of French craftsmanship that I want her to inherit as her legacy."
Her children's rooms have also adopted Parisian influences from the all-white furniture to muslin canopies – culminating in a dreamy, inviting space for the twins to enjoy. "I have collected many Precious Moments figurines over the years. This totally fits the theme of my babies' nursery because I want to build precious moments and memories with them," she gushed.
The master bedroom takes on a more masculine demeanour with dark textured walls and wood panelling. The use of soft furnishings and lighting creates the perfect harmony of yin and yang. The space is sectioned by a glass partition that offers a peek into another walk-in wardrobe for the couple's growing collection of clothes and accessories.
Their bedroom opens up to a panoramic view of a park. "Having a view of the park is a plus point. It really helps soothe the mind and the eyes," said Pang.
Creating a sanctuary also meant designing a total sensory experience from visual to auditory, such as the sound of running water from their many water features. "The sound of flowing water is incredibly relaxing," she added.
One of the couple's favourite places to enjoy some adult time is the roof terrace, a resort-inspired romantic retreat decked with tropical plants, a cosy cabana and glistening lap pool.
"This is where we spend some quality time together when the children are asleep. We like to relax here," she shared.
Adapted from the series Remarkable Living (Season 3). Watch full episodes on CNA, every Sunday at 8.30pm.