Like an art gallery: A Singapore home that even has its own pottery studio
Filled with artworks and collected objects, architect Theodore Chan and his potter wife Delphine Sng's home is an open and welcoming space for casual hangouts and artistic conversations.
Couple Theodore Chan and Delphine Sng's home is hard to miss from the street. The 4,080 sq. ft. inter-terrace is flanked by a single casuarina tree, whose striking elegance is captured daily from the living room through an oculus specially built into a balcony overhang.
The two-and-a-half storey house is the first one that Chan, an architect for 30 years, built for himself and his wife. It reflects their preference for natural materials, whose raw beauty is showcased throughout the house, including a feature wall made from locally sourced, upcycled rainforest wood.
The former president of the Singapore Institute of Architects mused, "I would call it 'industrial poetic' as a lot of the materials that we use in this house are all in a very unadorned state. We want to express the natural tones and quality of the material."
For Sng, who has been a full-time ceramic artist for 13 years since she left the corporate world, her ground-floor pottery studio at the back of the house is her creative sanctuary, where she works and teaches most of the day.
In the Tadao Ando-inspired concrete haven, her artworks hang on an off-form wall, alongside other local and international artists. A bubbling water feature next to her pottery wheel transports her to another world where she can create in quietude. The space was deliberately left void and flexible to allow for artists to gather and talk about their works.
Filled with artworks and collected objects, architect Theodore Chan and his potter wife Delphine Sng's home is an open and welcoming space for casual hangouts and artistic conversations. Take a house tour in this video. 
Sng explained, "On some of my holidays, I visited a few master potters and saw how they set up their studios. Most of them have their workshops behind, and they have a home gallery where they show their work. I thought that was really lovely for any artist to be able to share their work with the public."
Chan also wanted an "honest house" where all its services were exposed. He said, "Architecture is more than just about beautiful forms. I would see architects as healers of the built environment where you have to look at the considerations and use as little resources as possible."
He took the unusual route of building the house in mezzanines where the floor plates do not meet and services on the front side of the house are separate from those at the back.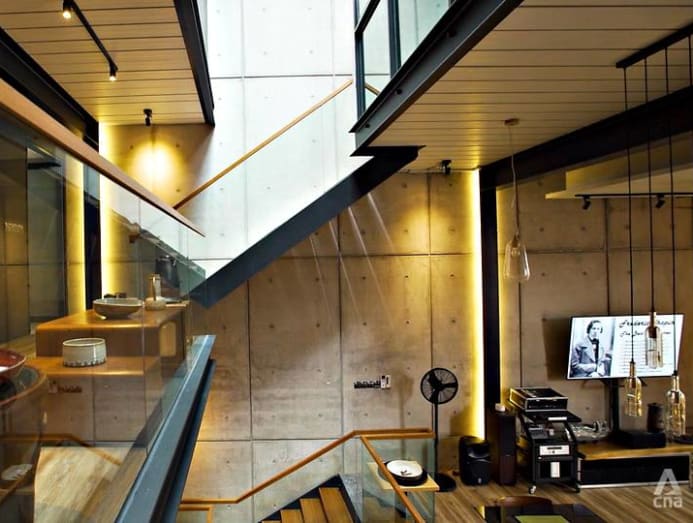 These were connected via the parti-walls at the sides of the house. The split stairs flanking both sides also gave the space a seamless connection, where each floor and its function are not compartmentalised, but rather flow from one level to the next.
Chan said, "The good thing about designing your own house is that you can push the boundary. You can do things which people will not conventionally accept." For example, steel decking, similar to those used at construction site offices, was used for the flooring. It is a rarity in residential projects but relished by Chan for its industrial look.
The furnishings, which become softer as one moves upwards from the living to the study and the bedrooms, were not planned purchases either. Sng said, "I tend to go very natural with the materials like wood, metal and stone. I didn't actually go out looking for a piece, they were collected over some years, and each remind you of a good place or a relationship."
The intimate dwelling is one in which the couple enjoys hosting family and friends, especially in their favourite "kitchen-cafe", where guests would sit around the long kitchen island to chat, eat and prepare food with their hosts. Chan also uses his home as a living lab to discuss architecture and design with budding architects.
Sng shared, "When we did [up] this space, we looked at it from a time perspective. That's why it is important to have a space that is honest. When you are there, you can be yourself and just be."
Adapted from the series Remarkable Living (Season 3). Watch full episodes on CNA, every Sunday at 8.30pm.