This Singapore couple built a home on 'stilts' to recreate a kampung feel
Married couple Yang Yeo and Wee Ching Ian grew up on a street where the neighbours all knew each other and back doors were always open. So when it came to building their own home, they sought to create a modern version of a kampung house.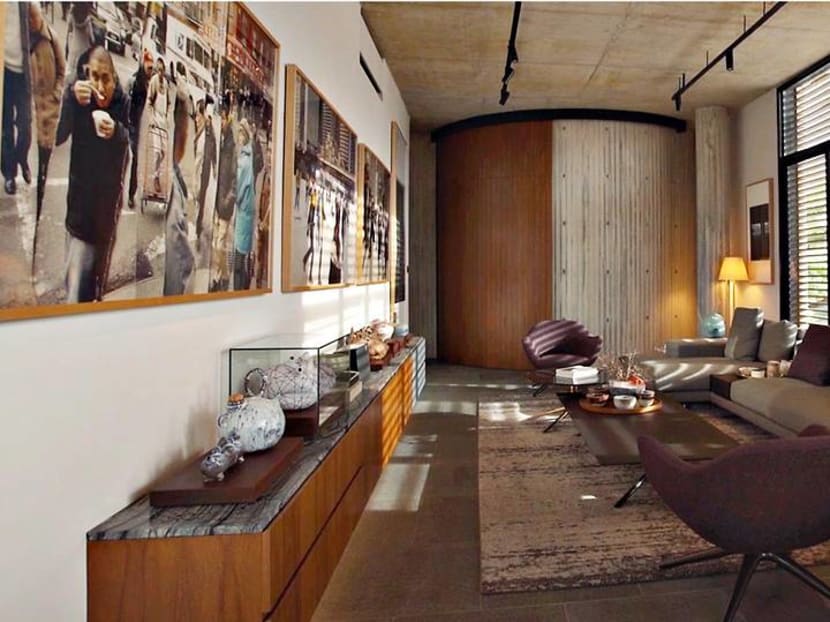 Advertising veteran Yang Yeo likes the outdoors, and his wife Wee Ching Ian dislikes air-conditioning. When it was time to build their own home in Singapore after spending many years in Shanghai, their brief to ipli Architects was straightforward.
They wanted a place that evoked the nostalgia of their childhood while reflecting modern design sensibilities. Yeo said, "We told them, 'Give us something that's very open, very natural, organic and non-pretentious.'"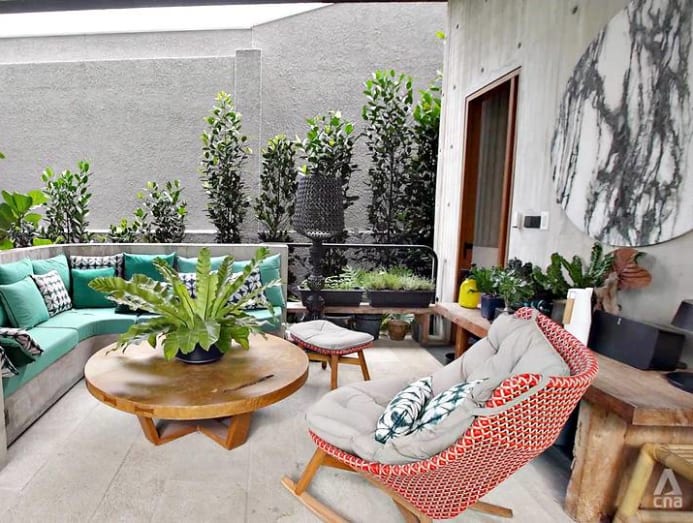 With this in mind, ipli principal Yip Yuen Hong and associate Tay Yew designed a three-storey, 5,275 sq. ft. residence that is a contemporary re-imagination of a kampung house, defined by a textured concrete facade and verdant foliage.
Timber screens on the exterior mimic the shutter windows of old kampung houses, creating a fascinating play of light and shadow during the afternoons while providing privacy to the homeowners.
Yip said that the owners wanted to experience tropical architecture all over again after being overseas for a while. Hence the house has lush undergrowth and tall trees along its sides, bringing shade and privacy to the outdoor areas.
The exterior columns of the house puncture the upper storey, like tree trunks coming through the living spaces. "It is like the stilts of a kampung house and it goes with the trees very nicely," Yip added.
The property sits on a slope, which sets the back part of the house 3.5m lower than the front. This creates an open yet tucked away alcove that is Yeo's favourite spot in the house.
"When we were really young, we lived on a street where the neighbours knew each other. Our back door was always left open, and I wanted that kind of relationship in this house as well," Yeo shared. "Rather than closing people off, we actually want the community to come in."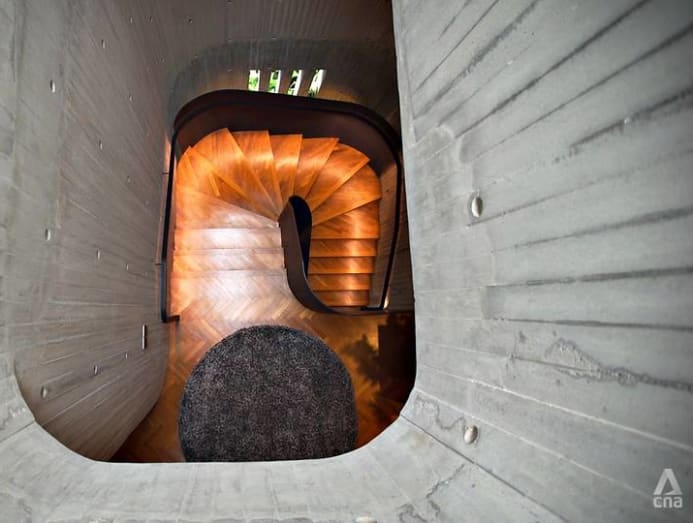 The interiors are dressed in utilitarian materials such as wood, metal and cement, in accordance with the couple's desire for a natural and functional design. Some surfaces were deliberately left in their original raw state, such as a ceiling in the living area.
Yeo decided to leave the ceiling unfinished when he saw the rust patina in the concrete after they had peeled off the off-form plywood. "Over time you see the rust colours coming through and I think it's really lovely," he said.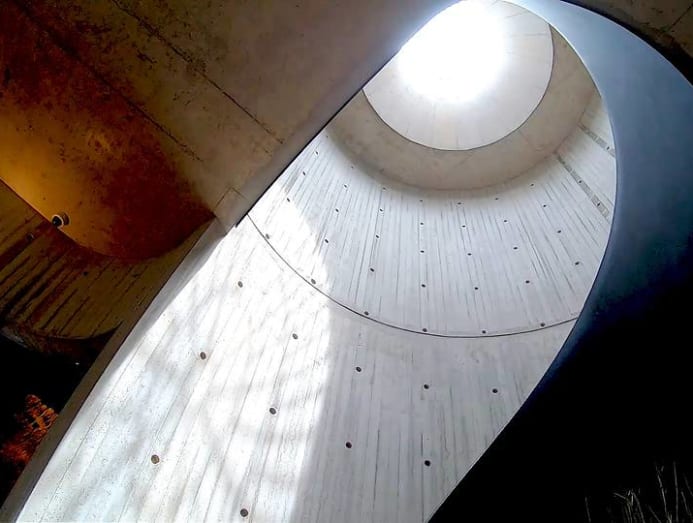 A low round table was cut to the same size as the air well opening above so that at a certain time of the day, the sunlight would spotlight the table and its centrepiece, giving it a gallery-like feel.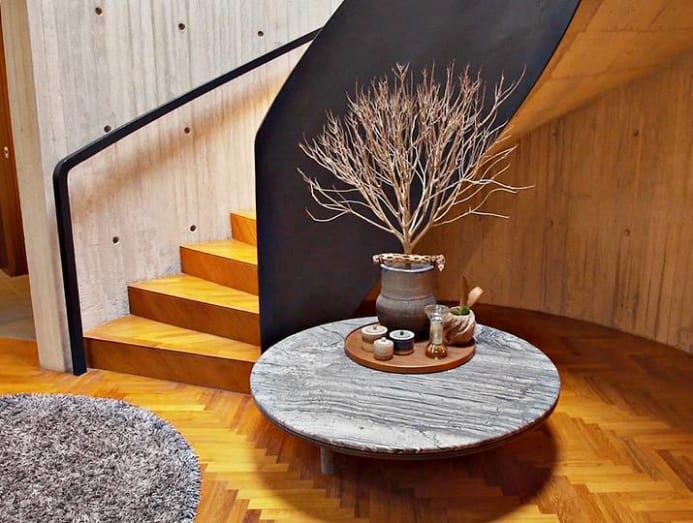 Art is another thing that is close to the couple's heart, and pieces gifted by their photographer- and ceramicist friends dot the walls and spaces. As a former student of renowned ceramicist Iskandar Jalil, Yeo has some of his teacher's works displayed.
"We collect art but it's not just a decorative element. It's not a gallery, it's a place where we celebrate our relationship with our friends," Yeo shared.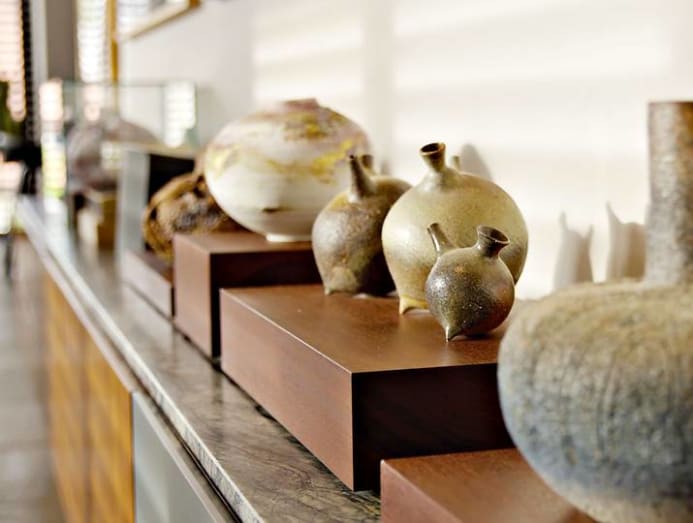 With all these elements, the couple have found this house to be a true reflection of their personalities and preferences.
Yeo said, "We want a place that's robust and solid, but at the same time very simple and kept to the purest – something that has a deeper meaning and emotional attachment to us."
Adapted from the series Remarkable Living (Season 3). Watch full episodes on CNA, every Sunday at 8.30pm.