Five on Friday: 5 durian offerings for the brave
In CNA's regular look at what hit the headlines during the week, Five on Friday serves up some unconventional durian products. We dare you to try.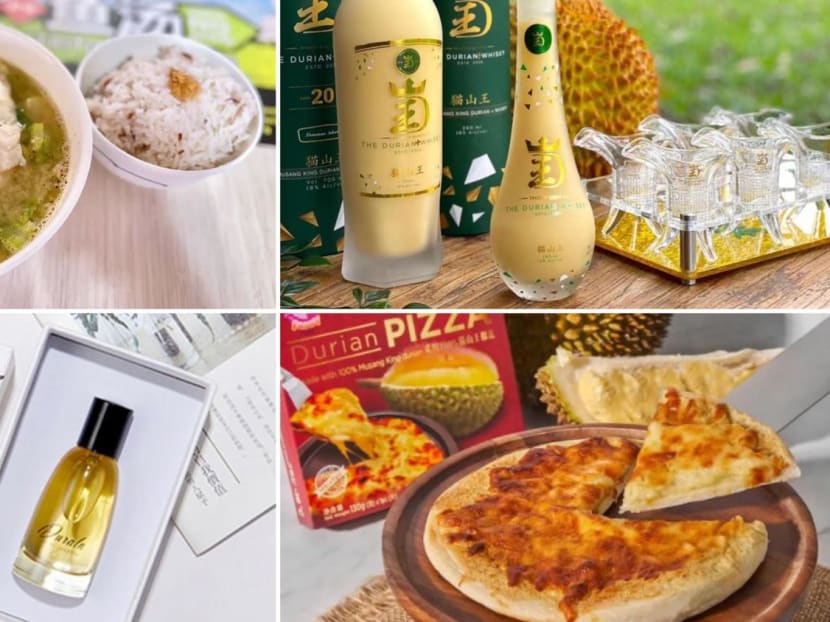 SINGAPORE: Love it or hate it, you cannot deny that the durian is an icon ... at least in Singapore and Malaysia.
Fans of the king of fruits are legion – braving long queues during peak season for the best pick of the year's pickings. Mao Shan Wang, Red Prawn, Black Thorn and D24 - these are names familiar to many of us. 
But for the brave and adventurous, the fruit in its original form may not fully scratch the itch. 
So if you enjoy digging into the creamy treat, but you're also looking for an unconventional encounter, consider these unique offerings: 
DURIAN FISH SOUP
Savoury iterations of durian are not uncommon. But have you ever had durian fish soup?
In addition to its more recognisable items on the menu, Wang Yuan Fish Soup in Tampines also serves up a bowl of the staple dish with durian flesh.
For S$12 per serving, you will also get two types of vegetables and minced meat. Carbs, protein, fibre. Your dietician will be proud.
On social media, Wang Yuan Fish Soup claims that its durian dish helps to strengthen immunity – a result of the use of organic durians and the stall's signature broth.
Durians contain vitamins and various healthy plant compounds that have antioxidant benefits, it said, adding that the dish is perfect for chilly weather.
And if it's fish - not durian - that you have an issue with, Wang Yuan Fish Soup said it will soon introduce Durian Brown Rice and Durian Pork Belly Mince Meat Golden Pot.
DURIAN ALCOHOL
"You might die if you eat durian and drink alcohol at the same time." Have you heard this advice before?
According to doctors from the Raffles Medical Group, there is no conclusive scientific evidence that this is a lethal pairing. 
So for the brave-hearted, let me introduce the second item on this list - durian whisky.
Despite its name, this Musang King Mao Shan Wang Durian + Whisky beverage is a "cocktail" blend of durian and whisky, and not whisky that is distilled from fermented durian flesh.
The drink also contains vitamins, protein and minerals, said the brand. Several online reviews have described the tipple to be sweet, creamy and mild.
However, doctors have also warned that excessive intake of the durian fruit may contribute to heartburn and bloating in some people due to its relatively high fibre and carbohydrate content. This may be worsened when taken with alcohol.
So remember, moderation. And for non-alcohol drinkers, there's always durian cordial, milk, tea or coffee instead.
DURIAN PIZZA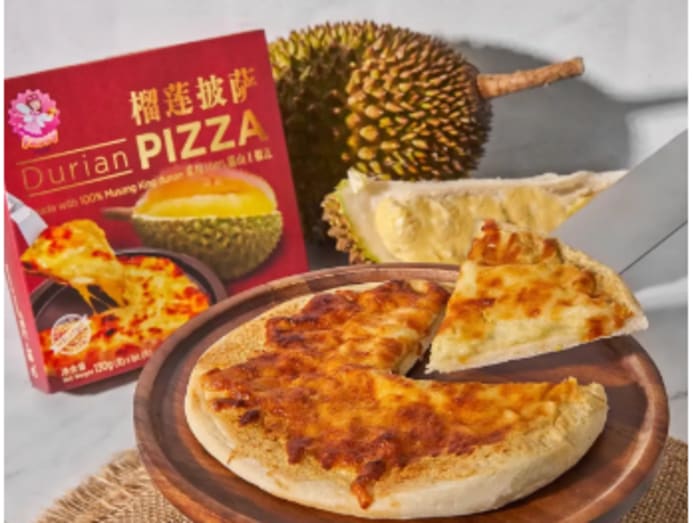 If you are looking for a carb-on-carb experience, consider durian pizza.
There are several frozen options to choose from and they are perfect to stash in the freezer for when your durian-dough-cheese craving hits at midnight.
The Fairy Port Musang King Durian Pizza, available online via NTUC FairPrice, promises a "vivid taste" that is unforgettable.
Local retailer Best Frozen Food also stocks an array of Miao Miao Veggie Pizzas, with flavours that range from durian supreme, to durian mango and cheese as well as charcoal durian king.
But I would still advise you to indulge away from the prying eyes of elderly family members if you do not want to be nagged about eating "heaty" food.
DURIAN SKINCARE
No word on whether these products will leave your skin as rich and supple as the durian flesh, but they come in handy for when you really want to take your durian obsession to the next level. 
Thai brand Durrianar offers a range of products including its Golden Durian Facial Mask and Multi Action Day Cream. 
In an interview with Bangkok Post, a representative from the brand's founding company said Durrianar's skincare uses extract harvested from young durian shoots. Durian flowers are also used to give its sheet masks a sweet fragrance. 
A quick search on online shopping platforms also yielded more options – from a purportedly anti-ageing hydrating Mao Shan Wang face pack to a durian coconut-laced moisturising sleeping mask. 
DURIAN PERFUME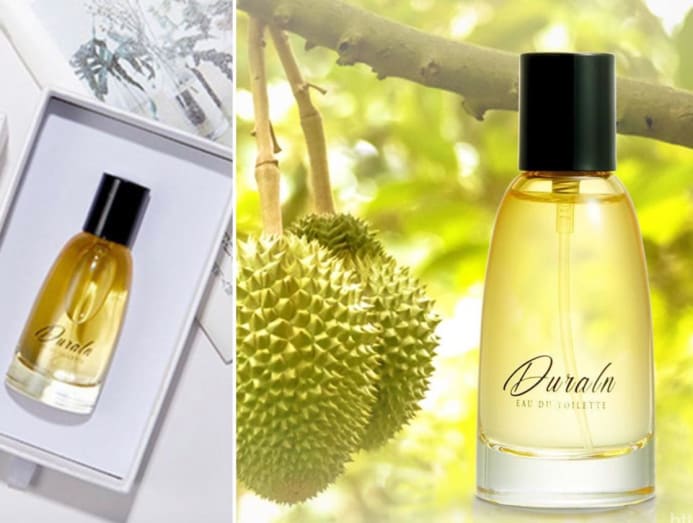 While durian has been described as the most foul-smelling fruit in the world – drawing comparisons to hot garbage, sewage and dirty gym socks, as well as sparking evacuations and legal action – many also find its pungent aroma to be delightfully intoxicating. 
Those who want to turn heads can complete their adventure into all things unusually durian with a generous douse of durian Eau de Toilette.
This Mao Shan Wang blend by the brand Carlotta is described as a unisex scent that carries a "fruit flavour". You don't say.
Multiple listings of this perfume showed up on an e-commerce platform. The perfume is said to originate from China.
The brand said it drew inspiration from the fruit's triangular spikes for the perfume's packaging design, while the bottle is meant to echo the "smooth oblongs" of durian flesh. 
The aroma is "lingering and unforgettable" and aims to replicate the purity of the aroma of Mao Shan Wang. 
But proceed at your own risk – no word on whether you'll be banned from public places for smelling like fruit royalty.