Trying to find a cheaper flight for your holiday? Experts share tips
What day of the week is best to book air tickets? Are weekend flights more expensive? How far ahead should you make reservations?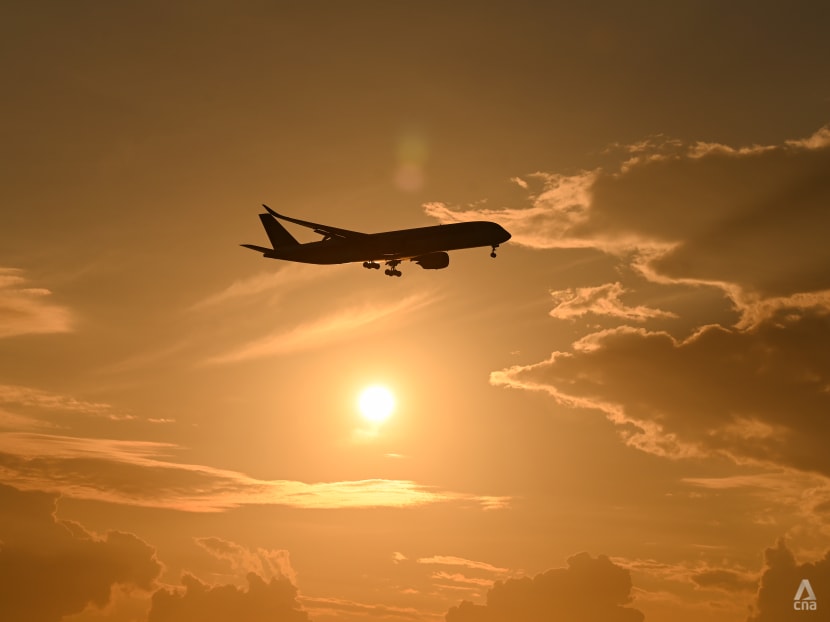 SINGAPORE: After a lack of travel opportunities for more than two years, holidaymakers are making plans with renewed zeal as COVID-19 border restrictions in Singapore and the region are being eased.
Passenger volumes at Changi Airport, for instance, have rebounded, hitting nearly 40 per cent of 2019 levels in the month of April. This figure is expected to increase in the coming months.
But what has also risen beyond pre-pandemic levels is the price of an air ticket.
A confluence of factors, from soaring demand to rising oil prices, has seen airfares taking to the skies in recent months, making long-anticipated vacations a financial challenge for consumers who are already feeling the squeeze of rising costs on other fronts.
With flight prices expected to remain elevated for a while more, we asked the experts for travel hacks to help you stretch your holiday budget.
Why are airfares getting more expensive?
A "very strong" demand from travellers, either to satisfy their wanderlust or be reunited with family and friends overseas, is one of the key factors driving up air ticket prices.
"This summer, we've seen average trip length increase significantly versus 2019. Lots of people have accumulated leave and savings that they are now burning," said Mr Ross Veitch, CEO and co-founder of online travel marketplace Wego.
It is worth noting that this boom in demand is coming at a time when most airlines have not gone back to pre-pandemic operations.
With reduced frequency on routes and the use of smaller planes, supply of seats remains constrained, said Assistant Professor Terence Fan, a transport specialist from the Singapore Management University.
Airlines may also be facing difficulties with re-hiring and re-certifying their flight crew after having downsized during the pandemic, Mr Veitch said.
Then, there is the factor of soaring oil prices brought about by Russia's invasion of Ukraine which has raised the fuel bills of airlines.
At a recent media briefing, Singapore Airlines said flight prices are a function of supply and demand. 
With flights being "quite booked up for many sectors" in at least the next two months or so, airfares have risen. Beyond that, prices are expected to "come back down", said the national carrier's commercial executive vice-president Lee Lik Hsin.
Industry observers expect flight prices to stay elevated for a while more, as airlines remain wary about the outlook ahead and are hence cautious about adding capacity.
But once that happens, alongside the moderation of current pent-up demand, airfares should come off their highs.
"Airline capacity will continue to ramp up between now and the end of 2022, by which time we expect most airlines to be running networks similar to pre-pandemic," said Mr Veitch. "That extra supply will ease pressure on prices to some extent."
1.    BOOK YOUR FLIGHT AT LEAST THREE MONTHS AHEAD
New normal or not, it remains the case that if you want a cheap (or cheaper) air ticket, you have to plan early as prices can fluctuate very quickly nearer to the take-off date.
"As a general rule of thumb, planning around three to six months in advance would be a safe bet. This will allow travellers to secure the best deals and plan ahead," said Ms Sarah Wan, the Singapore general manager of online travel booking platform Klook.
People are already doing so, she added, noting that Klook's users have been planning their trips at least two months in advance, a "slight increase in terms of booking window" than before the pandemic.
2.    AVOID PEAK PERIODS
The other rule of thumb is to steer clear of peak seasons, such as school holidays and festive seasons, so as to avoid a surge in prices and limited availability of good flight deals, said lifestyle app Traveloka's president Caesar Indra.
Expedia, which partnered the Airlines Reporting Corporation for a 2022 travel booking guide, reckoned that huge savings can also be reaped if travellers choose the "right month" to travel.
And the most ideal month to travel is apparently August, when travellers can save almost 40 per cent on international flights, it said.
3.    BOOK YOUR FLIGHT ON A WEEKEND
The day also matters when it comes to stretching your dollar.
Sunday is the cheapest day to make flight bookings, according to Expedia, as tickets are close to 20 per cent cheaper than Friday – the most expensive day.
4.    START YOUR HOLIDAY ON A THURSDAY
Meanwhile, Thursdays are the best day to start one's holiday.
Doing so can help you to save up to 25 per cent, compared to the most expensive day that is Monday, according to Expedia's travel booking guide.
5.    EXPLORE ALTERNATIVES
Be creative and find other ways to get to a destination, such as by flying into a neighbouring city and following up with a domestic flight or train, suggested Ms Wan.
6.    PROMOTIONS, LOYALTY PROGRAMMES
It never hurts to do more research, especially on ongoing promotions. Travel booking platforms like Traveloka hold sales with exclusive deals on flights, accommodations and even holiday activities.
It may also be worth tapping loyalty programmes offered by the likes of Expedia for member prices and exclusive perks.
And don't forget to make use of credit card rewards or airline miles that have been left unused for the past two years, advised Ms Wan.
Meanwhile, opt for flexible travel options to accommodate unforeseen changes and purchase travel insurance as a safety net.
"This way, it helps you maximise your travel budget while keeping you covered from unexpected expenses," said Expedia's Asia head of public relations Lavinia Rajaram.
 
DO THESE TRAVEL TIPS WORK?
Putting these tips together, it means that it is probably best to book a flight on a Sunday for a trip that departs Singapore on a Thursday in about three months' time.
CNA decided to put these flight booking hacks to test as this reporter searched for a two-way air ticket to Bali – one of Singaporeans' favourite travel destinations – from Sep 1, which is a Thursday, to Sep 5.
I also looked for flights departing Singapore on other days that week, as well as travel dates further out into October and November while keeping other variables, such as flight timings and the trip duration, constant. For further comparison, I did the searches on a Friday, supposedly the most expensive day in a week to make bookings, before repeating them on a Sunday.
My first port of call on Friday (May 27) evening was Singapore Airlines (SIA), which had a price tag of about S$734 for a two-way flight from Sep 1 to Sep 5.
Searching for trips that start on Wednesday (Aug 31) or Friday (Sep 2) threw up even higher airfares of S$820 and more, so it seemed that Thursday was indeed a cheaper day to fly.
With that in mind, I broadened my search into October and November. A round-trip ticket from Oct 6 to Oct 10 was going at almost S$730, while it cost about S$500 to take the same flights from Nov 3 to Nov 7.
At this juncture, I was a little shocked as these rates were way higher than what an interviewee of mine had paid for her five-day trip to Bali at the end of April. The holiday was quite an "impromptu" one, she told me, so the reservation was made less than a month before and her departure flight was certainly not on a Thursday. She paid S$420 for her air tickets.
So, I moved on to budget carrier Scoot and a third-party travel booking site. On both sites, the Thursday rule did not quite work out.
For example, it was almost S$85 cheaper to fly out to Bali via Scoot on Sep 2, a Friday. Likewise, the booking site also offered cheaper round-trip tickets via Scoot and other budget airlines if I travelled from Sep 2 to Sep 6.
Then to find out if it was really easier to snag cheaper flights on a Sunday, I repeated the searches two days later.
The travel hack worked, at least for SIA. Prices were about S$20 cheaper on most of the travel dates I searched previously. Not much - but hurray!
But the same tip failed for Scoot and the third-party booking site, with airfares little changed on most dates.
One thing remains the same though – flight prices seem to be trending lower by the end of the year. For instance, a round trip to Bali via Scoot and other budget airlines would cost about S$250 on average in early-November. For SIA, prices ranged from S$335 to S$520 in November.
So perhaps the best tip to snag a reasonably priced air ticket is to start planning for that year-end holiday now?