SINGAPORE: Job seekers flocked to the OneAviation Careers jobs fair on Friday (May 27), with some waiting about three hours to get interviews with companies taking part in the event.
The people that CNA spoke to appeared optimistic about the aviation industry, which is recovering after two years in the doldrums due to the COVID-19 pandemic.
Booths set up by airlines, logistics firms, aerospace companies and aviation support services were surrounded by people waiting to ask questions and register for job interviews.
On Friday, the first of the two-day event, more than 6,000 visitors attended the career and recruitment fair, said the Civil Aviation Authority of Singapore (CAAS).
The fair was organised by CAAS with the National Trades Union Congress (NTUC), NTUC's e2i (Employment and Employability Institute) and Workforce Singapore (WSG).
There were more than 20 aviation employers interviewing job seekers on-site, to fill close to 2,000 vacancies immediately.
Ms Daphne Chua, human resources director for Southeast Asia at TVS Supply Chain Solutions, said there were some qualified applicants who came to register with the company, and added that the response was better than when they posted job ads online.
"We were surprised that there was such a huge crowd, there were people queueing outside even before the fair started, and they rushed in once it opened," she said.
Just opposite her booth, a queue of job seekers snaked outside a hall where walk-in interviews were taking place.
Mr Faiz Ishak, 28, who is currently doing part-time work, wants to get back into the aviation industry after some years of working in another field.
He said that he came to the fair at 10am when it opened and started queuing for an interview at around 10.45am. 
He had lined up for about 45 minutes just to get a queue number, and at 1.30pm, when CNA spoke to him, he was still waiting his turn for an interview with budget airline Scoot.
When asked why he wanted to rejoin the sector, he said: "The aviation industry is very dynamic, very interesting, very fast-paced. It's a very exciting industry to be in."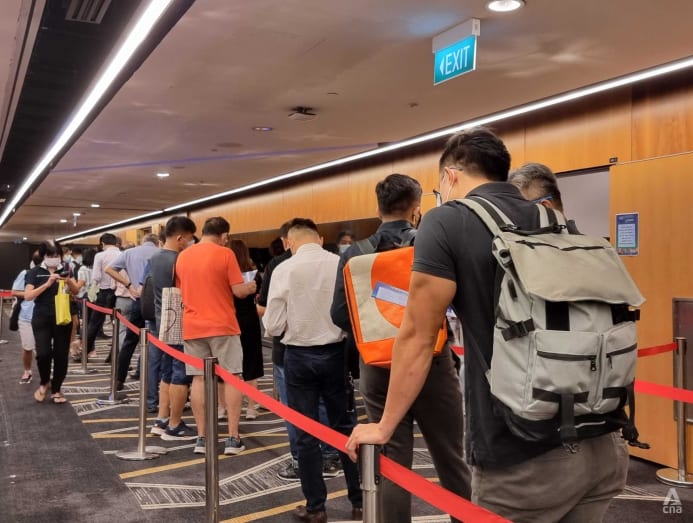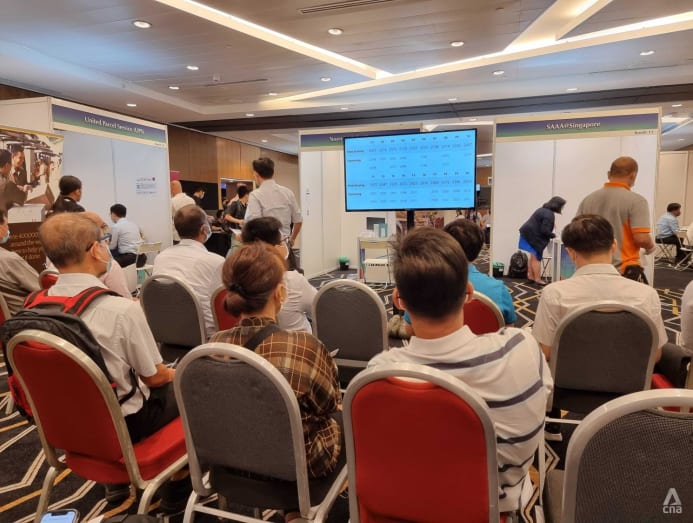 Mr Alvin Goh, 26, who applied for a job with SATS, said that the interview process was brief as there were many applicants, and each person can only interview with one company. To get another interview, they would have to re-queue.
When he got his number, he was told he might have to wait six hours, but he was done after about close to three hours.
"I guess it's good to find what you want online first, before coming down, so at least you know where to look for the things you want. It's quite challenging to navigate around here," he said.
While Mr Faiz and Mr Goh have experience in the aviation sector, there were also other visitors who were looking for a switch from another industry or a job in pandemic-related work.
Lyn, who did not want to give her full name, said that she is working as a COVID-19 swabber, and would soon need a new job. But her search has not been smooth because of her age.
"I hope something can be done to change the perception of employers. I am 50 years old, but (it does not mean) I'm not tech savvy," she said.
Workforce Singapore (WSG) said that due to the overwhelming response received at the recruitment fair this morning, registration was paused briefly as the hiring organisations on-site needed time to ramp up their resources, such as increasing the number of interviewers.
"While this contributed to some delay, job seekers were given alternative options to apply directly with the employers via MyCareersFuture job portal, or submit their resumes to WSG who will then share them with the respective employers they have indicated interest in working for," said a spokesperson.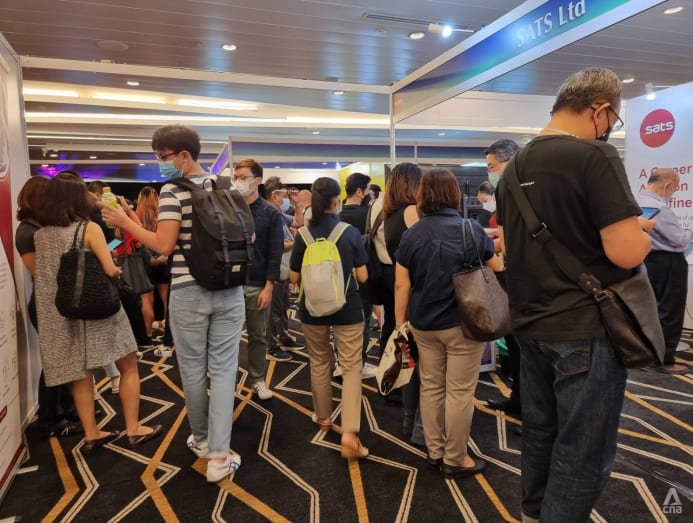 LABOUR MARKET INCREASINGLY COMPETITIVE
SATS' chief human capital officer Lilian Tan said that the ground-handling and in-flight catering provider is hiring for about 600 positions.
These are primarily ground staff and aviation front-liners such as passenger services agents, air logistics specialists, skilled ground support equipment drivers, technical ramp servicemen and aviation catering production.
"These highly skilled roles support passenger handling, cargo, ground handling, and large-batch meal production in our Gateway Services and Food Solutions operations supporting aviation recovery," she said.
Despite the good response at the job fair, she said that the local labour market has become increasingly competitive, with the ratio of job vacancies to job seekers at about 2 to 1.
"The improved economic outlook has intensified the talent war. Job seekers have now a wider range of employment opportunities, and will choose the one that best fits their requirements," she said.
National carrier Singapore Airlines (SIA) told CNA that it is recruiting ground office staff, majority of which are professionals, managers, executives and technicians positions, as well as cabin crew.
Although the airline is participating in the fair, it is not conducting interviews on-site and candidates will need to apply at the SIA careers page or the company's LinkedIn page. 
"Response to the fair has been good, with a lot of interest in the available positions. With the relaxation of safe management measures, we look forward to participating in more career talks, fairs and outreach activities to attract more talent," said a company spokesperson.
"SIA will continue to make necessary investments, both in our people and the business, to ensure that we are in a position to emerge stronger as international air travel recovers."
Earlier, the Changi Airport Group had said that more than 6,600 jobs are available at Changi Airport.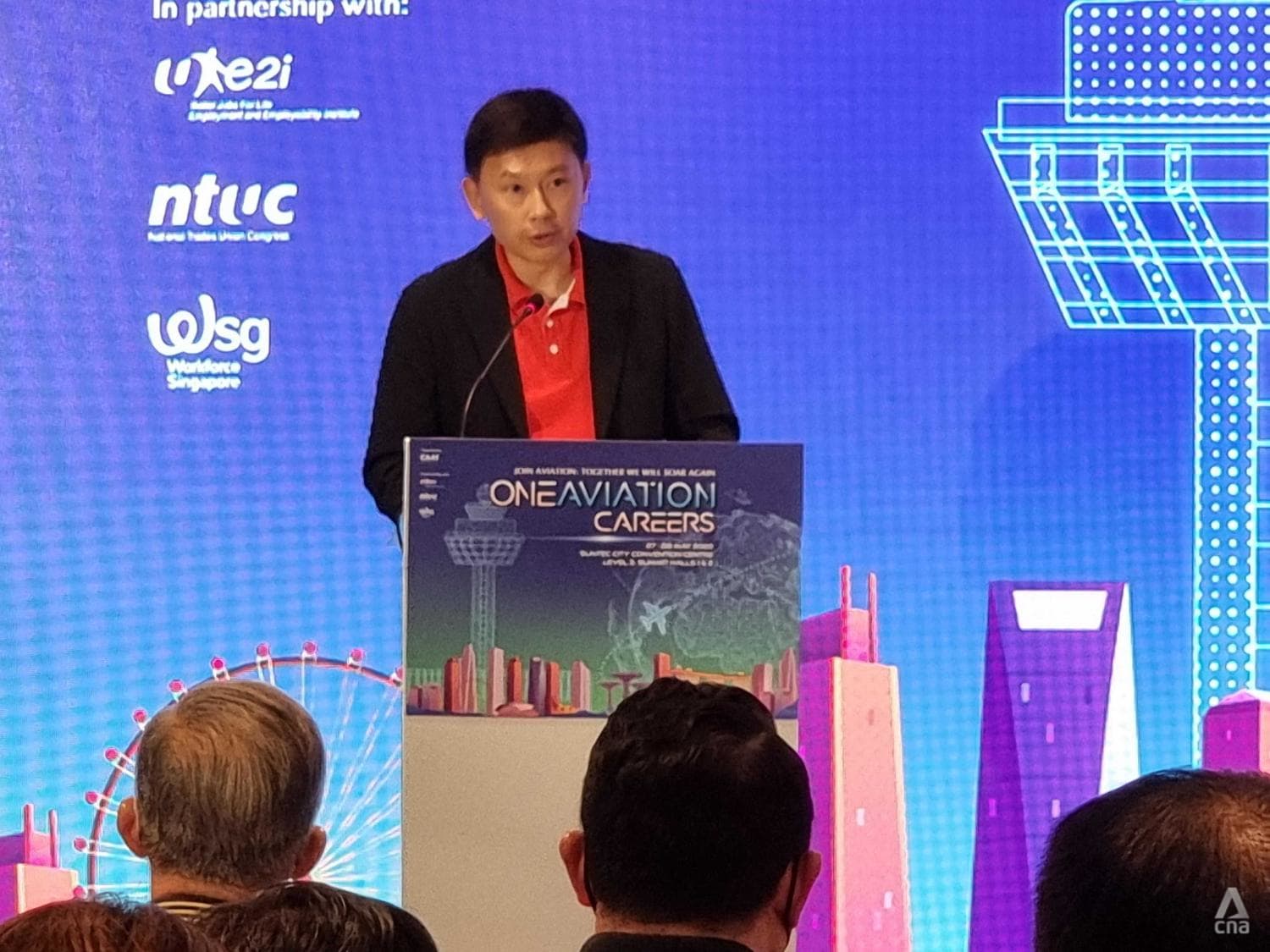 Senior Minister of State for Transport Chee Hong Tat said in a keynote address at the event that the fair serves to share future plans and convey optimism in a sector "badly battered by COVID-19 but is now recovering strongly".
This "reaffirmed" the sector's commitment to growing a strong Singaporean core, and showcases the careers the aviation industry has to offer - not just in operations, service and engineering, but also in new areas like technology and sustainability, he said.
Singapore is now near 50 per cent of pre-COVID passenger volumes and needs the manpower to keep pace with the recovery of air travel and tourism, he added.
Pre-COVID, Changi Airport and its adjacent industries contributed more than 5 per cent of Singapore's GDP and supported nearly 200,000 jobs across the economy.
"This is the first of many more sector-wide efforts to help companies attract and bring back workers. With these recruitment efforts, we anticipate that the sector could restore close to 85 to 90 per cent of its pre-COVID workforce by end of the year," said Mr Chee, who is also deputy secretary-general for NTUC.
Other exhibitors at the job fair include dnata, FedEx, Rolls-Royce, Pratt & Whitney, Certis Group, Lotte Travel Retail Singapore and Singapore Aero Support Services.