The Big Read: Idea of expiry date on degrees rightly panned — question is how do universities up their game?
Does it make sense to spend three or four years in university to study something that may become quickly irrelevant in a fast-changing world?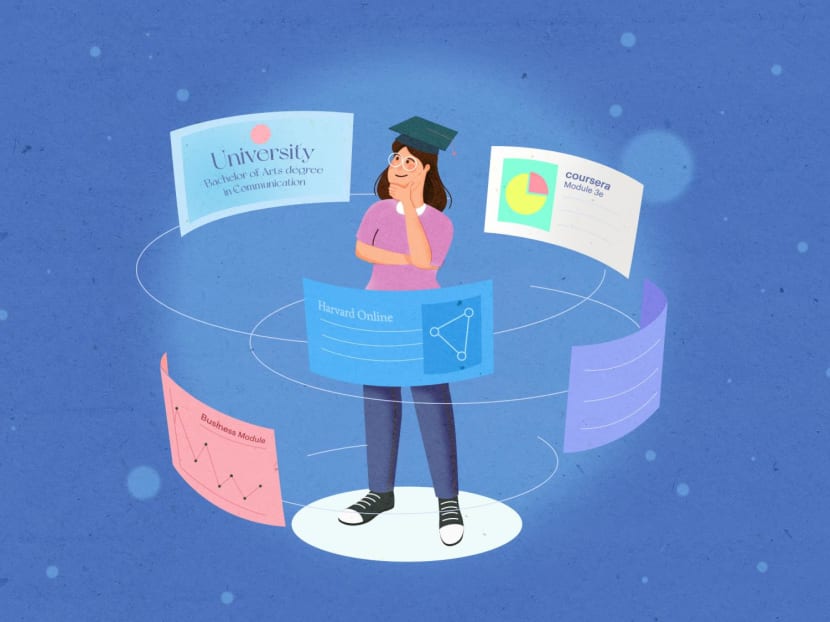 Even before COVID-19 made online education a necessity, the sector has been booming 
Some educators believe that online short courses have become an attractive option for students, especially if universities fail to introduce reforms to their curriculum and structure
Recent research has shown a weak correlation between education level and job performance, leaving some to question the value of a university education 
In Singapore, universities have introduced a slew of initiatives to stay relevant but experts believe more can be done 
Some experts believe that the future lies in "credentialing" systems, which would allow individuals to accumulate skills and knowledge throughout their lives but ultimately, the onus is on people to ensure their skillsets remain relevant 
SINGAPORE: Long before COVID-19 made online education a necessity as people around the world sought to minimise face-to-face interaction, platforms offering online courses with open access via the Internet, or massive open online courses (MOOC) as they are called, have already been booming. 
In fact, the New York Times declared a decade ago that 2012 was to be "The Year of the MOOC". In 2019, just before COVID-19 hit the world, some researchers forecast that the size of the global online education market would reach US$350 billion (S$476 billion) by 2025. 
The pandemic of the last two years has sent the industry into overdrive and researchers reaching for their calculators — latest numbers show the sector has grown to US$309 billion last year and by the end of 2028, it is projected to be worth a staggering US$1.37 trillion. 
MOOCs give users access to lessons on a wide range of topics, from theology to data science, from various universities, including top tier ones such as Harvard and Stanford — all at a click of a button. 
The rise of MOOCs, especially in the last two years, and the disruptions brought on by COVID-19 — both to the higher education sector and the larger society — have again raised questions about whether traditional universities, including those in Singapore, are doing enough to adapt to the changing face of higher education.
Can they continue to meet the needs of citizens to equip them with the skills to thrive in an increasingly complex and ever-changing environment, where issues of the day typically cut across different fields and require systems thinking?
After all, does it still make sense to spend three to four years and at least tens of thousands of dollars to pursue a degree — especially when the pace of change in almost every industry is so great that workers have to keep updating their knowledge and skills in order not to become obsolete? 
At the same time, recent research has shown a weak correlation between education level and job performance, according to a Harvard Business Review report in 2019. Employers are starting to recognise this, with major firms including Google, Apple, Penguin Random House and Ernst & Young UK no longer listing a degree as a prerequisite for jobs with them. 
Making the situation worse for universities is the fact that even corporations themselves — Google being a well-known example — are running courses for people to get the necessary certification upon completion to land a job with the same company. 
Le Wagon is a coding school with 45 campuses around in the world, including in Singapore. Its Asia Pacific general manager Dirk Schuler noted that the draw of short-term courses includes lower costs and the short amount of time required.  
"Besides being faster and cheaper, our courses teach exactly what the market is looking for compared to an often-outdated curriculum at universities ... Taking two months' leave or even studying part-time next to their day job is almost no risk compared to a traditional degree programme that takes several years to complete," he said.
Young adults around the world are starting to question the value of a degree. In 2018, India saw over 800 engineering colleges across the country shut down due to a lack of demand. 
Over in the United States, a report released in January this year by the National Student Clearinghouse Research Centre found that undergraduate enrolment in the country had been on a downward trend.
This was attributed to factors such as declining birth rates, the widespread immediate availability of jobs and growing scepticism towards the need for higher education, according to a report by the Washington Post.  
Back home, Education Minister Chan Chun Sing reiterated in a speech last month that universities in Singapore need to evolve in order to keep up with the demands of companies. 
"Our universities can be more deeply integrated into our wider industry, business and social ecosystem," he said at The Straits Times Education Forum. "We have a responsibility to lead to help connect, collaborate and create. This will help the universities better understand the challenges of our community, industry, and the world, for us to apply our knowledge, ideas and skills to create better solutions for Singapore and the world." 
The topic also came up again during the Budget and Committee of Supply debates earlier this month. 
Speaking about the need to encourage lifelong learning, West Coast GRC Member of Parliament (MP) Ang Wei Neng proposed what he described as a "radical idea" of putting a time stamp on the degrees conferred by Singapore's institutes of higher learning (IHLs). Graduates would have to attend courses to upgrade themselves every five years and failure to do so would result in their degrees lapsing, he suggested. 
The idea was roundly panned and Mr Ang later took to Facebook to clarify that his intention was to "emphasise the need for Singaporeans to continually upskill to stay relevant in the modern economy" and to "spark a conversation about what role the institutes of higher learning can play in this".
During the debate on the Ministry of Education's spending earlier this week, Members of Parliament (MPs) Denise Phua and Patrick Tay also spoke about the future trends of education and stressed the need for universities to evolve.
In response, Mr Chan outlined three driving forces shaping Singapore's educational system: Compressed technology and business cycles, an increasingly polarised and fragmented world, and a changing social fabric.
In contrast to some countries facing falling enrolment at universities, the number of adult learners trained by Singapore's IHLs has more than doubled from around 165,000 in 2018 to 345,000 in 2020. And the number is expected to increase further, Mr Chan said. 
Still, he added that in order to cater to more diverse learners, IHLs need to review their programmes. Citing the efforts by some universities here, Mr Chan underlined the need to use technology to "make learning accessible and achievable", creating bite-sized and on-the-go learning to build on the skills that adult learners already possess as foundation. 
He also said that a "stronger nexus" is needed between the IHLs and industry. "Industry and workforce transformation must go hand-in-hand", he added. IHLs have to do so by partnering industry to provide more workplace learning opportunities, ensuring that faculty members in IHLs remain "industry-relevant", and collaborating with industry on research and innovation projects.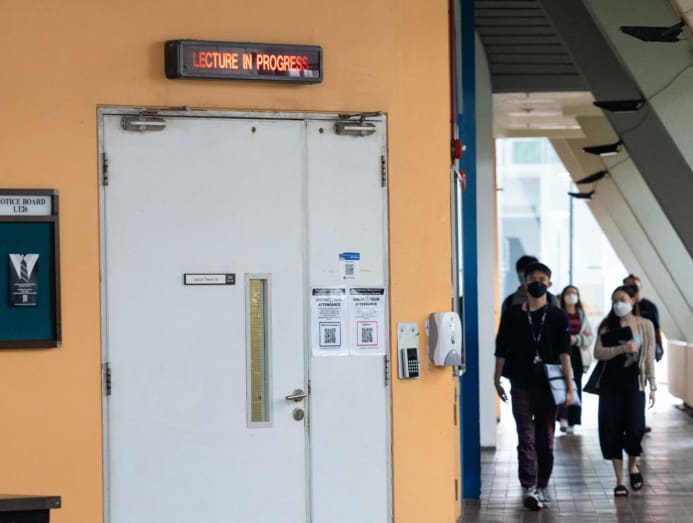 Singapore's six autonomous universities — Nanyang Technological University (NTU), National University of Singapore (NUS), Singapore Management University (SMU), Singapore Institute of Technology (SIT), Singapore University of Social Sciences (SUSS) and Singapore University of Technology and Design (SUTD) — have each responded to such perennial calls for reform in their own ways. 
For example, with the support of government funds, most universities are investing in artificial intelligence (AI) to complement their lessons. 
Universities are also shifting their focus away from specialisation and towards interdisciplinary studies, which give students the freedom to take courses outside of their disciplines. 
Some have launched new programmes that directly address the needs of the job market: For example, SUSS rolled out its degree in Supply Chain Management in 2016 and SIT launched undergraduate programmes in Applied Artificial Intelligence and Digital Supply Chain this year. 
But more needs to be done to break down the academic silos in universities and encourage a more multi-disciplinary approach, according to educators and industry observers. 
In an email interview, Mr Andreas Schleicher, the director for Education and Skills and special advisor on Education Policy to the secretary-general at the Organisation for Economic Cooperation and Development (OECD), said: "The answer lies in considering universities more as part of an ecosystem of innovation that translates great ideas rapidly into new products and services. 
"That does not work if universities work in an ivory tower, it requires research activities that are shared between universities and industry, and where there is genuine partnership between those who incubate new ideas and those who can extract value from these." 
Professor Walter Woon, a David Marshall Professor at NUS' law faculty and the former dean of Singapore Institute of Legal Education, said that universities also need to be more open to practitioner-academics, who can incorporate industry experience in their lessons. 
Another issue that needs to be addressed is the mismatch between the skills which students acquire in university and what employers are looking for.
Ms Linda Teo, country manager, ManpowerGroup Singapore, said that the syllabus must "adapt quickly to the changing business needs", while Mr Tay said "pedagogy must shift towards equipping individuals with critical foundational skills in these early years, rather than rote learning" in order to nurture students into self-directed, lifelong learners. 
Still, some academics and human resource (HR) experts reiterated that ultimately, the onus is on people themselves to ensure that their skillsets remain relevant even after graduating. This can be done by keeping themselves up to date with the newest developments in their field and acquiring the necessary skills on their own. 
"The lifelong learning journey will be the way of life. Whatever you learn in university may not be valid because the ideas and concepts will continue to change," said HR expert Erman Tan, who is the former president of the Singapore Human Resources Institute (SHRI).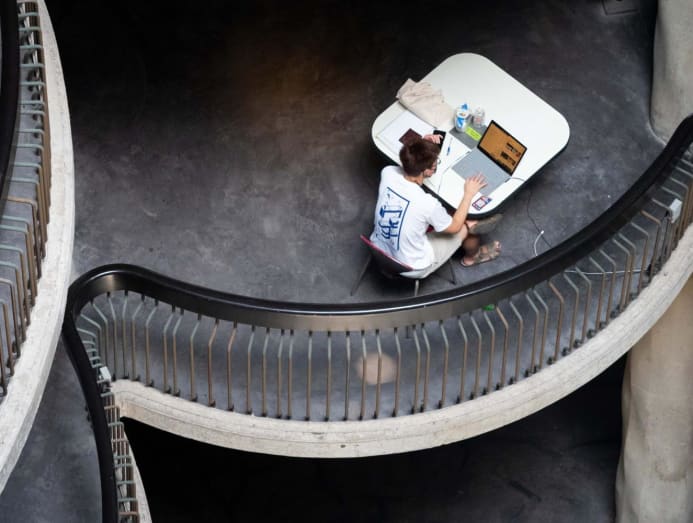 WHAT S'PORE UNIVERSITIES ARE DOING
Universities here have each responded in their own way to the Fourth Industrial Revolution and ever-changing demands of the job market. 
Most of these changes include a shift towards interdisciplinary learning, greater involvement of industry partners in internships and curriculum structure, as well as the promotion of lifelong learning. Here's a look at some these initiatives: 
National University of Singapore (NUS)
NUS Senior Vice Provost (Undergraduate Education) Bernard Tan said the university's goal is to prepare its graduates "to be comfortable confronting new problems, see different perspectives beyond their own disciplines, and be able to conceive creative solutions throughout their careers".  
Prof Tan said that NUS' education reforms have three components: First, a common curriculum that builds critical competencies and allows for exposure to interdisciplinarity. Second, a strong foundation for a discipline which would allow undergraduates to continue pursuing knowledge even after graduation. Finally, flexible pathways, through the option of second majors, minors and specialisations, that allow students to customise their university experience. 
NUS' recent initiatives to evolve university education includes the introduction of new courses in areas such as Artificial Intelligence, technology, data science, sustainability, and globalisation.
NUS has also expanded the scale of interdisciplinary learning through the introduction of new colleges, which includes the NUS College of Humanities and Sciences, NUS College of Design and Engineering and NUS College. Students enrolled in these interdisciplinary colleges are given the freedom to pursue courses across disciplines. 
In January, NUS has launched two digital platforms, Internship-As-A-Service (IAAS) and conNectUS, which connects companies with students that use the platform to self-market their skills and talents. The platform would connect students with potential employers and help them secure internships or short-term stints.
Nanyang Technological University (NTU) 
Last year, NTU launched its strategic plan which outlines the university's education, research and innovation ambitions for the next five years. 
Some of the initiatives include the creation of pathways to equip students with the skills and knowledge necessary to thrive in rapidly changing work and living environments, and to prepare them for lifelong learning. Among other things, NTU introduced an interdisciplinary core curriculum and allowed undergraduates to take postgraduate courses.
A new university-wide programme, LEAD@NTU, will offer leadership training for students, on top of similar training and mentoring programmes for NTU faculty members at different stages of their career development. 
From the academic year starting in August last year, all freshmen, except those studying medicine and at the National Institute of Education, will have a common interdisciplinary core curriculum. The curriculum comprises modules that touch on issues such as science and technology and sustainability.
Singapore Management University (SMU)
An SMU spokesperson said that the university has "carefully and rigorously investigated" the disruptions to industries and jobs and made adjustments to ensure its curriculum "remain not only relevant and effective, but also forward-looking". 
In 2019, SMU launched a new core curriculum, which makes up for about one-third of its undergraduate curriculum. The aim was to expose students to a wide range of disciplinary approaches and allow the breadth of perspectives to stretch students' imaginations. 
The university has also launched programmes to equip students with necessary skills, its spokesperson said. For example, recognising the evolving role of computing in the legal domain, it introduced a degree programme in Computing and Law. 
In order to allow students to gain overseas exposure, all SMU undergraduates who joined the university from 2018 onwards will embark on at least one global experience before graduating.
Singapore Institute of Technology (SIT) 
A SIT spokesperson said that the university "places industry at the heart of students' education journey and intentionally designs degree programmes that provide students with multiple exposure to real-world situations and actual industry projects. This will accelerate students' foray into the working world and allow them to hit the ground running upon graduation." 
To this end, it has five strategies: First, its curriculum is co-designed in close consultation with industry partners. Second, all SIT programmes have a mandatory internship attachment as part of curriculum requirements. Third, the university provides multiple industry and community projects that expose students to experiential learning. Fourth, SIT also offers the SkillsFuture Work-Study Degree, which places a high level of collaboration between academia and industry partners. Finally, the university's Continuing Education and Training (CET) division offers more than 200 CET courses that cater to working adults. 
SIT has piloted five programmes in the 2021 academic year focusing on interdisciplinary and transferable skills, with more being planned for the next academic year.
The university is also launching an Industry Ready Skills Framework (IRSF) for all SIT students in the academic year 2022, which allows students to track the transferable skills they pick up over the course of their studies, and plan how they wish to structure their learning. These transferable skills will be embedded into the formal curriculum, with the levels of skills attained to be explicitly stated. 
Singapore University of Technology and Design (SUTD) 
An SUTD spokesperson said that its interdisciplinary project-based curriculum "prepares students for the future challenges in the real world". "Our pedagogy promotes innovation through design thinking and learning through making," the spokesperson said. "We also inculcate in them an adaptive mindset and attitude of lifelong learning so they can keep abreast of technology evolution." 
The university also undertakes constant reviews and reforms of its curriculum. These are done in consultation with stakeholders such as industry partners, public sector and accreditation bodies. 
Its spokesperson said that since the launch of the SUTD Growth Plan, more than 20 per cent of faculty members have received additional funding to further develop the university's research and education capabilities in the key economic sectors of aviation, cities, healthcare and artificial intelligence/data science. 
Over 20 modules, relating to the four sectors, have also been developed and introduced into the existing curriculum in the past few years. 
Singapore University of Social Sciences (SUSS)
A spokesperson from SUSS said the university is equipping its students "with the right skillsets and framework to navigate the new norms". 
The spokesperson noted that continuing education, stackable courses and courses with industry input have ensured that SUSS courses remain responsive to the shifting demands of the market and industry. "We believe that being responsive to the market is more about how institutions can translate frontier knowledge to curriculum as fast as possible, and less about being able to complete the degree programme faster," the spokesperson said. SUSS also offers an accelerated pathway for selected undergraduate programmes to cater for graduating polytechnic students. 
SUSS has introduced modules and revisions to its curriculum to prepare students for how technology is transforming business and in entrepreneurship. It has also worked with industry partners to launch new digitalisation modules that students can take on as electives, which covers topics ranging from cybersecurity to the Internet of Things (IoT). 
To promote cross-disciplinary learning, full-time undergraduates at SUSS, except those in accountancy, must complete a minor as part of their curriculum. 
Alumnus also have subsidies available to them if they wish to pursue further training.
ARE THE UNIVERSITIES DOING ENOUGH?  
The Fourth Industrial Revolution and ever-changing demands of the job market have created four challenges to the higher education model, according to a World Economic Forum article in 2019. 
These are the need for lifelong learning in a non-linear world; being able to cater to the changing demands of students; compete against the growing educational technologies and private education providers; and moving towards a skills-focused model instead of one that is degree-focused. 
In an opinion piece for The Straits Times in 2020, NUS president, Professor Tan Eng Chye wrote about the need for universities to evolve. "In addition to the 'what' and 'how' questions, we now have to also ask 'why?'. Why do we teach what we teach? And why do we teach the way we do?" he wrote. 
Universities here have introduced reforms in response to the calls for action, which include a shift towards interdisciplinary learning, collaborating with private partners and promoting lifelong learning. 
For example, NUS last year merged two of its schools to form the new College of Design and Engineering, to integrate teaching and research in engineering and design. The move will also give students the flexibility to build their own programmes based on what they want their education to be. 
In a similar vein, NTU introduced a university-wide interdisciplinary core curriculum that covers topics such as digital literacy, ethics and global challenges, on top of new internships to further interdisciplinary learning. 
SMU is also planning to give students the flexibility to design their own curriculum and build their own degree courses. 
Experts interviewed were supportive of such moves.
Associate Professor Jason Tan from the National Institute of Education (NIE) said that the problems of today tend to require skills from different disciplines and suggest a "pressing need for interdisciplinary competencies for issues like climate change and COVID-19".
However, core modules for specialised programmes such as law and medicine remain important, to ensure that graduates are "compliant with regulations for registration", he added. 
But some industry watchers noted that students must still be conscious about the skills that are in-demand by employers.
Ms Jaime Lim, Group Business Leader of executive search firm PeopleSearch Singapore, said: "While giving students the autonomy to design their own learning empowers students, students must be cognisant of the skills that they will need to be employable. They should do some research into industry trends and business needs in order to determine which modules would be most useful."
Professor Tjin Swee Chuan, Associate Provost for Graduate Education & Lifelong Learning at NTU, said in a phone interview that the university has worked "very closely with the industry" through joint lab collaborations.
"(This is) so that whatever we do within the university, our research is always relevant to the industry," he said.
In 2020, NTU collaborated with Facebook to launch a nine-month pilot programme to offer four specialist certificates and one graduate certificate. The courses were aimed at training and upskilling local engineering talent to fill the increasing demand for specialists in the data centre industry.  
Similarly, in 2019, SUSS and tech firm Huawei collaborated to set up an information and communications technology (ICT) academy in Singapore — in direct response to the shortage of ICT professionals in the country. The collaboration oversees joint efforts in research, education and training programs.  
Mr Tay, the MP for Pioneer who is also assistant secretary-general of the National Trades Union Congress, said that universities can strengthen partnerships with industry partners to "keep tab on jobs that will be phased out as well as to identify potential new jobs and competencies".
"They can work together to better shape the curriculum, ensuring that industry-required skills are incorporated into the curriculum so that they can fill the learning gap and get the students up to speed to be ready for future roles," he added. 
This can be done through mentorship programmes and career guidance sessions, which will also allow students to network with "different domain experts will become very important to gain essential industry-specific insights." 
In recent years, lifelong learning has also been an important focus for universities here.
Mr Tay reiterated that universities need to be able to cater for multiple entry points for different age groups, by offering part-time degrees for working adults and modular offerings.
"To cultivate lifelong learning, education cannot be 'purely front-loaded' anymore. The traditional model of university education that is front-loaded when someone is young, with three to four years to get a degree and then a fixed period of work provides the first few foundational steps towards lifelong learning," he said. 
"When the skills required at the workplace are changing at a breakneck speed, with the half-life of skills shortening in an increasingly disruptive and uncertain world, a new model of learning where work and education are rotated over the course of one's career is needed." 
WHAT MORE CAN BE DONE 
Despite the universities' efforts, experts said more can be done to make the institutions more nimble in helping their students prepare for a disruptive future. 
Mr Tan, the former SHRI president, said: "Unfortunately, the environment for the education institutions tends to be more conservative and more structured. The university model is based on hundreds of years of history, so we cannot expect them to change overnight." 
An inability to reform stems from several issues, such as the tenure system. Some believe that it has held back much-needed reforms in universities as the system prevents these institutions from exploring more productive teaching methods and deploying staff who can better equip students for employment. 
Prof Woon said: "Academics who have no practical experience are very resistant to the idea that reality should intrude into their cosy world. The result is that the practitioner-academic is often pushed out… The pure academics will be threatened and push back, but it is vital to stay relevant if we are to provide a proper education to the students."
He added: "The problem is that intellectual inertia inhibits innovation. This is why so many older professors cannot or will not adapt to the changed environment. We teach as we were taught.  Some will break out of that mental straitjacket, but many will not."
These challenges have hindered any major transformation in curriculum or structure at IHLs. As a result, there is growing demand for short courses offered by private education providers, such as Le Wagon.
A year after Le Wagon was launched in 2013, it had 157 students globally. That figure has risen to 3,570 last year.  
Le Wagon's Mr Schuler said: "It's not only that requirements change during the length of a traditional degree programme but updating a university curriculum can take many years. So, it might already be outdated by the start of the programme."  
He added: "On top of that, university graduates in computer science often join our boot camp because what they learned at university was mainly theoretical, and they are missing actionable skills to work on their own tech products, web applications and data projects or find a job in the tech industry." 
UNDERGRADUATES FEEL NEED TO TAKE EXTERNAL COURSES  
Indeed, many undergraduates here have started taking courses from academies such as Le Wagon on top of their university programmes. Some feel that it is necessary in order to secure a job amid stiff competition. 
Mr Aqil Lim, 25, a final-year Public Policy and Global Affairs Major in NTU, took courses on accounting, data analytics, neurobiology and probability from similar platforms throughout his university education. 
He said: "I spoke to many people working in different industries to get some tips and tricks during my job hunt, and almost all of them shared that they and their colleagues had at least some form of certification on top of their educational background and work experience."
He added: "As a soon-to-be fresh graduate looking into other industries, I feel like I should try as much as possible to be on par with other candidates and people who are already in my desired industry."  
Mr Lim Wei Lin, 25, a final-year Information Systems major in NUS, took up two courses on data analytics and python programming even before his first year. He said: "I believe that a computing degree does not teach programming skills but rather, trains us in computational thinking and allows us to continuously learn throughout our career in technology." 
Others have even used these short courses and boot camps as launchpads to new careers. Miss Rachel Toh, 26, graduated from the University of Melbourne in 2018 with a degree in English and Creative Writing, and was initially working in the media industry but went through a career switch after a nine-week bootcamp at Le Wagon. 
She said: "The Government has been encouraging the switch to tech for a few years now, and with the many schemes in place to aid us making the switch, it felt like an opportune moment. Besides, I weighed my options and knew that even if I did not enjoy coding, I wouldn't need to commit to being a developer or software engineer. I had a few back-up roles such as a technical writer, product manager." 
However, Miss Toh who is currently a junior software engineer, still believes that her degree has equipped her with skills such as critical thinking, understanding, interpretation and comprehension.
"I see university as a buffer period for all to pick up skills and personal growth. You could argue that many things are redundant in life, but those play some part in shaping one's identity, be that finding out whether you enjoy or hate doing something after trying it out," she said. 
Undergraduates and experts agree that while upskilling is important, a degree programme can still provide students with the fundamentals of a discipline and opportunities to meet others with similar interests. 
Prof Woon said: "I have said that education is the systematised acquisition of experience. The university is the place to do it.  A short skill-focused course is exactly that - short and narrowly focused. To widen one's horizon, it is vital to meet others and listen to what they say."  
Mr Lai Kah Seng, 26, graduated from SUSS's degree in Supply Chain Management last year and is currently a supply chain analyst at Procter and Gamble. He said that his degree was able to equip him with the basics of the trade, which remain crucial for his job. 
"I also have colleagues who entered similar positions and though they were from a supply chain background, they had difficulty picking some things," he said. "I was able to explain to them what was happening because of what I've learned in school. They've gone through company-based training, but it takes a bit more time for them."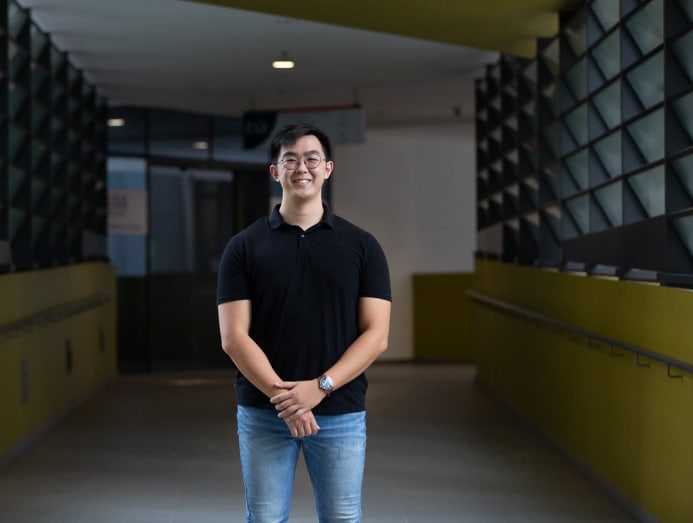 LIFELONG LEARNING MORE THAN JUST A SLOGAN 
Given the ever-changing needs of the job market, there is no running away from university graduates having to constantly upgrade themselves in one way or another to remain relevant in the workforce. 
Some experts believe that the future of qualifications would be "credentialing" systems, which would allow individuals to accumulate skills and knowledge throughout their lives. 
OECD's Mr Schleicher said: "You see universities responding to this by designing their own microcredentialing systems. Credentials will become like a currency, you can accumulate these in many ways and in many places, but this currency will have some inflation, that is skills can lose their relevance and therefore need to be replenished." 
Mr Tay, the MP, also emphasised the importance of upskilling even after one has completed their journey in formal education. 
He said: "For example, in view of ever-changing technology, information and communications technology professionals will need to continuously be upskilled to keep abreast of emerging technology to stay relevant and competitive. In future, an attractive resume would not only showcase a candidate's work experience but also a pattern of continuous training and upskilling which may set an individual apart from others." 
HR experts believe that employers are also on the look-out for candidates who take the initiative to upskill. 
Ms Lim from PeopleSearch Singapore, said: "Job candidates who are armed with such forms of certification in addition to their basic degree/diploma, show employers that they are capable of taking charge of their own learning. It shows they are willing to take the initiative to upskill and reskill in any way they can by taking advantage of the flexibility offered by such courses." 
This story was originally published in TODAY.