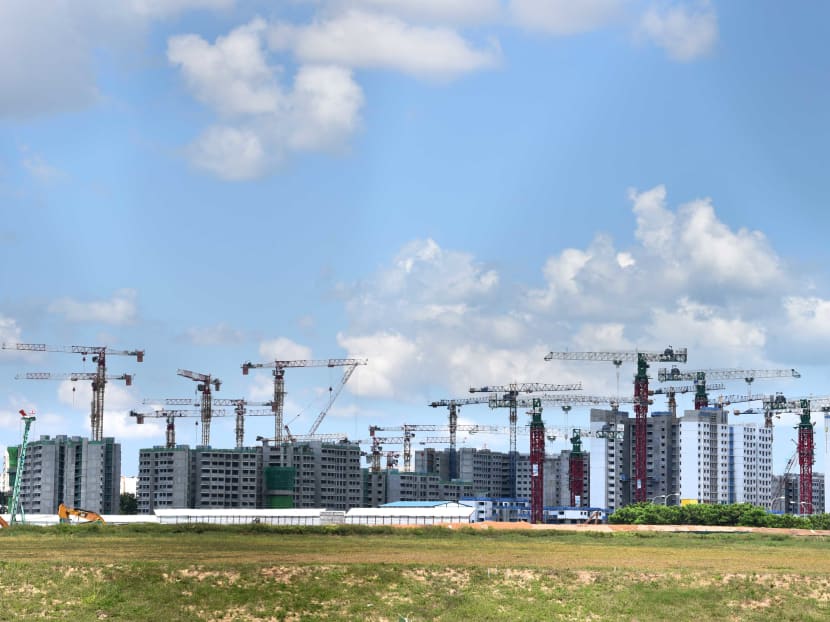 SINGAPORE: Barring unexpected developments, most Build-To-Order (BTO) flat buyers can expect to move into their homes within four to five years after booking, National Development Minister Desmond Lee told Parliament on Tuesday (Oct 5). 
"For BTO projects launched last year and this year, the estimated waiting times range from three to five-and-a-half years," he said, in response to parliamentary questions from MPs Cheryl Chan (PAP-East Coast) and Seah Kian Peng (PAP-Marine Parade).
Projects such as Hougang Citrine, Alkaff Breeze in Bidadari and Garden Court @ Tengah have waiting times of three to three-and-a-half years, said Mr Lee.
Some projects, like Queen's Arc in Queenstown, are expected to take longer at about five-and-a-half years. 
"This is because the conditions of the site are difficult and construction will take longer, or these are projects with very high storey heights, very tall blocks, which require more construction time," said Mr Lee.
"These have caused some people to worry that all new BTOs will take six to seven years. But these are in the minority."
HDB HELPING CONTRACTORS
The Housing and Development Board (HDB) has rolled out measures to help contractors complete ongoing projects "in a timely manner", said Mr Lee. This includes helping firms "safely recruit" workers from overseas and sharing the increase in manpower costs.
It has also implemented antigen rapid testing on top of rostered routine testing – which requires workers to be tested for COVID-19 every 14 days – to minimise work stoppages due to virus transmission.
As for the higher cost of materials, HDB extended the period of protection against steel price fluctuations and supplied contractors with more concreting materials at protected prices.
Mr Lee said HDB has also helped affected home buyers secure interim housing. An additional 800 flats will be set aside under the Parenthood Provisional Housing Scheme, which provides interim housing to families waiting for their flats to be completed. 
For low-income households with no family support and no other housing options, HDB will consider offering interim rental housing on a case-by-case basis, the minister added.
Flat buyers will be compensated if they face delays exceeding the date HDB is supposed to deliver the keys, said Mr Lee, adding that the board may waive booking forfeitures and the one-year wait-out period based on buyers' circumstances.
This includes buyers who cancel their BTO flats due to delays and buy a resale flat instead to meet their "urgent housing needs".
GREATEARTH INSOLVENCY
For the BTO projects delayed by contractor Greatearth's insolvency, Mr Lee said HDB brought in new contractors within a month to take over the firm's projects.
HDB said in August that Greatearth Corp and Greatearth Construction ran into financial difficulties, causing delays in the completion of five BTO residential projects.
"Unfortunately, this will still add a further two to three months delay to affected projects, but we are working closely with the new contractors to bring the projects back on track," said Mr Lee.