SINGAPORE: Every now and then, Ms Seri Lee and her husband will stop by a construction site in Woodlands where their Build-To-Order (BTO) flat is being built.
Having applied for the Marsiling Grove BTO project in mid-2017, it has been more than four years of waiting and the couple, who got married last year, is eager to get the keys to their future home.
At their most recent visit about three months ago, Ms Lee recalled seeing good progress at the site, with the residential blocks looking "much taller".
"We were happy to see it building up very quickly," said the 28-year-old civil servant. "At that point, we thought everything was going well after the earlier delay."
The BTO project, like many others in Singapore, had fallen behind schedule due to the COVID-19 pandemic. Marsiling Grove was originally set to complete by the first quarter of 2022, before being pushed back to the fourth quarter.
Ms Lee has been hoping that there would be no more hold-ups but on Thursday (Aug 26), the Housing and Development Board (HDB) said that Marsiling Grove and four other BTO projects will face further delays.
This came after the projects' main contractors, Greatearth Corp and Greatearth Construction, pulled out due to "financial difficulties".
The other affected BTO projects include Senja Ridges and Senja Heights in Bukit Panjang, Sky Vista @ Bukit Batok and West Coast Parkview in Clementi. In total, more than 2,900 home buyers are affected.
WHAT HAPPENED
The construction sector has been among the worst-hit in the pandemic. Manpower shortages have been exacerbated and safety protocols have caused work slowdowns and supply chain disruptions. As a result, some contractors in Singapore are facing difficulties with their cash flow, HDB said.
The Housing Board said it was informed by Greatearth last week about the company being unable to complete the five BTO projects under its charge despite government assistance provided.
It explored possible options to resolve the company's challenges, such as through advance payments, but Greatearth did not have the financial ability to continue operations, HDB said.
All works at the five sites have stopped since Aug 20.
HDB said it has reached out to affected flat buyers and will continue to keep them updated on the situation.
Mr Ming Wing Cheong, who applied for a two-room flat at Marsiling Grove, said he was taken aback when he received an email from HDB on Wednesday informing affected buyers about the latest development.
"It's quite sudden. I totally didn't expect that the company will run into financial difficulties," he said, adding that the contractors' financial situation was not mentioned in earlier updates from HDB.
"Before that, we've never heard of such cases or any news about the company so I was surprised … I even Googled news and checked Greatearth's website and Facebook page but there's no mention at all about having financial difficulties or the next steps they are taking. So what exactly happened and how bad is it?"
Greatearth did not respond to queries from CNA about its financial conditions and whether it remains operating.
When CNA visited its office in Ang Mo Kio at 4.45pm on Thursday, there was no one manning the front desk. An employee and an external IT vendor were seen entering and leaving the office during the one hour that CNA was there, but they declined to comment.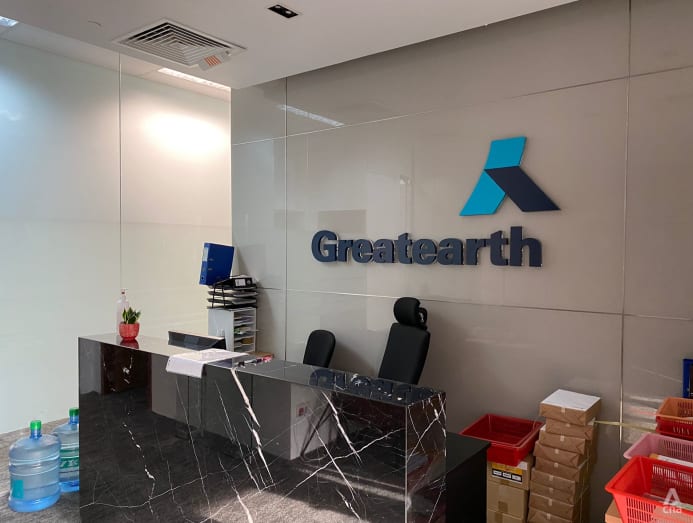 QUESTIONS AND FUTURE CONCERNS
HDB has said it is working with Greatearth to bring on board new contractors as soon as possible to complete the affected BTO projects.
In the meantime, the Housing Board has arranged for contingency contractors to carry out housekeeping and vector control at the worksites until new contractors are appointed.
HDB did not mention how long the further delays will be, but said it will inform flat buyers once new contractors have been appointed and the construction schedules worked out.
Those affected told CNA that it will likely be "quite some time" before they can get the keys to their dream homes.
Mr Ming, who is currently living with his parents, said he is "not too badly affected" by the hold-ups. But he has been looking forward to having his own place and even started making plans for it by looking for interior designers. Unfortunately, these will now have to be shelved.
"It won't be anytime soon, given how they have to find a new contractor first," he said. "That is an important question for all flat buyers but I also hope the rush (to find a replacement) will not jeopardise the quality of the work."
Mr Ming is also hoping HDB will provide more information about the latest delays and whether assistance or compensation will be provided to buyers if, for instance, the hold-ups drag on beyond the project's delivery date. 
Amid the long wait, Ms Lee and her husband have considered letting go of their BTO booking but it "seems like a waste to let it go after waiting for four years".
Rental flats also seem an impossible option given the limited availability. And so the couple has decided that they "have no choice but to wait", and have shelved their plans to have a child until after their new home is ready.
"It is frustrating to see our friends getting their keys and we are still waiting after all these years," she said.
Ms Lee recalled how she had done plenty of research back in 2017 when deciding between a BTO or a resale flat. They decided on the former, thinking that it would be the "safest" option.
"Back in 2017, we were young and had little savings so we thought BTO is the safest way. But now, we are married with stable jobs yet the house is still not ready."
Additional reporting by Neo Rong Wei