SINGAPORE: A new minimum salary criterion for the Workfare Income Supplement (WIS) scheme will not apply to workers who are receiving government aid, said Manpower Minister Tan See Leng on Tuesday (Mar 1).
Dr Tan was responding to Members of Parliament who had asked if the Ministry of Manpower (MOM) can reconsider a proposed new criterion that workers need to earn a minimum salary of S$500 to qualify for WIS.
This had been announced in the Budget statement along with enhancements to WIS, including higher payouts.
The age of WIS recipients will also be lowered to 30 and the income cap will be raised from S$2,300 to S$2,500.
Finance Minister Lawrence Wong said that the S$500 qualifying wage was to encourage part-timers and casual workers to take up regular, full-time work.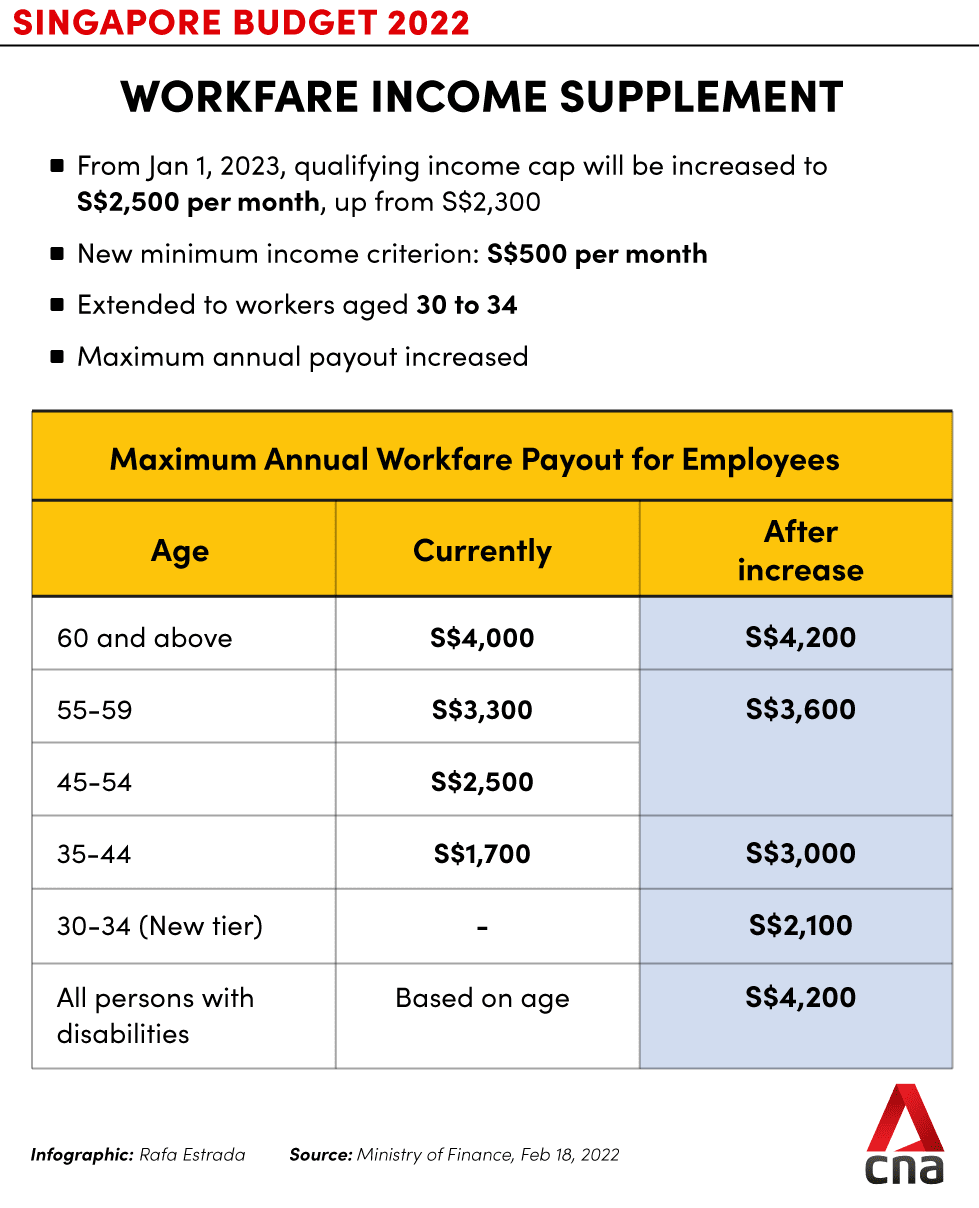 However, some MPs questioned this move, including Leader of the Opposition Pritam Singh, who said that this will penalise part-timers and casual workers significantly. 
He pointed out that there are "legitimate reasons" for taking up part-time or casual work.
"Some may be caregivers who do not have the flexibility to take up full-time work. Others may not be able to stand for eight hours a day in a food & beverage setting for various reasons, including their advanced years," said Mr Singh. 
He estimated that there were 46,600 residents who earned less than S$500 a month in 2021, according to MOM data.
20,000 WORKERS AFFECTED
Dr Tan, rising to speak in the Budget debate, said that MOM estimates that less than half that number, or about 20,000 casual and part-time workers will be affected.
Not all Singapore residents earning less than S$500 qualify for Workfare as some are younger than 30, and some do not qualify based on other criteria such as the annual value of their home, he explained.
"Some would be students earning extra pocket money while they study or some of them are actually from higher income households. They are not the intended targets of Workfare," said Dr Tan.
He added that measures to lift the wages of lower-wage workers coming into effect next year will further raise the salaries of these workers above S$500.
At new progressive wage levels, most regular workers need only work about two days a week to meet that mark, he said.
Dr Tan said that there may be some workers who want to work more but are unable to earn S$500 per month due to personal circumstances. For people with disabilities and ComCare recipients, concessionary Workfare payouts will be provided.
"For workers who are earning less than S$500, the best way to help them is to help them find a job of the appropriate quality and quantity of working hours to earn at least $500. Then Workfare can come in to provide an additional boost," he said.
Following Dr Tan's statement, Mr Singh asked Dr Tan if he agreed that there are people who cannot work full-time, and for further clarification on what is a concessionary Workfare payout. 
In response, Senior Minister of State for Manpower Zaqy Mohamad said: "If you qualify for ComCare, then automatically you will get Workfare as well even if you are a part-time worker, earning less than S$500."
Workers' Party MP Gerald Giam (WP - Aljunied) then asked if the Government had studied the best way to achieve the policy intent of getting people to work more, as the new criteria may discourage them from working instead.
To which Mr Zaqy repeated that those on Comcare will automatically qualify for Workfare. 
"That differentiates our low-income workers from the casual workers who may not necessarily come from low-income households," he said.
FOREIGN WORKER POLICIES
Dr Tan also touched on upcoming adjustments to foreign work pass minimum qualifying salaries.
Businesses have expressed concerns about rising costs even as foreign worker policies are tightened, something that a number of MPs also raised in the House.
Dr Tan said that the changes announced are to ensure that Singapore "remains open to foreigners who can complement our workforce".
From September, the minimum qualifying salaries of Employment Pass applicants will go up to S$5,000 to S$5,500, with the higher mark for the financial sector.
The minimum qualifying salary of S-Pass applicants will rise to S$3,000 and is set to rise again in subsequent years.
Dr Tan said that these changes are to "maintain a balance" so that the salaries of EP and S-Pass holders keep pace with local wages, which have risen.
"If we do not do so, firms may choose to hire foreigners simply because they are cheaper than locals. There will not be a level playing field, our efforts to upskill our workforce to sharpen our business competitiveness would therefore be diluted," he said.
He emphasised the moves have been announced early so that businesses can adjust.
Dr Tan also said that there will be further refinements made to the foreign work pass systems which he will elaborate on in the upcoming Committee of Supply debate for MOM.
"We have laid out our foreign workforce policy moves for the next few years so that businesses have greater certainty, predictability and time to adjust," said Dr Tan.