He's 8, has battled cancer and written a book of jokes. Now he wants to bring joy to others
Cancer survivor Aaron Tay and his younger brother Robin are donating S$1 to the Children's Cancer Foundation for every book sold on their website until Dec 31, 2022.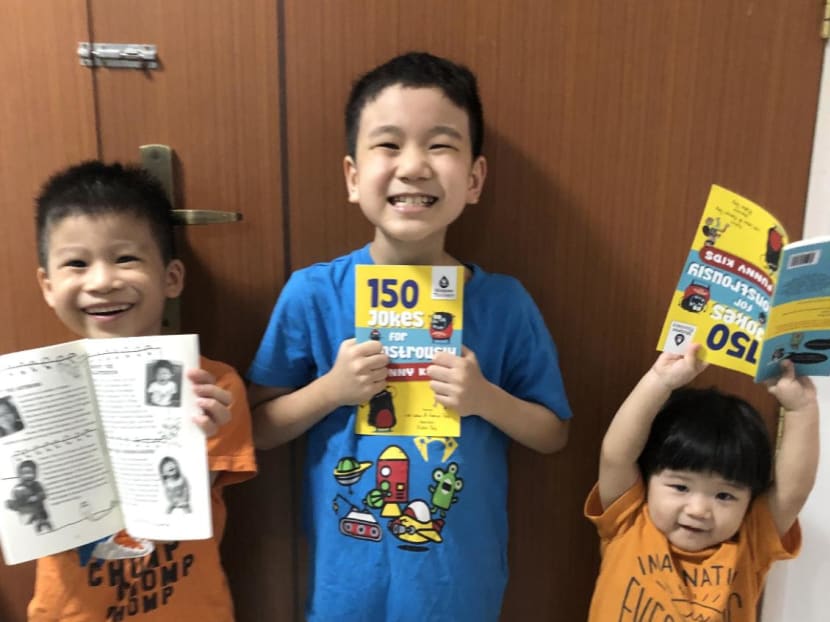 SINGAPORE: Why did the barber win the race? Why did the boy walk slowly across the beach?
These are some of eight-year-old Aaron Tay's favourite jokes and the punchline for these and many more can be found in a book he wrote, titled 150 Jokes for Monstrously Funny Kids. The book was illustrated by his younger brother Robin and co-authored by his mother Lia Leow. 
Since publishing the book in June, the siblings have sold more than 1,500 copies, helping to raise at least S$1,500 for children with cancer and their families. They recently started their third print run of 2,000 copies.
But behind the funny one-liners is the true story of one family's strength and resilience.
Two years ago, Aaron's parents discovered a lump in his neck. Shortly after that, he was diagnosed with early-stage diffuse large B-cell lymphoma, a type of cancer that affects the immune system. Aaron was just six years old at the time.
When the country entered its "circuit breaker" period in April 2020, Aaron started his first of several rounds of chemotherapy.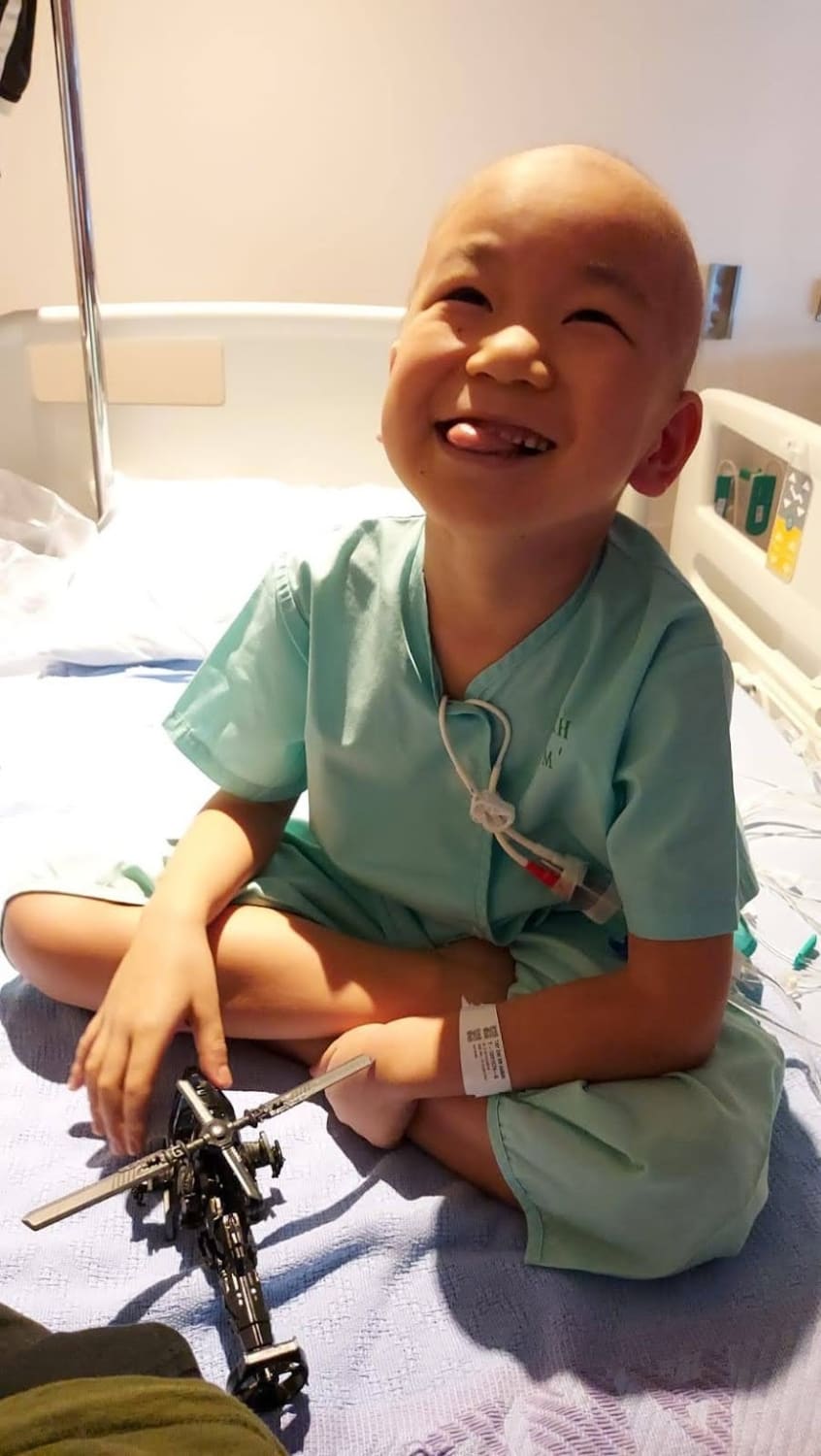 Speaking to CNA during a recent Zoom interview, Aaron's mother opened up about the family's experience and shared the challenges they faced during that period.
"We didn't really have time to grieve or to process our emotions," said Ms Leow. "We just went straight into survival mode and focused on the logistics of going for checkups and treatments."
"I was in the third trimester of my pregnancy with his baby sister and so it was difficult for us because I wasn't sure how to care for a cancer patient together with a newborn," said the 35-year-old.
Due to COVID-19 restrictions, Aaron's father accompanied him through the course of his treatment as only one assigned caretaker was allowed.
As a result, Ms Leow had to give birth to their daughter Alexa without her husband by her side. Her daughter was also later diagnosed with Kawasaki disease but has since recovered.
"One of the things that got to me the most was that I always wondered if Aaron had lymphoma and his youngest sister had Kawasaki disease and other respiratory issues because of something that I did or didn't do," she said, adding that the guilt had haunted her a lot.
While the eight-year-old was rather shy and did not speak much during the interview, he provided many light-hearted moments by pulling funny faces while his mother spoke or chiming in with funny puns. 
"When (Aaron) was undergoing chemotherapy, because the drugs affected his appetite a lot, it made him very nauseous ... and affected his tastebuds," said Ms Leow.
"Taste butts!" quipped Aaron, prompting both mother and son to burst into peals of laughter.
To encourage him to eat more and maintain his weight, Ms Leow would often tell him jokes to cheer him up and distract him from the nausea.
It worked and, to her surprise, her son started coming up with his own jokes.
"They were a lot better than mine ... mine were a bit lame," she said with a laugh.
"Throughout his treatment, he was constantly telling jokes. For him, it was a very good distraction as it gave him something to focus on," she said. "It also helped to cheer all of us up too."
Next to her, Aaron beams proudly as he holds up a gold trophy with two shooting stars.
"Mama, I got an award, but I don't know what I won," he said, giggling.
Laughing, she tells him that it was an award from the Children's Cancer Foundation for completing his treatment.
GIVING BACK
Aaron ended his treatment in July 2020 and has been in remission for two years.
However, his love for puns and jokes remains.
"I feel like he became more cheerful and happy-go-lucky after his treatment," said Ms Leow. "Previously, he had a hard time because we used to live in the US and when we moved back to Singapore he had quite a hard time adjusting here."
While undergoing chemotherapy, Aaron also came up with a list of things he wanted to do after completing treatment. They include writing and publishing a book with his mother and siblings as well as helping other children with cancer.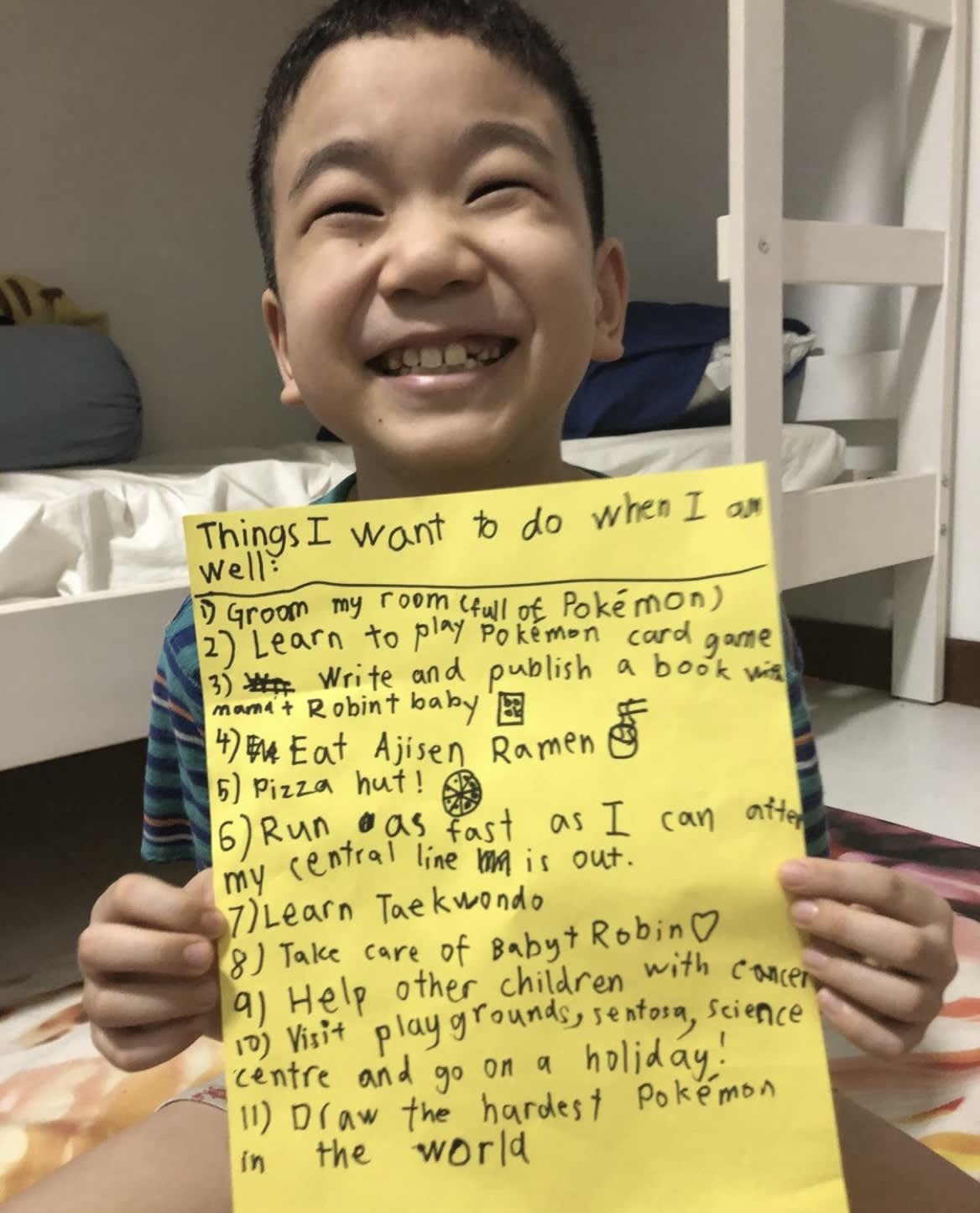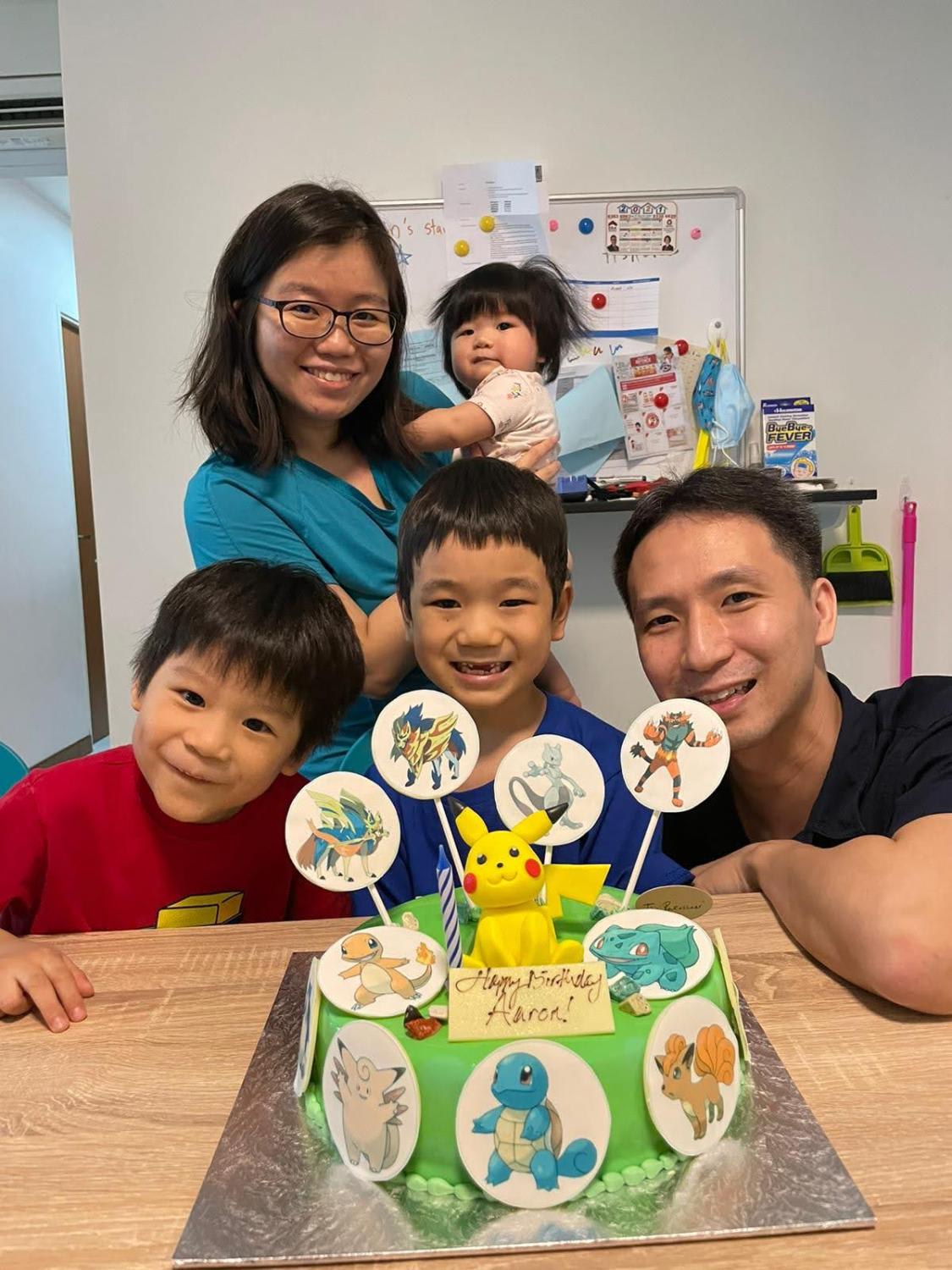 With experience in the publishing industry, Ms Leow saw this as an opportunity to help her son realise his dreams and to give her children a project to work on.
"Aaron would come up with the jokes when we were out and about, and he would tell me to write it down on my phone so we didn't forget it," she said.
"His younger brother Robin is very talented in art, so he helped out with the illustrations and also took charge of the aesthetics and colour scheme for our social media posts."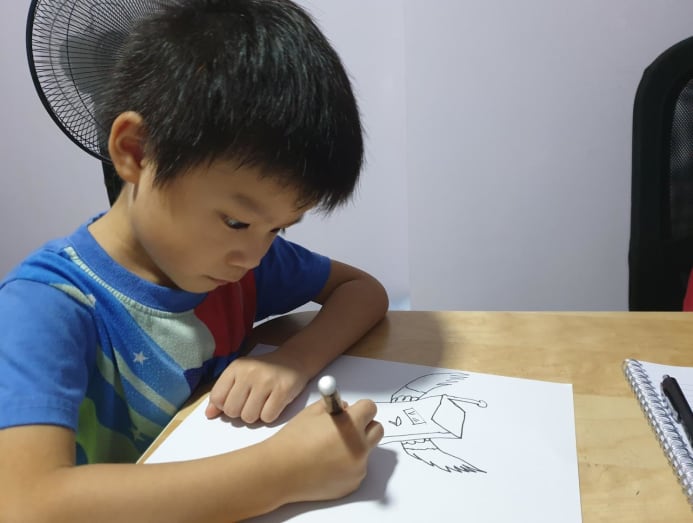 When asked what he wanted to say to other children who are going through medical treatment or difficult situations like him, Aaron smiled shyly and shrugged.
"I don't know ... I haven't prepared that," he said, before running away from the screen.
Later, in a WhatsApp message, Ms Leow conveyed Aaron's message to other children: "He said it's okay to feel like giving up sometimes, because he felt that too during treatment ... 'It's okay to not be okay all the time' is one of his mottos."
She added that her son said he tries very hard to see the funny in things, because life is much better when he does so.
The eight-year-old also hopes to come up with more jokes and fun stories to bring joy and cheer to everyone, especially children who are having a tough time.
The book costs S$7.90, excluding shipping or delivery costs, and can be purchased here. S$1 will be donated to the Children's Cancer Foundation for every book sold until Dec 31.
So why did the barber win the race? And why did the boy walk slowly across the beach?
1. The barber knew a short cut.
2. The boy did not want to fall into quicksand.