Protecting passengers and themselves: Changi Airport staff on keeping the aviation hub running in the pandemic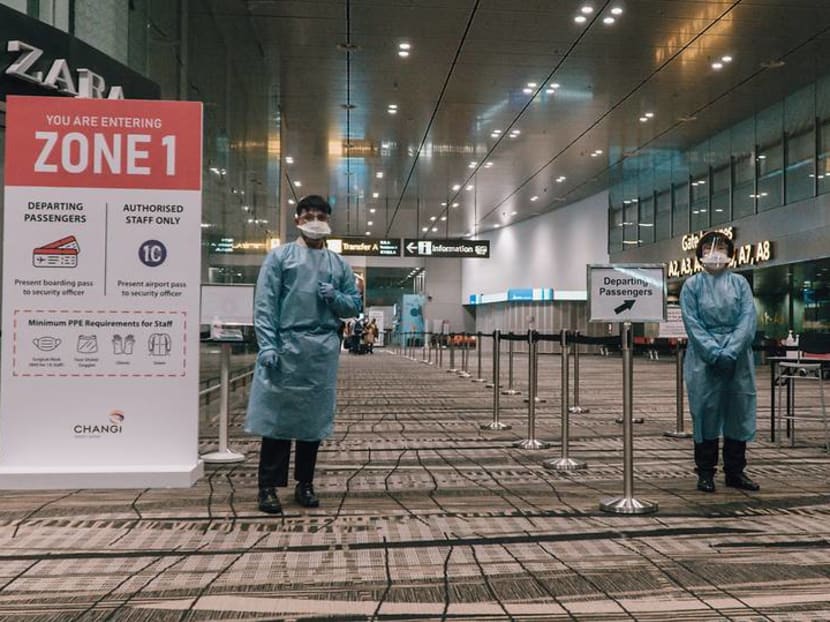 SINGAPORE: Since the COVID-19 pandemic began, aviation worker Shermaine Goh has noticed a change in the behaviour of her fellow commuters. 
On her daily bus rides to work, Ms Goh said she has seen other commuters staring at her before hastily moving away. 
"When they see us in uniform, they tend to sit away from us," she said. 
"I heard from my colleague that there was even a passenger that scolded her, saying why are you taking public transport, you're working in the airport, you shouldn't be spreading all this.
"It's very sad to see people like that," said Ms Goh. 
The 28-year-old customer service officer with ground-handling firm SATS is one of those working to ensure Singapore's Changi Airport remains running, even as the COVID-19 pandemic has badly hit commercial aviation. 
The airport – one of Asia's busiest pre-pandemic – saw its passenger traffic nosedive from 68.3 million in 2019 to 11.8 million last year, a drop of nearly 83 per cent. 
Monthly passenger numbers at Changi dropped to a low of 24,500 in May 2020 - a decrease of more than 99 per cent from the 5.4 million who passed through the airport during the same period the previous year. 
And in May this year, Changi Airport itself became a COVID-19 cluster, with more than 100 cases linked to it. 
CHANGES TO ROUTINE
Ms Goh, who has been working with SATS for about seven years, was four months pregnant when Singapore made the unprecedented decision of closing its borders in late March last year. 
She shared with CNA her many concerns at the time – from contracting the virus and raising a child in the midst of a global pandemic to worries that she would lose her job as COVID-19 battered the aviation sector.
Ms Goh gave birth to a baby boy in August last year and still works at the airport, albeit in a different capacity. 
Prior to the pandemic, she worked at SATS Premier Check-In Lounge, serving jet-setting first-class and business-class passengers. 
Now, decked in personal protective equipment (PPE) – including an N95 mask, face shield and medical gown – Ms Goh's responsibilities include escorting passengers from high-risk regions to transit holding areas, and ensuring travellers stay within their segregated zones to avoid the risk of spreading infection. 
This PPE must be changed after every flight.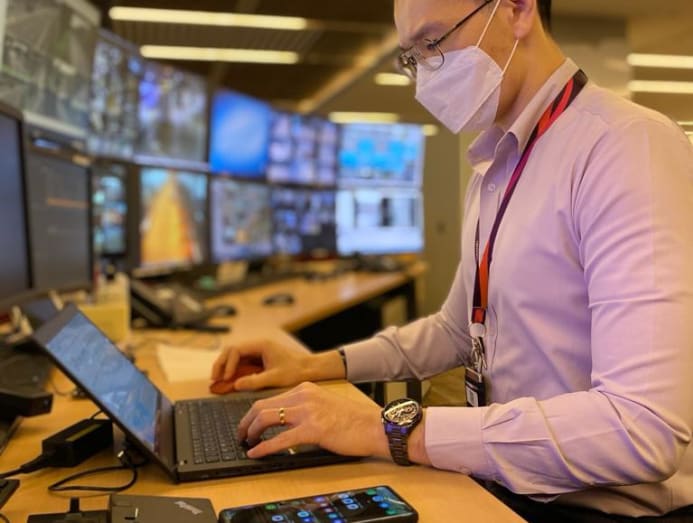 Changi Airport Group (CAG) terminal manager Javen Chua also now has to don PPE when making his way around the airport, with the specific equipment required depending on the assessed risk level of a specific area.  
Having to wear PPE, and having to navigate segregated zones, has increased his response time to incidents, which range from identifying  malfunctioning lights to assisting stranded passengers, said the 35-year-old.
Mr Chua said he keeps current with updates to the COVID-19 situation, given the impact it has on the way he works. 
Ms Goh too said she has to keep up-to-date, due to the changing risk levels for visitors from different regions as well as the various documents needed to prove they have been cleared to travel. 
Getting vaccinated earlier this year gave her peace of mind, she said, noting she also regularly undergoes polymerase chain reaction (PCR) tests as part of her job. 
Still, there are the occasional scares, such as on one occasion when Ms Goh had to handle a passenger who got off the plane with a high fever and had to be brought to a quarantine area. He later tested negative for COVID-19.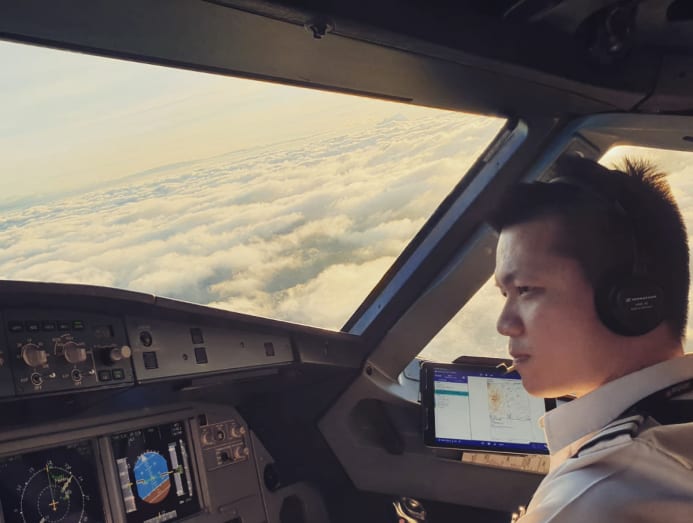 Changes have also occurred in the air. 
Jetstar Asia cabin crew member Vicky Wee said she now has to distribute sanitising wipes to passengers as they board, in addition to wearing PPE when serving meals to passengers. 
The 61-year-old, who has been flying with Jetstar Asia for the past decade, said her duties also include reminding passengers to keep their masks on and maintain social distancing while on board. 
Most passengers are compliant, Ms Wee said, though she notes an occasion when a passenger mistook a sleep mask – given out in the airline's amenities kit – as a face mask, wearing it over his mouth and nose. 
Barring a brief period last year when the budget carrier suspended its flights, Ms Wee said she has served on flights throughout the pandemic. 
Pilot Mitchell Soh, on the other hand, was grounded for several months after the COVID-19 outbreak began, flying for Jetstar Asia again only after being called back for training in November last year. 
Noting the airline helped its staff find other jobs during the downtime, the 34-year-old senior first officer said he worked in a very different role for several months – as an auditor with the Ministry of Social and Family Development, ensuring organisations under its purview complied with COVID-19 measures. 
Though he has since returned to flying, the reduced number of flights now means he is still able to do auditing part-time for the ministry while also ensuring he gets sufficient rest between flights. 
SIGNS OF RECOVERY?
There are signs of recovery on the horizon for aviation. 
Figures from CAG show that passenger traffic, while not yet at pre-pandemic levels, have increased from last year. There were 178,000 passenger movements at Changi in June, a 270 per cent increase from the same period last year. 
Singapore Airlines (SIA) said there are now 2,200 active pilots across SIA Group, comprising the national carrier and low-cost carrier Scoot. 
This is about 90 per cent of pilots employed by the group, it said, adding that about 80 per cent of its cabin crew staff – or around 6,500 of them – are active. 
It declined to provide more details regarding these figures, citing commercial sensitivities.
Jetstar Asia said it has resumed flying to nine destinations, with six planes reactivated and more crew members returning to work. 
"At this stage, we'll add flights in line with border openings and relaxation of policies for vaccinated travellers, with Phuket being the 10th destination we'll resume flying to from early September," said a spokesperson for the airline. 
The spokesperson added that about 50 per cent of its pilots and cabin crew are back at work, a number it expects to increase as international travel recovers. 
"The pace and uptake of Singapore's vaccination roll-out programme is very encouraging and together with the broader reopening plan, we hope that some leisure travel may be possible before the end of the year," Jetstar Asia added.  
However, the increase in flights and passenger volumes are still "rather insignificant", said aviation analyst Shukor Yusof. 
"Airlines fly because they have cargo commitments and also to retain slots at certain destinations. Today it's not uncommon to find fewer than 30 passengers in a plane that could fill 300," said the head of aviation consultancy Endau Analytics. 
Requirements such as quarantine periods and vaccination requirements are still obstacles to hassle-free travel, said Mr Shukor, adding that a full recovery may take a year or more. 
"Not withstanding the ramp up in vaccinations, airports and airlines in our part of the world will continue to struggle until cross-border issues are fully resolved," he said.
Last Friday, Singapore's multi-ministry task force tackling COVID-19 said it plans to introduce "vaccinated-differentiated" border measures for travellers from some countries or regions.
Visitors from eight countries – Australia, Austria, Canada, Germany, Italy, Norway, South Korea and Switzerland – who are fully vaccinated can apply from Aug 21 to serve their stay-home notice in Singapore at their place of residence rather than a dedicated facility.
Mr Soh, who has clocked  more than 4,000 hours in the air in his six years as a pilot with Jetstar Asia, said he is "really hopeful" that travel will pick up soon. 
"I mean, right now, our recovery journey might be a bit slow, but I know definitely in time it will return," he said. 
"People, Singaporeans, they are quite excited to travel, they cannot wait to go overseas."