This young Singaporean head chef at a two-Michelin-starred restaurant in Norway just got a spot on Forbes' Under 30 list
Last month, chef Mathew Leong became the first – and only – Singaporean to snag a coveted spot on the acclaimed Forbes 30 Under 30 Europe list.
SINGAPORE: Singaporean chef Mathew Leong is flying the Singapore flag high by bringing Asian flavours to prestigious European gastronomy establishments – and he is being celebrated for his work.
Last month, he became the first – and only – Singaporean to snag a coveted spot on the acclaimed Forbes 30 Under 30 Europe list.
Leong featured under the Arts and Culture category on the list, an annual initiative by Forbes celebrating 300 individuals under the age of 30 who have excelled in their chosen fields.
The 28-year-old is the executive chef of the two Michelin-starred restaurant Re-Naa in Norway's southwestern city of Stavanger.
Leong led Re-Naa to the title of Norway's best restaurant in one of the country's biggest newspapers, within just six months of taking up the position of head chef in February last year, according to Forbes.
In 2022, the restaurant's revenue grew by 15 per cent to more than US$4 million (S$5.3 million).
"This is an honour, and keeps me going stronger and stronger and to find the purpose in my career," Leong said of his Forbes listing, during an interview with CNA938's Eat Drink Singapore.
Chef Mathew Leong's interview with CNA938's Eat Drink Singapore
IT ALL STARTED AT HOME
Leong's love for the culinary arts stems from his family, in particular his mother who "cooks really, really well".
"(Especially) in Cantonese cuisine, which is one of my favourite cuisines in the world," he said. "My mum's steamed fish is fantastic – it's so clean, so delicate. I love it!"
The chef had his first taste of the professional culinary scene when he joined his maiden cooking competition at the tender age of 13, when coincidentally, he cooked Norwegian salmon. Leong won his first gold medal with the dish.
Later, he was given an opportunity to visit the kitchen of veteran chef Jimmy Chok, where his career choice was cemented.
"After my one day in (Chok's) kitchen, I told myself, 'I'm going to be a chef one day'. And I was just waiting for my time to be in this crazy environment that is the kitchen," he said.
But, how did Leong end up in Norway, some 10,000km away from Singapore?
AFFINITY WITH NORWAY
"I didn't specifically choose Norway," Leong explained. "I just always wanted to have a Michelin Star restaurant in my CV (Curriculum Vitae)."
When he started his dream job search around 2015, the Michelin Guide had yet to make its way into Singapore. So, Leong had to look elsewhere.
He sent hundreds of emails with his resume to top-tier restaurants worldwide.
Then, Norway came calling.
"I was so lucky. Re-Naa was the only one that replied to me," he said.
"I didn't know what was on the other side of the world that was Norway. But it was a lifetime opportunity so why miss it? I said 'okay, let's do it'. I packed my bags, and I went," he recalled.
At age 21, he was made the chef de partie – also known as a station chef or line cook – of Re-Naa.
He used his days off to train for the Bocuse d'Or chef championship in Lyon, France.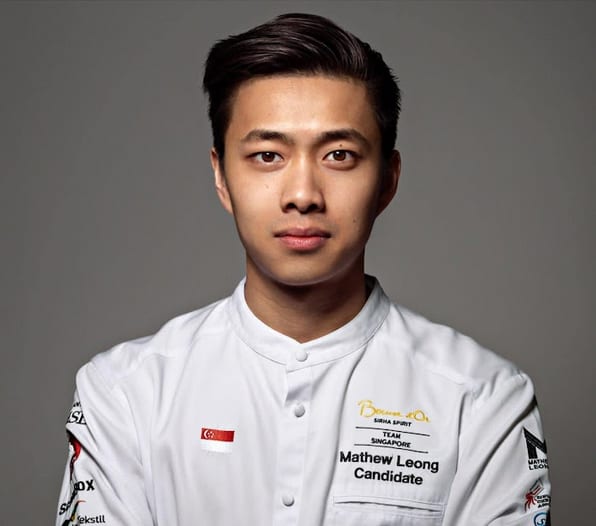 At 26, he became the youngest Singaporean to represent the country at the prestigious competition. There, he was ranked 12th in the world.
BRINGING ASIAN FLAVOURS TO THE WORLD
When asked if it was challenging to introduce Nordic dishes infused with Asian flavours, Leong replied with a definitive "not at all".
Instead, it is an increasing trend for restaurants in the West to use Asian flavours in their food.
"Nordic dishes with Asian flavours, they are a match made in heaven. Asian flavours can be combined so easily with many cool techniques and different tastes," he said.
"Asian cuisine and Asian cooking are spreading around the world. More and more kitchens in Europe are combining with Asian flavours. This has made me really, really proud."
Chefs in Europe are now growing their own Asian ingredients in their backyard.
"(Here in Europe) we also have Asian ingredients like wasabi, but with a little twist. It's not from Japan – we have Icelandic wasabi," Leong said. "Some Asian ingredients can be grown in Spain as well. But, of course the very special ones, we still have to come back to the roots of Asia."
HE IS NOT THE BEST CHEF YET
Even celebrated chefs like Leong have to step aside and tend to the dishwasher when a better chef is present in the kitchen – his mother.
"At home, I don't cook, I wash the pots," the chef said, laughing. "My mom is way better than me. She cooks."
Leong may be able to whip up world-class, complicated gastronomical delights but the seemingly simple dish of fried chicken is his Achilles' heel.
"I'm still trying with fried chicken. Two months ago, I made fried chicken and it was a disaster. (My girlfriend) was laughing and saying, 'you are a Michelin Star chef and you cannot cook fried chicken'," he recalled, chuckling.
ONE DAY, HIS OWN RESTAURANT
Leong said he would love to return to Singapore one day to set up his own Michelin-starred restaurant.
"What I love and miss about Singapore is that the restaurant scene is global and diverse, and holds a strong reflection of the culture. From Michelin-starred to hawkers … it's where you can taste it all, in one country," he said.
"I would love to be back in Singapore. It's my home country, and it will be really nice to bring back the knowledge to share with the future generation of Singaporean chefs."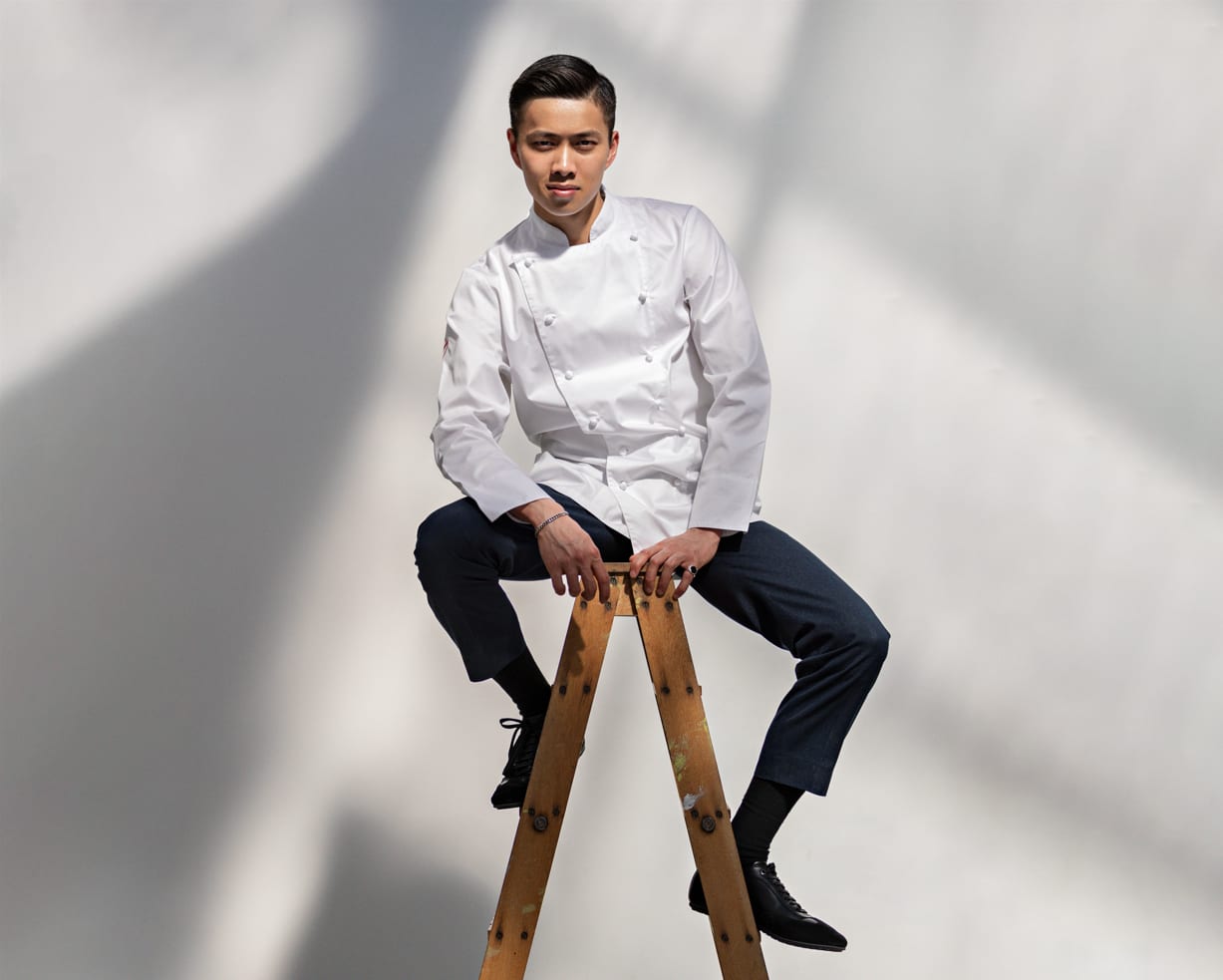 But before that, he wants to see where else his culinary adventures will take him.
"A chef's career is extremely interesting. Whatever the jobs land, that's where you are, in any country in any part of the world," he said.
YOUNG CHEFS, BOLD FLAVOURS
Having accomplished so much at such a young age, Leong believes that young chefs like himself can bring "creativity, innovation and new energy" to the table.
"Young people, we have more energy. We are constantly bringing fresh perspectives and different ways of taking to the kitchen, especially when it comes to creating new dishes for the menu," he said.
"One day, when I open my own restaurant and a young chef comes, I will love it. You know, new blood, they come in with new ideas. It's fantastic."
Leong said he sees an increasing number of young people who are looking at the culinary arts as a career path, but cautioned that the job is not just the glitz and glamour seen on cooking shows.
"Actually, I'm surprised that more young people are trying to become chefs, but they really need to understand this industry. It's not like MasterChef or other television shows. It's really, really hard work," the chef said.
"It takes a long, long way to go far. You will have to do a lot of small, dirty jobs."
Still, he wants to tell aspiring chefs to work hard, stay driven and dream big.
"Believe and dream. Dream big. You need to believe in yourself. And no matter how hard it is in this line of work, you really need to have focus and a goal," he said.
"At the end of the day, after years and years of practice, you will go far in your career. So don't give up."