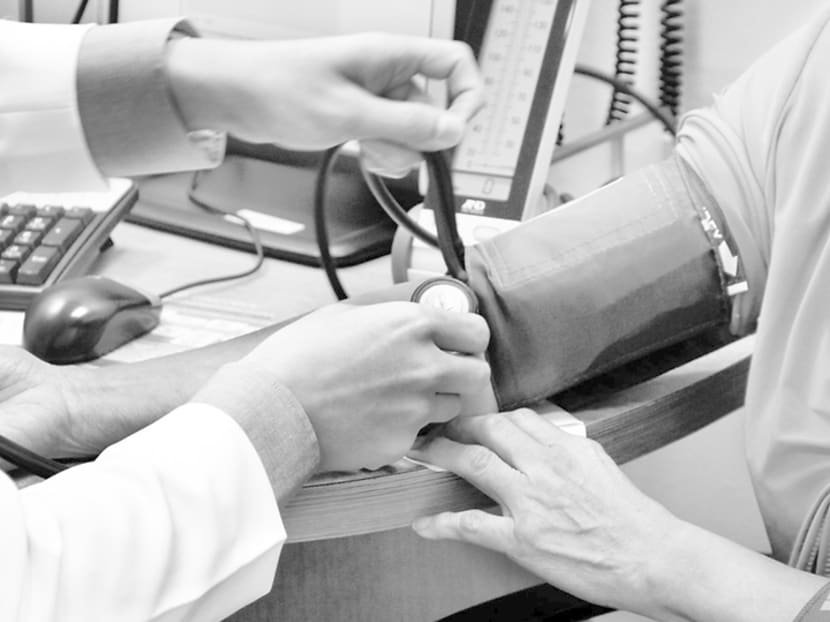 SINGAPORE: Instead of seeing a different doctor each time, all patients with chronic conditions will be treated by the same team of doctors, nurses and support staff at National Healthcare Group Polyclinics (NHGP) by the middle of next year.
This follows an in-house study that found that patients under such a team-based care model have better health outcomes. In a media briefing on Friday (Aug 17) where NHGP shared their findings, it attributed this result to the strong bond patients develop with their care teams.
"EVERY VISIT I SEE HIM, IT'S A JOY"
Mr Arul Subramaniam, 68, was diagnosed with diabetes six years ago, but his condition did not take a turn for the better until 2015 when the group rolled out team-based care for chronic patients.
Mr Subramaniam, who started seeing the same doctor each time he visited the polyclinic, said it is all about the relationship.
"You can confide in him, even personal problems, other problems apart from medical. You can tell him and he will advise you which is good. And the prescription he gives you, you follow. Every visit I see him, it's a joy. 
"It's different from the previous doctors who are very strict. There's so much of care and concern," he said.
Each care team has two doctors, a care manager who is a nurse, as well as support staff such as a care coordinator who follows up with patients on appointments. 
The idea is to have a dedicated team monitor a patient holistically - from their medical to social needs. 
BUILDING TRUST WITH PATIENTS
Ahead of their first appointment, patients are scanned to see if they are suitable for the care model. They are then divided into different categories, ranging from simple to complex cases, depending on their medical conditions. This allows each care team to tailor its approach. 
Once patients are on the programme, their well-being is tracked on a digital dashboard to see how treatment can be adjusted.
For instance, a diabetic patient who does not show any improvement in his blood sugar level will be given an appointment with a dietician.
Between July 2015 and end 2016, the group studied about 20,000 patients with chronic diseases, of which half were on team-based care.  Almost all patients in the study had high blood pressure while about 60 per cent were diabetic. 
The group found that patients in dedicated care teams had better control over their diabetes and were less likely to visit the emergency department. Patients were also more likely to go for preventive health screenings. 
"We believe that we build on a patient's trust. Over time, the relationship is strengthened and this really goes a long way to empower our patients to take charge of their health, to have better self-awareness and to enable them to change their behaviour," said Dr Karen Ng, director of clinical services at NHGP.
Across NHGP's six polyclinics, more than 100,000 patients with chronic conditions are being cared for by dedicated teams. The group aims to get all of such patients on board by mid-2019. 
It currently has more than 200,000 patients that visit its polyclinics for chronic conditions. 
The goal is to expand the service to family members of patients as certain chronic diseases such as high blood pressure and diabetes are hereditary.