commentary Singapore
Commentary: As a father of four, I wished I had my kids earlier, says 'The Perfect Father' blogger
While having children comes with heavy responsibilities and a lot of pain, father of four Steven Teo reveals why he wished he had them earlier.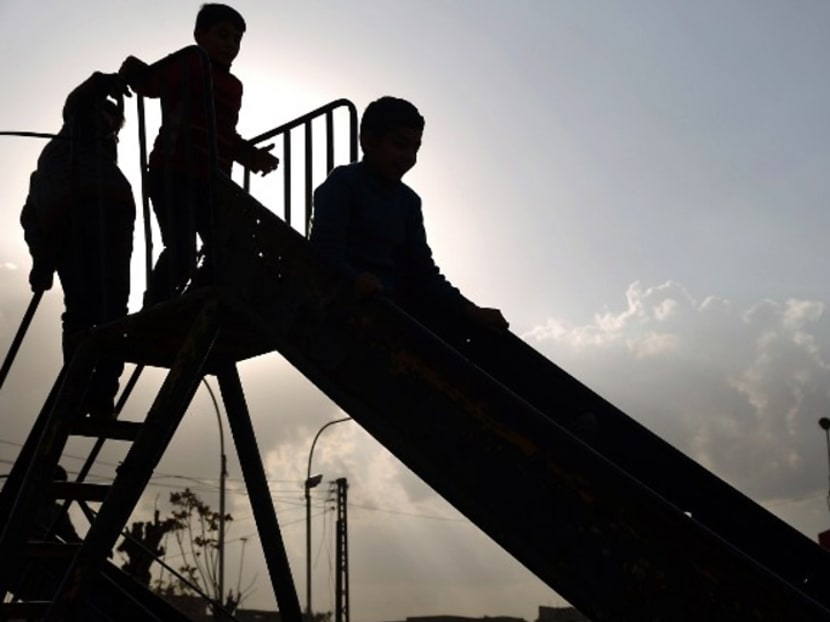 SINGAPORE: My wife and I are proud parents of two girls and two boys. It was purely coincidental that my wife came from a family of four girls, while I came from a family of four boys.
I guess from the start, we knew that we would not mind having kids, and we also wanted many kids in fact.
However, we did put off having kids for a while after we got married. We thought that we could have kids when we wanted, but things did not work out the way we planned. Even though we got married at 23, we only had our first kid at 29, after years of trying and one miscarriage.
NEED TO GIVE UP ON A FEW THINGS
Was it a sacrifice on our parts to have four kids at our age? Definitely.
I for one, was forced to give up all my pets in pain after my firstborn, Steffi decided to switch off the power supply to my six-foot tank full of arowanas and stingrays. Gone also were the days of drinking and partying late into the night with friends, and fulfilling the collective wanderlust my wife and I shared whenever we felt like it.
I also have a nagging feeling from the vibes my wife gave me that she would probably have much better progress in her career, if not for the months of maternity leave she took following the four births. It would be hard to promote someone who is absent for four months in a year wouldn't it? This is something that is terribly hard to reconcile.
Big sacrifices right? I think so too. But I reckoned that as much as my pet fishes gave me hours of viewing pleasure as well as satisfaction when they eat and grow, they can never replace the true joy of parenthood.
Given my current age, I also do not think I would want to party into the night even if I did not have kids. To reach the pinnacle of one's career may also be a worthwhile pursuit for some, but so is the search for happiness through parenthood.
KIASU PARENTS
To each his own you may say and I surely agree, for life is too short to be bound by societal norms. So do whatever makes you happy with your life, as long as it does not come at the expense of others. Parenthood does reap great rewards, but along with it, comes very heavy responsibilities and a lot of pain as well.
In Singapore's context, we very often tend to be kiasu and will try to ensure that all the necessary resources are in place before we plunge into anything significant. Ensuring the baby gets proper care after all we consume our parental leave is one thing. One may also want to ensure that one's salary can afford a sufficiently large apartment, and have enough left over to cover the future expenses of having a kid such as the costs of milk powder and childcare.
The truth is, you can plan all you want and ensure a big enough safety net to fall back on, but one thing you can never buy is time. And time may not be kind to us and our bodies, lest you think you can have babies on demand.
We were extremely fortunate that my mother-in-law offered to care after our infants before they reach 18 months and were ready for childcare. That saved us a fair amount of infant care expenses and the headache of worrying over the little ones. This is probably one of the reasons why we had this many kids.
Parents tend to over-worry about looming expenses even before they have a baby. We might read a lot of horror stories about sky-high milk powder and childcare prices, but the truth is there are a lot of choices for parents here in Singapore.
A can of milk powder can cost a good meal in a restaurant while childcare fees may cost a short holiday getaway.
The question is, are these too much to give up for a child of your own?
MANAGE YOUR EXPECTATIONS
All six of us bunk into one bedroom and we stay in a 3-room HDB flat with a mortgage loan that was easy on my wallet. The prices I pay for the childcare of my four children may even be lower than what some parents pay for just one child in a branded pre-school. We also welcome hand-me-downs from other families, and we travel by public buses and trains most of the time. So it is about managing your own expectations.
If you want to wallow in self-pity, you can call this a sacrifice but I call the lifestyle I have right now an upgrade, because our kids are truly a blessing for both me and my wife.   
Some people expect that wives continue to shoulder the majority of household responsibilities. But marriage and parenthood is an equal partnership for both my wife and I, and to work together as a team only serves for the betterment of the family. At times I am tempted to portray myself as the selfless father, who sacrifices his everything for the kids but I am definitely no saint.
The reason why I do what I do remains the same - because at the end of the day, I still feel good doing what I do for the kids despite the fact that I may be cursing and swearing under my breath when I have to pick up after them or change my plans because of them.
Wouldn't we be idiots to have four if they do not bring us the kind of joy and happiness we experience on a daily basis, even though they bring with them great annoyance requiring loud reprimands at times, and cause the occasional spat between us adults.
I am happy, when my family is happy and I look forward to spending my time with them. And if there is one thing I could change after turning back time, that would be us trying to have our kids earlier.
Steven Teo is a proud father of four and owner of the blog The "Perfect" Father. He is also a member of Daddy Matters Singapore, a Facebook community of fathers from all walks of life that promotes active fatherhood.