Expect 'further pressure' on cooking oil prices in Singapore as Indonesia bans palm oil exports: MTI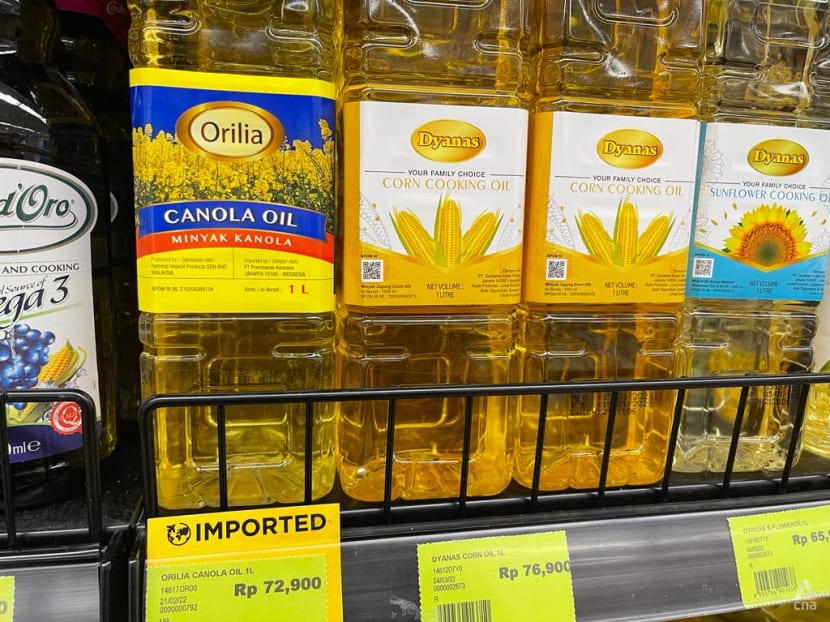 SINGAPORE: Consumers can expect "further pressure" on the price of cooking oil after Indonesia banned palm oil exports, the Ministry of Trade and Industry (MTI) said on Thursday (May 5).
"For now, the export ban is unlikely to have a significant impact on the overall supply availability of cooking oil in Singapore, albeit we can expect further pressure on prices of cooking oil," an MTI spokesperson said in response to queries from CNA.
Indonesia President Joko Widodo announced on Apr 22 that the country would stop exporting palm oil from Apr 28 to help control soaring domestic prices, but provided no details.
On Apr 27, Jakarta said the ban would cover crude palm oil, refined palm oil, refined, bleached and deodorised (RBD) palm olein, palm oil mill effluent, and used cooking oil. RBD palm olein is a key ingredient in cooking oil and is used in anything from snacks to ice cream.
The announcement by Indonesia, the world's biggest exporter of palm oil, sent global edible oil prices soaring as supplies were already choked by other factors such as drought and shortages from Russia's invasion of major crop producer Ukraine.
In Singapore, the price of oils and fats rose 6.2 per cent year on year in March, down from 6.7 per cent in February, data from the consumer price index showed.
Singapore gets most of its palm oil from Indonesia and in 2020 imported US$228 million of it, according to the Observatory of Economic Complexity (OEC) which sources data from international trade database BACI.
Singapore also imports palm oil from Malaysia and to a lesser extent Netherlands, Kenya and Vietnam, OEC said.
"While Indonesia is one of our source countries, we also import cooking oil and palm oil from other countries such as Malaysia and China," MTI said.
"Importers and retailers currently have sufficient stocks of cooking oil within Singapore to meet our consumption needs, and importers are able to ramp up imports from alternative sources to mitigate the drop in supply from Indonesia."
The ministry said it is also closely monitoring ongoing developments and will work with key importers and retailers to ensure sufficient supply of cooking oil and palm oil in Singapore.