59 new locally transmitted COVID-19 cases in Singapore; new clusters at SAFRA Tampines, My First Skool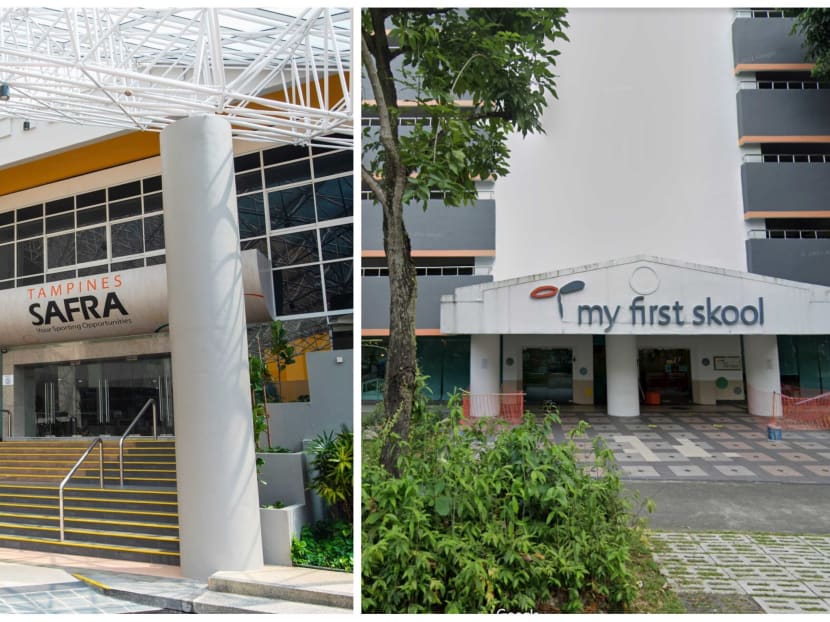 SINGAPORE: Singapore reported 59 new locally transmitted COVID-19 infections as of noon on Thursday (Aug 12), as well as new clusters at SAFRA Tampines and at My First Skool at 54 Chin Swee Road. 
Of the new local infections, 19 have no links to previous cases. 
Twenty-six infections were linked to previous cases and had been placed on quarantine. Another 14 linked infections were detected through surveillance testing, said the Ministry of Health (MOH).
Among the new cases, five are people above the age of 70 who were unvaccinated or partially vaccinated. They are at risk of serious illness, said MOH.
There were no new imported cases for the first time since Jun 15.
THREE NEW CLUSTERS
Three new COVID-19 clusters were identified, including a cluster at SAFRA Tampines and another at My First Skool at 54 Chin Swee Road. 
A total of nine cases were linked to the SAFRA Tampines cluster. Six cases were linked to the cluster at My First Skool, the second pre-school to be identified as a cluster in the last two days. MOH did not provide details on the remaining new cluster. 
Six more infections were linked to the cluster at Superland Pre-School at Kreta Ayer Community Centre, bringing the size of the cluster to 10 cases. The cluster there was first reported on Wednesday.
No cases were added to the Jurong Fishery Port/Hong Lim Market and Food Centre cluster. It remains the largest active cluster in Singapore, with 1,151 infections.
There were 119 active clusters in Singapore as of Thursday. 
NINE IN CRITICAL CONDITION
A total of 470 cases were warded in hospital. There were nine cases in critical condition in the intensive care unit and 36 cases of serious illness requiring oxygen supplementation.
Of these 45 cases, five were fully vaccinated. Of those who have fallen very ill, 37 people are above the age of 60, of whom 32 were partially vaccinated or completely unvaccinated.
"There is continuing evidence that almost all fully-vaccinated individuals do not suffer serious disease when infected, unless if they had underlying medical conditions that made them more susceptible," said MOH. 
Over the last 28 days, the percentage of unvaccinated who became severely ill or died is 9.3 per cent, while that for the fully vaccinated was 0.9 per cent.
73 PER CENT OF POPULATION FULLY VACCINATED
More than 8.2 million doses of COVID-19 vaccines have been administered under the national vaccination programme, with nearly 4 million people having completed the full vaccination regimen as of Wednesday. 
In addition, 141,405 doses of other vaccines recognised in the World Health Organization's Emergency Use Listing have been administered as of Wednesday, covering 82,881 people.
In total, 73 per cent of Singapore's population has completed their full regimen or received two doses of the COVID-19 vaccines, while 81 per cent has received at least one dose.
Overall, the number of new cases in the community has decreased from 723 cases in the week before to 412 cases in the past week, said MOH.
The number of unlinked cases in the community has also decreased from 215 cases in the week before to 117 cases in the past week.
Dining-in at restaurants resumed this week for people who are fully vaccinated against COVID-19, with businesses putting in place measures to verify customers' vaccination status. 
Those who pass off another person's vaccination certificate as their own will face "severe penalty", warned Health Minister Ong Ye Kung on Wednesday night. 
"We are aware such illegal practices are going on," he said in a Facebook post. "The authorities will enforce against this, and offenders will face severe penalty. It is not worth it."
Mr Ong reminded people who are not fully vaccinated to take a pre-event swab test at an approved test provider if they wish to dine-in at F&B outlets or attend an event.
As of Thursday, Singapore has reported a total of 66,012 COVID-19 cases.