63-year-old man dies from COVID-19 complications; 93 new locally transmitted cases in Singapore
SINGAPORE: A 63-year-old Singaporean man has died from complications due to COVID-19, the fourth death from the virus in five days.
The man, identified as Case 67716, died on Thursday (Aug 5). He was not vaccinated against COVID-19.
The man developed a fever and a cough on Tuesday and was taken to Khoo Teck Puat Hospital on Thursday after collapsing at home. He was confirmed to have COVID-19 infection after his demise, said the Ministry of Health (MOH) on Friday.
He had a history of heart disease, stroke, diabetes mellitus, hypertension and hyperlipidaemia, added MOH.
In total, 41 people have died from COVID-19 in Singapore.
93 LOCALLY TRANSMITTED CASES
Singapore reported 93 new locally transmitted COVID-19 infections as of noon on Friday, including 29 infections with no links to previous cases.
Fifty-six infections were linked to previous cases and had been placed on quarantine. Another eight linked infections were detected through surveillance testing.
Among the new cases, one is above the age of 70 and partially vaccinated, and at risk of serious illness, said MOH.
There were also four imported cases, who were placed on stay-home notice or isolated upon arrival. All the infections were detected upon arrival in Singapore.
In total, Singapore reported 97 new COVID-19 cases on Friday.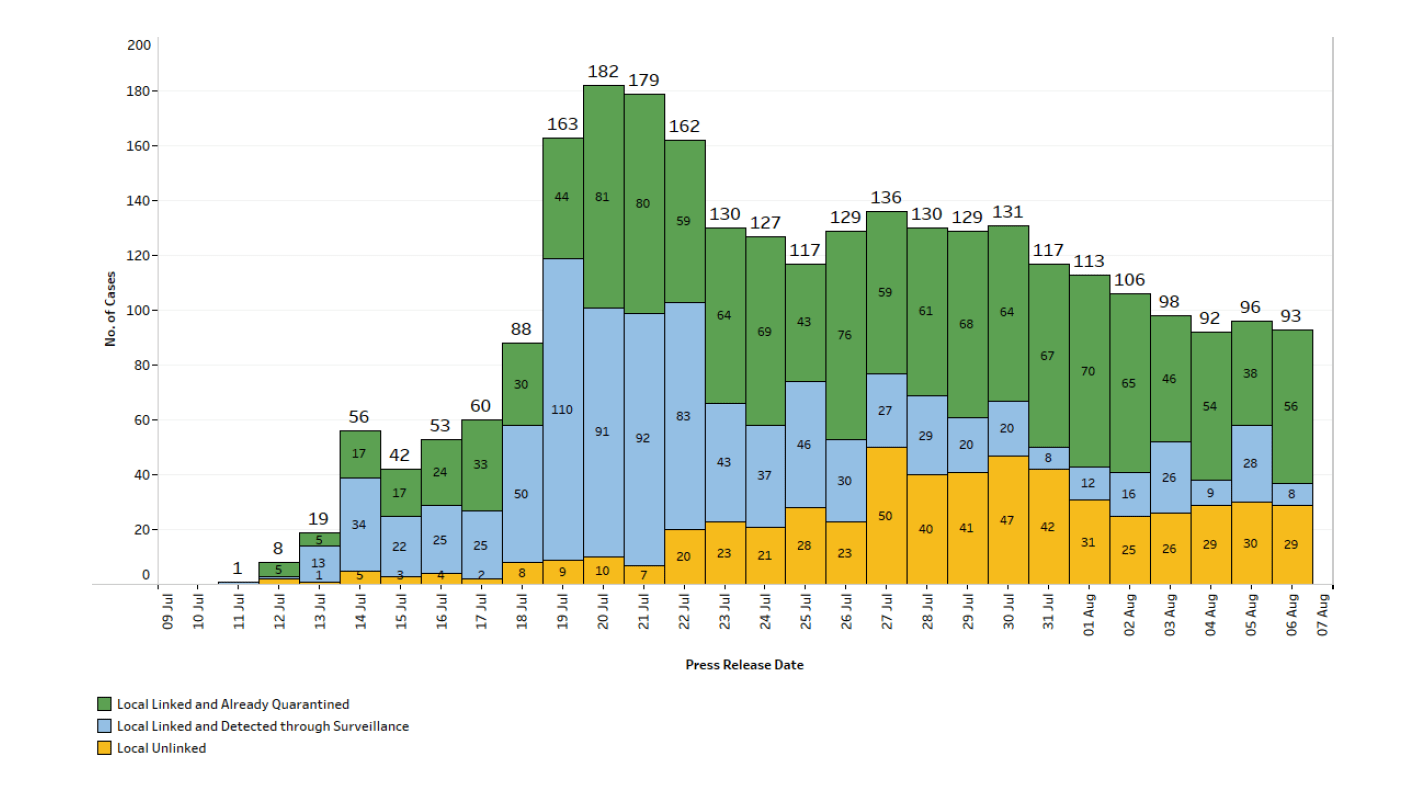 FIVE NEW CLUSTERS
Five new COVID-19 clusters were identified, including one linked to Jem shopping mall with four cases. There were also three new clusters linked to businesses – food caterer Elsie's Kitchen, massage parlour Nimble/Knead and food supplier Chee Song Frozen Foods. 
MOH did not provide information about the remaining new cluster reported on Friday.
Six more cases were linked to the Jurong Fishery Port/Hong Lim Market and Food Centre cluster, bringing it to 1,134 cases in total. It remained the largest active cluster in Singapore.
There were 126 active COVID-19 clusters in Singapore as of Friday.
SEVEN IN CRITICAL CONDITION
Most of the 546 cases warded in hospital were well and under observation, said MOH.
There were 38 cases of serious illness requiring oxygen supplementation, and seven were in critical condition in the intensive care unit (ICU).
Of these 45 cases, six were fully vaccinated. Among them, five required oxygen supplementation, while one needed ICU care due to underlying medical conditions.
Thirty-five people above the age of 60, of whom 30 were unvaccinated or partially vaccinated, have fallen very ill.
"There is continuing evidence that vaccination helps to prevent serious disease when one gets infected," said MOH.
Over the last 28 days, 85 local cases required oxygen supplementation, were admitted to the ICU or died. Of this number, 53 were unvaccinated, 24 were partially vaccinated and eight were fully vaccinated.
As of Thursday, 67 per cent of Singapore's population has completed their full vaccination regimen or received two doses of vaccines under the national vaccination programme. About 78 per cent have received at least one dose.
In addition, 120,665 doses of Sinovac vaccines have been administered as of Thursday, covering 79,297 people.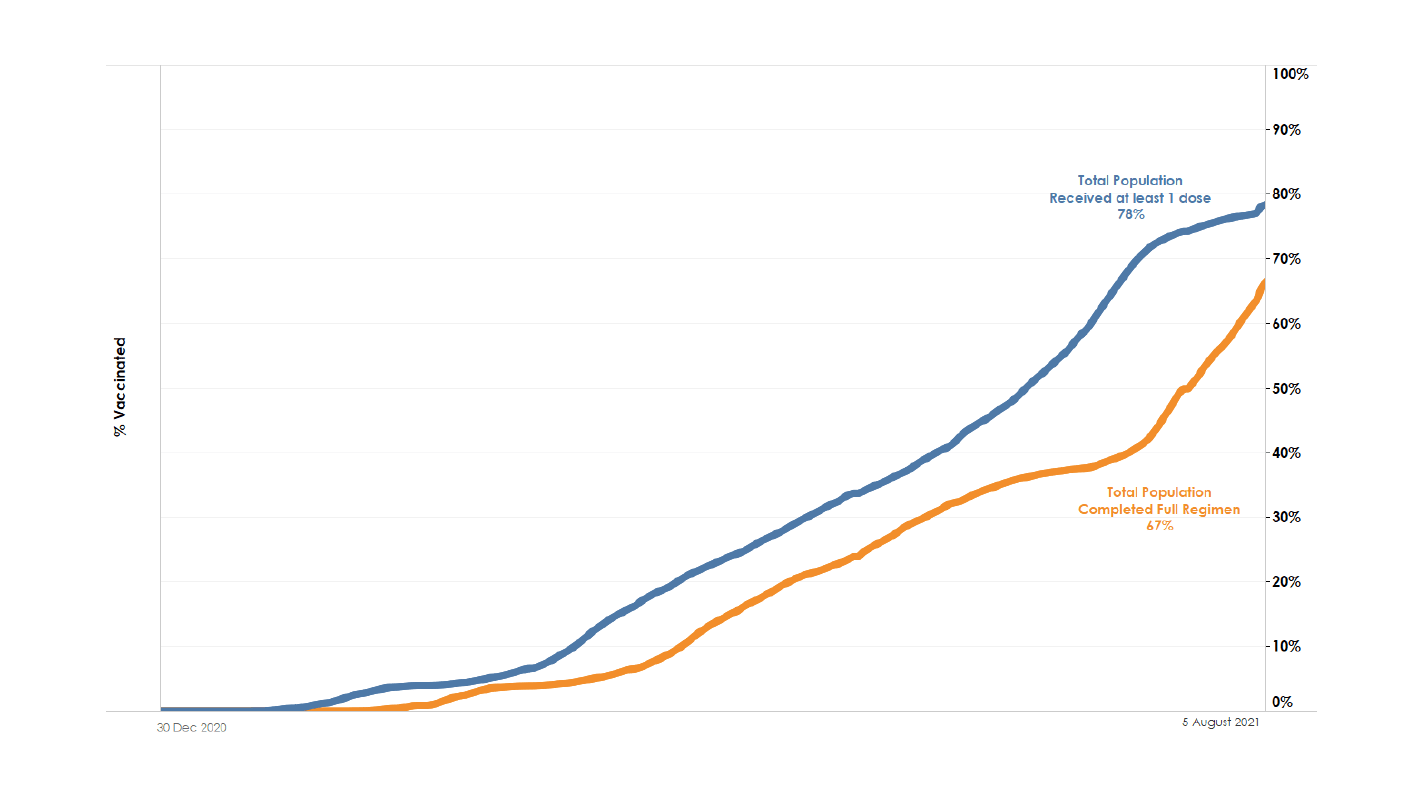 Overall, the number of new cases in the community has decreased to 671 cases in the past week, from 878 cases in the week before.
The number of unlinked cases in the community has also decreased to 203 cases in the past week, from 244 cases in the week before.
The seven-day moving average number of linked community cases and unlinked community cases was 66.9 and 29 respectively.
Separately, the National Environment Agency said three markets and food centres linked to the Jurong Fishery Port cluster will reopen over the coming days.
Haig Road Market and Food Centre will reopen on Saturday, Clementi 448 Market and Food Centre on Sunday, and Boon Lay Place Food Village next Tuesday.
EASING OF RESTRICTIONS
MOH on Friday also announced the easing of some restrictions later this month. Restrictions will be eased in two steps – from Aug 10 and from Aug 19.
Dining-in at F&B outlets will resume from Aug 10, only for fully vaccinated people in groups of up to five. Both vaccinated and unvaccinated people can dine in at hawker centres and coffee shops, but in group sizes of up to two.
The current group size for social gatherings will also be increased from two to five from Aug 10, as will the cap for distinct visitors to households. However, people who are unvaccinated should remain in groups of no more than two "to reduce the likelihood of transmission and severe infection", MOH said.
Apart from allowing dining-in for the vaccinated, restrictions will also be eased for this group of people for other higher-risk activities such as high-intensity sports with masks off, personal care services and larger events like marriage solemnisations and worship services.
If the COVID-19 situation remains under control, some measures will be further eased on Aug 19. Worship services, cinemas, MICE events, live performances, spectator sports and marriage solemnisations may take place with up to 1,000 attendees if all are fully vaccinated.
About two-thirds of Singapore's population have received two doses of COVID-19 vaccines, said co-chair of the multi-ministry task force Gan Kim Yong in a press conference on Friday.
Those who opt for Sinovac and other COVID-19 vaccines under the World Health Organization's (WHO) emergency use list will be considered as fully vaccinated from next Tuesday, said Health Minister Ong Ye Kung at the same press conference.
From Aug 10, the Ministry of Manpower will resume entry approvals for fully vaccinated work pass holders and their dependants with travel history to higher risk countries or regions, said MOH.
From 11.59pm on Aug 20, travellers from eight countries who are fully vaccinated against COVID-19 will be able to apply to serve their stay-home notice at their place of residence rather than a dedicated facility.
As part of Singapore's reopening plan, workers in selected sectors will from October also be required to undergo vaccination or regular COVID-19 testing, said Mr Gan. Unvaccinated employees under the "vaccinate or regular test" regime will have to be tested with an antigen rapid test kit twice a week.
As of Friday, Singapore has reported a total of 65,605 COVID-19 cases.