Fully vaccinated travellers from 8 countries can apply to serve stay-home notice at their residence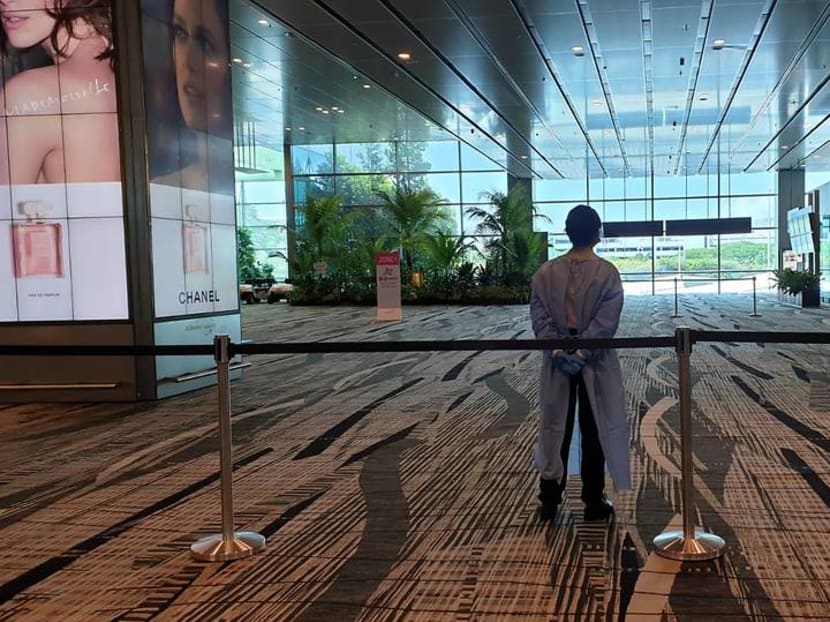 SINGAPORE: Travellers from eight countries who are fully vaccinated against COVID-19 will soon be able to apply to serve their stay-home notice at their place of residence rather than a dedicated facility, the Ministry of Health (MOH) said on Friday (Aug 6).
From 11.59pm on Aug 20, fully vaccinated travellers from Australia, Austria, Canada, Germany, Italy, Norway, South Korea, and Switzerland, can do so if they "fulfil certain criteria".
According to the Health Ministry, an individual is considered fully vaccinated two weeks after he or she has received the full regimen of Pfizer-BioNTech/ Comirnaty, Moderna or any vaccine in the World Health Organisation's Emergency Use Listing. This includes Sinovac-Coronavc, Sinopharm and AstraZeneca's vaccines.
Applications will be considered if the vaccinated traveller has remained in the eight countries - as well as countries or regions Brunei, Hong Kong, Macau, mainland China, New Zealand and Taiwan - in the last 21 consecutive days prior to arriving in Singapore.
They must also occupy their respective places of residence or other suitable accommodation alone, or only with household members who are also vaccinated people serving stay-home notice with the same travel history and isolation period.
For Singaporeans and permanent residents, the application must be made three days prior to arrival via the SafeTravel website. All travellers must present the approval to opt-out upon arrival in Singapore.
All other travellers from the countries or regions must continue to serve their stay-home notice in dedicated facilities, said MOH.
ENTRY APPROVALS FOR WORK PASS HOLDERS TO RESUME
From Aug 10, the Ministry of Manpower (MOM) will resume entry approvals for fully vaccinated work pass holders and their dependants with travel history to higher risk countries or regions.
They must be fully vaccinated before arrival in Singapore, and they will be subjected to the prevailing health protocols, said MOH.
Higher risk countries or regions refer to all places except Brunei, Hong Kong, mainland China, Macau, New Zealand and Taiwan.
The vaccination condition for entry will not apply to work pass holders and their dependants who remained in these lower risk countries or regions within the last 21 days prior to arriving in Singapore, and those applying under the Periodic Commuting Arrangement.
Work pass holders and their dependants will need to show documentary proof of their full vaccination status to the airlines before boarding and at the checkpoint upon arrival in Singapore, said MOM in a separate news release on Friday. 
Those who are unable to produce the necessary documentation will be denied boarding or entry, it said. 
Workers who have received their vaccinations overseas must update their vaccination records in the National Immunisation Registry (NIR) within two weeks of the completion of their stay-home notice.
"To do so, they will need to show documentary proof of their overseas vaccination, and a positive serology test result taken at one of MOH's designated private healthcare providers," said MOM.
Those who fail to do so may have their work pass privileges suspended or revoked, added the Manpower Ministry.
The vaccination condition for entry will not apply to dependants who are below the age of 12. Those between the ages of 12 and 18 can enter without proof of vaccination, on the condition that they take their first vaccination shot using a pandemic special access route (PSAR) vaccine within one month of arriving in Singapore, as well as the second shot within one month of the first dose. 
Work pass holders and dependants who are medically ineligible for vaccination should appeal to be exempted from the vaccination condition for entry, supported by a doctor's memo, before applying for entry approval, said MOM.
The vaccination condition for entry will not apply to foreign domestic workers, S Pass and work permit holders from the construction, marine shipyard and process sectors.
MOM said there are "ongoing industry initiatives" in these sectors with tightened end-to-end safe management processes to bring these workers into Singapore safely and "minimise the risk of COVID-19 importation".
Apart from these industry initiatives, MOM will only accept new entry applications for these work pass holders from higher risk countries or regions at a later date, it added.
"With the steady increase in local and international vaccination rates, Singapore can gradually reopen its borders and allow more workers to enter while minimising the public health risk to the community, and we will review our entry requirements accordingly," said the Manpower Ministry.
INTERNATIONAL CONNECTIVITY "VITAL"
Speaking at a COVID-19 multi-ministry task force press conference, Minister for Trade and Industry Gan Kim Yong said: "Being a small and open economy, our international connectivity is vital. As vaccination rates in Singapore and in other countries increase, we will progressively review some of our border measures."
MOH said that with Singapore reaching higher vaccination rates, "vaccination-differentiated" border measures will be introduced for travellers from countries or regions that have "shown an ability to control the pandemic" and vaccinate large parts of their population.
Such prolonged border measures will hurt Singapore's economy badly, said Health Minister Ong Ye Kung.
Singapore has allowed "stay-home notice free" travellers from "selected safe places", such as China, Brunei and New Zealand, he added.
"We hope not too long from now, they will reciprocate the opening and then we will have travel corridors open," he said.
"But the reverse is also true, because on the other hand, some countries such as the United States … many countries in the EU, they allow Singapore-based travellers to go into their countries without quarantine or (stay-home notice). So if we reciprocate the arrangement, we will also open up travel corridors."
Some of these countries have achieved a high level of vaccination and have "reduced rates very significantly", Mr Ong said.
"We will therefore plan to open up vaccinated travel lanes with selected countries where fully vaccinated individuals can travel to and (from) Singapore and a selected partner country without (stay-home notice) and replace the (stay-home notice) with frequent testing," added the Health Minister.
The Ministry of Transport is working on the details and will announce them when ready, he said.