Anti COVID-19 vaccination videos on YouTube channel removed for 'violating community guidelines': MOH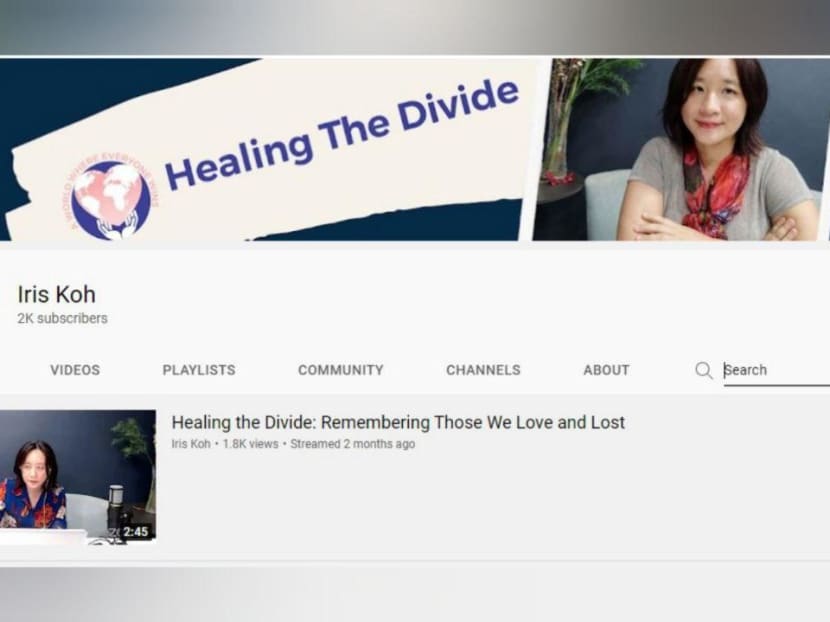 SINGAPORE: Anti-vaccination videos on a YouTube channel by Ms Iris Koh have been removed by YouTube.
A group, called Healing the Divide, was founded by Ms Koh and "adopts an anti-vaccination stance and claims to warn people about the dangers of vaccination", the Ministry of Health (MOH) said on Sunday (Nov 7).
MOH added that the YouTube channel has "a history of posting and sharing content that perpetuates falsehoods and misleading information about COVID-19 and vaccines".
The videos removed include "Town Hall Meeting: United We Stand For Choice", and "Healing the Divide: Remembering Those We Love and Lost".
They were removed for violating YouTube's community guidelines, added the Health Ministry.
"We are committed to keeping YouTube safe from harmful COVID-19 misinformation and since the beginning of the pandemic, we've had clear and established COVID-19 medical misinformation policies," said a YouTube spokesperson in response to CNA's queries.
On her YouTube channel, Iris Koh describes herself as a musician, songwriter and music director from Singapore. As of Nov 7, the channel has more than 2,000 subscribers.
"The Government takes a serious view of the deliberate communication of these falsehoods and will not hesitate to take action against those who put the public's health and well-being at risk by spreading misinformation about COVID-19 and vaccines," said MOH.
The ministry noted that Ms Koh's Facebook account has also previously been suspended more than once for violating Facebook's community guidelines.
"We advise members of the public not to speculate and/or spread misinformation which may cause public alarm, and to refer to credible sources of information instead," said the Health Ministry.
"We first announced in October 2020 that we would expand our COVID-19 medical misinformation policy to remove claims about COVID-19 vaccinations that contradict expert consensus from local health authorities or the World Health Organization (WHO)," said the YouTube spokesperson.
The video-sharing platform has since removed more than 130,000 videos for violating COVID-19 vaccine policies. The platform also has vaccine alerts that point users to authoritative information about the COVID-19 vaccine, said the spokesperson.
On Saturday afternoon, the Healing the Divide Facebook page shared screenshots of YouTube's takedown notices.
"More censorship from big tech," said the Facebook post.
"Everyone deserves a right to access information freely so that they can decide for themselves the risks vs benefits of certain medical procedures and make their own decision about their medical preferences."
For the latest information on COVID-19 and vaccinations, visit MOH's website. The latest statistics about vaccines' severe adverse events can be found on the HSA's website.