Singapore to implement streamlined COVID-19 measures from Mar 15 as Omicron wave wanes
The measures include allowing five household visitors at any one time.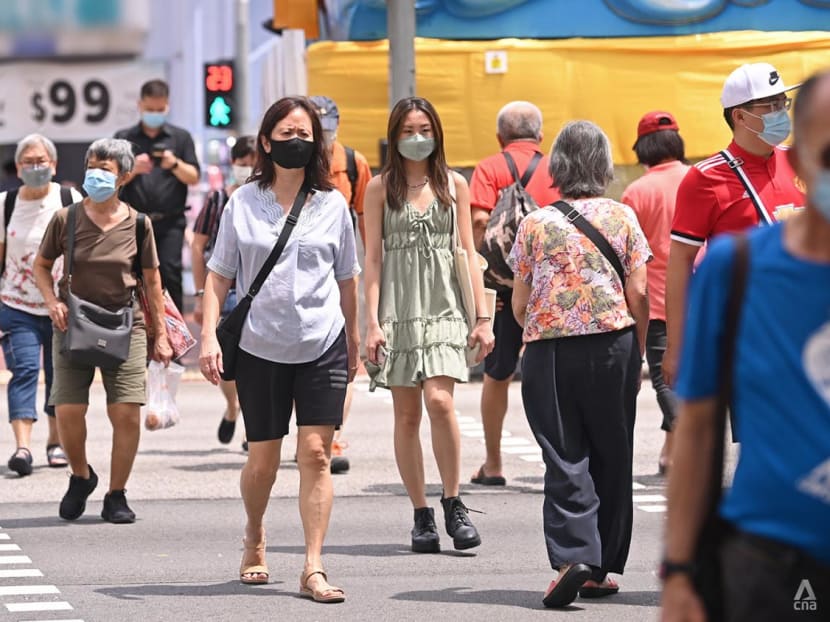 SINGAPORE: Singapore will implement streamlined COVID-19 safe management measures on Mar 15 as the Omicron wave has peaked, announced co-chair of the multi-ministry task force Gan Kim Yong on Friday (Mar 11). 
The measures, covering areas such as safe distancing, the number of household visitors allowed and event capacity limits, were announced last month, but they had to be postponed due to a spike in COVID-19 cases.
"We are keeping the key safe management measures like mask-wearing and group sizes for social gatherings and dining. So this is not a relaxation but a streamlining (of rules)," said Mr Gan, who is also Minister for Trade and Industry. 
"The streamlining of SMMs (safe management measures) is important, as it will be easier for businesses and individuals to understand and comply with and also encourage a greater sense of personal individual responsibility." 
The streamlined rules will focus on five areas - group sizes, mask-wearing, workplace requirements, safe distancing and capacity limits. 
The maximum group size for social gatherings remains at five. But as previously announced, the maximum number of unique visitors per household will be adjusted from five people per day, to five people at any one time. 
"This can be perceived as an easing of measures, as many infections do take place at home. However, households typically do not receive multiple sets of visitors outside of festive periods and those who want to meet multiple groups of friends have been doing so outside of their homes," said the Ministry of Health (MOH) in a media release. 
"We urge everyone to continue to exercise restraint in meeting multiple groups of friends, be it outside or at home, and especially if you live with vulnerable persons." 
From Mar 15, unvaccinated children aged 12 and below also do not need to be in the same household to be included in a group entering places with vaccinated differentiated measures.
Wearing a mask will continue to be the default, said co-chair of the task force Lawrence Wong. 
However, in settings with masks on, safe distancing will no longer be required although it is encouraged, he added.
Safe distancing is still a must when masks are not worn, said Mr Wong, and the required distance will be fixed at 1m for all settings.
For event sizes, they will be set based on the capacity of the venue.
Specific size limits for events like religious services, business events, funerals, solemnisations, wedding receptions and mask-on classes will be lifted, said MOH.
Zoning requirements will also be removed, since the "main protection" is through masks and COVID-19 vaccination, it added.
For settings or events with 1,000 people or fewer, these can proceed without being subject to any capacity limits, said the Health Ministry.
But for large events and settings with more than 1,000 people, a capacity limit of 50 per cent will be imposed "as a precaution" due to "greater infection risks", the ministry added.
These include attractions, cruises, MICE and large work-related events, as well as large performing arts venues and sports stadiums. 
At the workplace, the current arrangement of allowing up to 50 per cent of employees who can work from home to return to the office will continue, said Mr Wong. 
As announced by the task force previously, the rules for social gatherings will now apply to workplaces and other social settings, as long as general group size and masking rules are adhered to, said MOH.
"As economic activities pick up, we will also remove the specific restriction on cross-deployment of employees across workplaces, although employers may continue to do so for business continuity reasons," the ministry added.
Stressing that this is not meant to be an easing of rules, Mr Wong said: "We have assessed this very carefully, distilled this to the most important and effective SMMs, and we believe doing so will not result in additional risks or transmission risks, because this is not meant to be an easing of rules, it's meant to be a streamlining exercise."
Now that Singapore is past the peak of the Omicron wave, the stress on the healthcare system is likely to ease "in the coming weeks", he added.
"Exactly when this will happen, it's still early to say because the system is still very busy now, but as the curve comes down as the infection rate comes down, we will see some easing of the pressures on our healthcare system.
"And if this continues … we will take further significant steps to ease up, and that means allowing freer international travel, and relaxing further our SMMs."
For instance, group sizes could be increased, and mask-wearing rules could change for indoor or outdoor settings, said Mr Wong, who is also Finance Minister. 
Rules for other specific settings or higher-risk activities and venues like the 10.30pm cut-off time for alcohol consumption, intermingling across tables and nightlife activities will be reviewed as part of Singapore's "broader easing", he said.
"We will continue to study these different parameters very closely while keeping a close watch on our healthcare system, and we will provide further updates when we are ready."
Watch the full news conference, including the Q&A session with journalists: