560 quarantined students sat for first PSLE written paper; procedures 'can be improved', parents say
Of the 39,300 PSLE students, 99.4 per cent sat for the English written examination on Thursday.
560 students on quarantine order across 90 schools met the testing requirements and were allowed to take the examinations.
Parents arranging for their children to take the papers received multiple calls, "frustrated" at changing directives.
SINGAPORE: About 560 students on quarantine order sat for the first written paper of the Primary School Leaving Examination (PSLE) on Thursday (Sep 30), said the Ministry of Education (MOE). 
In a statement on Thursday night, the ministry said that of the 39,300 students sitting for the PSLE this year, 99.4 per cent took the English written paper on Thursday. 
The 560 students across 90 schools had met the testing requirements to be allowed leave from their quarantine orders to take the examinations, said MOE. 
"The necessary safe management measures were strictly adhered to in schools, to ensure the safe conduct of the examinations for all students and staff," the statement read. 
MOE and the Singapore Examinations and Assessment Board (SEAB) announced last Sunday that students who are on quarantine order may be allowed to sit for their national year-end examinations if they test negative for COVID-19.
Last year, students on quarantine were not allowed to take the examinations. These new arrangements were made in view of the rising COVID-19 cases, said the authorities.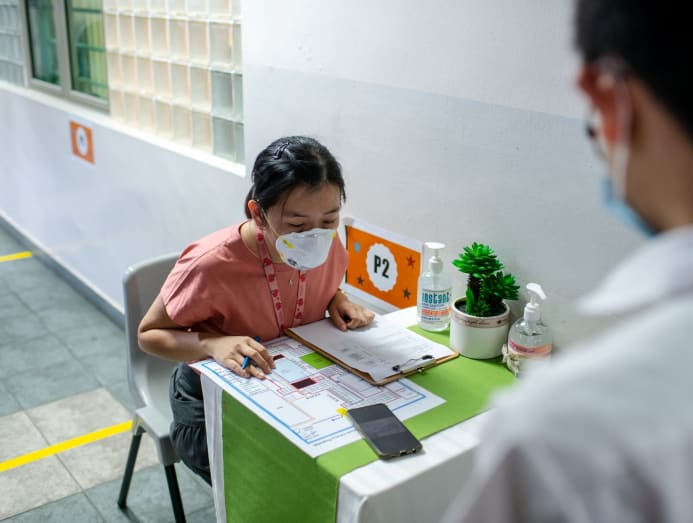 Ms Joan Tabinas, whose son was issued a quarantine order on Saturday after exposure to a classmate who tested positive for COVID-19, said he came home "happily" after the paper because it went better than he expected. 
"So we're happy about that, but of course experiencing this around almost a week before his PSLE is not a good joke," she told CNA, adding that her daughter, who is in Primary 4, was also served a quarantine order a few days prior. 
Her son was told to reach school at 7.50am, later than the children who were not under quarantine order or leave of absence, as he was not allowed to mingle with others. 
"All the QO kids, they put them in one room. (They arrived) at a different timing, and there's a segregated room for (those) under QO or those kids that's been affected by this pandemic surge last week," said Ms Tabinas. 
The children were seated 3m apart, and were also asked to prepare pre-packed food for their break. 
"There's no such thing as ideal for now, but of course we need to adapt to the situation, what is happening today," she said, adding that this arrangement was better than not being able to sit for the examinations at all. 
According to an MOE circular earlier this week, parents whose child has been placed on quarantine order must inform the school by noon, and the child's plans to sit for the exam at least two days before the paper. 
Students who want to sit for their papers must take a polymerase chain reaction (PCR) test, which will take at least 24 hours to be processed, and the results will be posted in the students' HealthHub account.
"If there is a paper scheduled the next day after the (quarantine order) is received, your child will not be able to sit for it. However, the child can apply for special consideration through the school," said MOE in the circular. 
If the PCR test comes back negative, the child should take an antigen rapid test (ART) that evening, and take a photo of the negative result. This must be done at 6pm the day before each paper.
On the day of the paper, the student's negative PCR test result and a photograph of the ART result have to be presented in order for the student to take the PSLE paper.
Another parent who only wanted to be known as Mrs Tan told CNA that she was disappointed and "utterly appalled" at how the PSLE procedure for children serving quarantine orders was handled. 
Her son was unable to take the English paper as his quarantine order was issued on Wednesday morning, just a day before the paper. He managed to sit for the mathematics paper on Friday. 
They were given one hour to decide whether her son would take the mathematics paper after they were informed of the quarantine order, she said. 
The PCR test results could take up to 48 hours, and if he wanted to take the paper, the test should be taken as soon as possible to make sure the results were out before the paper on Friday, they were told. 
"The whole thing, I feel that it can be improved," said Mrs Tan, adding that her son was the only one in his class who had to serve a quarantine order so she was unable to get help and guidance from other parents. 
"This is not the first year having COVID and PSLE. COVID started last year in March. Last year, there's students taking the PSLE too. There's ample time, from last year to this year, to think about it." 
After two days of scrambling, Mrs Tan managed to submit her son's entry PCR test and ART results the evening before the mathematics paper on Friday. She thought the family could "finally relax and have a peaceful dinner", she said. 
But half an hour later, the authorities called her again to request another PCR test for her son later that night. 
"I was like 'Huh, why PCR test again when we did it yesterday with a negative report?'" said Mrs Tan. She insisted that her son had just taken his entry PCR test and refused a second test. 
"Today, he can take the maths paper after a great deal, after a good effort. We went through a lot of difficulties, but finally he got there, he can take the paper. But he can't sleep well, he was troubled," she said. 
Adding that she also did not manage to sleep, Mrs Tan said: "My mind is so active but my body is so tired, I'm drained out. I have to worry that he got COVID, on one hand about his health, at the same time I have to worry about his PSLE maths paper." 
Mrs Tan also worries about whether they will have to go through the same confusion for his next few papers, she said. She is also managing other household matters while serving a quarantine order herself. 
"I have to really struggle with all of these things. You don't know how frustrated I am." 
Like Mrs Tan, after the ministries announced the procedures for students on quarantine order who wanted to take the PSLE, Ms Tabina had to manage a flurry of calls from the authorities arranging for an entry PCR test. 
"(I received a call) from the MOH that the swabber is coming. Then suddenly the swabber will not come because the Government already cancelled it. Then suddenly the swabber is coming, then off again," she told CNA. 
Finally, her son's school told her she could decline the swabber's visit because they would accept her son's previous PCR test results for him to take the papers.
"And then I said why, because that's under the Government rules? My point is I need to decide if it is a yes or a no. The school says you can decline it, but of course we need to follow what the Government says," said Ms Tabina. 
"We're happy at the end of the day, but the process and the procedure that we went through, it is not easy, to be honest," said Ms Tabina, adding that she was still "feeling shaky" from the stress. 
"But at the end of the day, our kids are the champion, and we already won the battle ... because they experienced (getting to) sit down on the first day of PSLE."