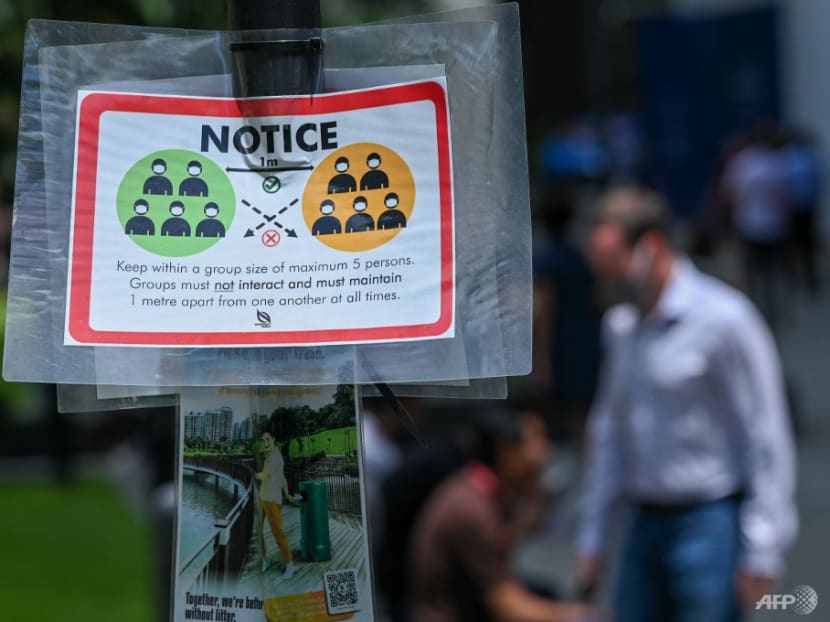 SINGAPORE: Singapore has reached "a major milestone" in the fight against COVID-19, with the country now able to "breathe easier", said Health Minister Ong Ye Kung on Friday (Apr 22).
With COVID-19 infection rates stabilising, Mr Ong added that the Disease Outbreak Response System Condition (DORSCON) level will be brought down from Orange to Yellow from Apr 26.
The DORSCON framework, which gives an indication of the current disease situation, was raised to Orange more than two years ago.
This move will be accompanied by the further easing of a number of measures across the community. Here's what you need to know:
1. No more limits on group sizes
From Apr 26, there will no longer be a cap on group sizes.
This means you will no longer need to keep to groups of 10 people for mask-off activities. The cap on the number of unique visitors per household will also be lifted.
2. Back to the workplace
All employees can return to the workplace from Apr 26, up from the current limit of 75 per cent of those who can work from home.
They can also go mask-free when not physically interacting with others, and when they are not in customer-facing areas.
Everyone is still advised to "exercise social responsibility and maintain an appropriate safe distance from others while unmasked", said the Ministry of Health (MOH). 
3. No more safe distancing, capacity limits
As group size limits are lifted, safe distancing will no longer be required between individuals or groups.
The capacity limit of 75 per cent for mask-on events with more than 1,000 people will also be removed. 
Masks will still be compulsory in indoor settings, including on public transport. MOH also encouraged individuals to exercise precaution such as wearing a mask in crowded outdoors areas. 
4. Easing of vaccination-differentiated measures
From Apr 26, vaccination-differentiated safe management measures will be removed from all settings, with a few exceptions.
Proof of vaccination will still be required for food and beverage (F&B) establishments such as restaurants, coffee shops and hawker centres, as well as events with more than 500 participants at any one time and nightlife establishments where there will be dancing among patrons.
This is because these places may pose "higher risks of transmission" due to factors such as large crowds and unmasked activities, said MOH.
F&B establishments will not have to conduct checks on their customers. Instead, the onus will be on diners to abide by the rules.
This is already the case for hawker centres and coffee shops. Random spot checks will continue to be conducted.
Workforce vaccination measures implemented by the Ministry of Manpower will also be lifted.
5. Contact tracing measures
In tandem with the easing of vaccination-differentiated requirements, Singapore will also step down the use of contact tracing measures TraceTogether and SafeEntry in settings such as malls, supermarkets and places of worship.
SafeEntry check-in will still be needed for locations where vaccination-differentiated measures still apply. 
The tools will be "maintained" to enable Singapore to rapidly step up contract tracing and vaccination checks if there is a need to do so again in response to new variants of concern, said MOH.
6. Pre-departure testing
All fully vaccinated travellers entering Singapore via air or sea checkpoints will no longer need to take a pre-departure test from Apr 26.
This new rule also applies to non-fully vaccinated children aged 12 and below.
"With this move, it will mean that fully vaccinated and well travellers will not require any tests to enter Singapore," said MOH.
7. Easier travel between Malaysia and Singapore
Cross-border bus and taxi services between Singapore and Malaysia will resume from May 1, about two years after operations were suspended due to the COVID-19 pandemic. 
Travellers will be able to take Services 160, 170 and 170X operated by SBS Transit, Service 950 operated by SMRT Buses, and Services TS1, TS3, TS6 and TS8 operated by Transtar Travel. 
Those looking to take a cab can board one at the Queen Street taxi terminal or book a ride through companies with licensed cross-border taxi drivers.
8. No more health risk notices
From Apr 26, the Health Ministry will also stop issuing health risk notices (HRN) to close contacts. Those infected with COVID-19 will also no longer need to submit details of household contacts online.
MOH still encourages the public to exercise social responsibility. For example, those who test positive for COVID-19 should inform their close contacts so that they can take necessary precautions.
9. No more free testing
Free community antigen rapid tests (ART) and weekend acute respiratory infection (ARI) testing at combined test centres and quick test centres will cease from Apr 26. 
These services were provided during the Omicron wave and helped to alleviate the workload of general practitioner clinics and other healthcare facilities. 
Case numbers are now declining and the load at Public Health Preparedness Clinics (PHPCs) are easing, said MOH. 
Paid antigen rapid testing will still be available. 
10. Boosters for recovered persons; fewer vaccination centres
In view of waning immunity, a booster dose is recommended for recovered persons, aged 12 and above, who have completed their primary vaccination.
From Jun 1, these recovered individuals will need to receive a booster dose within nine months of their last primary vaccination jab in order to maintain their vaccinated status.
They can walk into any vaccination centre to get this booster but should note that several of these centres will be consolidated, with some ceasing operations on May 31.
More details are available online.