How immune are you to COVID-19? This serology test will tell you in just 10 minutes
Scientists in Singapore have developed a 10-minute blood test that can tell a person's immunity level against COVID-19. Two CNA journalists give the test a try.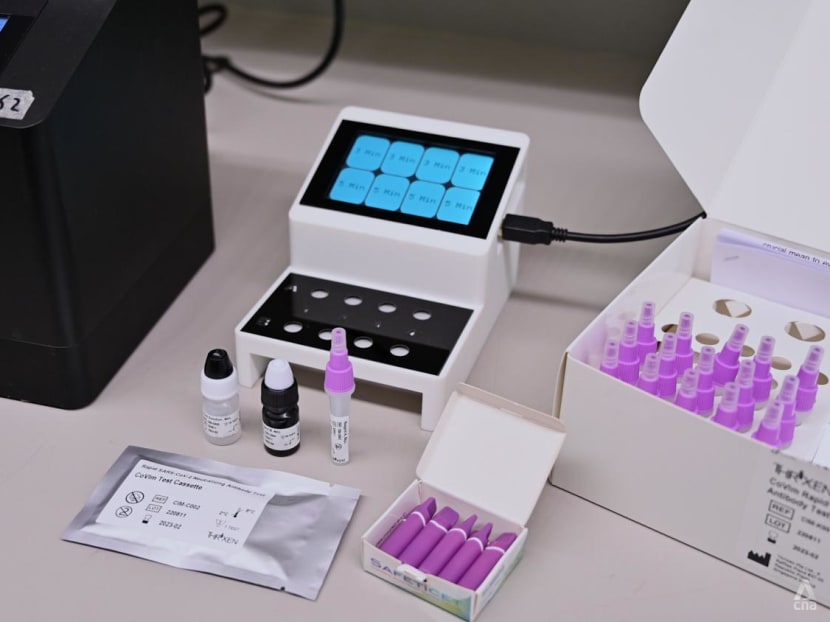 SINGAPORE: Imagine this – you're due for your fourth COVID-19 vaccine shot in the next two to three months, and with cases on the rise, you wonder if you should take it sooner rather than later. 
But what if you still have high antibody levels against the virus? Conversely, what if your immunity level has waned since your last jab, and you are now at higher risk of catching COVID-19?  
Scientists in Singapore have developed a blood test kit that can tell in 10 minutes if a person has immunity against COVID-19, with up to 98.8 per cent accuracy. 
The team of scientists is from the Singapore-MIT Alliance for Research and Technology (SMART) and Nanyang Technological University (NTU). SMART is the Massachusetts Institute of Technology's research enterprise in Singapore. 
The test detects COVID-19 immunity based on antibodies detected in the blood sample, the scientists said. This is a serology test – different from antigen rapid test (ART) kits, which look for the presence of viral proteins produced during COVID-19 infection. 
COVID-19 serology tests currently on the market can already detect immunity against the virus, and even whether a person has been infected before. But it typically takes about 24 to 72 hours to get the results after taking the test at a clinic. 
The new test kit developed by SMART and NTU requires just a drop of blood and can detect if a person has antibodies against SARS-CoV-2 – the virus that causes COVID-19 – in 10 minutes. 
The kit can be easily adapted for new variants of concern and other diseases in the future, the scientists said, describing the test as low-cost. This could pave the way for "large-scale testing of vulnerable subsets of the population", such as the elderly, they added. 
CNA visited the scientists behind the new test kit to try it out and find out more about how it works. The team has set up a start-up named Thrixen, which is developing the test into a commercially viable product and seeking regulatory approval. 
"The test originally was conceived because we knew the vaccines were going to start coming out, and also just so much of the population was getting infected worldwide. So the question was, can we actually determine if someone has a protective response?" said Dr Megan McBee, scientific director of SMART's antimicrobial resistance interdisciplinary research group. 
"Neutralising antibodies are your body's first line of defense … So it has been shown that neutralising antibodies can help prevent or reduce disease severity." 
Testing during the initial study in late 2021 found that the accuracy was 93 per cent. Later, further testing by Thrixen found that the accuracy had risen to 98.8 per cent, said Dr McBee.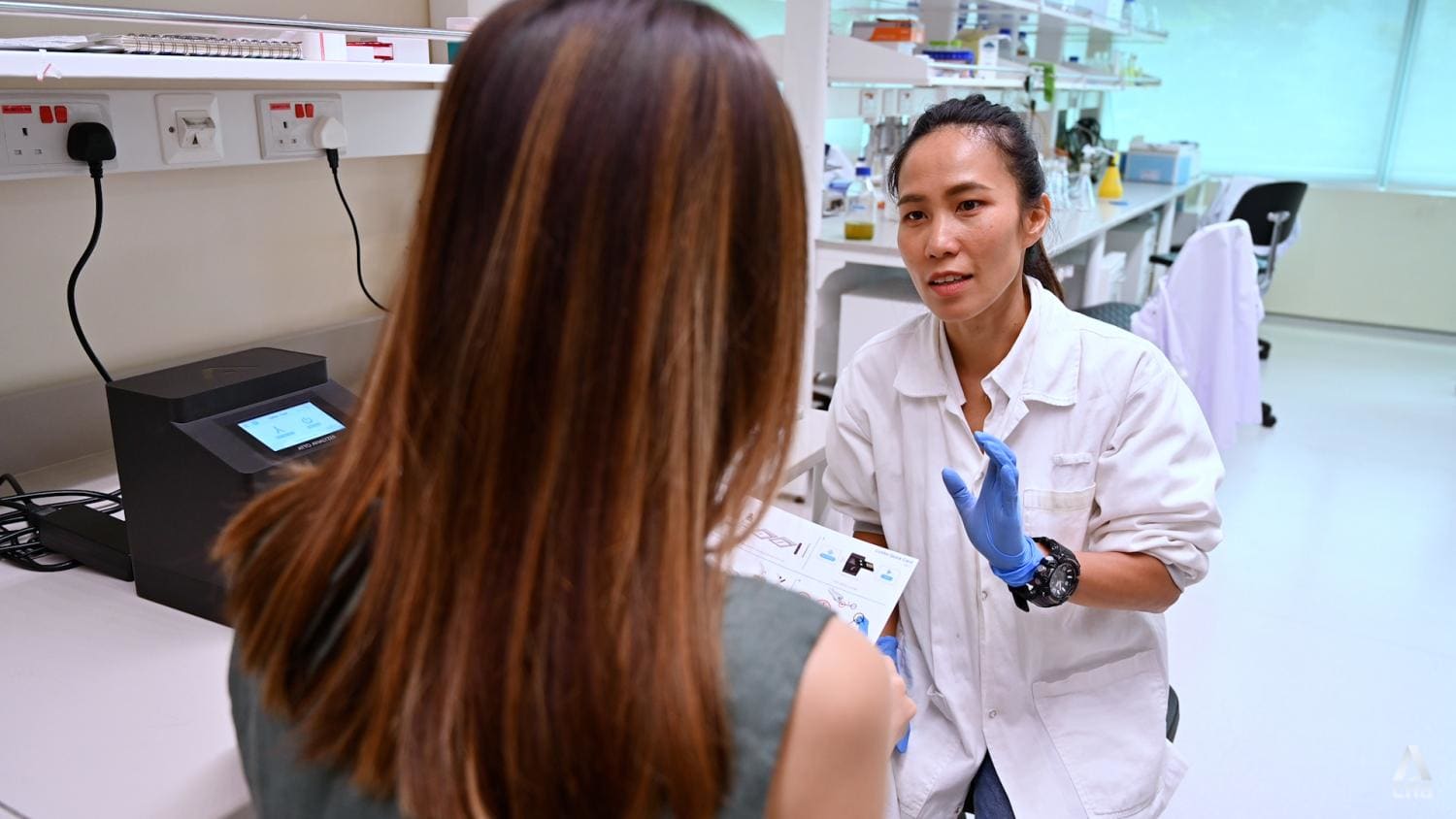 A typical test that checks for the level of antibodies against viruses is usually carried out in laboratories, she noted. With live viruses, more specialised laboratories are needed, and these tests could take a few days to turn over the results. 
"We thought, well, we know how to do this. We have the technology. Why can't we just put it in a rapid test format? said Dr McBee. 
"And we knew that there would be populations that either would not be able to be vaccinated and would want to know if they had any protection, (or) if they've been infected before. People that don't respond well to vaccines because they're immunocompromised … and they might get vaccinated and they want to know - did my body respond properly?" 
If this new serology test is approved by the authorities, it will likely land in hospitals and clinics first, to be administered by a doctor or a nurse. But the test can be administered by a person without medical training and does not require any specialised laboratory equipment, the scientists said. 
HOW THE TEST IS DONE
In the iteration of the test that CNA tried, a lancet was used to draw 30 microlitres of blood – basically a drop – from this reporter's finger. The blood sample was mixed with COVID-19 proteins. After this mixture sat for a few minutes, human proteins were added. 
If a person has neutralising antibodies for the COVID-19 virus, the antibodies will block the COVID-19 proteins and human proteins from interacting.
This new mixture was then added to a test cassette and put into a machine that uses light to measure the level of antibodies in the blood.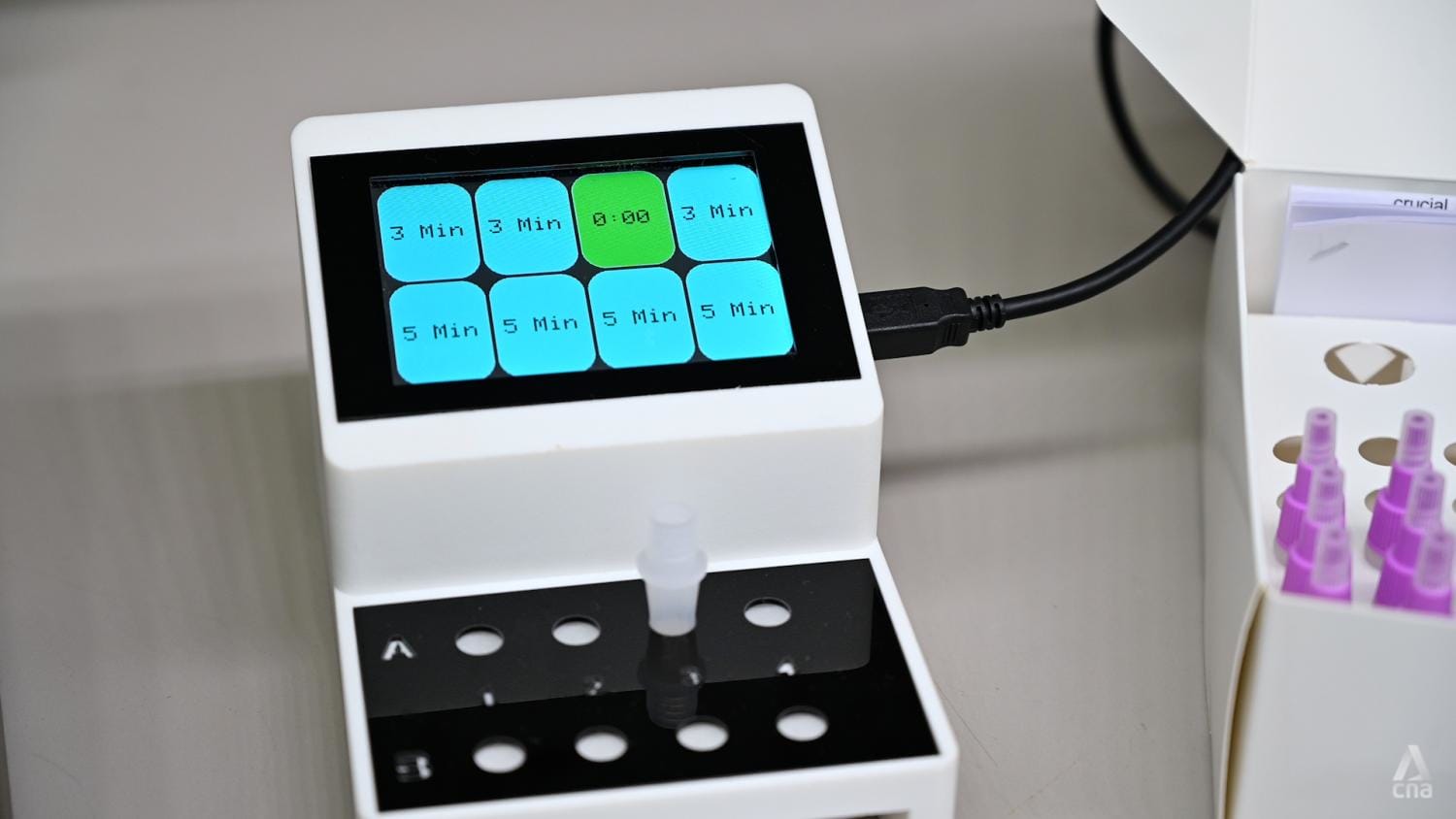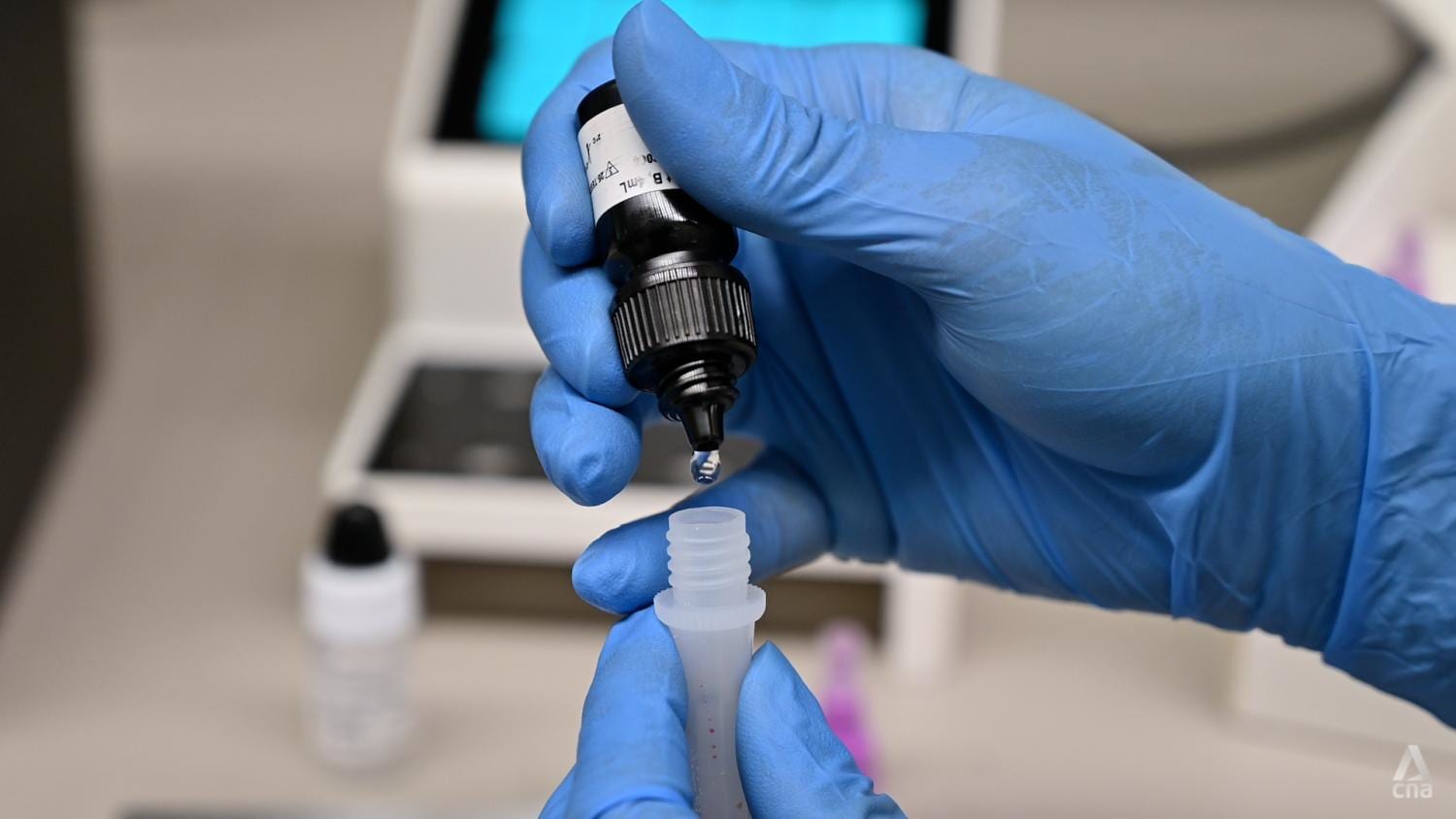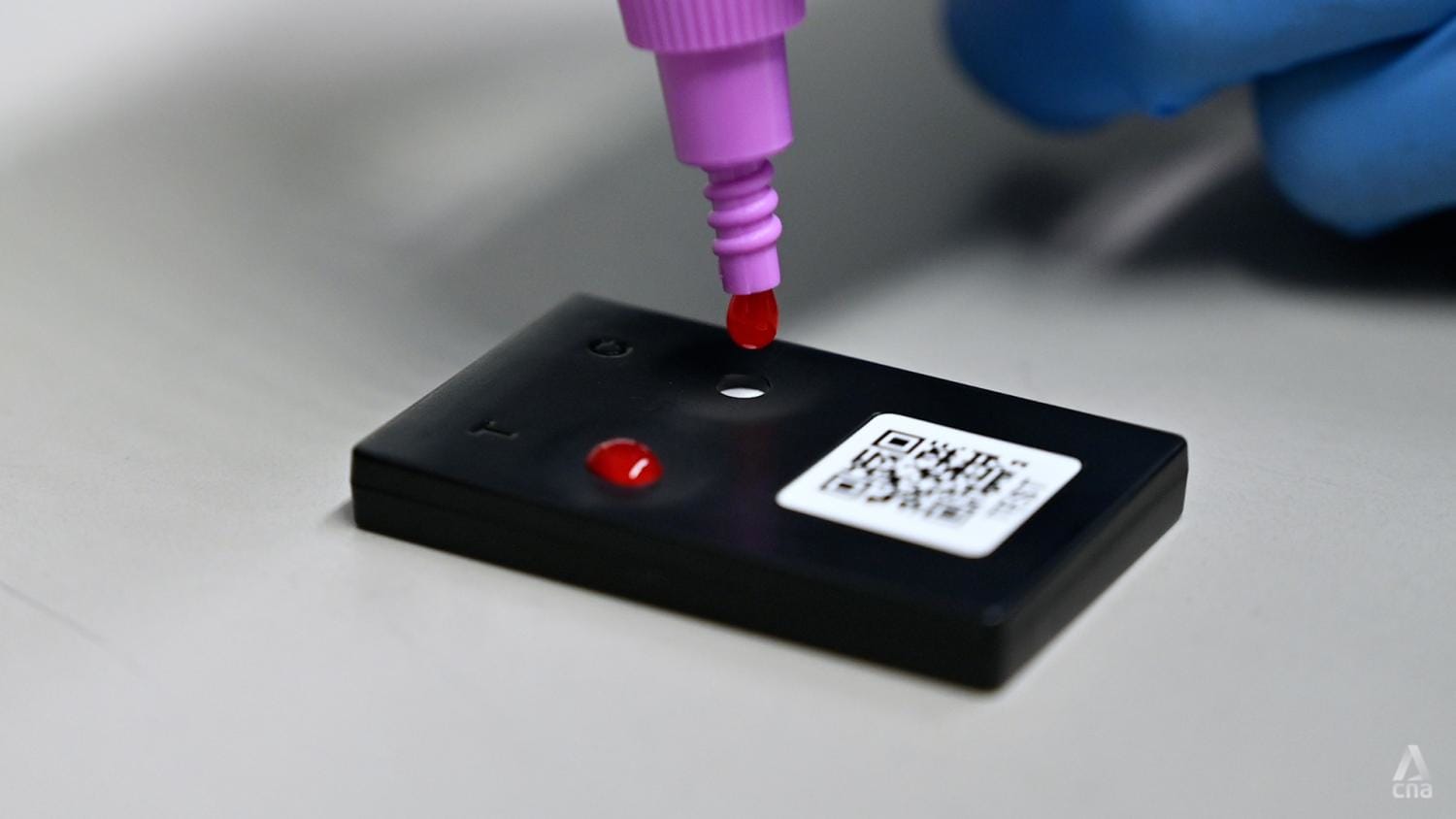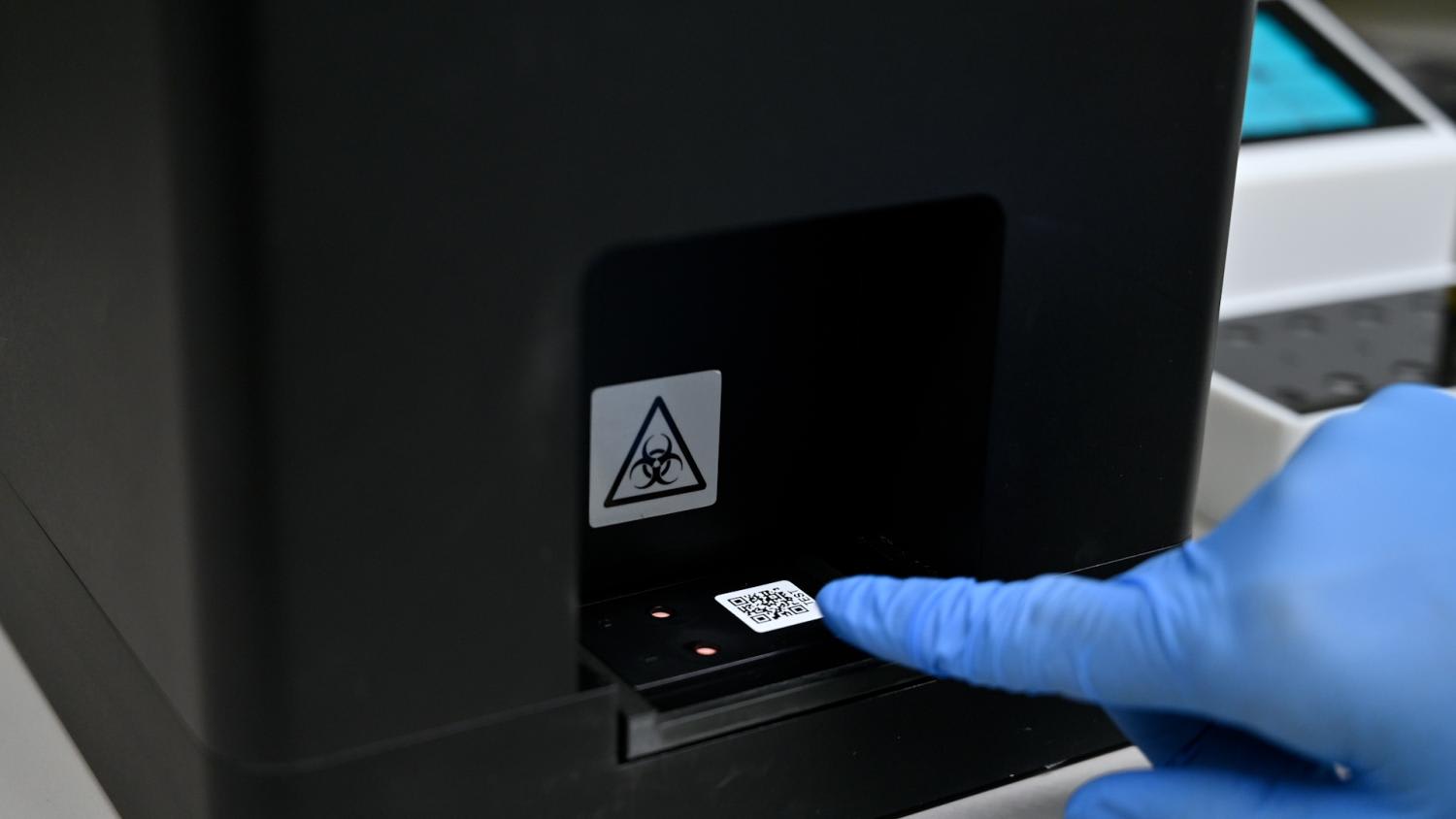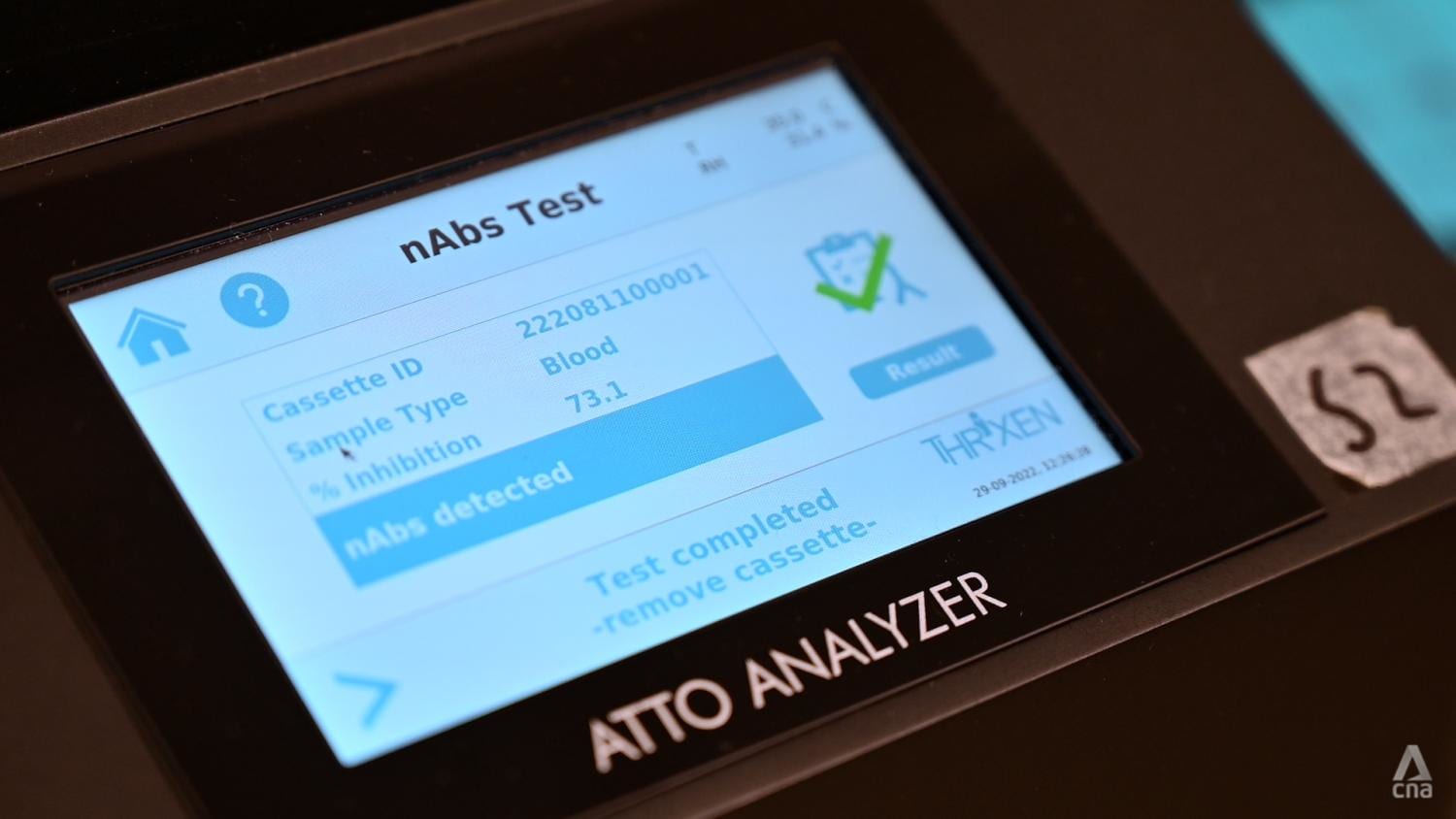 The neutralising antibodies are like frontline soldiers that fight against invaders – the SARS-CoV-2 virus, explained Dr Patthara Kongsuphol, the CTO and co-founder of Thrixen. She was previously a research scientist with the SMART team. 
Taking a vaccine is like introducing "fake invaders" to activate the soldiers and train them to fight the disease, she added. 
"The fact that you don't have this one soldier, or these neutralising antibodies, doesn't mean you don't have that protection. If you haven't taken the vaccine, you'll always have that protection, but the soldiers are kind of kept in a factory, so it takes time to say 'hey guys, the enemy is coming'.
"But if you have it (the vaccine), it means you're sort of ready to fight. These frontline soldiers, they're more active."
This version of the test measures the level of neutralising antibodies but does not detect if a person has been infected with COVID-19 before.
From the blood test, my colleague and I – who have both taken double doses of the COVID-19 vaccine as well as a booster shot – had "rather high" levels of neutralising antibodies. 
Both of us saw inhibition rates of more than 70 per cent. This refers to the proportion of the virus proteins that were blocked by neutralising antibodies.
A higher level of neutralising antibodies generally means more protection against the virus, said Dr McBee. 
CURRENT SEROLOGY TESTS
The current COVID-19 serology tests on the market take longer but can check for antibodies against COVID-19 that come about from vaccination or infection, said infectious diseases experts CNA spoke to. 
The tests check for two proteins – the S-protein and the N-protein.
A positive S-protein test indicates that the person has either been vaccinated or has previously been infected with COVID-19. A positive N-protein test suggests that the person has either been infected before, or took the Sinovac or Sinopharm vaccine, said Dr Paul Tambyah, president of the Asia Pacific Society of Clinical Microbiology and Infection. 
This means that someone who took an mRNA vaccine like the Pfizer-BioNTech or Moderna ones, but has not been infected with COVID-19 before, will have a positive S-protein and a negative N-protein result, he added. 
To compare the current tests with the new 10-minute kit, my colleague and I also went to a clinic to take a serology test. 
I had not tested positive for COVID-19 before this, and my blood sample from the clinic's test came back negative for the N-protein. My colleague, who recovered recently from COVID-19, tested positive for the N-protein, indicating a past infection.
"There are some people with weak immune systems who have negative serology test results despite being vaccinated or even after getting infected," said Dr Tambyah. 
Most people would test positive for the antibodies around one to three weeks after the onset of disease, experts said. 
"You could do the test any time after that but the significance and interpretation is tricky," said Professor Dale Fisher, senior consultant at the Division of Infectious Diseases at the National University Hospital (NUH). 
For example, the amount of time that antibodies are detectable varies from individual to individual "a lot", he added.
Some people may develop antibodies later, or at very low levels, said Professor Laurent Rénia from NTU's Lee Kong Chian School of Medicine. In other patients, antibody production may wane fast, as quickly as one to three months. 
Most of the tests currently available detect the presence of COVID-19 antibodies, not their levels. Others can detect the levels, which can give an indication of how vaccination was effective in inducing antibodies, said Prof Rénia. 
"However, it cannot predict with certainty that people will be protected," he added. 
"It is important to understand the implications of the results so it is good to discuss with your doctor as the levels do not correlate perfectly with immunity to COVID-19. Some people with high antibody levels can still get infected," said Dr Tambyah. 
Who could benefit from taking a COVID-19 serology test? Those who want to know if they have been infected recently, experts said. Those who are immunocompromised may also benefit from finding out if the vaccine has helped them to develop antibodies as it is supposed to. 
"If a few weeks after vaccination there are no antibodies, then there are treatments available such as being given effective antibodies by injection since that person can make them themselves," said Prof Fisher. 
"We can use these treatments in early disease or as prevention in people who cannot make their own antibodies, and therefore have a negative serology test."
While the serology results are not definitive, good levels of antibodies after a second booster jab may provide some reassurance, Dr Tambyah said. 
Low levels may raise concerns among those with organ transplants or other immune-suppressing conditions, he added.