Some COVID-19 measures may be eased if weekly infection growth rate drops below 1: Lawrence Wong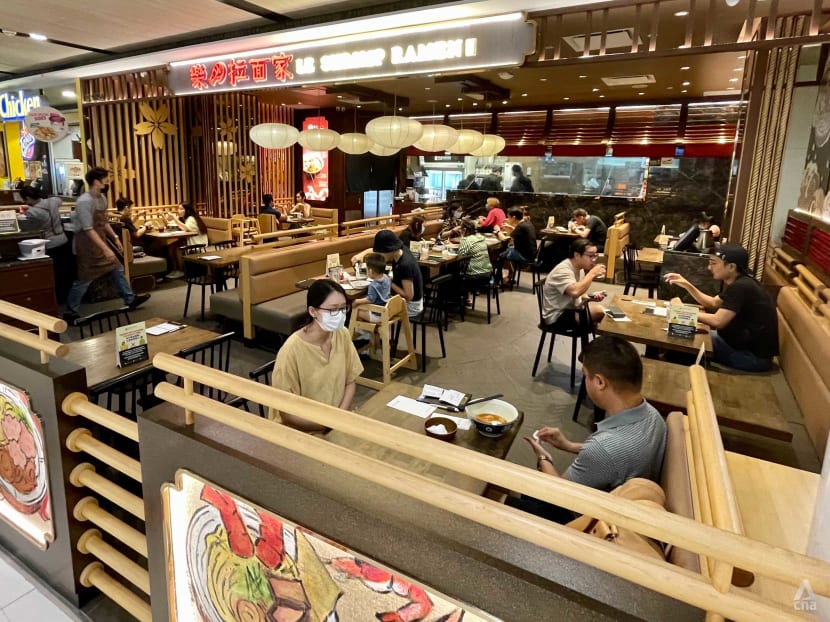 SINGAPORE: Singapore will ease some COVID-19 measures such as allowing household members to dine-in together if the weekly infection growth rate drops below 1, said co-chair of the multi-ministry task force Lawrence Wong on Saturday (Oct 23). 
The weekly infection growth rate refers to the ratio of community COVID-19 cases in the past week over the week before. 
This ratio was previously 1.5, which suggested that cases were doubling about every two weeks. It has now fallen to "just above 1", Mr Wong said at a press conference held by the task force. 
"That means that cases are still increasing but at a slower rate. But because cases are still increasing, it's still resulting in pressures on our healthcare system," he said. 
"If the ratio comes below 1 and our hospital and ICU situation remains stable, we will make some calibrated easing in three areas." 
This includes allowing family members from the same household to dine-in at F&B outlets in a group of up to five people. Team sports can also resume in groups of up to five, and more activities in schools and institutions of higher learning will be allowed.
"These are calibrated moves where we assess the risk to be acceptable," said Mr Wong, who is also Finance Minister. 
In its daily COVID-19 update on Saturday night, the Health Ministry said that the weekly infection growth rate stands at 1.14.
Singapore announced on Wednesday that current COVID-19 restrictions, which cap social gatherings at two people, would be extended by another month to Nov 21.
At the time, Mr Wong said it was still "too risky" to allow groups of up to five people from the same household to dine-in together. 
Health Minister and task force co-chair Ong Ye Kung acknowledged that there has been criticism that the restrictions are not consistent across sectors. 
"Why a big group is allowed here but a small group allowed there? Why music is allowed here but music not allowed there, so on and so forth.
"During this pandemic, we understand everyone misses doing something they love, whether it is meeting friends, going to parties, playing sports or dining out. And we will wonder why it cannot be resumed, especially when we see something else resuming, so why is it that the thing I love to do cannot resume." 
Noting that businesses also want to resume, Mr Ong said: "We will eventually get there. But during the transition, the inconsistencies and then the confusion across settings is a very difficult problem to solve."
Mr Wong said the Government is taking a balanced approach in deciding which settings are "more acceptable in terms of risk".
"We are trying very hard to take a middle-ground approach, not to go into either extreme or staying put where we are, nor opening up too liberally and risking a surge of cases that can overwhelm our healthcare system," he said. 
The Government assesses these risks with experts and advisers, Mr Wong added. 
"It will not be perfect. But by and large where we assess the risk to be not as high, to be within acceptable limits, then we will want to move first, as we have been doing for travel." 
In a Facebook post on Saturday night, Prime Minister Lee Hsien Loong acknowledged that many people have expressed frustrations about the restrictions, while others have voiced concerns about opening up too quickly.
"I fully understand how you feel. It has been a long journey, and the continuing uncertainty and disruption is hard on all of us. Some sectors – like F&B – have had an exceptionally tough time," Mr Lee said.
"But we can neither lockdown indefinitely and stand still, nor can we simply let go and let things rip. We have to travel this road to get to living safely with COVID-19. We want to get there with as few casualties as possible. The course which the multi-ministry task force is setting reflects our judgment on how best to do this."
HOME RECOVERY PROGRAMME EXTENDED TO PREGNANT WOMEN
The Health Ministry also announced that the home recovery programme will be extended to fully vaccinated pregnant patients who are below 35 years old and less than 26 weeks pregnant. 
"These patients would be clinically assessed at selected hospitals to be suitable for home recovery before commencing HRP (home recovery programme)," it said in a press release. 
More general practitioners will be brought on board to provide telemonitoring support for those recovering at home. 
The ministry is also working with private hospitals to expand the overall hospital bed capacity to manage COVID-19 and non-COVID-19 patients, and set up COVID-19 treatment facilities to "augment the capacity" of public hospitals. 
Vaccination and booster programmes will be key in building up Singapore's resistance to the virus, said Mr Ong. 
As restrictions are eased and activities resume, more people will also be infected with COVID-19 and then recover from it, he added.
"And in that process, it adds further immunity to our population. So the resistance against the virus increases progressively, at some point, infection numbers will not go up anymore.
"It plateaus and then it starts to come down. And that is why we say no transmission wave will last forever because it is against nature," Mr Ong said. 
"Then we may relax social restrictions, allow event gatherings in bigger groups, and with it find that cases do not go up very sharply. It may stay at an acceptable level, probably a few hundred a day and maybe mild infections." 
Some people who catch COVID-19 may still fall very sick and succumb to the illness, but this is "no different" from living with influenza today, he said. 
"And that is when we can live quite normally with COVID-19."
Editor's note: This article and its headline have been revised to correctly reflect the term "weekly infection growth rate", following a clarification from the Ministry of Health. Mr Lawrence Wong's comment on the rate at which cases are doubling has also been amended after clarification.
Watch the full news conference by the multi-ministry task force and subsequent Q&A session with journalists: