MOH to offer COVID-19 booster shot for children aged 5 to 11
The Health Sciences Authority has also extended the authorisation of Moderna's Spikevax COVID-19 vaccine via the Pandemic Special Access Route to children, including those aged 6 months to 5 years old.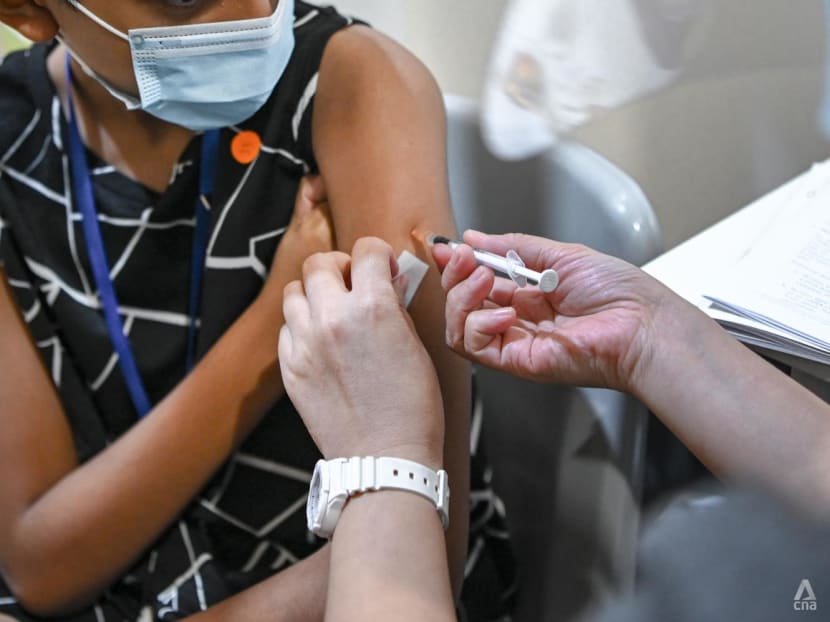 SINGAPORE: Children aged 5 to 11 are now recommended to receive one booster dose of the Pfizer-BioNTech/Comirnaty vaccine, from five months after the second dose of their primary vaccination series.
Preparations are under way to start inoculating the group in the fourth quarter of the year, "likely when examinations in primary schools are towards the tail end or over", the Ministry of Health (MOH) said in a news release on Wednesday (Aug 24)
The move comes on the recommendation of the Expert Committee on COVID-19 Vaccination.
MOH said that the booster dose will sustain protection against severe illness and strengthen Singapore's preparation for the next infection wave.  
Five dedicated vaccination centres will be set up to administer booster doses for these children, with more details to be announced closer to the date.
"Our local data shows that in children ... the degree of vaccine protection against hospitalisation for severe COVID infection does decline over time, as it does in adolescents and adults," said MOH's director of medical services Kenneth Mak at a press conference held by the multi-ministry task force on Wednesday.
"And in this age range, the Pfizer-BioNTech/Comirnaty vaccine has been shown to increase antibody levels more than twice the levels achieved after completing two primary doses."
In a local study on vaccination using the shot in children between 5 and 11 years of age, there was a "lower incidence of adverse events following vaccination", compared to older age groups, added Associate Professor Mak. 

Speaking in Parliament at the start of August, Senior Minister of State for Health Janil Puthucheary had acknowledged that a third mRNA dose for this group of children "may be necessary at some point to keep protection levels high". 
MODERNA'S SPIKEVAX VACCINE AUTHORISED FOR CHILDREN
On Wednesday, MOH also said that the Health Sciences Authority has just extended the authorisation of Moderna's Spikevax COVID-19 vaccine via the Pandemic Special Access Route (PSAR) to children, including children aged 6 months up to 5 years. 
"The vaccine will be administered as a course of two 25 microgram doses, which is a reduced dose formulation compared to that offered in older age groups," said Assoc Prof Mak. 
"The clinical studies have shown that the antibody levels following two doses of Spikevax administered 28 days apart as the primary vaccination regime in these children to be comparable to that seen in adults. 
"The vaccine appears to be (as) effective in preventing COVID-19 as for mRNA vaccinations in the older age groups, and we expect the vaccine to have benefit in protecting these children against severe infection."
MOH said in its news release that a decision on the recommendation for vaccination of this age group is expected soon.
"If approved, we will time it together with the booster exercise for children aged 5 to 11, and administer them at the same centres for the convenience of parents," MOH said in its news release. 
RISK OF SEVERE INFECTION "GENERALLY LOWER IN CHILDREN" 
Assoc Prof Mak on Wednesday also addressed the risk of severe COVID-19 infection in children. 
"(The risk) is generally lower in children, but severe outcomes do occur for some children infected with COVID-19. For example, our pediatricians at KK Hospital and NUH have had to treat young children presenting to the hospital with breathlessness and upper airway narrowing as a result of COVID-19 infection, which can affect quite significantly the upper airways of the sick child," he said.
"Other children have been admitted into the ICU for severe pneumonia or following recovery from acute COVID-19 infection, for multi organ inflammatory syndrome in children or MIS-C."
Assoc Prof Mak highlighted that the risk for hospitalisation in affected children between 5 and 11 was 1.3 per cent among children who are not vaccinated against COVID-19, but 0.4 per cent among children who were vaccinated. 
"And therefore, from the risk-benefit perspective, we believe that vaccination offered to children, particularly (for those) less than five years of age, would have benefit in reducing the risk and likelihood of severe infections arising," he said. 
Assoc Prof Mak added that adverse events seen in adolescents are similar to those in adults, and not common. 
"Most are mild in severity and similar to that (of) reported childhood vaccinations, such as injection site pain, fever, fatigue and headaches. And these symptoms are reactions, generally associated with vaccinations, and expected as part of the body's natural response to build up immunity against COVID-19. These symptoms generally resolve on their own within a few days," he said.