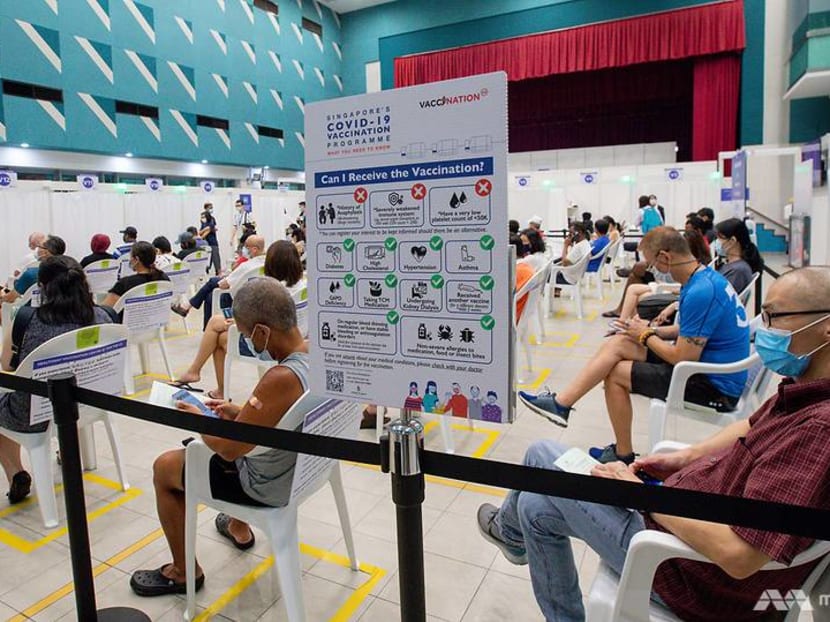 SINGAPORE: The Ministry of Health (MOH) is expanding the age range for people recommended to receive a second COVID-19 booster shot to include those aged 60 and above, the ministry announced on Wednesday (Aug 24).
The previous recommendation was for those aged 80 years and older.
At a multi-ministry task force press conference, Health Minister Ong Ye Kung said about 80 per cent of the population has had a booster shot.
"This is a key reason why we could ride through the current BA.5 variant without tightening SMMs (safe distancing measures), without having many severe cases and without having our hospitals being overwhelmed," he said.
"So to prepare for a possible year-end wave, we will have to expand our vaccination coverage."
BETTER PROTECTION
The first booster provides good protection against hospitalisation and severe COVID-19 in people aged 60 to 79, MOH said.
However, the ministry expects the protection to gradually wane, given that it has been more than a year since the first booster was administered to this age group.
"We need to keep our vaccinations up-to-date, to prepare for possible future infection waves," it said.
MOH added that the latest evidence indicates that a second booster increased vaccine effectiveness against severe diseases from 94 per cent to 97 per cent for those aged 70 to 79.
For those aged 60 to 69, this effectiveness went up from 97 per cent to 98 per cent.
Speaking at the press conference, MOH director of medical services Kenneth Mak said that a second mRNA booster dose reduces the number of people aged 60 years and above from getting severe infection by as much as 50 per cent.
Based on the data, MOH said it agreed with the recommendation by the Expert Committee on COVID-19 Vaccination (EC19V) for all people aged 60 and above to receive a second booster at least five months after their first booster.
People who are medically vulnerable are also encouraged to receive their second booster, MOH said, adding that it will continue to offer the second booster to all people aged 50 to 59.
All those eligible for their primary series vaccination, first booster or second booster may receive their doses by walking into any of the ten Joint Testing and Vaccination Centres located across Singapore.
Appointments can also be booked at these centres, participating Public Health Preparedness Clinics (PHPCs), or polyclinics via SMS invitations.
PREPARING FOR A "REINFECTION WAVE"
Mr Ong said at the press conference that there is "every likelihood" of a next infection wave.
While the BA.5 variant COVID-19 wave that just subsided will give Singapore "good protection" for a possible year-end wave, the country should prepare for a northern hemisphere winter wave coming its way, he said. 
"When it comes, we need to be more prepared, more resilient than now," he said, adding that the wave may be of a different nature and be driven by a different variant.
The next wave will be a "reinfection wave", he added. 
Given that data from MOH shows that an estimated 70 per cent of the population has been infected with COVID-19 already, the next wave "must comprise many reinfections", Mr Ong said.
MOH has been monitoring reinfection numbers closely because it will give the authorities an idea of when the next wave can happen, he added. 
So far, data shows that after an infection, the probability of being infected again eight months later is "very low", said the Health Minister.
"Nevertheless, reinfections are increasing as a proportion of total daily cases," he added. 
This month, the proportion is 5.5 per cent, up from the 2 to 3 per cent he stated in Parliament recently, he said. He added that with fewer and fewer COVID-naive individuals - or people who have not been infected with COVID-19 - that percentage will rise.
REDUCING LOAD ON HOSPITALS
Mr Ong also said at the press conference that a new type of facility called transitional care facilities (TCFs) may reduce the workload in hospitals if there is a surge in patients requiring hospitalisation during a COVID-19 wave. 
During the recent outbreak, people who were warded were mainly patients with chronic illnesses, some of whom happened to also have COVID-19, said the Health Minister.
In these cases, the TCF will become a treatment place for non-COVID patients. 
During a COVID-19 wave, a TCF can become a community treatment facility for lower-risk COVID-19 patients, he added.
The Health Minister cited the example of Sengkang Community Hospital, which has 164 beds and was used as a TCF a few months ago.
"It worked very well because it's next to Sengkang General Hospital and the two facilities worked hand in hand and managed to decant many patients from acute hospitals to TCF, reducing the heavy workload in Sengkang," he said.
With Connect@Changi Hall 10 being progressively converted from a community treatment facility to a TCF,  by end-September, there will be a total of 364 TCF beds.
Mr Ong also noted that general practitioners play a "vital role" in the fight against COVID-19.
"They look after COVID-19 patients without severe symptoms. They are also prescribing therapeutics like oral antivirals and these drugs reduce the number of infected persons who go on to develop severe illnesses and they lessen the load on hospitals," he said.
He added that another improvement in healthcare capacity is telemedicine, which has been "very useful" in preserving capacity in hospitals, polyclinics and at GP clinics.
Singapore will ramp up telemedicine capacity from 1,500 per day to 9,600 a day "to prepare ourselves for any possibility of future surges", Mr Ong said.