Are your pets at risk of COVID-19, and what should you do if you suspect they are infected?
SINGAPORE: Pet owners who test positive for COVID-19 should isolate themselves – including from their pets – but there is no need to be overly worried about the animals falling sick from the coronavirus, experts said.
While there have been some reports outside Singapore of dogs and cats contracting the virus, the cases are sporadic, isolated and numbers are very much lower as compared to human cases, said Dr Han Zi Yang, veterinary consultant at VetTrust Singapore.
"Pet owners should not be overly worried at this stage and should continue to adopt the same set of good hygiene measures in pet care," he said.
This involves regular handwashing before and after handling the pet, its food and supplies, and avoiding sharing food with it, added Dr Han, who is also the honorary auditor of the Singapore Veterinary Association.
Pet owners who are suspected or confirmed to be positive for COVID-19 already isolate themselves from human contact, and should distance themselves from their pets too.
"It would make good sense for them to seek help from other members of the household or friends to take care of their pets during this period as they recover," he said.
If the pet does fall ill after being in close contact with a suspected or confirmed human COVID-19 case, owners should bring it to a veterinarian immediately and limit the exposure of the animal to other humans or animals.
"Veterinary clinics will appreciate a call in advance to let them know about the contact history of the animal, so that they can take the necessary precautions to receive the patient," he said.
Dr Chang Siow Foong, group director of Professional and Scientific Services at the Animal & Veterinary Service (AVS), said that there have not been any cases of animals being infected with COVID-19 in Singapore to date.
The spread of COVID-19 is predominantly a result of human to human transmission, and according to the World Organisation for Animal Health (OIE), there is currently no evidence that companion animals play a role in the spread of the disease to humans. Thus, routine testing of pets for SARS-CoV-2 is not recommended at this stage.
 
If a vet suspects that the animal may be sick from a SARS-CoV-2 infection, he or she will contact AVS.
"We will follow up with the owner of the animal and the veterinarian to conduct further testing and isolation of the animal as needed. If required, AVS will collect samples from the animal and use a PCR test method for animals recommended by the OIE," said Dr Chang.
VACCINATION FOR PETS, ZOO ANIMALS?
Vaccination of animals against SARS-CoV-2 is also not necessary, he said.
There have been reports of zoo animals in other countries being vaccinated. The Oakland zoo, for example, inoculated its big cats, bears and ferrets against the coronavirus using an experimental vaccine.
Dr Han said that there is no COVID-19 vaccine for animals in Singapore and there is no recommendation by OIE to vaccinate pet animals at this stage. 
He added: "Pets have provided very valuable companionship to many pet owners who are spending more time at home during this pandemic. As pet owners, we should continue to take good care of our pets and provide them the love and support that they have shown us."
At Singapore's four wildlife parks, COVID-19 vaccines are not part of current risk mitigation measures as an approved vaccine for animals is not available, said a Wildlife Reserves Singapore spokesperson.
"In the meantime, we continue to upkeep our protocols and high standards of biosecurity at all times," said the spokesperson.
Existing protocols include the quarantine of new animals before they enter Singapore's wildlife parks, routine disease screening and treatment, preventive medicine such as vaccination and deworming.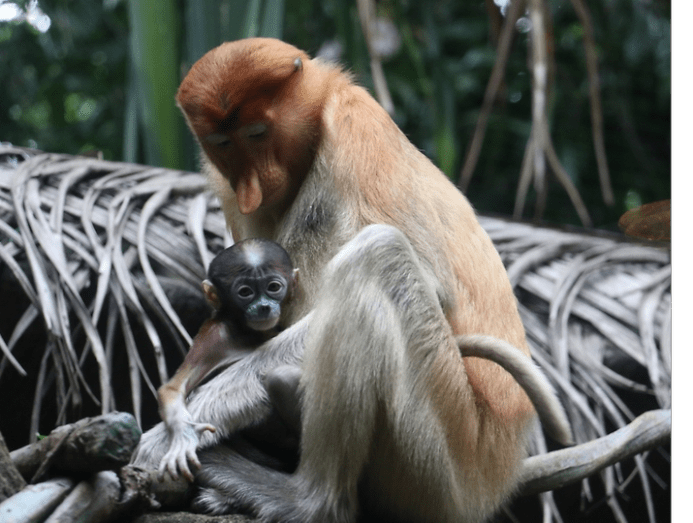 In response to COVID-19, the wildlife parks have also implemented additional safety measures since the start of the pandemic.
These include washing hands with soap and water before and after interacting with any animal, donning face masks and gloves when working closely with an animal, and minimising or avoiding direct contact unless required.
This is especially with higher risk species such as primates and carnivores.
As added preventive measures, great apes such as the orangutans and chimpanzees also undergo temperature checks twice a day.
Great apes share 98 per cent of their DNA with humans and are especially susceptible, as are felines.
"Our animal care team is trained to closely observe our animals for signs of irregular behaviour and illnesses," said the spokesperson.
"During this time, clinical signs such as dry cough, lack of appetite and other respiratory concerns, that may be indicative of COVID-19, would be swiftly reported to trigger further examinations by the veterinary team."