SINGAPORE: Darren Low, a 28-year-old lawyer who has been working from home since Singapore's stabilisation phase in September, is looking forward to returning to his workplace. 
From this week, he will be heading into the office on alternate weeks. 
Although interaction with his colleagues in the office will still be limited due to safe management measures, he's happy to be seeing them again. 
"I guess for me, the social aspect of physically working in the office is quite important for the kind of work that I do. Of course, the social interactions will be quite limited, but then you'll still be able to see and talk to people," said Mr Low. 
"Personally, I have quite good relationships with the people on my team, so it does help, especially for things like mental health as well. For us, it's quite a young office environment, and the nature of the work is relatively stressful, so it really helps to be able to speak to people, to see people in the course of working." 
This month, up to 50 per cent of employees like Mr Low who can work from home will be allowed to return to the office, the Ministry of Health (MOH) said in December when it announced the easing of the default work-from-home posture. 
Monday (Jan 3) marks the first weekday of 2022 back in the office for employees who are now allowed to return. 
Ms Ng Meishu, who works in investor sales, will be returning to the office every day from Monday. Since she is in a client-facing role, she was given priority to be part of the returning 50 per cent. 
Like Mr Low, she was previously working from home and only went back to the office a few times in the past few months for meetings. 
"Ultimately, depending on the job, face-to-face (meetings) definitely can't really be replaced. And in terms of collaborations, it's so much easier to talk face-to-face," said the 26-year-old Ms Ng, whose office is in the central business district. 
"We still have to be adaptable and flexible, it's not really a preference for which one," adding that both working from home and the office have their pros and cons. 
UPTICK IN BUSINESS FOR F&B, TRANSPORT 
When CNA visited hawker centres in the CBD at lunchtime on Monday, several stalls had queues that stretched beyond 10 people. Small restaurants and cafes were also packed.
Some business owners told CNA that the lunchtime crowd was slightly busier than on an average Monday. 
Even Indonesian restaurant Pagi Sore at Telok Ayer Street had to deal with a back-to-work crowd despite it not being open on Mondays.
When work-from-home was reinstated in September last year as the default arrangement for those who were able to work remotely, Mondays became what its chef Park Tan described as "dead town kind of days".
They then decided to close every Monday due to manpower issues and because they "don't know what to expect", the 33-year-old added. 
But on Monday, Mr Tan received a pleasant surprise. While debating whether he should block off his online delivery, since his physical restaurant was shut, his team received several orders for bento lunch sets. 
"There were quite a handful of orders that came in before we closed the system. So we came to the restaurant just to fulfil the bento orders," he said. 
"The orders were going to different parts of the island, five to six different offices. It was a very good sign. It was a mix of excitement and relief after so many months of anxiety and stress."
Mr Tan was "quite certain" there would be higher footfall tomorrow. After all, when his team was in the restaurant preparing the bento boxes on Monday afternoon, people walking by were already checking if they could dine in. 
"But it's a good sign to show that people are back in the CBD (central business district). At least no matter what, (the footfall) would be better than what it was (when work-from-home was the default arrangement)," he said. 
"We can't take our customers' support for granted, so work-from-home default or not, we are grateful that they kept our stoves and hearts on fire, whichever 'phase' we are in."
There is a "huge, startling difference" between the lunch crowds when work-from-home is the default and when it is not, Mr Tan added. When workers were previously allowed to return to the office, his restaurant was also full during lunchtime.
"During COVID, when it was work-from-home as default, it was quite pathetic. We'd only fill a handful of tables to half at most," he said, adding that his restaurant can currently seat about 70 to 80 people, down from 120 pre-pandemic. 
"You can go from zero to hero. The biggest fear is if (the rules are) going to restrict people from coming to eat. They're not going to purposely come out here just to eat. But for us, being smack in the middle of the CBD, our business has always been the office crowd," he said. 
Taxi company ComfortDelGro also saw a "slight uptick" in passenger volume during Monday morning's rush hour, said the company's group chief for branding and communications Tammy Tan.
"The level seen today is still far short of what it was pre-COVID. With the easing of safe management measures, as well as the festive period, we expect demand to continue to climb slightly in the weeks ahead, barring unforeseen circumstances," she added. 
Grab has similarly seen a "steady increase" in demand for ride-hailing services since COVID-19 restrictions were eased in November and throughout the festive period, said a company spokesperson. 
"We believe this elevated demand will continue as more people return to the workplace in the new year. Grab continues to uphold safety and hygiene standards so that our driver-partners and passengers are protected," said the spokesperson.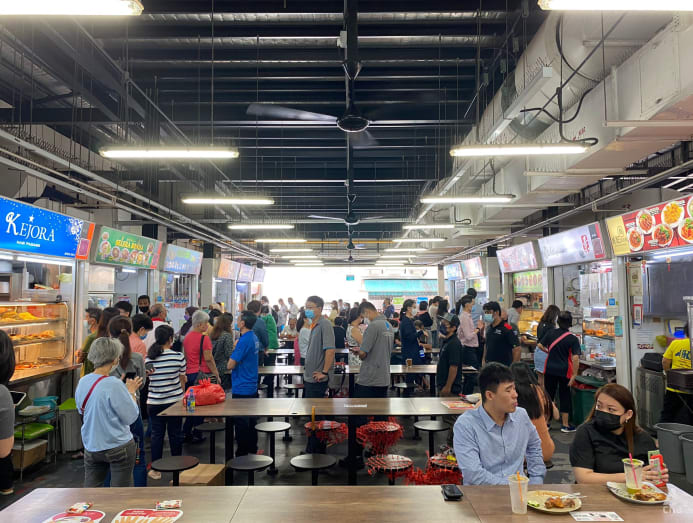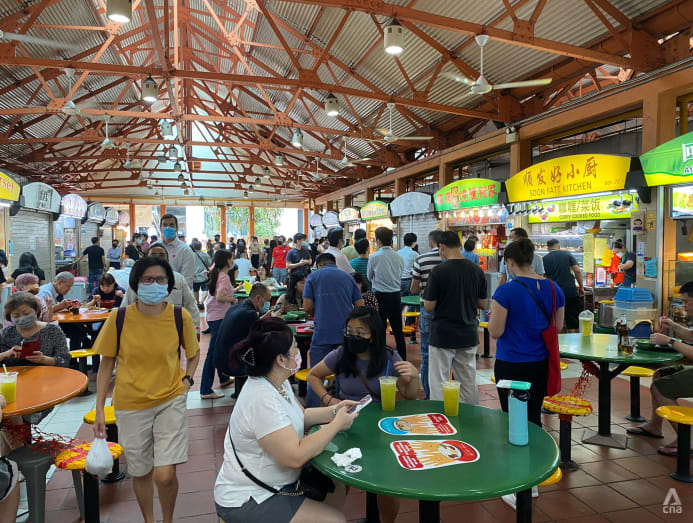 EMPLOYERS PREPARE FOR RETURNING WORKERS 
As employees return to the workplace from January, employers are also working to keep up with safe management measures and work out suitable arrangements for employees who have been working from home for the past year. 
Vaccination-differentiated measures at the workplace also kicked in on Jan 1, putting Singapore "in a better position to ease the current default work-from-home posture", MOH said at the time of the announcement. 
This means only employees who are fully vaccinated or have recently recovered from COVID-19 are allowed to return to the workplace. 
DBS' work-in-office measures are in line with the stipulated regulations, said a spokesperson for the bank. 
"With the government allowing up to 50 per cent of employees who can work from home to return to the workplace, the health and safety of our employees remains paramount even as we look forward to welcoming more colleagues back in the new year," the spokesperson said. 
UOB plans to gradually increase the number of people working onsite to allow up to 50 per cent of those who can work from home to return to the office, said a spokesperson for the bank. 
"As more of our people return to the office, our priority is to protect their health and safety. As such, we are maintaining staggered start times, lunch breaks and end-of-day arrangements for colleagues who work in the office," the spokesperson said. 
"Vulnerable" employees including those who are pregnant, over 60 or have underlying medical conditions are encouraged to continue working from home if possible, the spokesperson added. 
OCBC, which is also gradually increasing the number of employees in the office, has established staggered work hours, safe-distancing measures and split operations, said its head of group corporate security Francisco John Celio. 
"We have been preparing our workforce for a flexible, hybrid work arrangement because we recognise the importance of face-to-face interaction in effective and meaningful collaboration, ideation and culture building," he added. 
"As more of our employees return to office, we will ensure that we provide a safe and secure environment for them to work in, to enable them to provide the services that our customers need."
Recruitment agency Salt will have 50 per cent of its work-from-home employees returning to the office from Monday (Jan 3), said its APAC CEO Jacqui Barratt. 
Of its 160 employees, 20 will be returning to the office in two groups of 10 - each group will work in the office on two or three days each week on alternate weeks. 
All returning employees must be fully vaccinated and should also take antigen rapid tests before coming into the office, said Ms Barratt. 
31-year-old civil servant Brandon's (not his real name) office is still putting "testing measures" in place for the next eight weeks as they return to the office, he told CNA. 
Before this, his management has been "largely supportive" in ensuring they have "as safe as possible" a transition back to work. This would include flexible start and end times, he said. 
He was given three days a week to return to the office – but said it was up to each department to decide how they wish to deploy the teams.
"There is definitely that implicit understanding that we'd need to come back on some of these days for face-time, but personally, my own bosses have left it quite flexible for us," he said.
However, he has "mixed feelings" about returning to the office. 
"On one hand, being able to see colleagues and having that access to quickly discuss things and huddle is more efficient than trying to set up Zoom calls. But there is some nervousness (wondering) if this flexibility will only continue insofar as we are in the pandemic situation and not a real shift to workplace flexibility," he said.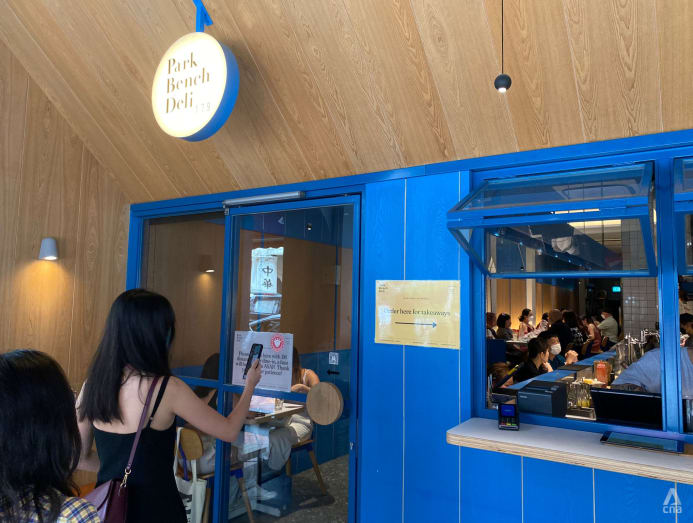 FLEXIBILITY, FACE-TO-FACE INTERACTION 
Flexibility also remains important for some workplaces, even as face-to-face interaction is encouraged. 
In the office, learning and sharing "naturally occurs" when employees are together, said Salt's Ms Barratt. 
"People feed off each other's energy. Also, for a number of (people on) our team, the office is their favoured workplace as they get dedicated time and space to do their role, especially when they are sharing a house with multiple people," she said.
Even though their team is returning to the office more regularly from January, Ms Barratt believes that the key to the future workplace is flexibility, she told CNA. 
This goes beyond working from home or working from an office, and companies should instead provide a range of working arrangements that work for both the business and the individual, she added. 
"Some people may prefer a condensed working week of four days per week, others might like part-time or fully remote (work hours). There are so many ways we can work, and I think it's important to realise it's not one size fits all," said Ms Barratt. 
Founder of software development agency Sleek Digital, Lester Law, said his firm will continue to work from home, with only half of his employees returning to the office every Friday for an in-depth, four to five hour meeting. 
Mr Law is considering a return to the office from February, when Singapore is "more certain" about the Omicron variant situation and when all six of his employees have received their booster jab. 
"Currently it's still very shaky, we don't know whether it will spread more badly. We have overseas partners which are quite badly affected, so we still want to see if it's going to get worse before we try and commit to return to the office," he told CNA. 
Before heading into the office every Friday for their weekly meeting, the three returning employees have to take an antigen rapid test. The other three members attend the meeting on Zoom.
"(There's) quite a significant difference, drop in productivity when we work from home. But my team is still quite friendly, so sometimes they work after office hours if they work from home because there's no travelling time," said Mr Law. 
While working from home, his team generally worked longer hours but was "not so productive". 
"We run software projects, so we do a lot of Zoom meetings, which is a hassle sometimes. Sometimes we just want to turn the chair and talk to someone, like 'Hey, help me solve this problem'," he added. 
"Now we don't have the ability to do this, so hopefully better communication means better productivity means faster projects."
Employees CNA spoke to mostly agreed that working from the office was better for communication and collaboration.
"Let's say I want to explore something, it's so easy. Today, I met two of my colleagues to discuss work. And it's really so much more efficient to just speak, rather than if we try to schedule a meeting online," said Ms Ng.
"We just walk around the office, and just grab people (to chat). It's definitely way more efficient in that sense." 
62-year-old Steve Mohamad, who works in the banking sector, prefers to be in the office. He has been working from the office every other week when work-from-home wasn't the default arrangement. 
"You get to interact with your team more. I do miss the social interaction with staff. And it's an opportunity for staff to be mentored and coached. You can't do that working from home," he said.
"It's difficult… I mean, we all manage working from home. But that personal touch you miss … and some jobs specifically you need to interact with your clients. Even though your clients are people from the same company, not external clients, you do need that face-to-face interaction."
"WILL MISS WORKING FROM HOME"
Although there are perks to finally returning to the office, employees said they would miss some aspects of working from home. 
Brandon has enjoyed working from home because he had access to lunchtime workouts and was able to take coffee breaks in the comfort of his own home, he said. 
"It definitely beats trying to stay awake in the office while fighting the food coma," he added. "But having social work gatherings would be the thing I look forward to most. It's good to build that rapport face to face."
Sheryl (not her real name) is "nervous" to return to the office because it will "take some time" to adjust to regular working hours. She also hopes public transport will not be too crowded. 
The 29-year-old lawyer will need to return to the office on a bi-weekly basis, with her office being split into two teams. She must also take an antigen rapid test (ART) before going to the office. 
Working from home has been "relatively good", and she will miss it, she told CNA. 
"There is more freedom to do what I do and more flexibility with time. A lot of time has been saved in not having to travel from home to office and vice versa," she added. 
However, she is looking forward to meeting with her team face-to-face, which is important because of the nature of her work. 
"It's been a difficult year transitioning in and out of work-from-home, so hopefully, this will become more permanent so we are all able to adjust and settle into a new norm," she said. 
"The Omicron variant is a little worrying as it is much more contagious. Even with safe distancing measures, I'm not sure if this will be enough."