Daiso Singapore says price increases due to 'steady rise' in raw material, logistics costs
Long queues were seen at several outlets ahead of the price increase.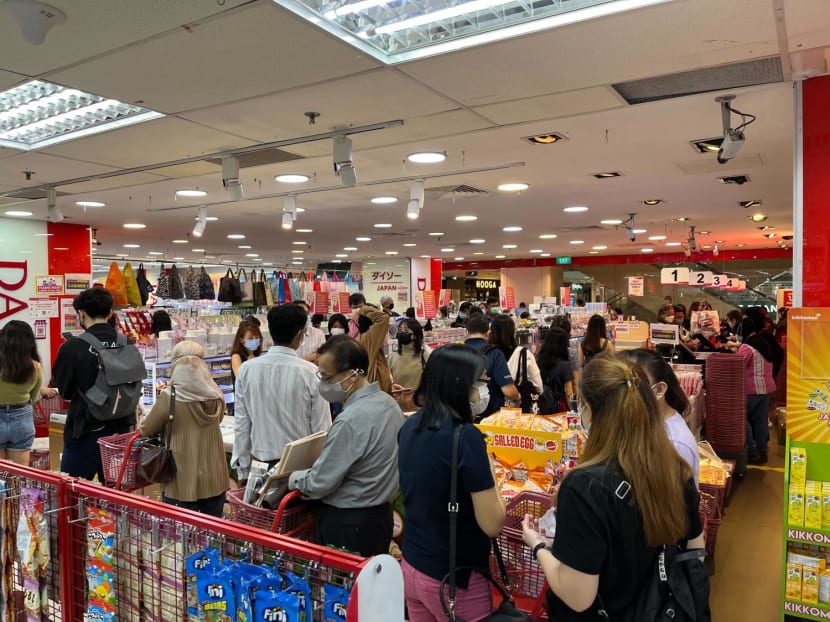 SINGAPORE: Japanese retail chain Daiso said on Friday (Apr 29) its impending price increases in Singapore are due to a steady rise in raw material costs and logistics.
Known for its variety of items offered at S$2, the retailer will introduce a 15-tier pricing system on May 1 with prices ranging from S$2.14 to S$25.47 both in stores and online.
The pricing system was announced on Apr 25 after Daiso said earlier this month that it will start charging a 7 per cent GST on top of its S$2 price tag for its items.
"All this time, Daiso Singapore has been providing our pricing with GST included. However, in recent years, we see a steady rise in raw material costs and logistics. Due to the above reason, we will be increasing our selling price to maintain our operational cost," said a Daiso spokesperson on Friday in response to queries from CNA.
She added that the total amount will be rounded up to the nearest 5 cents if a customer pays in cash.
"Please be assured that we have enacted the smallest increase possible while continuing to ensure the quality of our products," said the spokesperson, adding that the retailer will offer a wider variety of items.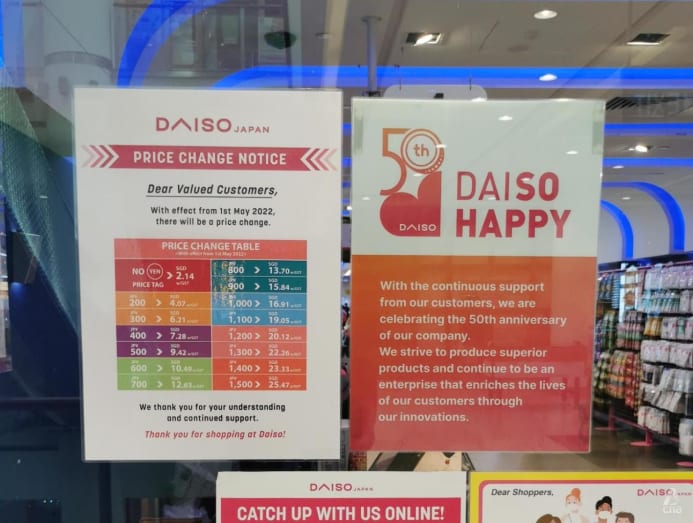 LONG QUEUES AT STORES
Ahead of the price increases, long queues were seen at five Daiso outlets CNA visited on Friday.
Ms Nelty Susanto was among the customers at the Plaza Singapura store. She spent S$124 on a variety of items, including stationery for her children, disposable masks and baskets.
It was her second time in as many days spending more than S$100 at Daiso to take advantage of the lower price tag.
"Suddenly (the items are) becoming more expensive, so surely everybody will want to buy now," said the 40-year-old who spent about an hour shopping and another 20 minutes standing in line.  
When CNA was at the outlet for about an hour at lunchtime, there were more than 50 people in the queue at any one time, with people frequently having to wait again to bag their items at a separate counter after payment.
An employee at the outlet who wanted to be known only as Goh said that the crowds were especially big on Thursday and Friday.
"These few days, people were already waiting outside when we opened at 10am," he said, adding that some items were running out of stock.
Shopper Sandy Chan could not find the washi tape that she usually buys from the store to do her journaling. The 30-year-old left the shop with S$40 worth of items, including stationery.
At the Chinatown outlet, customers said a popular household item known as the magic sponge was no longer available.
SOME CUSTOMERS WILLING TO PAY MORE
Customers CNA spoke to said that whether they continue to patronise the chain depends on how steep the price increases are. 
Mr Troy Chua, who was at the Chinatown outlet with his wife and daughter, said: "Some items may double in price, so those items we may not buy from here."
The 42-year-old, who spent about S$50 buying a toolbox among other things, said he typically visits Daiso two or three times a month.
Another shopper who wanted to be known as Ms Kong said: "Daiso is known for its S$2 price. If it's going to increase, then what's the difference between Daiso and other stores?
"Some things are cheap here but not everything is."
She gave the example of laundry nets, which can be found cheaper elsewhere. The 34-year-old spent S$22 on storage containers to hold her five-year-old daughter's toys.
Customers generally said that the increase in prices was not unexpected and that it is inevitable.
Some were excited about the potential new offerings.
Ms Eve Tan, who spent about S$30 at the City Square Mall outlet on Friday, said she frequents the store to get toys for her three-year-old twins due to the good variety of products.
Ms Tan said, however, that some of the items are lacking in quality and expects that the new pricing might bring better products.
"I'm interested in their higher (priced) range. I believe they bring in more quality things. I will still return to take a look," she added.