Dining-in allowed for groups of 10 from Mar 29 as Singapore eases COVID-19 measures
Restrictions on the sale and consumption of alcohol after 10.30pm at F&B outlets will be lifted, and live performances can resume at all venues.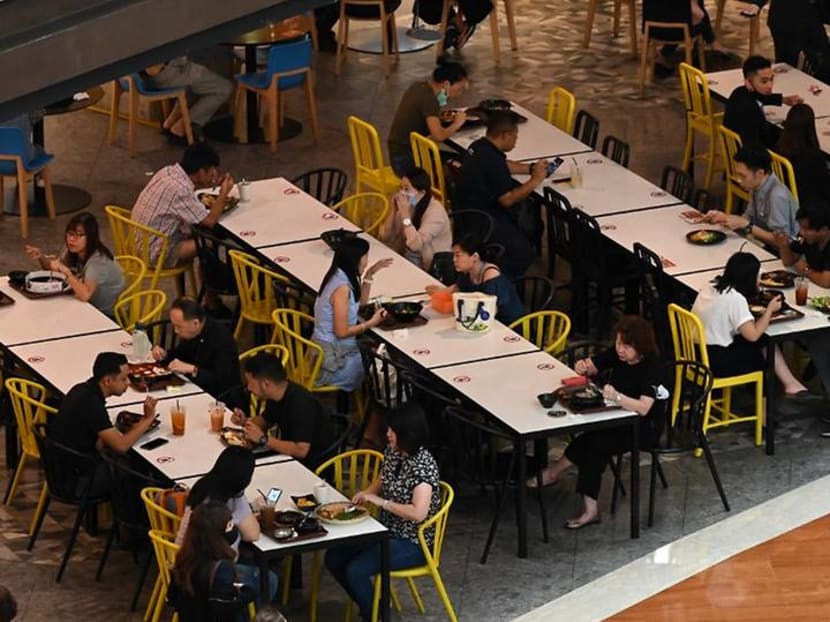 SINGAPORE: Groups of 10 vaccinated people will be allowed to dine in at food and beverage outlets from Mar 29, in line with Singapore's move to increase the size limit for social gatherings and household visitors.
This also applies to hawker centres and coffee shops where full checks on vaccination-differentiated safe management measures (VDS) are implemented at their entrances, said the Ministry of Health (MOH) on Thursday (Mar 24).
"To ease the operational burden for F&B operators, we will allow all F&B establishments to seat smaller groups of up to five fully vaccinated persons, without the need for full VDS checks at their entrance," said MOH in a media release.
"Instead, random spot-checks will be done to ensure that only vaccinated persons are dining in at these places, and the onus will be on the dining-in individuals to abide by the rules."
The current restriction on the sale and consumption of alcohol after 10.30pm at F&B outlets will be lifted from Mar 29.
In addition, live performances will be allowed to resume at all venues. Those involved in the performances will have to comply with the prevailing safe management measures such as keeping to a group size of 10.
"We will also lift the restriction on the screening of live broadcast programmes and recorded entertainment in F&B establishments," said MOH.
Prime Minister Lee Hsien Loong announced during his address to the nation on Thursday that group sizes will be raised to 10 and wearing masks outdoors will be optional with a safe distancing of 1m, as part of Singapore's "decisive step forward" towards living with COVID-19.
The Health Ministry said up to 10 household visitors will also be allowed at any one time.
In a press conference after Mr Lee's address, co-chair of the multi-ministry task force Gan Kim Yong noted that the number of daily COVID-19 cases in Singapore has steadily declined, with the week-on-week infection growth rate at about 0.7 to 0.8. 
The number of severe cases has also fallen, he added. 
"All these indicate that the Omicron wave has peaked and is declining. And with that we can progress further in our journey towards COVID resilience," said Mr Gan. 
Authorities are also easing restrictions on congregational singing and other similar activities.
"We had previously taken a strong position against group vocalisation activities because of the higher risk of transmission. But we are now in a different situation and can start easing this restriction," said MOH.
With masks worn throughout the "vocalisation activity", congregational singing and chanting, cheering by audiences at events, as well as singing in general settings like schools will be allowed.
Specific larger-scale social events like gala dinners, corporate dinner-and-dance events, birthday celebrations and anniversaries will also be allowed to resume given the stabilising COVID-19 situation and for consistency with other events, said the Health Ministry.
These should be held with group sizes of no more than 10 people and a safe distancing of 1m between tables. 
"Participants should also continue to exercise prudence and restraint, and limit their interactions to the same group they are seated with," said MOH.
The Government is separately looking into the safe resumption of nightlife businesses like bars, pubs, karaoke establishments, discotheques and nightclubs.
"These are activities with much higher risks of transmission and where there are generally more difficulties complying with the prevailing safe-management measures 1 to 5," said the Health Ministry, referring to the five parameters - group sizes, mask-wearing, workplace requirements, safe distancing and capacity limits. 
The Ministry of Trade and Industry and Ministry of Home Affairs will provide an update on the reopening of the nightlife sector in the coming weeks.
Singapore is not going for a complete reopening because the pandemic is not over and there will be "more surprises" ahead, said co-chair of the task force Lawrence Wong. 
"I hope everyone understands the rationale for our opening up and takes the changes in the right spirit. By all means let us cherish these hard-earned relaxations, make full use of them to resume more normal lives and to reconnect with one another," he added, urging people not to let their guard down and "abandon all caution". 
"Continue to uphold personal and social responsibility, and be mentally prepared that the situation can worsen. There is always the risk down the road that our healthcare system may come under tremendous pressure again, that we may see new variants that are more aggressive and dangerous," said Mr Wong. 
"And if such a situation were to arise, we may have no choice but to tighten our restrictions again, and we hope everyone understands this." 
Education Minister Chan Chun Sing, who was at the press conference, announced that selected groups of teachers and students in schools, pre-schools and Early Intervention Centres will be offered the flexibility to remove their masks during language and literacy lessons.
These groups include children with hearing loss, speech articulation issues or learning difficulties such as dyslexia, said MOH.