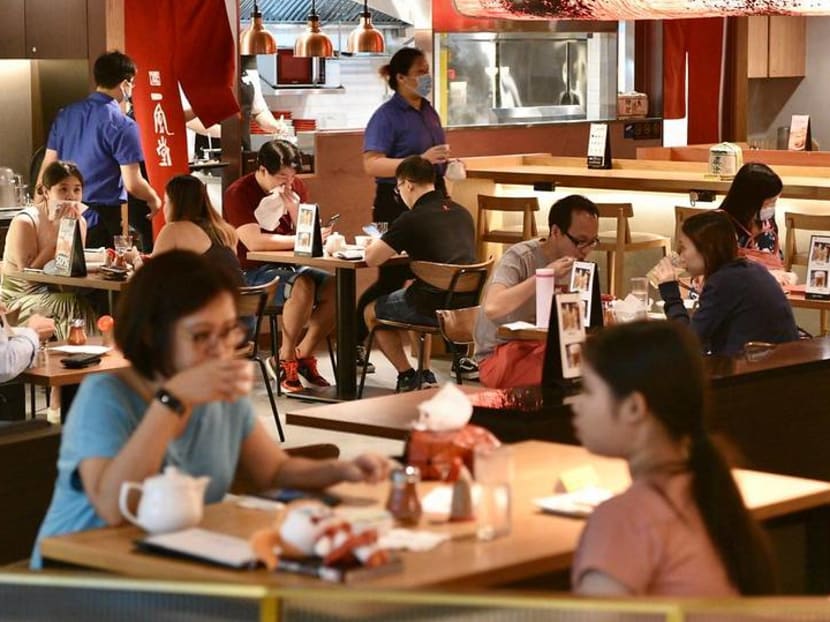 SINGAPORE: Fully vaccinated people from the same household can dine out together in groups of up to five from Wednesday (Nov 10), announced co-chair of the multi-ministry COVID-19 task force Gan Kim Yong. 
The easing of dining-out restrictions will not apply to those from different households, where the cap remains at two fully vaccinated people, said the Ministry of Health (MOH) in a separate press release. 
It will also not apply to hawker centres and coffee shops, as F&B outlets must be able to administer "comprehensive" vaccination checks, the ministry said. 
"We are prepared to extend the same concession to hawker centres and coffee shops once they have put in place additional control measures." 
The National Environment Agency and Singapore Food Agency will engage the hawkers' associations and coffee shop operators on this, and further updates will be provided when ready, the ministry said. 
F&B outlets will also be allowed to play "soft recorded music" from Wednesday, but live music and entertainment remain banned.
Social gatherings are still limited to a maximum of two people and should be kept at one a day, whether to another household or in a public place. The cap on household visitors remains unchanged at two a day; this does not apply to grandchildren being cared for by grandparents.
"SITUATION STABILISING"
Speaking at a press conference on Monday, Mr Gan noted that although Singapore is still recording more than 3,000 new COVID-19 cases per day, the situation has stabilised in the past two weeks. 
"The week-on-week ratio of infections has come down to below one over the last few days, and it was at 0.81 as of Nov 7. The number of cases in hospitals and the proportion of cases with serious illness has also remained stable," he said. 
Thanking Singaporeans for "working together" to slow down the transmission of COVID-19, Mr Gan said: "With the situation stabilising, we are now in a better position to ease some of our safe management measures without overwhelming our healthcare system." 
While the number of COVID-19 cases in hospitals and under intensive care remains high, it is stable – ICU utilisation is "hovering at around 70 per cent", said MOH. 
Authorities will also explore the further easing of measures for fully vaccinated people, with vaccination-differentiated safe management measures and pre-activity testing, said Mr Gan. 
This will begin with pilot resumption of more activities for those who are fully vaccinated in sports and selected meetings, incentives, conventions and exhibitions (MICE) events. If successful, it will be extended to other settings, said the Health Ministry.
More school activities will also resume, including in-person classes, group work and co-curricular activities, said Mr Gan. 
"These are very important for the education for our children," said Mr Gan, who is also Trade and Industry Minister. He added that the Education Ministry will provide more details later. 
The capacity at cinemas, live performances and MICE events will be increased. Safe management measures for businesses will also be refined to "better facilitate operations", he said.
"As we gradually reopen, it is inevitable that the number of COVID-19 cases will rise, as seen in our past experience. 
"We will need to continue to protect those that are unvaccinated as they are at higher risk of severe outcomes," said Mr Gan. 
Task force co-chair Lawrence Wong said despite the easing of restrictions, people should not "let their guard down".
"We have been careful in putting together this package of adjustments which we hope will be meaningful for families to dine-in together, as well as for sports, school life and other activities to resume, all this while keeping risks under control," said Mr Wong. 
"We are easing off slightly on the bicycle brakes, but we must not let our guard down and lose control as we go downslope," he added. 
"It's not just about adjusting the rules, it's also about how all of us as individuals and as a community behave and respond," said Mr Wong, who is also Finance Minister, urging the public to remain vigilant. 
"If we take this approach, then we can avoid a sharp resurgence of cases, we can protect our healthcare system, and we can support all our healthcare workers through the coming weeks and months."