'I'll have a choice': Women welcome elective egg freezing move, despite age limit and cost concerns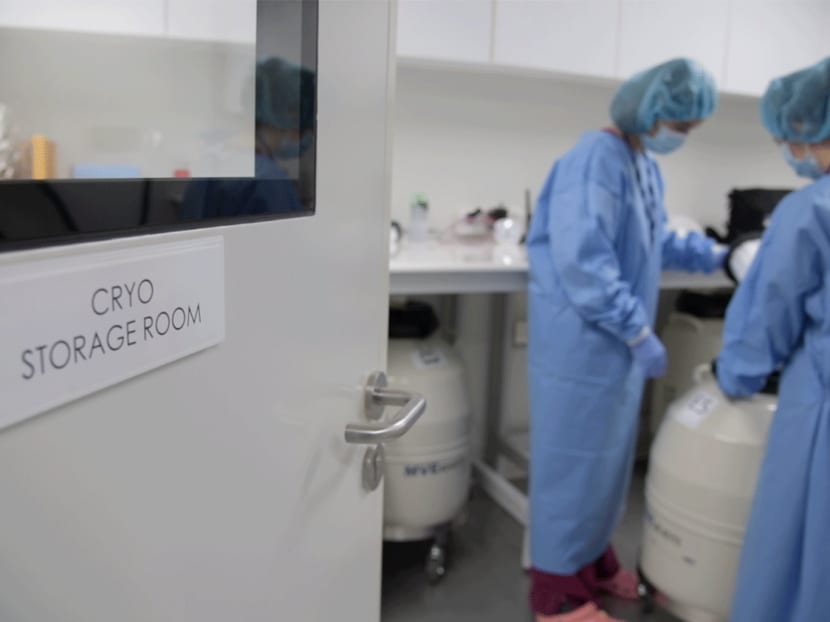 SINGAPORE: When she heard that women in Singapore aged 21 to 35 would be able to freeze their eggs from next year, Ms Wennie Kwo screamed and jumped for joy. 
"It's really a lot of feelings ... too much excitement," the 34-year-old told CNA. 
Ms Kwo, who is recently divorced, was planning to go to Australia to freeze her eggs there before Singapore announced it would allow the procedure. 
"Because of this (the divorce), I planned for egg freezing. I felt very sad and frustrated that Singapore banned egg freezing, so women like myself had to look for other alternatives in foreign countries. 
"But this came just in time, because I am 35 next year and just hit the maximum age." 
She is now single but Ms Kwo said she really likes children. "That's why I need to preserve my eggs," she added. 
At the start of April, the Government endorsed the White Paper on Singapore Women's Development, which proposed to allow women aged 21 to 35 in Singapore to freeze their eggs regardless of their marital status.
The move was proposed with "sufficient safeguards" to ensure that the women make an informed choice. For example, women who would like to undergo the procedure have to undergo counselling, and only legally married couples will be able to use the frozen eggs for procreation. 
Currently, egg freezing in Singapore is only permitted for medical reasons. This includes, for example, conditions where the treatment is known to affect fertility, or conditions where the risk of ovarian cancer requires the removal of ovaries and fallopian tubes. 
With the Government's endorsement of the White Paper, elective egg freezing will be implemented with the introduction of the Assisted Reproduction Services Regulations under the Healthcare Services Act in early 2023. 
For women like Ms Kwo who want to have children but are still looking for a partner, or younger women who see egg freezing as a way to keep their options open and focus on their career first, this is good news. 
Marketing executive Shadia Afrin, 25, is thinking of freezing her eggs. She has no plans to get married or start a family for at least the next five to seven years, she told CNA, describing herself as a career-driven person. 
"I don't think I'm going to get married or have a baby at the moment, so egg freezing is a good thing. It won't stop me from the things I want in life, I don't have to make the sacrifice (for my career), and I'll have a choice," she added. 
Although Ms Shadia is aware that egg freezing and in-vitro fertilisation do not guarantee that she will conceive later in life, it still gives her hope that her chances will be better. 
"I have a lot of friends or colleagues and they're at the age, 30 plus, and they have no plans at the moment for having a baby. And I have other colleagues in their 40s, but they can't conceive a baby because of the fact that they didn't get married and were focused on their career." 
For women in their 20s like herself, egg freezing gives them another option if they want to try and conceive children in the future, said Ms Shadia, adding that she will probably undergo the procedure in about two to three years' time. 
Ms Fareeshah Dawood Epeer, who turns 30 this year, started considering her options about two to three years ago, in case she decides she does want to have children in the future. 
"Because you don't want to rush into these things like getting married, then if it doesn't pan out it leads to a messy involvement, especially if there are kids involved," she added. 
After some research, she was initially disappointed to find that elective egg freezing was not an option in Singapore at the time, and started looking at overseas options. 
"When I got to know that Singapore will be allowing this option for women, it's definitely good news. It's better to do it in Singapore because you're somewhat guaranteed in terms of the safety for women when you're doing this kind of procedure," said Ms Fareeshah. 
With Singapore's good healthcare system, medical complications are also less likely, said the early childhood educator. 
"I was definitely happy and relieved. It's always nice when your home country actually allows for it. It also makes it a lot more accessible because if you do it overseas there's a lot of things you have to bear in mind like the overhead costs." 
What is egg freezing?
Egg freezing involves retrieving a woman's eggs, freezing and storing them. The eggs then stop ageing and can be warmed and fertilised with sperm when needed.
Upon successful fertilisation, the eggs are transferred to the uterus as embryos.
The process involves the woman undergoing hormone injections for less than two weeks, said fertility specialist Dr Janice Tung. 
She will also have to go for regular blood tests and ultrasound scans to monitor her response to the injections. The main side effect is bloating, similar to pre-menstrual syndrome, and only a small group of women feel "particularly stressed" about the process, said Dr Tung. 
Egg extraction is conducted in an operating theatre, with the woman sedated or under a general anaesthetic. The procedure is "very minor" and is typically done as an outpatient procedure, she added. 
The collected eggs are then frozen by a method known as vitrification, or ultra-rapid freezing, and stored in special liquid nitrogen containers until it is time for them to be warmed up and fertilised.
Ms Fareeshah was planning to freeze her eggs overseas by the time she turned 31 or 32, and her parents are supportive of her decision. With the announcement, she plans to do it in Singapore as soon as possible. 
Despite the good news, she was "a little bit disappointed" that women have to be legally married to use the frozen eggs in Singapore. 
"For me, it's not too much of a problem because I do see wanting to have kids with a partner. But I think for some of my friends who may be LGBTQ, it may not turn out well for them," said Ms Fareeshah.  
"It's a step in the right direction. But I think the clause that says women have to be legally married, it seems a little bit too conservative in today's time." 
Ms Kwo, who plans to freeze her eggs in Singapore next year when she is 35, is also considering going to Australia for a second round of egg freezing the year after, since she would have exceeded the age limit in Singapore then.
"It's actually quite sad that the Government placed an age limit, because those who really consider egg freezing are usually older and more mature, and financially more stable," said Ms Kwo. 
"And they also hope they have the chance to get pregnant, and just that maybe their current conditions don't allow. Maybe they're single like me, or not ready for pregnancy, or want to focus on their career." 
In the past year, more female patients in their mid-30s have been asking about the egg freezing procedure compared to about three years ago, said fertility specialist Dr Janice Tung. 
About one or two women come in each week with enquiries about elective egg freezing, she added. 
"They're very worried about the fact that (they are) not getting any younger. They are aware that there is a biological clock ... but they don't want to settle down for the sole purpose of having kids," said Dr Tung. 
"This gives them the option of still preserving their fertility somewhat, and still allowing them to not be pressured into marriage before they're ready." 
When asked about who would be good candidates for egg freezing, Dr Tung raised an example of a 26-year-old woman who has found out that her anti-mullerian hormone, or AMH, levels are low despite her relatively young age. 
An AMH test is a useful indicator of eggs remaining in a woman's ovarian reserve. A woman with low AMH levels is likely to have a lower egg count. 
"She's a good candidate for egg freezing, because the count can only get worse in the future. If you freeze the eggs now, you're likely to need less eggs to possibly achieve pregnancy, because of the quality of the eggs being better. So that is in her interest if she can freeze her eggs," said Dr Tung, adding that IVF later on in life will also be more difficult without the frozen eggs. 
She also stressed that pregnancy after age 40 will still be more difficult, despite using a younger egg that was frozen from before. 
Ms Kimberly Unwin from Fertility Support SG noted that the news is also more relevant to younger women, compared to older women who may already be facing fertility issues. 
"For our community, the biggest thing is that it's reassurance, for their daughters ahead or daughters-in-law in the future, they will tell them 'go freeze your eggs' at a very young age. Don't leave it to chance, it doesn't matter if you want to get married later on. Now that the opportunity to freeze your eggs is there, go and take it," she added. 
She also encouraged women and their partners to get checkups for their fertility, to check if they may have other fertility issues beyond the age and count of their eggs. 
"As much as egg freezing is an option, keeping healthy and making sure you know what kind of problems that you may have in terms of body checkups is also very important," said Ms Unwin. 
"It doesn't mean that your eggs are frozen, you can just not care about your lifestyle, your health, and all that kind of stuff, because those will have effects on conceiving the child later on life." 
There is also criticism that allowing elective egg freezing may give women false hope and cause them to delay starting a family, acknowledged founder of Instagram page @myeggsmytime Emma Zhang. 
However, most women who choose to freeze their eggs would have done their own research, and they would also have to undergo mandatory counselling, she said. 
"I don't think that any educated women going into this procedure will come out on the other side thinking 100 per cent I'm definitely going to have a kid," said Ms Zhang. 
All the women CNA spoke to acknowledged that cost is also a big factor in opting for egg freezing. 
One round of the procedure in Singapore will probably cost between S$10,000 to S$12,000, said Dr Tung. 
Older women may need to extract more eggs, and the cost will rise with more rounds of extraction, she added. 
This is still likely to be cheaper than going overseas for the procedure, without accommodation and flight costs, noted Ms Zhang. 
"How many 20-plus year olds can afford fertility treatments? We're very interested to know how the Government will come in, because grants now are only available through government hospitals, and it's only available for married couples," said Ms Unwin. 
Some women spend about S$20,000 on the egg freezing process alone, which is "a lot of money", she added. "Will these young ladies be able to afford it if there are no grants available?" 
Elective egg freezing is a type of "fertility insurance" that gives women the option to have children a bit later, especially in Singapore where many people want career success, said Ms Zhang. 
"Right now, my priorities might not be having kids, and it's just not fair that I need to make that decision. Have children now or have my career, have kids now or not be able to take care of my parents. For a lot of women, there are many factors that come into play," she added. 
"At the end of the day it is about women's rights, and the freedom of choice to decide what we want to do with our bodies."