Five on Friday: 5 things we missed (or didn't) about the F1 Singapore Grand Prix
The return of the Singapore night race after a two-year break, also marks the return of CNA's Five on Friday - our weekly, light-hearted take on what's making the headlines. In our comeback piece, Gabrielle Andres looks at some notable moments in the Singapore Grand Prix.
SINGAPORE: After a two-year hiatus due to the pandemic, the Formula 1 Singapore Grand Prix finally makes it return this year.
Tickets to the night race, which will take place from Sep 30 to Oct 2, were up for sale on Wednesday (Apr 13), with prices for three-day grandstand passes starting at S$298. Combination packages are also on offer, ranging from S$698 to S$1,088.
Feel like splurging? There are also hospitality packages that include event admission, premium seats and even high-end restaurant meals – if you're happy to fork out at least S$1,605.
Judging by how quickly the first round of tickets sold out, it's clear many people are anticipating the event's return.
Others, maybe not so much.
Here are some things you may, or may not, have missed about the F1 Singapore Grand Prix.
ROAD CLOSURES
Set against the stunning Singapore skyline, the brightly-lit Marina Bay Street circuit cuts through the heart of the city, a proud display to the world that we have what it takes to host a street race.
But even though the actual race weekend often only last about three days, roads in the central business district are usually closed off days ahead to facilitate the set-up of the actual track.
And the resulting traffic conditions are no picnic, either.
For those who aren't fans of the F1, these aren't just minor inconveniences. 
Drivers will have to account for the road diversions in their travel time. 
And remember the A4-sized notices stuck on bus dashboards, informing commuters entering the city that the route has been changed? 
If you are as forgetful as I am, you may have caught yourself in a state of panic as the bus makes an odd turn.
TOP-NOTCH ENTERTAINMENT
Hands up if you recall the last time you let your hair down at a live concert (thanks COVID-19).
Even if you're not a fan of the actual race, you're probably itching to find out which bands, performers and singers will once again grace our country with their star-studded presence. 
Remember Beyonce's first performance in 2009? Or when Mariah Carey laughed off an unfortunate fall in the middle of her set the next year?
When American band Linkin Park took to the stage in 2011 – their third time in Singapore – fans surely didn't expect it to be the last time they would catch lead singer Chester Bennington perform here. RIP Chester.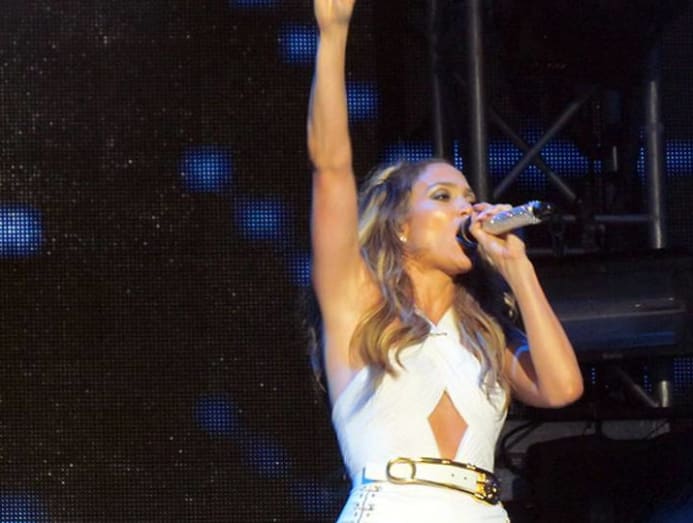 Previous headlining acts also included Mandopop star Jay Chou, Big Bang, Ariana Grande, Kylie Minogue, Jennifer Lopez, John Legend, Imagine Dragons, Duran Duran and Bon Jovi.
Of course, we can't forget the local acts who have graced the stage – with the likes of Joanna Dong, ShiGGA Shay, the Sam Willows and Gentle Bones having made appearance in past editions.
Organisers have yet to announce the full entertainment lineup for this year, but if the past years are anything to go by, we are in for a treat.
THE DRAMA
The sparks, near-misses and race boo-boos.
A high-energy event like the Grand Prix often comes with unexpected incidents. And the race itself has had no shortage of these.
Who can forget that in 2017, three of the top drivers - Max Verstappen, Sebastian Vettel and Kimi Raikkonen - crashed mere seconds after the race began, paving the way for Lewis Hamilton to take the podium?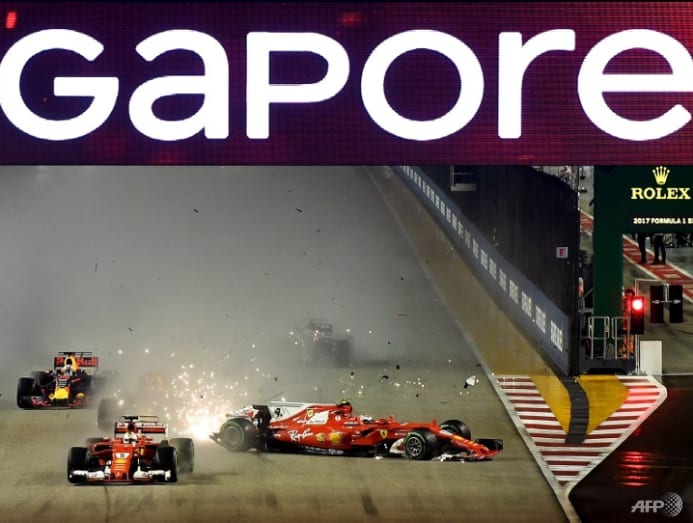 Years earlier, in 2010, Heikki Kovalainen was forced to bow out in the final lap after his vehicle caught fire, which he proceeded to put out by himself with a fire extinguisher.
The inaugural race in 2008 also had its share of drama when a signalling system fault led to driver Felipe Massa, who had been in the pole position, exiting the pit stop with the fuel hose still attached to his vehicle. He had to park and wait for mechanics to pull out the hose, and later lost the trophy to Fernando Alonso.
But the biggest collective gasp was heard in 2015 when an eager spectator jumped onto the track while the race was ongoing.
British national Yogvitam Pravin Dhokia had climbed over a barrier, walked into the escape cage and then climbed out of an egress outlet onto the track, where he promptly whipped out his iPhone to take a video of incoming cars.
Was it worth it? He was later charged and sentenced to six weeks' jail for the act.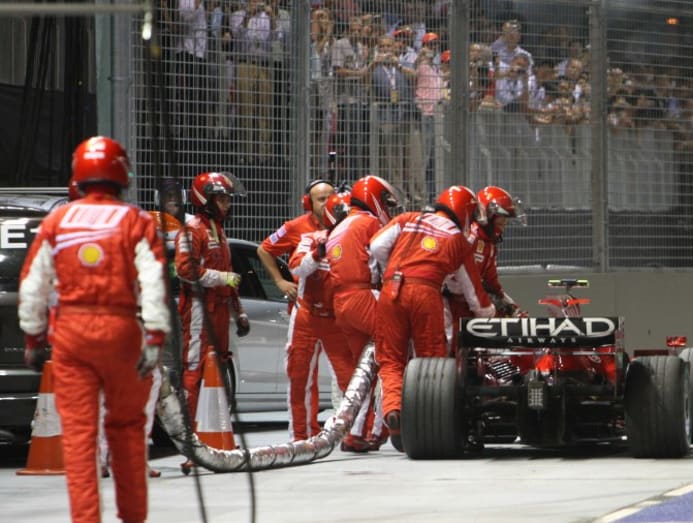 READY FOR THE CROWDS?
The Singapore Grand Prix is usually a high season for tourism, with spectators flying in from all over the world to catch the action.
According to the Singapore Tourism Board, the race has generated more than S$1.5 billion in incremental tourism receipts and attracted more than 550,000 unique international visitors since it debuted in 2008. 
With Singapore's borders fully reopening this year, are we ready to see an influx of tourists after more than two years of social distancing?
This also brings up the question of how our COVID-19 regulations will be implemented and how big the risk of virus transmission will be across all the events. 
Cue nervous laughter.
LOCAL PROMOTIONS AND ACTIVITIES
Local businesses step up their promotions every year for the Grand Prix – offering staycation and dining packages for residents and tourists alike.
Afterparties like the Amber Lounge, which is offering a new concept for its 13th year in Singapore, and The Podium Lounge are also expected to bring excitement on the Grand Prix weekend.
In 2019, the excitement even extended to beyond the circuit.
A precinct party was held in Orchard Road, featuring live DJ sets and music performances on the Design Orchard rooftop, as well as race-themed activities stretching from Wisma Atria to Mandarin Gallery.
Jewel Changi Airport also offered a range of immersive activities for fans – including remote control racing and virtual reality games – while Clarke Quay hosted performances by acts from 20 countries, an outdoor arcade, and a carnival.
It will likely be race fever again this year across the country. So watch out for a slew of activities and promotions that will be announced soon.