IN FOCUS: Is the time right to allow women to choose to freeze their eggs?
With egg freezing for non-medical reasons among the recommendations made in a joint paper on women's development by the PAP Women's Wing and Young PAP, CNA looks into why some people think it's time to lift the ban on the procedure.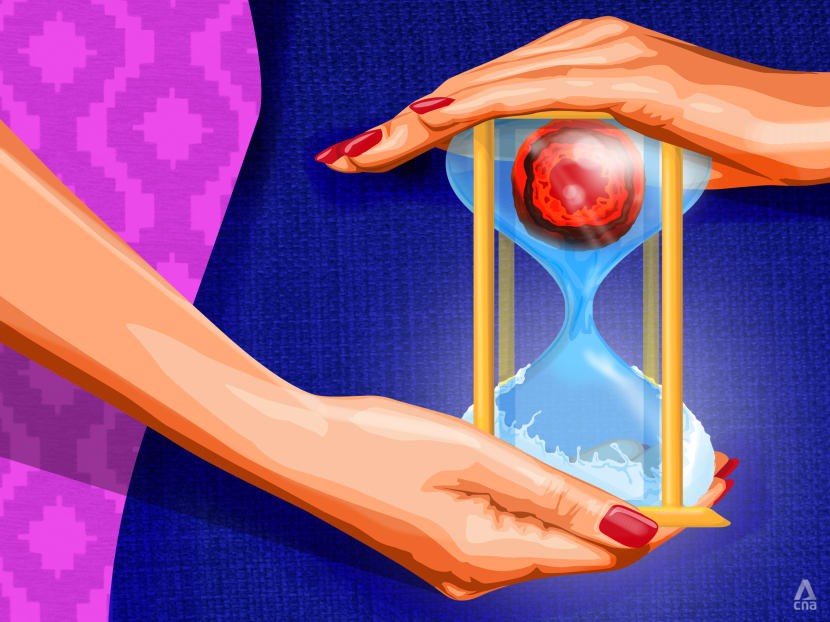 Egg freezing for non-medical reasons is currently banned in Singapore
There is an "urgent need" to review the current position, according to the PAP Women's Wing and Young PAP, as the reproduction rate of Singaporean women has continued to decline over the past two decades despite measures put in place to encourage procreation
Those against it have raised ethical and social concerns
SINGAPORE: When she was in her early 30s, Ms Tan was in a serious relationship with a man she thought she would marry. When that didn't work out, she still wanted to have children eventually – and this led her to explore the option of egg freezing.
At the age of 35, she went to freeze her eggs in Valencia, Spain. She didn't want a biological "ticking clock" to influence her decision on getting married, she told CNA. She was referring to the natural decline over time in the quantity and quality of her eggs. 
"I knew I wanted a family, but I didn't want to make any rushed, impulsive kind of decision. So, by freezing my eggs, it gave me like a form of insurance," she said.
Now 39, Ms Tan (she didn't want her full name to be published) has frozen her eggs twice. The second time was in Kuala Lumpur and while that was closer to home, she wishes she had been able to have the procedure done in Singapore. 
"That would have made things so much easier, more convenient. I think it might have been more cost-effective as well," said Ms Tan, who spent about S$20,000 in total on the two procedures.
Women like Ms Tan have to go overseas for the elective procedure known as "social egg freezing" because it is currently banned in Singapore. 
However, freezing of eggs is allowed for medical reasons, such as for cancer patients undergoing chemotherapy that may affect their fertility.
Some groups here are lobbying to change the situation. In July, the People's Action Party's (PAP) Women's Wing and Young PAP released a joint paper on women's development that recommended allowing the procedure for non-medical reasons.
The groups also suggested putting in place a regulatory framework to impose conditions or limit the use of eggs to certain circumstances, such as "only within the confines of marriage".
What is egg freezing?
Egg freezing involves retrieving a woman's eggs, freezing and storing them. The eggs then stop ageing and can be warmed and fertilised with sperm when needed.
Upon successful fertilisation, the eggs are transferred to the uterus as embryos.
The process involves the woman undergoing hormone injections for an average of 10 to 14 days. She will have to go for regular blood tests and ultrasound scans to monitor her response to the injections, said Dr Lim Min Yu of Astra Women's Specialists.
When there are sufficient mature follicles in her ovaries, the woman will have a "trigger" injection to prepare the eggs for egg collection, he said.
Egg collection is done in an operating theatre, with the woman under sedation or a general anaesthetic. The collected eggs are then frozen by a method known as vitrification, or ultra-rapid freezing, and stored in special liquid nitrogen containers until it is time for them to be warmed up and fertilised.
ETHICAL AND SOCIAL CONCERNS
The risks of egg freezing are the same as for women undergoing an in-vitro fertilisation cycle, including "some pain and bruising" at the injection sites, said Dr Lim.
"There may be mood or emotional changes in response to the hormone injections, and there is a risk of a condition called ovarian hyperstimulation syndrome, where the ovaries become swollen, and fluid can accumulate in the abdomen," the fertility specialist said. 
The Government reiterated its position on social egg freezing last year. The Ministry of Social and Family Development (MSF) said in response to a question in Parliament that it was "carefully reviewing" the matter of extending egg freezing to be allowed beyond medical grounds. 
MSF acknowledged that social egg freezing "may benefit some women because of their personal circumstances", such as not being able to find a partner and wanting to preserve their chances of conceiving if they marry later.
"However, we also have to take into account the ethical and social concerns over legalising social egg freezing, including inadvertently causing more to delay marriage or parenthood based on a misperception that they can have a child whenever they wish to," MSF said.
The ministry noted that the risks of developing complications during pregnancy also increase with age, "even if the child is conceived through a frozen egg". 
REVIEW THE POLICY?
Singapore's social issues and biological realities are among the reasons why some are advocating a review of the current policy.
The position paper by the PAP Women's Wing and Young PAP, which said there is an "urgent need" to look into the issue, noted that the reproduction rate of Singaporean women has continued to decline over the past two decades. This is despite the availability of monetary and other social incentives put in place by the Government to encourage procreation. 
Singapore's fertility rate reached a historic low of 1.1 babies per woman last year, compared to 1.6 in 2000, according to the latest data from the Singapore Department of Statistics. 
Singapore's Total Fertility Rate
| | | | |
| --- | --- | --- | --- |
| 2000 | 2010 | 2019 | 2020 |
| 1.60 | 1.15 | 1.14 | 1.10 |
Singaporean women who choose to pursue their career aspirations and delay marriage and childbirth reflect the "changing realities", the paper said.
"We should continue our efforts to make it conducive for people to marry and have children early, but we need to be cognisant of these current realities and consider pragmatic, multi-pronged approaches to address our declining birth rates and support women in their journey to motherhood," it added. 
MP Cheng Li Hui (PAP-Tampines), who is part of the PAP Women's Wing, has been championing the cause since 2016. She found out about egg freezing after the topic came up in her conversations with young families in her ward.
The women who want to freeze their eggs should be able to benefit from Singapore's "world-class healthcare system", Ms Cheng said.
"We should give peace of mind to our ladies undergoing the process – nowhere better than here really," she said, adding that the procedure could promote medical tourism. 
"Now more than ever, the ladies who have been wanting to freeze eggs in the last two years … They can't. In the last two years, their quality of eggs would have dropped, the quantity of eggs would also have dropped," she said, referring to the limits the COVID-19 pandemic has placed on international travel.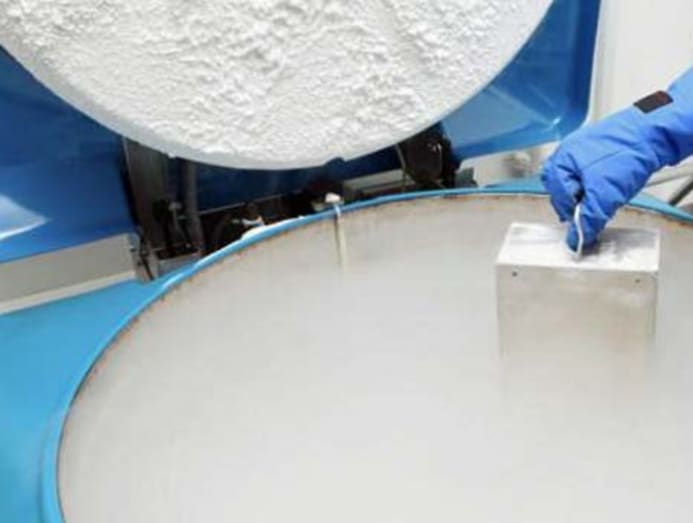 THE ARGUMENT AGAINST EGG FREEZING
Ms Cheng acknowledged that some are against the idea of egg freezing.
A survey she did in 2019 with more than 700 respondents found that 63 per cent supported egg freezing. Among those who did not, a common concern was that allowing the procedure would encourage people who are not in a traditional family nucleus, such as same-sex couples and single women, to have children, she said.
The National Council of Churches released a statement in 2019 on its stand against egg freezing for non-medical reasons.
In the statement, which explored ethical and social issues, the NCCS said it is "unable to support the legalisation of social egg freezing because of the serious ethical and social issues it raises".
"The fundamental problem with social egg freezing is that this technology is used for non-medical reasons. The technology is not used to treat a particular pathology or to prevent an illness but rather to facilitate and consequently promote a lifestyle option or preference," the statement read.
NCCS also called the elective procedure a "profoundly selfish act because it sees career as more important than the interests and welfare of the child". Allowing social egg freezing would encourage women to postpone childbearing in order to "have it all", the council said.
"The legalisation of social egg freezing reinforces a perspective on priorities that would have profound social implications."
On the point raised in the survey on non-traditional family structures, the recommendation by the two branches of the PAP is for the use of eggs to be allowed when a woman is married, Ms Cheng pointed out.
She stressed that the procedure would be elective.
"I would think that if it is allowed and you're against it, don't do it. But don't make the rest of society follow your rules," she said. 
Associate Professor Tan Ern Ser from the department of sociology at the National University of Singapore noted that the "key factor" for delayed marriage and childbirth thus far has been the priorities women placed on career aspirations, together with work practices that are not entirely friendly to having children, even with the ban on social egg freezing in place.
He suggested that women should have the "freedom to choose".
"Women should have the right to pursue what they consider to be their priorities, including when to have children," he said. 
If the country wants to raise the fertility rate, it should use incentives and make work-life practices friendly, and "not apply direct or indirect pressure", he said.
"As a sociologist, I'd argue that social egg freezing would empower women further," he said.
REASONS FOR WANTING TO FREEZE EGGS
Apart from career aspirations and not being able to find a partner, there may be other reasons why some women delay starting a family, according to Ms Emma Zhang, who set up a page called "myeggsmytime" on Instagram.
The women she encountered through the page have reasons that range from having to care for elderly parents to not being financially stable enough, said the 31-year-old freelance content strategist. 
"The Government needs to realise that should any woman choose to give birth later in life and take on the risk, she does so for the sake of her unborn child," she told CNA.
"What's the point of having children young if one is unable to provide for them emotionally and financially, especially in a society that places so much emphasis on success. Sometimes you can't have it all now – but you can have it later. What's wrong with that?" she asked.
She added that "most importantly", if a woman chooses to give birth later, that is "her right".
Ms Cheng said that egg freezing is not a decision that will be taken lightly.
"It's not a simple procedure. This procedure requires you to jab yourself every day. And there is a procedure to extract the eggs, so it's not risk-free. It's not fun. Why would a person want to go through it? It's only because they want to preserve that right to be a mother."
She said that women may not have been able to find a partner earlier in their lives.
THE REALITY OF EGG DECLINE 
Egg quality is the "most important factor" in the chances of successful pregnancy, said Dr Lim. However, he noted that a woman is born with all the eggs she will ever have. 
As she becomes older, both the quantity and quality of her eggs will diminish, he said.
"The younger the egg, the higher the chance of pregnancy. The chances reduce after the age of 35, and even more steeply after the age of 40," he said. 
Elective egg freezing allows women to take action about the drop in their fertility, he said, adding that the chances of success are "much higher" if eggs are frozen before the woman reaches 35 years old. 
Dr Suresh Nair from fertility centre Seed of Life in Mount Elizabeth Novena Hospital similarly said the quality of eggs has a "precipitous drop" from age 34.
With the option of freezing eggs, at the age of 34 with 20 extracted mature eggs, the chances of one successful birth is 90 per cent, Dr Nair said, quoting published research on the subject. This chance of success drops to 75 per cent for a 37-year-old woman, he said. 
"Women don't really tend to start appreciating this (the decline in fertility) until they are 36, 37, 38 (years old)," he said.
Dr Nair said that while getting pregnant at an older age comes with its own medical risks, these can be managed.
"There's a higher chance of Caesarean sections, higher chance of diabetes, higher chance of hypertension no doubt, but we don't think is terribly problematic, so the only thing that suffers is eggs," he said.
Both doctors said that there is a need to educate the public about the decline in female fertility with age.
For 32-year-old Stephanie Zheng, who has been married for two years, being allowed to freeze her eggs would give her time to be ready to be a mother.
"Basically, I'm trying to get my life on track to do all the things that I want to do first, before I think about having enough money and enough time and effort to nurture another human being," said Ms Zheng, who holds a full-time job and manages two side businesses.
She said that if she wants a child at a later age, it would be her "torch to carry" even if it means her body may not be as strong.
"If I can't get a child, then it's also sort of on me. But at least I have that option ... if we have the resources to do so, to freeze our eggs, then we should have that choice."