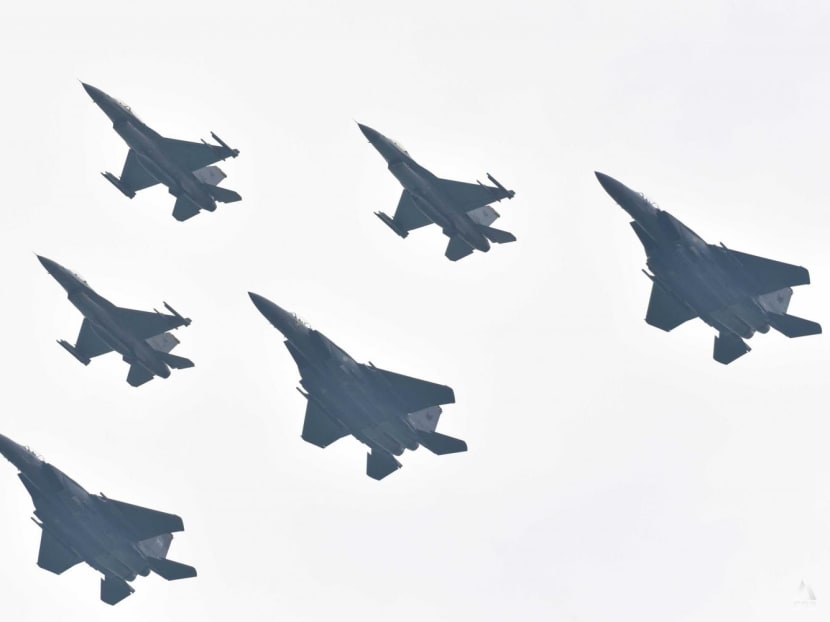 SINGAPORE: Member states of the Five Power Defence Arrangements (FPDA) commemorated 50 years of the defence pact with an aerial and naval display at Marina South on Monday (Oct 18).
Past noon, spectators watched fighter jets and helicopters from different countries fly close to each other. But the best was saved for the last, when three Republic of Singapore Air Force (RSAF) F-15SG fighters streaked across the gloomy sky in a deafening boom.
The FPDA, formed in 1971 against the backdrop of armed conflict across Southeast Asia, comprises Singapore, Malaysia, Australia, New Zealand and Britain.
Under the pact, member states must consult each other in case of an armed attack on Malaysia or Singapore.
Singapore's Defence Minister Ng Eng Hen told reporters on Monday that the FPDA remains "relevant" despite the changing security challenges in the region 50 years on.
He said that the FPDA adopts a "non-threatening" posture that is "not directed at any one country, but as a regional grouping that promotes inclusiveness and cooperation among the nations".
"I don't think the security context in this region demands a military grouping where you can trigger it very quickly," he said.
"For traditional threats – country to country – there are no impending threats. So I think the posture of the FPDA is adequate for security challenges.
"It doesn't mean that we won't have surprises. But I think what we're doing is exactly the right thing: To continue to … build understanding so that you can be more responsible."
Under FPDA, member states participate in annual military exercises to strengthen cooperation and build professional relationships. The most recent example was Exercise Bersama Gold 2021, held from Oct 4 until Monday.
Named Bersama Gold instead of the usual Bersama Lima to commemorate FPDA's 50th anniversary, the exercise saw army, air force and navy assets from member states take part in a virtual jungle warfare workshop, air defence exercises as well as anti-submarine exercises respectively.
"The fact that despite the pandemic, where we could hold an exercise with close to 3,000 troops, many ships, planes, submarine, reflects the commitment of the five nation countries of this military group," Dr Ng said.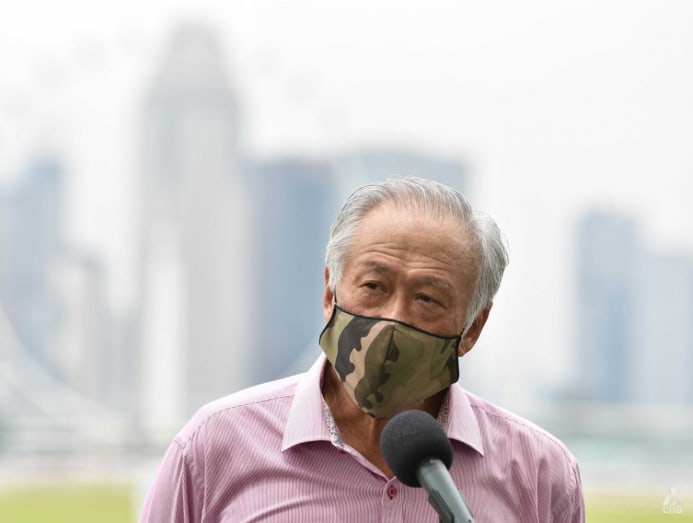 FLYPAST AND NAVAL DISPLAY
Dr Ng was speaking at the Marina Barrage the flypast and naval display.
The flypast comprised three segments, with the middle portion involving 10 air assets from Singapore, Malaysia, Australia and New Zealand flying in formation.
This included an F-16 and F-15SG fighter jet from Singapore, two SU-30MKM fighters from Malaysia and two F/A-18Fs fighters from Australia.
The fighters were trailed by New Zealand's larger P-3K2 airborne surveillance aircraft, as three helicopters from Singapore and New Zealand flew just below.
This was sandwiched between two displays from RSAF fighter jets, which performed a delta flypast and aerial salute.
The aerial salute was the highlight as three F-16s pulled up tightly in different directions before three F-15SGs roared by with full afterburners at low altitude.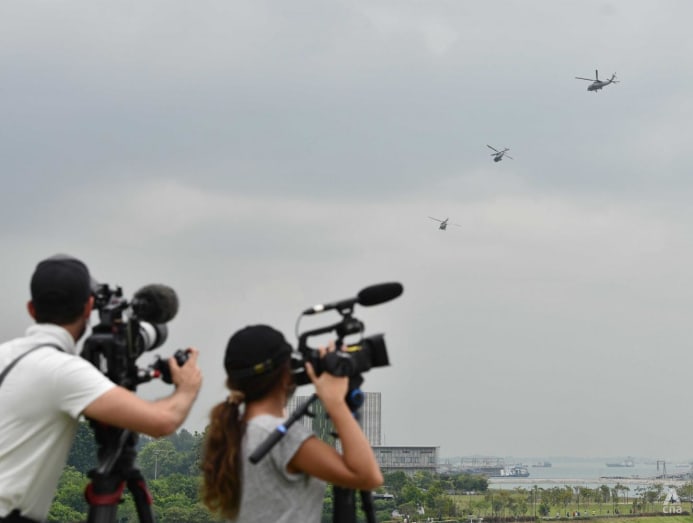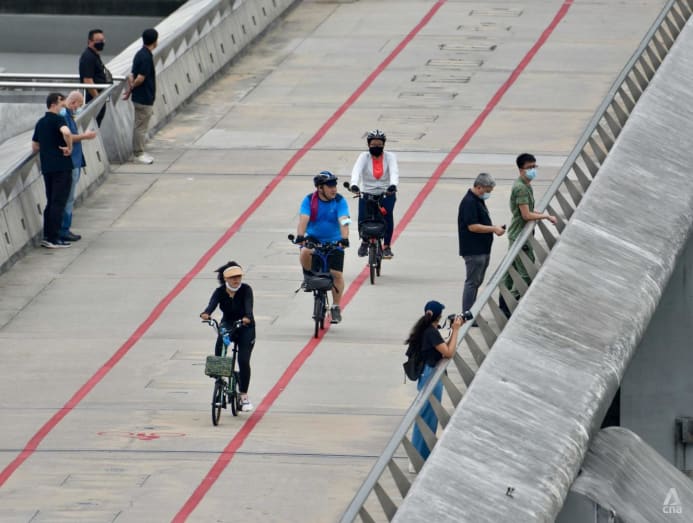 Nearby at Marina East Park, a crowd had gathered by the breakwater to catch a glimpse of the multi-nation military display, which was also livestreamed on the Ministry of Defence's (MINDEF) social media platforms.
The naval display was more muted, but still featured warships from four FPDA nations in the waters off Marina South.
They were Singapore's RSS Steadfast, a frigate; Malaysia's KD Lekiu, another frigate; Australia's HMAS Canberra, an amphibious assault ship; and New Zealand's HMNZS Aotearoa, a replenishment oiler.
The UK's HMS Diamond destroyer was supposed to be part of the line-up, but pulled out because of a technical issue.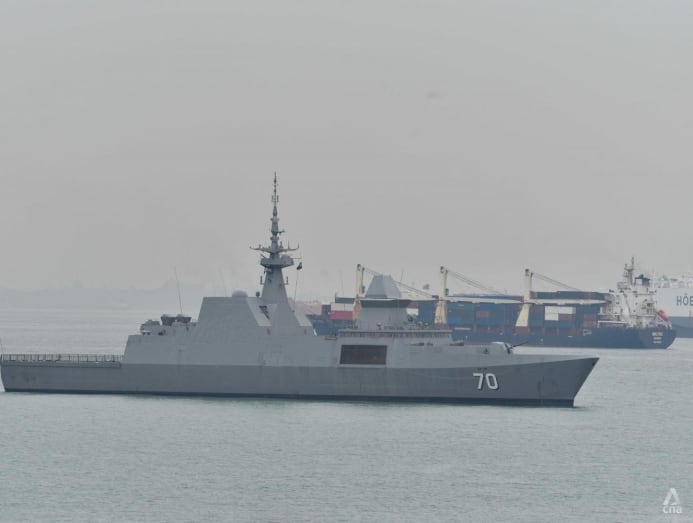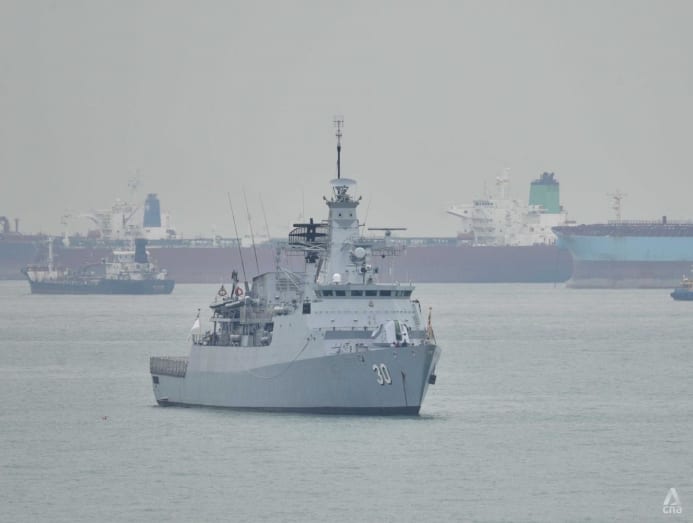 HOW FPDA WILL EVOLVE
Also present to watch the display on Monday were the High Commissioners of Australia, Malaysia, New Zealand and the United Kingdom.
In November last year, member state ministers reaffirmed their continued commitment to FPDA ahead of its Golden Jubilee.
"The ministers welcomed the growth in scope and depth of the FPDA over the last 49 years, which has evolved to introduce elements of humanitarian assistance and disaster relief, counterterrorism and maritime security into FPDA exercises and discussions whilst retaining its core focus on conventional warfare," MINDEF said then.
MINDEF said in a statement on Monday that the FPDA has evolved over the years to meet the challenges of an increasingly complex contemporary security environment, while remaining as a defensive, inclusive and peaceful security arrangement.
The ministry added that Dr Ng will attend the 11th FPDA defence ministers' meeting via video teleconference on Oct 21.
When asked on Monday how the scope of collaboration between FPDA nations would evolve, Dr Ng said its "mandate remains the same: For the external defence of Malaysia and Singapore".
"I think the biggest threat is not any one single country," he said.
"The biggest threat is misunderstanding and miscalculation. The FPDA acts as a stabiliser for the region. It acts as a paradigm of an inclusive military grouping that works together for the peace and stability of the region.
"I think it's a very good example of how regional groupings can continue to build those relationships. One can be impressed or rightly satisfied that this has been going on for 50 years."