Are hamsters at higher risk of COVID-19 and should they be routinely tested in Singapore?
The Animal & Veterinary Service says it is monitoring the situation in Hong Kong closely after the city ordered a hamster cull over COVID-19 fears.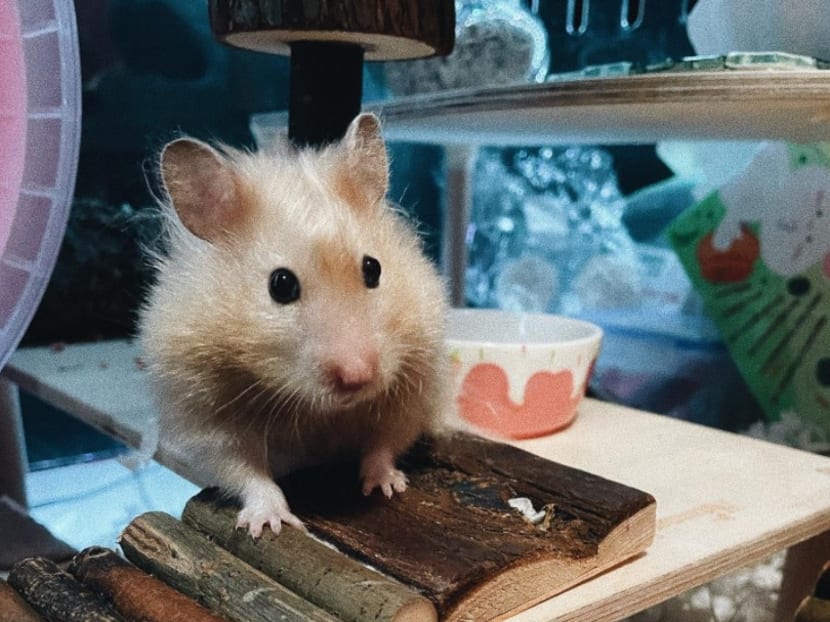 SINGAPORE: After Hong Kong's decision to cull hamsters over fears that they could spread COVID-19, Singapore's Animal & Veterinary Service (AVS) told CNA that it is monitoring the development "closely", but that it is not necessary at the moment to conduct routine testing of pets for the coronavirus.
Small mammals like hamsters are required to meet AVS' veterinary conditions for import, said the agency's group director of professional and scientific services Dr Chang Siow Foong.
"This includes ensuring that the animals are healthy and free from any clinical signs of disease at the time of import. The animals will also be quarantined for two weeks after arrival and inspected for any signs of disease," he said.
Routine testing of pets for SARS-CoV-2 is "not recommended at this stage", Dr Chang added, as the spread of COVID-19 is still predominantly a result of human-to-human transmission.
Hong Kong had on Tuesday ordered thousands of hamsters to be culled after a cluster of cases in humans was linked to a pet shop worker. Hundreds of samples were then collected from animals such as rabbits and chinchillas, but only the hamsters - 11 of them - tested positive so far.
Hamsters are "at higher risk than other animals such as mice", said infectious diseases expert Dr Paul Tambyah.
This is because hamsters have the ACE receptor which the SARS-CoV-2 virus needs to bind to in order to enter cells to reproduce and cause the COVID-19 disease, he explained.
Results of a study published in 2020 also suggest that features associated with SARS-CoV-2 infection in golden hamsters resemble those found in humans with mild infections.
"To my knowledge, (the risk of transmission between hamsters and humans) has not been quantified but I would think that the individual risk is similar to, if not slightly less than, the risk of transmission between humans," said Dr Tambyah, who is president of the Asia Pacific Society of Clinical Microbiology and Infection.
"From a broader perspective most hamsters are kept on SHN (stay-home notice) in little cages with wheels ... As a result, the overall risk of transmission from hamsters to humans is very low."
He suggested that what might have happened in Hong Kong is that a pet shop worker "may have been the index case who went around infecting the hamsters inadvertently during feeding or cleaning activities". 
Echoing Dr Chong's view, Dr Tambyah said that imported pets should "definitely not" be put through COVID-19 testing now. 
"The tests that we currently have in use are not optimised for animals and they are likely to yield many false positives or false negatives," he explained. "Many routine clinical laboratories may not be able to reliably distinguish animal viruses from the human SARS-CoV-2."
WHAT IF YOUR HAMSTER FALLS ILL?
If a pet that had sustained close contact with a COVID-19 case falls ill, Dr Chang said it should be taken to its regular veterinarian, who would assess the exposure risk of the animal and rule out other more common causes of illnesses.
"Should the veterinarian suspect that the animal may be sick from a SARS-CoV-2 infection, the veterinarian will contact AVS. We will follow up with the owner of the animal and the veterinarian to conduct further testing and isolation of the animal as needed," he added.
"If required, AVS will collect samples from the animal and use a PCR (polymerase chain reaction) test method for animals recommended by the OIE (World Organisation for Animal Health)."
People who are unwell must limit contact with their pets, as they would with other people, said Dr Chang. 
Good hygiene, such as thoroughly washing hands before and after direct contact with pets, their supplies and food, is still essential to prevent the spread of COVID-19, he added.  
"SURGE IN ABANDONMENTS" EXPECTED
Following Hong Kong's move, non-profit organisation Hamster Society Singapore expects "a surge in abandonments and surrender requests" here, said its head of the foster team Zylia Heng. 
Her team had already been already preparing for such an increase as "spring cleaning season draws near", but she said that what happened in Hong Kong may exacerbate numbers. Hamster Society Singapore took in more than 500 hamsters in 2021.
"Being a pet owner is a lifelong commitment and owners should take responsibility in caring for their pets, no matter what the situation is. Owners should not opt to abandon, give up or euthanise their hamsters or other pets over fears of COVID-19," she said. 
If new hamster owners are worried about any illness their adopted pets may have, Ms Heng pointed to the quarantine process that Hamster Society Singapore put in place even before the pandemic. 
"Each hamster is housed alone in a cage and observed for two weeks to ensure that they are free of any health issues before being put up for adoption," she said. 
"All our fosterers are experienced hamster owners who also undergo a basic training course conducted by long-time members of the team. Once any of our fosterers discover anything wrong with their foster hamsters, a visit to a hamster-savvy vet will be made to diagnose and treat the hamster."
Ms Heng said her team would wait for instructions from AVS before implementing any new procedures such as testing their foster hamsters for SARS-CoV-2.
"VERY UNNECESSARY"  
Among the hamster-loving community in Singapore, Hong Kong's move was "very big news", said a pet owner who only wanted to be known as Kaye Linn.
"I'm in a few Facebook groups and there's a lot of heated discussion about it. People are just very angry. All of them are super passionate hamster lovers," said the 26-year-old.
"It's very unnecessary. You wouldn't do the same to dogs, cats, or even like when the Singapore Zoo had lions (who had COVID-19), you didn't cull them." 
Ms Kaye Linn, who had a hamster that recently died, said the news would not deter her from adopting or buying more hamsters.
Instead, it would make her feel even more passionate about hamsters, she said, adding that some groups have been fighting the "stereotype" where people "disregarded hamsters' lives" because they are small rodents. 
"A lot of people in these hamster groups are just trying to advocate for proper hamster care, how to give them the best life although their lives are really short," she said. 
"So quite a lot of people were quite angry. Some of the comments were like 'Oh it's a really dark time ahead for us'. People are anticipating abandonment." 
NO DECREASE IN DEMAND FOR HAMSTERS
Despite fears about pet abandonment, a couple of local pet shops that spoke to CNA said they have not seen a drop in customers wanting to buy hamsters. 
They pointed out that their hamsters are locally bred, not imported. 
"I was expecting a quiet week due to this news (about Hong Kong culling hamsters), but was surprised to sell two Syrian hamsters on Wednesday. So I guess the news is not affecting the interest of people buying hamsters," said Mr Patrick Teng, owner of House of Chinchilla. 
He acknowledged, however, that demand for hamsters typically varies. Last week, for instance, he did not sell a single hamster, but he sold four the week before.
At the moment, his shop has 25 Syrian hamsters and more will be coming next week. 
Petmart owner Benjamin Wee added that it has only been a few days since the news about Hong Kong broke, so he would not have seen any drastic changes to sales as a result. 
Mr Wee's shop currently sells about 30 hamsters a month during good times, and fewer during school examination periods. 
And if 13-year-old Elizabeth Quek gets her way, she will be able to adopt a hamster next Monday.
She made up her mind to adopt a hamster one year ago to "keep her company" at home, as she enjoyed spending time with her friend's pet hamster. 
Even after her father told her about the news about Hong Kong, she wasn't swayed. 
"It hasn't (changed my mind)," she told CNA over the phone. "Because it's only Hong Kong that has confirmed the news. It's not like other countries (are doing the same)."