SINGAPORE: Healthy eating may not come to mind when one orders a plate of nasi padang - a Malay meal consisting of steamed rice with a variety of side dishes that are rich in coconut and gravy. 
But at Rumah Makan Minang, a restaurant in Kampong Glam, there are now five healthier dishes to choose from, prepared with healthier oil and fewer coconut ingredients. Customers can also choose red rice over white rice in a menu launched on Tuesday (Jul 31).
The restaurant is the first nasi padang outlet to be endorsed by the Health Promotion Board (HPB) under its Healthier Dining Programme, which recognises eateries that offer lower calories meals and beverages with less sugar as a prominent part of their menus.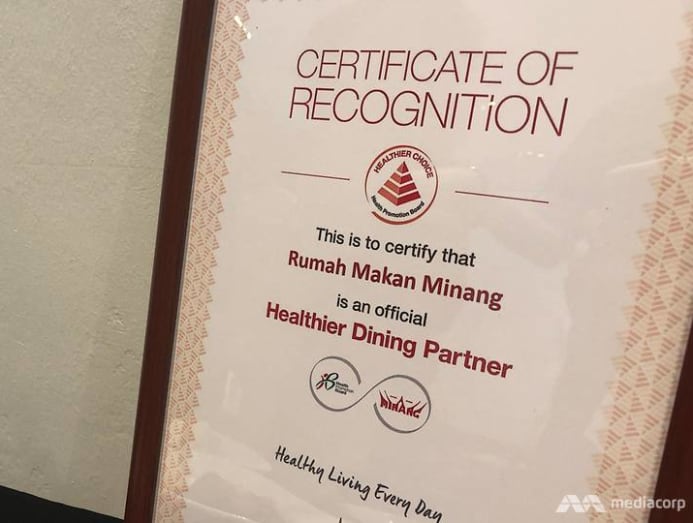 The healthier nasi padang meal contains only 400 calories per serving, compared to the 700 to 900 calories per serving that a regular plate of nasi padang would typically have.

Rumah Makan Minang director Hazmi Zin said it took three to four months to conceptualise the dishes and he was initially hesitant about the idea. 
"To cater to what HPB wanted was a challenge because we've been doing a routine every day," said Mr Hazmi.
In addition, he felt that red rice might not suit the taste of the other side dishes. He had initially wanted to serve 20 healthier option dishes.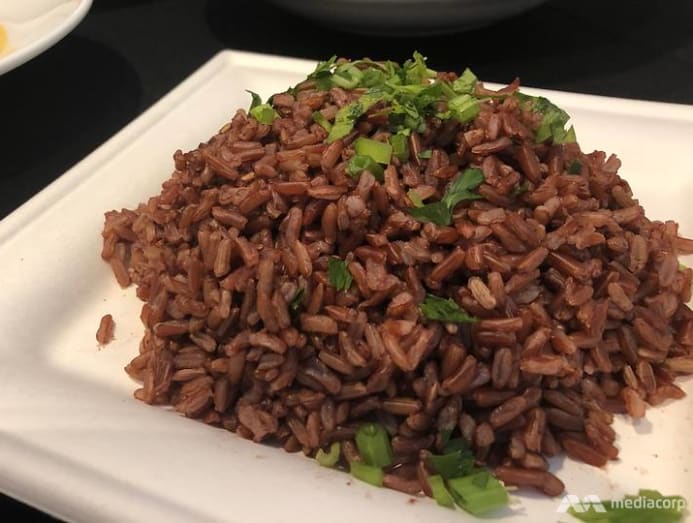 But after doing a survey with his customers, he found out that a majority of them had liked the healthier option dishes that came with red rice. 
Mr Hazmi said: "At the start, people who ate red or brown rice said it tasted funny. But after constantly eating it, it's like eating white rice." 
He was eventually convinced to make healthier options available after being regularly persuaded by Senior Parliamentary Secretary for Health Amrin Amin.

Mr Amrin, who was present at the launch of the new menu, said it is not just the Malay community that needs to exercise healthier choice options, but the entire Singaporean community, across all races. He noted that habits take time to change, especially those that have formed over time.
"It cannot just be the part of the government. I think it has to be a truly community effort. Families play a big part, as well as retailers," said Mr Amrin. 
Hawker food chain Yu Kee Duck Rice has already been on board the Healthier Dining Programme for five weeks. It now offers healthier dishes - braised duck kway teow, noodle and porridge.
Yu Kee Group director Seah Qin Quan said over the five weeks, they have seen 60 per cent of customers who ordered braised duck noodle opting for wholegrain noodles.
"The feedback from them is that it doesn't vary so far from the normal noodles. Sometimes they don't even know it's whole grain noodles," said Mr Seah.
The hawker food chain has already rolled out the healthier option food choices to all of its 29 outlets.
According to the HPB, the number of healthier meals sold in Singapore has increased to 50 million in March this year, up from 7.5 million in 2014.
Customers who want healthier food options can look out for the Healthier Dining Programme sticker on the store front of food and beverage outlets.