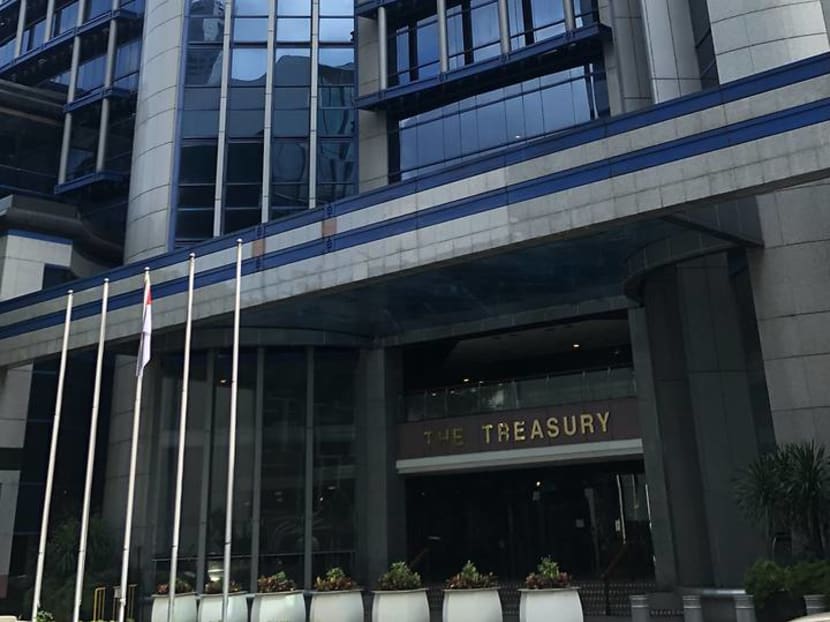 SINGAPORE: The Public Service Division (PSD) will introduce work norms for hybrid modes of working while managing the risks, as telecommuting becomes a permanent part of work for public officers.
However, PSD also emphasised that "hybrid work is not an entitlement" and the requirements of the job "take precedence".
This was one of the key points in a report of the Public Accounts Committee (PAC), which was presented to Parliament on Wednesday (Jan 26).
The committee had looked at weaknesses flagged in the Auditor-General's report last year, and discussed broader issues that could impact spending, financial governance and controls in the public sector arising from the report.
These issues include disruptions to the global supply chain, re-evaluating baseline spending in the "new normal" and the Singapore Green Plan.
The committee also discussed the potential impact of the shift to hybrid working, which would likely become a permanent feature of the public sector workforce, said the Office of the Clerk of Parliament.
The PAC was concerned about the "impact on governance, controls and oversight", it said.
PSD informed the committee that it would introduce appropriate controls to manage risks in people management, workplace health, and cyber and information security in tandem with the switch to hybrid work.
"NOT AN ENTITLEMENT"
PSD added that within the Public Service, remote working has enabled "more nimble collaboration" across the Government, with diverse agencies coordinating and organising themselves at "short notice" for COVID-19-related missions. 
"The mainstreaming of hybrid work in the Public Service would allow the Public Service to lock in the productivity gains from remote working initiated during COVID-19, while balancing the need to foster teamwork and organisational cohesion," the report said. 
PSD, which is under the Prime Minister's Office, also said that job requirements take precedence over hybrid work. 
"Public sector agencies should determine the specific provisions that best suit the business needs and operating context of their organisation. Officers should also adjust their work-from-home schedule to give precedence to organisational needs," it said.
Where the nature of work requires "physical interface" with citizens and stakeholders, this would be observed.
It also noted that new hires may not be able to work from home as much at the start given the need to orientate them to the organisation or help them develop bonds with colleagues.
CLEAR WORK NORMS TO BE SET
On people management, PSD noted that hybrid work presents new challenges in terms of managing work goals and teams.
It acknowledged that there was a risk of overwork arising from a blurring of the line between work and life in a hybrid environment. 
In consultation with leaders and unions, PSD will introduce guidelines to set "clear work norms" for hybrid work. These include establishing clear expectations on officers' availability and work hours.
On performance management, supervisors should discuss and communicate clearly to subordinates their expectations and provide regular feedback on work performance.
There will also be guidelines for supervisors and officers to establish regular check-ins to drive achievement of work outcomes. 
"Officers are held accountable for the outcomes of their work and contributions, rather than 'face time' in office," PSD said, adding that it would step up training for supervisors in performance management.
Hybrid work may also create feelings of social isolation. "With reduced physical interactions between colleagues and supervisors, it might be more difficult to identify when an employee is struggling with mental health and intervention is required," it said in the report.
The Public Service set up a counselling hotline in March last year for all public officers who need to seek professional help, among other measures such as regular wellness webinars.
CYBER RISKS
With more public officers accessing government systems from their homes, concerns flagged by the report included cybersecurity risks and the overall impact on governance, controls and oversight. 
Another concern is the impact on the quality of public service delivery, said the report.
To address cyber and information risks linked to telecommuting, GovTech published a set of best practices that officers should take to secure their home network, and the secure use of video-conferencing tools when telecommuting, PSD said. 
They are also required to take cybersecurity awareness training annually. PSD informed the committee that the Government has also set up structures to improve cyber and data security culture, such as having an Agency Chief Information Security Officer and Chief Data Officer.
In addition, all government agencies are required to engage independent internal or external IT auditors to conduct audits on ICT systems. 
"As COVID-resilient workplace norms evolve, PSD would continue to monitor the implementation and impact of hybrid work on the Public Service, and remain agile and adaptable in setting the policy guidance," PSD said.
The committee also asked about plans to re-examine "manpower planning parameters" on the siting, sizing, skilling and scoping of the public sector headcount.
PAC noted that several agencies had reduced their office space, with SkillsFuture Singapore adopting a shared desk concept by providing workstations for 70 per cent of its headcount, while PSD has reduced the size of its management's rooms by 20 to 30 per cent.
The Ministry of Finance (MOF) informed the committee that on public sector office space, optimisation has to be balanced with the cost to "unwind infrastructure changes as well as the potential impact on organisation culture, staff morale and sense of belonging". 
It would continue to work with agencies to "rationalise and optimise" office space take-up.
INCREASED DEMAND FOR MANPOWER
And while the shift towards digital services has reduced demand for in-person frontline services, it has resulted in increased manpower needs for backend IT and email management. 
MOF expects to see "increased demand for resourcing and public sector manpower in the new normal". 
The finance ministry informed the committee that it was working closely with PSD to plan ahead for workforce transformation and transition, to ensure that public service officers are equipped with the right skillsets and capabilities required in new areas of work. 
"Incorporating lessons from the COVID-19 experience, MOF and PSD are putting in place structures to respond to future manpower needs in a more nimble and timely manner," it said. 
For example, PSD is developing a contingency workforce plan to mobilise public service officers to meet a surge during a crisis.
The committee also asked MOF how it is approaching the different ministries to discuss changes in their baseline spending. 
MOF replied that while the review of ministry block budgets was generally done on a five-year cycle, it retained the flexibility to have shorter review periods for ministries where the changes were more rapid. 
There may be a need to look at the size of the core group looking after public health in the Ministry of Health when it is not operating at a crisis level. 
MOF will also work with the Ministry of Manpower to determine a sustainable size and budget for the latter's Assurance, Care and Engagement (ACE) Group post-pandemic. ACE was set up to help migrant workers and dormitory operators in tackling COVID-19.
The Public Accounts Committee consists of eight Members of Parliament, including its chair Foo Mee Har.