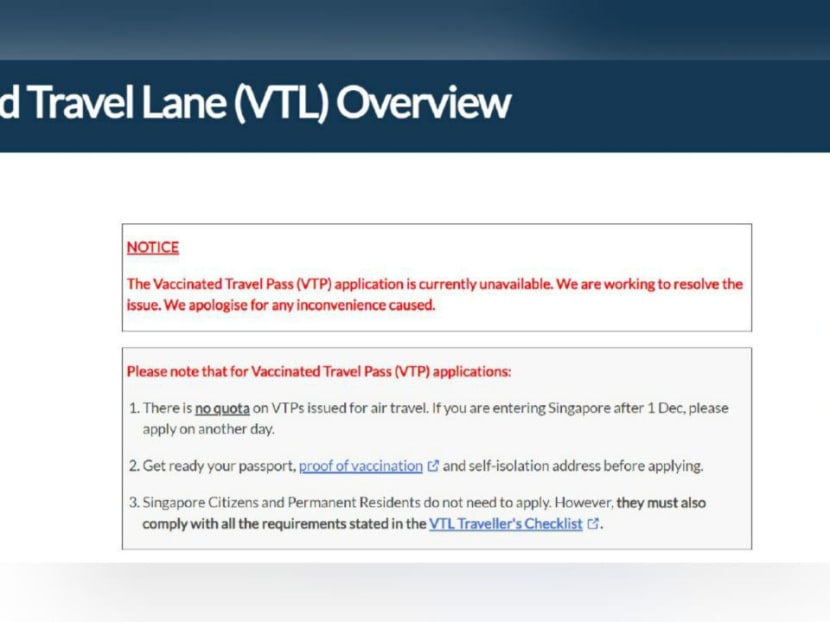 SINGAPORE: The application portal for vaccinated travel passes (VTP) was temporarily disrupted for several hours on Monday (Nov 22), due to a "concurrent surge" after applications opened for travellers from Malaysia and Indonesia.
Applications for short-term visitors and long-term pass holders seeking to enter Singapore from Indonesia and Malaysia under the vaccinated travel lane scheme opened on the SafeTravel website at 10am on Monday.
"When the application portal for the VTP for travellers from Malaysia and Indonesia opened at 10am ... there was a concurrent surge of applications which resulted in the earlier system disruption," said the Immigration and Checkpoints Authority (ICA) on Monday evening.
In an updated statement late Monday night, ICA said there was an "immediate surge" of nearly 35,000 users trying to log in when the application portal opened.
"ICA had upscaled the system over the weekend in anticipation, but there was an error in the configuration." 
The website resumed normalcy at 3pm, ICA added.
"We regret the inconvenience caused and thank applicants for the understanding." 
ICA also added that there is "no quota for the passes issued for air travel".
Singapore citizens and permanent residents do not need to apply for VTPs to enter Singapore under the scheme.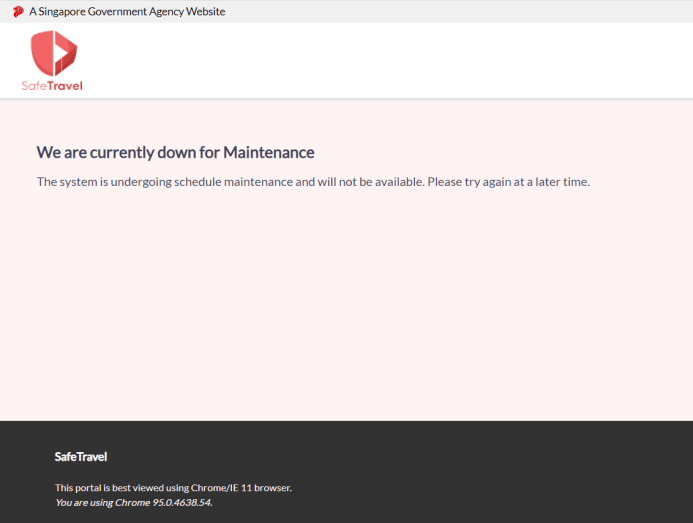 Earlier in the day, the application portal had displayed a message saying it was undergoing maintenance.
"We are currently down for maintenance," read a message on the affected portal at about 1.45pm.
"The system is undergoing schedule maintenance and will not be available. Please try again at a later time."
A notice on the overview page for the vaccinated travel lane also showed that the VTP application was unavailable.
In response to CNA queries earlier in the afternoon, ICA had said that it was aware that the VTP application on the website was "currently unavailable". 
"We are working to resume operations of the system. We apologise for the inconvenience and seek the public's continued understanding as we bring the system back to normalcy," said an ICA spokesperson. 
Users were also advised to refer to the SafeTravel website for further updates. 
The VTL between Changi Airport and Kuala Lumpur International Airport (KLIA), which will launch on Nov 29, was announced earlier this month. 
Six airlines - AirAsia, Jetstar Asia, Malaysia Airlines, Malindo Air, Scoot and Singapore Airlines (SIA) - have been designated to provide VTL flights between Changi Airport and KLIA.
Singapore's unilateral VTL with Indonesia will also start on Nov 29.
Under the quarantine-free travel scheme, fully vaccinated travellers from VTL countries may enter Singapore without quarantine and just need to undergo COVID-19 testing.